Pigskin Diaries Week 6: Independent Events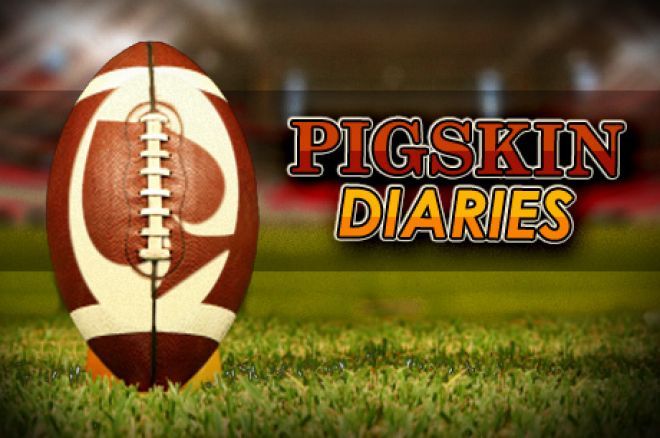 Have you ever been in a casino and walked by a roulette table with 15 or more consecutive red or black outcomes? Amateur gamblers usually see this and think: I am going to bet the opposite color because it's "due." As poker players and fans, we understand that each roulette spin is an independent event, meaning the previous spins have no mathematical effect on the current spin. We've discussed trends in the National Football League, and their importance in our handicapping process, but don't allow them to consume you. Each NFL game, like a spin on the roulette wheel, is an independent event. No team will play the same exact way every week, nor will two teams play against each other the same way every time they meet. You must be willing to adapt your strategy, and to view each game as it is.
Jacksonville (+12) @ Pittsburgh
Last week, we jumped on the Steelers because they were undervalued at home against the Titans. We were right. Now, after defeating Tennessee by three touchdowns, Vegas has placed them back in the upper echelon with this 12-point line. This feels like a knee-jerk reaction, which is pretty typical in the NFL, so we're going to take the Jaguars and the points. Pittsburgh's defense still has to prove its worth, and the Steelers have their hands full with Maurice Jones-Drew coming to town. If MJD can slow the game down, then he'll make life much easier for rookie Blaine Gabbert, and he'll keep his defense on the sidelines.
This game also applies to our "Fade the Public" theory. Pittsburgh is a very public team, and no one is expecting Jacksonville to be competitive. In cases like this, we like to be on the other side of the seesaw all alone.
Fantasy: We can't believe in Hines Ward yet — it was only one game. Mike Wallace is still the No. 1 receiver in Pittsburgh, while Antonio Brown leads the team in targets.
St. Louis @ Green Bay (-14.5)
You know the deal. Tease them if you can.
Fantasy: James Jones had another solid game in Atlanta and may be worth a flier in a salary-cap league or a deeper (14- or 16-team) league.
Buffalo (+3) @ New York Giants
We're believers in the Buffalo Bills. There's something karmic about this team — just look at the emergence of Ryan Fitzpatrick, Fred Jackson and Stevie Johnson. Fitzpatrick and Johnson are both seventh-round draft picks, and Jackson went undrafted. Crazy. Buffalo has also intercepted a handful of tipped balls this season, including a game-clincher Week 3 against New England and a momentum-stopper last week against Philadelphia.
The Giants are far from karmic; they're more like a paralyzing migraine. One week Eli Manning and company are moving the ball up and down the field with their eyes closed, and the next week they're losing at home to the Seahawks. What gives? With Victor Cruz stepping into a bigger role, their offense has become dangerously potent, but they make stupid mistakes and are still limited on defense.
We have no idea which Giants team is going to show up, nor do we know how good the Bills can be on the road (they've only played one game, losing at Cincinnati), but we've got a good feeling about Buffalo. We just hope that Rian Lindell doesn't go wide-right on a game-winning field goal kick.
Too soon?
Fantasy: David Nelson and Victor Cruz are both legitimate flex or WR3 starts, especially during the bye weeks.
Carolina (+4) @ Atlanta
The Panthers are a 1-4 team that look like they could be 4-1, while the Falcons are a 2-3 team that couldn't be playing worse. Last week, we crowned Cam Newton a backdoor covering king, yet we still picked against him. Stupid. We won't make the same mistake twice, especially because Carolina can win this game outright. Since the start of the season, we've been down on Atlanta, and they've given us no reason to change our thinking. Without Julio Jones, Matt Ryan's already mediocre passing attack will be limited, and to this point no team has had an answer for Newton defensively.
On a side note: why did the Panthers pay DeAngelo Williams so much money? Head coach Ron Rivera knew he was going to open up the offense for Newton, and right now the rookie quarterback has 40 carries — only six less than Williams and three more than Jonathan Stewart. Why pay a feature back that much money if you're not going to use him at all?
Fantasy: If you're in a bind at receiver, take a look at Harry Douglas. As mentioned above we don't love Ryan, but this will be an upbeat game. Without Jones, Douglas becomes the number two receiver.
San Francisco @ Detroit (-4)
This is me rejecting the idea that Alex Smith is an NFL quarterback. Call it stubborn, but we have to see more. Plus, are you really going to bet against the Lions at home, getting less than a touchdown, and feel confident about it? We didn't think so.
Another side note: thank you Roy Williams for giving Calvin Johnson Jr. the best nickname in sports – Megatron .
Fantasy: O.K., maybe our hate for Smith has gone a little far. He's actually a nice play in this game if you're in a salary-cap league. Also, keep your eyes on Michael Crabtree. Crabtree is stud, and as he gets healthier he will be much more productive.
Philadelphia @ Washington (+1.5)
If the Eagles lose this game, will they fire head coach Andy Reid? It would be undeserved (his track record in Philly is more than impressive), but someone will have to be reprimanded, and often it's the man in charge (see: Terry Francona). It's not Reid's fault that the Eagles are terrible at the point of attack however. On defense, they're mostly playing a nine technique, meaning they use four down lineman and split the ends out very wide. This allows defensive end Trent Cole to wreak havoc, especially on passing downs, but Philly doesn't have the personal inside to attack the gaps and stop the run. This is mainly why the Eagles are 30th in rushing defense.
This week they get to play against rushing guru Mike Shanahan, who has had two weeks to prepare for this game. Smells like 1-5 for Philly.
Fantasy: Whoever is starting at running back for the Redskins, you want them in your lineup. The problem is Shanahan switches backs at the drop of a hat. Keep your finger on the pulse as much as possible, and if you are confident in one of the three (Tim Hightower, Ryan Torain, Roy Helu Jr.) then roll the dice and start them.
Indianapolis @ Cincinnati (-7)
Would you rather have Curtis Painter vs. Andy Dalton, or Peyton Manning vs. Carson Palmer? The former seems more exciting because it's more unpredictable, whereas Manning wins the latter nine times out of ten. The Colts should continue sucking for (Andrew) Luck, especially against the Bengals who have a top five defense.
Cincinnati doesn't have a top-five front office, however. Stop being so catty (see what I did there?) Mike Brown, trade Palmer before Tuesday and actually get some value for him.
Fantasy: Dalton is actually a very intriguing play in deep leagues. Also look at tight end Jermaine Gresham — no linebacker on Indy can run with him.
Houston @ Baltimore (-7.5)
If the Texans had Andre Johnson, this would be a different story because you can pass against the Ravens. Unfortunately, they are without him for a few more weeks, and Mario Williams is sidelined for the rest of the season. This line is high, but those two injuries plus the fact that Baltimore is coming off of a bye make it justifiable. Joe Flacco can hardly be trusted, but Houston looks like they're about to execute their annual disappearing act.
Fantasy: If you have any Texans players on your roster, besides Arian Foster, you should probably look to replace them for this week.
Cleveland @ Oakland (-6.5)
The Browns are an East Coast team traveling west, and their best player (Peyton Hillis) is coming off of strep throat and is upset with management because he hasn't received a contract extension yet. Cleveland promoted Greg Little to number one receiver, but don't expect him to make a sudden, giant leap. You can expect Darren McFadden to carry the ball 20 or more times, and the Raiders to limit Jason Campbell's pass attempts. Oakland is a run-first team — the Raiders are 1-2 in games where Campbell has 30 or more pass attempts.
It was nice to see the Raiders win last week in the wake of Al Davis' passing. In his later years, the league may have passed Davis by, but there wouldn't even be a league without his foresight. Davis played a key role in the merger between the AFL and the NFL, and was the first owner to hire an African-American head coach, a Hispanic head coach, and a female in the executive office. Davis was indeed outlandish, and hell-bent upon getting his way, but without him the NFL wouldn't be what it is today.
Fantasy: Speaking of Al Davis, Darrius Heyward-Bey is having a breakout season. He and Jacoby Ford are both explosive receivers, so keep your eyes on them going forward.
Dallas @ New England (-7)
The Cowboys will throw the ball against the Patriots, but we're not picking against Tom Brady.
Fantasy: Start everybody.
New Orleans (-4.5) @ Tampa Bay
…or Drew Brees.
Fantasy: Sell high on Jimmy Graham if you can get top-ten talent at quarterback, receiver or running back. Graham will finish the year as a top-five tight end, but his value will never be higher than it is right now.
Minnesota (+3) @ Chicago
We've been pretty harsh on the Vikings this season, but last week they finally gave the ball to the most explosive running back on the planet — Adrian Peterson. Meanwhile, the Bears are coming off of a double-digit loss on Monday Night Football and had a short week to heal up and prepare for their division rival. Jay Cutler continues to have to run for his life in the pocket, and Chicago's defense allowed Jahvid Best to run for over 100 yards for the first time in his career.
This game feels like a toss-up, so we're going to ride the hot hand and take the Vikings and the points.
Fantasy: The only Bear that can be trusted is Matt Forte. The only Vikings that can be trusted are Peterson and Vinsanthe Shiancoe.
Miami @ New York Jets (-7)
Who do you like more? Matt Moore on the road, or an angry Jets defense that just lost three straight?
Fantasy: Yuck. This is a bad matchup for all Dolphins, and no Jets have been consistent at all. Beware of starting players from these two squads.
Last Week: 6-6-1
Season: 42-30-5
Follow us on Twitter for up-to-the-minute news.
All betting lines are from Covers.com, and are accurate as of 11 a.m. EST