Pigskin Diaries Week 9: Keys to the Week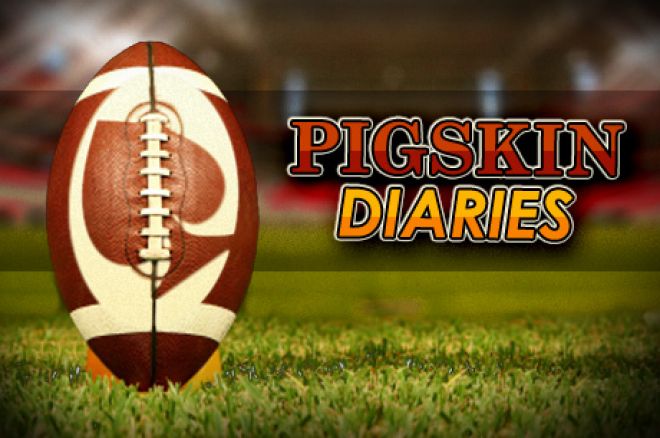 Every pregame show that covers the National Football League offers some sort of "keys to the game." This week we decided to follow suit and offer three keys to each game: a key match-up, key statistic, and key intangible. Some are serious, some are not, but they all will affect the game in some way. Hopefully, we can turn this ship around — last week was a little rough.
San Francisco (-3.5) @ Washington
Key Match-up: The Niners defensive line versus the Redskins offensive line. Last week, John Beck was sacked 10 times by Buffalo's mediocre pass rush, crippling the offense so it scored a whopping zero points.
San Francisco has a handful of players who can rush the quarterback; defensive ends Ray McDonald and Justin Smith have a combined 7.5 sacks, linebacker Ahmad Brooks has reached the quarterback four times, and rookie outside linebacker Aldon Smith leads the team with 6.5 sacks. McDonald is battling a hamstring injury, but there is no current word regarding his availability for Sunday.
Key Statistic: 6-0-1. That's San Francisco's record against the spread (ATS). You might think they're due for a letdown, but shouldn't that have happened last week against Cleveland?
Key Intangible: Niners head coach Jim Harbaugh. Just like he did at Stanford, coach Harbaugh has completely changed the attitude of the franchise in San Francisco, and every year there's a new coach that lights a fire under a bad or mediocre team, leading them to shock the world, win 10 games, and go to the playoffs. The Niners are that team because of Harbaugh, and we trust him to motivate the troops heading into a perceived trap game.
Fantasy: Mike Shanahan made your life even more hectic by signing Dallas' castoff back Tashard Choice this week. Ryan Torain will still see the bulk of the carries, but this signing means his window of opportunity is closing rapidly.
New York Jets (+2) @ Buffalo
Key Match-up: Mark Sanchez versus himself. When the Jets can throw the ball like they did against San Diego, they can compete with any team in the league. When their offense is inept like it was against New England, their chances of success evaporate. Shonn Greene and the running game are important, but throwing the ball downfield is a must — especially when you're playing the 24th-ranked pass defense.
Key Stat: 23. That's Buffalo's rank in Football Outsiders' (FO) Special Teams Defense-adjusted Value Over Average (DVOA). Gang Green happens to be the third-highest-ranked special teams unit, and kick returner Joe McKnight was just named the AFC special teams player of the month. If McKnight breaks one, that would be huge, considering how closely matched these two teams are.
Key Intangible: The Bills are wearing their white away jerseys at home for the first time in 25 years in an effort to white-out the stadium. Ironically, Buffalo is 1-2 this season in their away uniforms, but the Jets are a perfect 3-0 in their home greens (the Jets wore their throwback "Titans" jerseys against Jacksonville). Yes, these things matter.
Fantasy: Plaxico Burress exploded for three touchdowns in New York's last outing. He might not score that many times a week going forward, but he is still a legitimate red-zone threat and a good flex play against bad passing defenses like Buffalo's.
Seattle @ Dallas (-11.5)
Key Match-up: Rob Ryan versus Tarvaris Jackson. Last week, Jackson replaced Charlie Whitehurst (who had replaced Jackson earlier in the season), and actually threw the ball OK. He took shots down the field and has big targets like Ben Obomanu and Sidney Rice. Jackson is no Dan Marino, however, and if Ryan dials up the right blitzes, this game could turn into a nightmare. The Cowboys defense was picked apart by Mike Vick and the Eagles on Sunday night, so we're sure Ryan will be out to prove a point this Sunday in Dallas.
Key Stat: .33. That's how many interceptions per game Tony Romo has thrown in Dallas' three victories. In their four losses? 1.75. If Romo protects the ball this is a much better team, and we've all seen what happens when he doesn't.
Key Intangible: Seattle is historically a strong home team, but they're coming off of a 22-point loss at home to a rookie quarterback. That is more heartbreaking and demoralizing than you think.
Fantasy: If you own anyone on Dallas, you're probably ready to rip your hair out. This team is so inconsistent, so if one of your players has a breakout game on Sunday, then you should try and sell high the next day.
Miami @ Kansas City (-4)
Atlanta (-7) @ Indianapolis
Key Match-up: Stanford versus Oregon State.
Key Stat: 1. The pick that the Dolphins and the Colts are scratching tooth and nail to get.
Key Intangible: This guy. Wow.
Fantasy: Kansas City's Jonathan Baldwin looked extremely impressive on Monday night, but he's still going to get fewer targets than Steve Breaston and Dwayne Bowe. Don't expect Reggie Bush to eclipse the century mark again anytime soon — that was only the second time in his career that he's run for over 100 yards.
Tampa Bay (+8.5) @ New Orleans
Key Match-up: LeGarrette Blount versus the Saints front seven. Last week, Steven Jackson gashed New Orleans for 159 yards, and in the first meeting between these two teams, Earnest Graham rushed for 109 yards in Blount's absence. Blount, fully healthy now, is the third-down back because Graham is sidelined with an injury. If the Bucs can control the tempo and keep Drew Brees off the field, then they can win outright — like they did in Week 6.
Key Stat: 3. That's how many interceptions Brees threw in the loss to Tampa. We don't think he'll repeat that number, but Bucs cornerback Aqib Talib is a headache for any quarterback.
Key Intangible: Saints head coach Sean Payton broke his leg in Tampa and so far has been unable to put the team on his back like Greg Jennings. Payton is 1-2 coaching from the box, with the Saints' only win coming at home against the Colts.
Fantasy: Blount is the only Bucs player who should be in your lineup. Mike Williams and Josh Freeman have been wildly inconsistent, and you probably have better options.
Cleveland (+11) @ Houston
Key Match-up: Chris Ogbonnaya versus talking heads who have to pronounce his name (hint: the "g" is silent). With Peyton Hillis and Montario Hardesty injured, Ogbonnaya will start at running back for the first time in his NFL career. The third-year back from Texas was actually cut by the Texans earlier in the year, so maybe this will be a revenge game?
Key Stat: 0. That's the number of times Houston has made the playoffs in franchise history. This team always finds a way to lose.
Key Intangible: How can you lay double-digit points with the Cowboys and the Texans? You can't right? Unfortunately, we probably have the two games swapped, so we apologize in advance.
Fantasy: Come back already, Andre!!!!!!!!!!!!!!!
Denver (+8) @ Oakland
Key Match-up: Science versus religion. We're giving you one more week, Tim Tebow. If you can't compete against the Raiders, who are without Darren McFadden and have crappy Carson Palmer at quarterback, then we're done with you. Who's ready for the resurrection of Tebow-mania?
Key Stat: 30. If Tebow attempts 30 or more passes, then Denver has no shot at staying within eight points of Oakland. The Raiders love to run the ball, and the Broncos should follow suit, making this a very low scoring affair.
Key Intangible: Was there ever a question who this would be?
Fantasy: With McFadden out, Michael Bush is a top-fifteen running back.
Cincinnati (+3) @ Tennessee
Key Match-up: Cedric Benson versus the Titans defense. Andy Dalton and A.J. Green have been spectacular, but Benson still needs to protect them by running the ball effectively. Tennessee is 27th against the run, and if they can't stop Benson, then they're going to have to throw against Cincinnati's ninth-ranked passing defense.
Key Stat: 6-1. That's the Bengals record ATS. Cincinatti isn't a sexy team, so the public ignores them and they gain insane amounts of value — which we then pounce on.
Key Intangible: Chris Johnson's futility is bound to spread like a cancer through the Titans organization. How can they sleep at night knowing he's making that much money?
Fantasy: Damian Williams is playing a little Jekyll & Hyde, but we really like this kid. He's the biggest 6-foot one-inch receiver you'll ever see, and has great hands and leaping ability.
Green Bay (-5.5) @ San Diego
Key Match-up: Philip Rivers versus his "Worst. Day. Ever."
Key Stat: 0. That's the amount of games the Packers have lost this year.
Key Intangible: Charles Woodson. He has five interceptions in seven weeks. The man is 35 years old.
Fantasy: Mike Tolbert is getting the full load this week, making him a must-start even against Green Bay's tough defense.
New York Giants (+9) @ New England
Key Match-up: Eli Manning versus interceptions. If Manning doesn't make mistakes, then the Giants can shred the Patriots secondary, just like Ben Roethlisberger did last week. Even without Ahmad Bradshaw and possibly Hakeem Nicks, New York can stretch the field, but if they don't protect the ball, then Tom Brady will make them pay.
Key Stat: 4-3. That's New England's record ATS — very pedestrian-like. The Patriots are a super public team, and despite losing last week, they'll continue to receive national support.
Key Intangible: The Giants were 12.5-point dogs the last time these two teams met, and they beat the Patriots outright. That game was kind of a big deal.
Fantasy: Mario Manningham and Victor Cruz are both WR2 options now, and for the rest of the season.
St. Louis (+2) @ Arizona
Key Match-up: John Skelton versus anyone with a usable arm. Seriously, how is this guy still an NFL quarterback?
Key Stat: 2. That's the number of times Arizona has been a favorite this season. How is that possible?
Key Intangible: Seriously, though, John Skeleton? You outdid yourselves by guaranteeing Kevin Kolb $21.5 million, and then kept Skeleton on to carry clipboards? Why do so many NFL teams refuse to maintain their depth at the quarterback position? The Colts lit $4 million on fire to bring in Kerry Collins because they didn't trust Curtis Painter, and now Collins is on injured reserve. The Raiders gave the Bengals everything they have for Palmer because they don't trust Kyle Boller, and Palmer hasn't looked good since 2007. This is a huge leak for NFL teams, and it makes the front office look incompetent.
Fantasy: Steven Jackson looked like he was possessed last week. Let's see whether he remains in form, or whether it was just a one-week flash in the pan.
Baltimore @ Pittsburgh (-3)
Key Match-up: Joe Flacco versus crippling mediocrity. There may be 20 quarterbacks who could've taken Baltimore to at least one Super Bowl during Flacco's career. Their defense is incredible, their running game is exceptional, and then there's Flacco, who just can't get it done. Trent Dilfer is probably begging to put a helmet back on.
Key Stat: 3. That's the number of games Flacco has failed to throw a touchdown in. He threw one interception in each of those three games.
Key Intangible: Do you think the Steelers forgot about this play?
Fantasy: Heath Miller had a great game last week, but it was because of Pittsburgh's scheme. Don't count on him having that kind of production week in and week out.
Chicago (+7.5) @ Philadelphia
Key Match-up: The Pigskin Diaries versus the public — who in their right mind would pick the Bears after watching the Eagles crush on Monday night? This pick makes no sense, no one will like it, and that's exactly why we're making it. Fade. The. Public.
Key Stat: $938,250. That's how much Matt Forte is making this year. We don't blame Chicago for not paying him (running backs are a dime a dozen), but that's insane. He's on pace to run for over 1,500 yards — which would be roughly $610 earned per yard gained.
Key Intangible: Mike Vick's pain tolerance. He kept a clean jersey last week — we don't suspect that will hold true for two straight weeks.
Fantasy: Jason Avant is a viable flex option going forward, while DeSean Jackson's value is falling.
Last Week: 4-9
Season: 57-52-7
Follow us on Twitter for up-to-the-minute news.
All betting lines are from Covers.com, and are accurate as of 11 a.m. EST
Get up-to-the-minute NFL betting lines at Sportmoose.com.