Pigskin Diaries Week 7: The Quarterback Carousel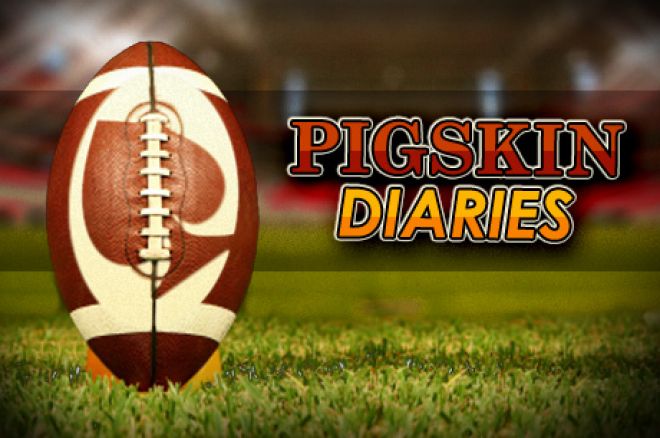 Christian Ponder, John Beck, Tim Tebow, and, of course, the newly acquired Carson Palmer will all start at quarterback in Week 8 of the National Football League's regular season. Talk about a monkey wrench. The quarterback carousel is always spinning in the NFL, so we have to do our best to adjust when a new signal caller is placed in the lineup. The biggest question mark among these passers is Palmer — we haven't seen him throw a ball in ten months. We will most likely know right away if he still has it, but it feels like we're assessing that game with a blindfold on.
Last week we were .500 again, so it's time to buck the trend and increase our winning percentage for the year.
Denver (+1) @ Miami
All hail Tim Tebow! His Hail Mary pass two weeks ago against the Chargers had about an 80 percent chance of completion — and he got unlucky. On a more serious note, the Dolphins are celebrating the 2009 National Championship Florida Gators during halftime on Sunday. Did they forget that the Miami Hurricanes also play in Sun Life Stadium and have won five national championships? It's hard to sell tickets if you have a bad franchise, but don't pursue fans who are going to cheer for the opposing team — that's embarrassing.
Speaking of embarrassing, check out this throw by Matt Moore on Monday night. We suggest you never lay points against Tebow in Florida.
Fantasy: All jokes aside, Tebow is a very solid fantasy quarterback. In most leagues, rushing touchdowns count for more points than passing touchdowns, and Tebow will run the ball in the red zone.
London Game: Chicago vs. Tampa Bay (+1)
This is one of those "what's the catch?" moments. Is their something we're missing? Did Josh Freeman get caught with 20 pounds of cocaine? The Bears are a mediocre football team that just beat the crap out of the Vikings, who happen to be a less than mediocre football team. The Bucs just beat the Saints, an extremely good football team, and ripped Saints head coach Sean Payton's knee to shreds in the process. That's determination.
Chicago is a very public team, but how the hell are they favored over the Bucs?
Fantasy: Devin Hester is battling chest pains but keep your eye on him going forward. He ran a really nice route on this 48-yard touchdown last week, and has added value with his explosive return game.
Houston @ Tennessee (-3)
The Texans are reeling without Andre Johnson, and need a bye week more than any other team in the NFL. Unfortunately for Houston (and Johnson's fantasy owners), their bye isn't until Week 11, so they will have to continue to weather the storm without him. The Titans are fresh off of their bye, and by not playing last week they ascended to first place in the AFC South. With a win, they would take a commanding lead in the division with the Texans falling below .500.
The early bye was crucial for Tennessee, because the team is adjusting after the loss of star receiver Kenny Britt. Damian Williams has had a chance to get acclimated with Matt Hasselbeck, and perhaps Chris Johnson will finally look like Chris Johnson. We'll take the home team coming off of their bye with a chance to run away with the division.
Fantasy: There's a lot of love for Kevin Walters going around, and in a week with six teams on bye, it's warranted. Also, keep an eye on the aforementioned Damian Williams. Hasselbeck has been throwing a ton, and Nate Washington can't catch every ball himself.
San Diego @ New York Jets (+2)
We like home dogs? This is a must-win game? The Jets finally turned things around last week? Rex Ryan could've won a Super Bowl with Norv Turner's Chargers?
This pick is not objective, nor is it logical, but it has hart. Yes, that is spelled correctly.
Fantasy: If somehow Antonio Gates plays, then you must start him. The Jets struggle mightily against tight ends.
Seattle (+3) @ Cleveland
The Seahawks are coming off of a bye, while the Browns are riding to a two-game losing streak. Cleveland really misses defensive coordinator Rob Ryan, and Colt McCoy has not impressed in his second season. Seattle seams to be a better team with Charlie Whitehurst under center (Tarvaris Jackson is battling an injury), and he may get the start. Rookie receiver Doug Baldwin is emerging as a legitimate second option after Sidney Rice. Cleveland should struggle against the pass — they are without cornerback Joe Haden. For the Browns to succeed they'll have to run the ball, but that will be a tall task seeing that the Seahawks boast the eighth-best rush defense in the league.
Seattle had no problem traveling east to play the Giants, and we've got faith in Pete Carroll's squad this week.
Fantasy: Rice and Baldwin both have good value hear, while Cleveland's Greg Little is close to becoming an every week flex play.
Washington @ Carolina (-2.5)
The Redskins made a mistake naming John Beck their starting quarterback. Yes, Rex Grossman played terribly last week, but at least he is an NFL quarterback. Washington is still above .500 at 3-2, and the NFC East is for the taking, so why send in an unproven guy that couldn't win the job in the preseason against third and fourth-teamers who aren't even in the league anymore? Mike Shanahan is taking a huge risk, but he's earned that right, winning two Super Bowls in Denver. His son Kyle Shanahan? Different story. This type of move could be the difference between a head coaching opportunity and being an offensive coordinator for the rest of his career.
This is more of a pick against the Redskins, but Panthers are the most exciting 1-5 team in the history of sports, and we still trust Cam Newton despite his poor performance last week in Atlanta.
Fantasy: Beck devalues all Washington pass catchers except for Fred Davis. Tight ends are safety valves and Davis will be no exception.
Atlanta @ Detroit (-3.5)
Prediction: Jim Schwartz is going to tackle Mike Smith after the game. Can we put this handshake nonsense behind us, please? You know the Lions and the Niners are going to meet in the playoffs now that "Handshake Gate" went down, and the talking heads are going to have a field day. Personally, I think both coaches were way out of line, but they're both excitable guys who lost their cool in the heat of the moment. No big deal.
Our hate for the Falcons lives on, especially because the Lions lost last week. Atlanta is still overvalued in the market, and Detroit's value has dropped despite the fact that they're still one of the best teams in the NFC. The Falcons could really get exposed this week, so this may be your last chance to grab some value by betting against them.
Fantasy: No Jahvid Best for the Lions means even more passing. Nate Burleson, Titus Young, and Brandon Pettigrew all have added value.
Kansas City @ Oakland (-5.5)
The Raiders haven't made the playoffs in a decade, and they're fighting for a spot this year. So when Jason Campbell broke his collarbone, they paid a king's ransom for Carson Palmer. Draft experts will argue that a first-round pick is invaluable, but nothing would be more valuable to Oakland than a playoff birth. Sure they could've spent less and received Kyle Orton, but Orton has never run Hue Jackson's system nor is he equipped to throw to vertical route runners. Despite their value, first round picks can be busts, and if the Raiders believe that Palmer can be their quarterback going forward then I can't fault them for making this move.
Regardless of the outcome, I salute Mike Brown for doing the right thing. You made your point and got great value.
The Chiefs are bad. Defensively they're a total mess, and the Raiders will be able to run the ball early and often. Darren McFadden and Michael Bush will protect Palmer in his first game, and unless they allow Dwayne Bowe to go crazy, Oakland should be able to dominate in a low-scoring affair.
Fantasy: The value of Oakland players shouldn't change drastically with the addition of Palmer. Chiefs running back Jackie Battle is coming off of a 100-yard performance in Indy, and is an interesting flex play if you have him.
Pittsburgh (-4) @ Arizona
The Steelers go from undervalued to overvalued and back to undervalued. Kevin Kolb should be getting a touchdown against every team with a winning record except for Washington. He's terrible. Andy Reid deserves all the credit in the world for dumping Donovan McNabb and Kolb at the exact right time and sticking with Michael Vick. The Cardinals struggle to throw the ball and can't defend against good passing attacks, making this a juicy matchup for Ben Roethlisberger.
Conversely, the Steelers are the number one ranked pass defense and have a knack for rushing the quarterback. We've nailed three Pittsburgh games in a row, and this certainly feels like number four.
Fantasy: Mike Wallace is battling a hamstring injury. If he can't go on Sunday, then Antonio Brown, Emmanuel Sanders and Hines Ward all see boosts in value.
St. Louis (+13) @ Dallas
The public loves Dallas, thus this line is too high. The Cowboys played really well against the Patriots last week, and the Rams are a pretty bad team, but a St. Louis victory isn't inconceivable, and a small Dallas win seems likely. Look past the big names, fade the public, take the points, and hold on for dear life.
On a related note, why is Josh McDaniels so obsessed with Brandon Lloyd? He's a journeyman receiver that had one good season last year on a bad football team. If they end up resigning him after this season it will be a poor decision, although Sam Bradford really needs a number one target.
Fantasy: Felix Jones is injured (shocker), and you should target Demarco Murray over Tashard Choice. Murray is more explosive, and being a rookie the Cowboys want to see what they've got.
Green Bay (-9) @ Minnesota
Welcome to the league Christian Ponder! Have you met division rival Aaron Rodgers yet?
Fantasy: Don't panic, Adrian Peterson is still a stud. You can make an argument for all Packers receivers, except for Randall Cobb.
Indianapolis @ New Orleans (-14)
We joked about it earlier, but Sean Payton's injury was brutal last Sunday. Not only did Jimmy Graham's hit tear Payton's MCL, he also broke his knee — literally. Without their offensive play-caller, the Saints struggled, and Drew Brees actually made costly mistakes down the stretch. This week is a little easier for New Orleans, because instead of a division rival they get a cushy home game against the Peyton Manning-less Colts. Indy just gave up 257 yards and four touchdowns to Matt Cassel — imagine what Brees is capable of.
Fantasy: Indy should have to throw, so Pierre Garçon is liable to stay hot. We still believe in Reggie Wayne, as well.
Baltimore (-8) @ Jacksonville
You won't find us taking Blaine Gabbert against the Ravens defense any time soon.
Fantasy: Mike Sims-Walker is back in Jacksonville, and is as fantasy irrelevant as ever.
Last Week: 6-6-1
Season: 48-36-6
Follow us on Twitter for up-to-the-minute news.
All betting lines are from Covers.com, and are accurate as of 11 a.m. EST