Pigskin Diaries Week 14: Bouncing Back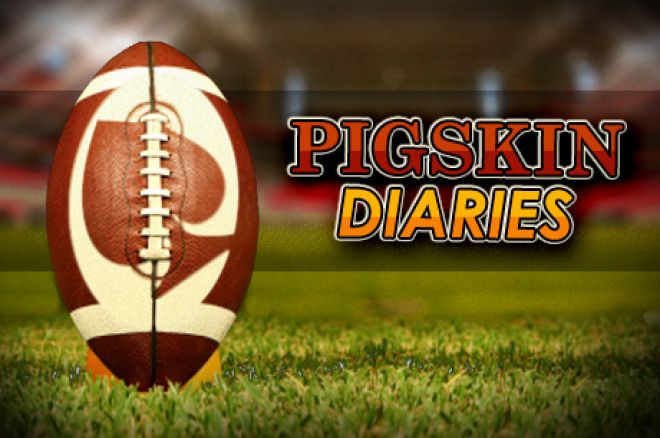 Last week was rough (6-10) but we still have a good feel for the National Football League. The market has certainly adjusted to teams like Carolina and Miami, but the public still puts too much faith in teams like Baltimore, Dallas, and San Diego. There are plenty of opportunities to find value, and we plan bounce back here in Week 14.
Indianapolis (+16.5) @ Baltimore
Kansas City (+10.5) @ New York Jets
Mark Sanchez and Joe Flacco are both double-digit favorites this week? It must be a Christmas miracle! If we've learned anything in the past two weeks, it's that any NFL team can cover a double-digit spread. Of course, we already knew that but for some reason we've made some very square picks. That's not a good thing. Let's get back to picking ugly teams that nobody loves — and winning.
On a pure football note, the Colts may be destined for a decade of misery. Sure they're going to get Andrew Luck, but they'll receive no compensation when they release Peyton Manning (pure speculation), and they have so many holes elsewhere, especially on defense (truth). Indy is far from the powerhouse it once was, and the Colts will need more than a rookie quarterback to return to prominence.
Fantasy: If you're in the playoffs, you're probably less likely to roll the dice, but Torrey Smith is a sneaky play if you're willing to gamble.
Oakland @ Green Bay (-11)
Minnesota @ Detroit (-10)
New England (-9) @ Washington
Remember that whole impassioned speech about not making square plays? There's a reason the Packers are undefeated — they're really freakin' good. They're also 8-4 ATS, 4-1 at home, and Oakland's defense is underwhelming. The Raiders have given up 30 or more points in five games this season, including last week's loss in Miami.
The Lions are on a downward spiral, but the Vikings secondary is awful. Minnesota is without its best cornerback, Antoine Winfield (out for the season), and last week the Vikings let Tim Tebow throw for over 200 yards. That's inexcusable. As long as Detroit can avoid committing a dozen personal foul penalties, it should be able to handle Minnesota.
The Redskins are awful, and the league just suspended their best skill position player (tight end Fred Davis), and their best offensive lineman (tackle Trent Williams) for drug use. This feels like a Patriots blowout unless Rex Grossman goes all Dan Orlovsky.
Fantasy: Carson Palmer has eclipsed 270 yards in every game he has started. The Packers are 24th in defense DVOA. Juicy.
Houston (+3) @ Cincinnati
In T.J. Yates we trust? The kid looked good last week against Atlanta, even with Andre Johnson pulling another hamstring, and the Texans defense is top-notch. Wade Phillips deserves a lot of credit for that. More importantly, Arian Foster and Ben Tate are workhorses in the backfield, allowing the team to control the clock and the game. Yates has the right pieces around him to succeed — he doesn't have to do it all by himself.
Cincinnati hasn't been able to win the big game all year. The Bengals are 1-5 against teams over .500, 2-3-1 ATS, and last week they were smacked by the Steelers. The Bengals, 2-3 ATS at home, feel like they're a year away from being a true contender. They are the Texans of the past and on Sunday they're going to struggle against the Texans of the present.
Fantasy: Ben Tate may not be a start this week, but the upcoming schedule includes Carolina, Indianapolis, and Tennessee. That's a nice slate.
New Orleans (-3.5) @ Tennessee
This line opened at 4.5 and dropped a full point because the sharps jumped on the Titans. Why? Because the Saints are 2-4 ATS on the road, and 1-3 on natural grass. We'll take that full point and run with it though, because Drew Brees is playing out of his mind right. He's already thrown for over 4,000 yards and has unbelievable targets like Marques Colson and Jimmy Graham. New Orleans' defense is very mediocre, but they can outscore anybody.
The Titans would be a lot easier to pick if their quarterback wasn't Matt Hasselbeck. Tennessee's defense is tough (12th in DVOA), but you need to score points if you're going to compete with the Saints. Chris Johnson won't be able to do it all by himself — Nate Washington, Damian Williams, and Hasselbeck will have to make plays.
Fantasy: Colston has so much potential, but if you don't trust him, and you have another receiver that is as capable as Colston, then by all means bench him.
Philadelphia @ Miami (-3)
The Dream Team is an underdog against the 4-8 Dolphins. Insanity.
Fantasy: Reggie Bush is on an absolute tear and should be in your starting lineup if you have him.
Atlanta @ Carolina (+3)
Tampa Bay @ Jacksonville (+2)
It's a home-dog party! We continue to hate the Falcons unconditionally, and Killa Cam Newton is in full-on beast mode. The Panthers don't have much to play for at 4-8, but they can spoil Atlanta's season and start to gain some momentum heading into next season. The Falcons certainly have the potential to dominate a team like Carolina, but they habitually play down to their competition.
The Bucs have lost six straight games, covering only once, and are without Josh Freeman. The Jaguars, while having a worse record, are 7th in defense DVOA and won't give up many points. As long as Blaine Gabbert doesn't make too many mistakes, Jacksonville should be able to win this game outright.
Fantasy: LeGarrette Blount struggled against the 32nd ranked defense in the league last week. What do you think he'll do against a top-ten defense?
San Francisco (-3.5) @ Arizona
Sorry Cardinals, but you're not going to do it twice in a row. The Niners defense is suffocating, shutting out the Rams last week, and the team is 10-1-1 ATS. Alex Smith isn't a stud, but he has strong chemistry with Michael Crabtree, Vernon Davis is a beast, Braylon Edwards has all the potential in the world, and Frank Gore is a top-five running back. That's not shabby.
Arizona is the epitome of mediocrity. True, they were most likely going to cover last week no matter what happened, but they never look impressive, they eke out victories. San Francisco is built to smother mediocrity, just look at last week's box score.
Fantasy: Yes, Crabtree is for real. If you don't believe us, look at his highlights from Texas Tech.
Chicago @ Denver (-3.5)
Teeeeeeeeeeeeeeeeeeeeeeeeeeeee eeebow Tiiiiiiiiiiiiiiiiiiiiiiiiiiiii iiiiiiiiiiiiiiiime.
Fantasy: If you're in a rut, it looks like Demaryius Thomas is back, and that Tebow can actually get him the ball.
Buffalo Bills (+7.5) @ San Diego
You can't fool us, San Diego. One big win against a bad team doesn't mean you get to be more than a touchdown favorite against a half-decent team. That's not how this works. We all know that Norv Turner loves to choke in situations like this, and if you've watched the Chargers at all this season, then you know that Philip Rivers' game last week was an anomaly – he's been horrible. Defensively, San Diego is ranked 30th in DVOA, and the Bills can definitely throw the pill. Despite cooling off after a hot start, Ryan Fitzpatrick is capable of moving the chains, and Stevie Johnson and David Nelson are playmakers.
San Diego is not back. Don't believe in the hype.
Fantasy: Johnson is a top fifteen play at wide receiver this week, and Nelson is interesting if you're desperate.
New York Giants (+3.5) @ Dallas
We don't believe in moral victories, but it's much better to lose against an undefeated team looking to win back-to-back Super Bowls than it is to lose against Arizona. It's even worse when you fail to call timeout, spike the ball with seven seconds left, ice your own kicker, miss the kick, and then give up a 52-yard touchdown to the one and only LaRod Stephens-Howling.
Good times.
Dallas' propensity to choke is outstanding, and this game feels like another heartbreaker.
Fantasy: Miles Austin is back for the Boys, but we still like Laurent Robinson as a WR2 and a flex play.
St. Louis @ Seattle (-4.5)
The Monday night games just keep getting better and better.
Fantasy: Marshawn Lynch. That's it.
This Week: 0-1
Last Week: 6-10
Season: 100-84-10
Follow us on Twitter for up-to-the-minute news.
Get up-to-the-minute NFL betting lines at Sportmoose.com.