Pigskin Diaries Week 15: No Quit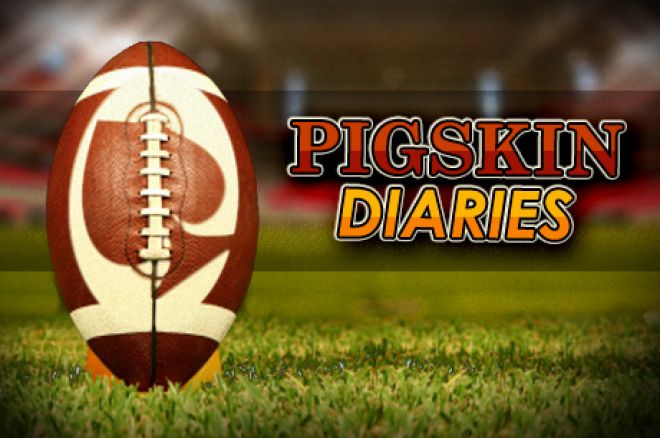 We're 13-19 picking National Football League regular season games the last two weeks, and we're already 0-1 this week because the Atlanta Falcons annihilated the Jacksonville Jaguars last night on Thursday Night Football. That's not going to cut it. We need a strong push heading into the playoffs because there are less games to pick in the postseason, and thus there is much more variance.
Let's get back in the black, and pick some winners.
Dallas (-7) @ Tampa Bay
Both the Cowboys (4-8-1) and the Bucs (4-9) have terrible records ATS, but this is a must win for Dallas, and, right now, Tampa Bay might be the worst team in football. The Bucs have lost eight of their last nine games, and in seven of those games they scored less than 20 points. Defensively they're a disaster (27th in DVOA) – in that same nine-game span their opponents averaged 32.5 points per game.
Laying a full touchdown with Dallas is painful, but they're the superior team. Laurent Robinson, Dez Bryant, and Miles Austin make up the best wide-receiver trio in the league, and Jason Witten is among the top five pass-catching tight ends. It all comes down to defense for the Cowboys. If they can hold Tampa Bay to fewer than 20 points – like every other team the Bucs have faced – then they should have no problem covering.
Fantasy: If you've hung on to Felix Jones for this long, then you're probably in a position where he is a viable option this week. Play him. The Bucs defense is horrendous.
Green Bay (-13.5) @ Kansas City
We will not take points and pray against Aaron Rodgers.
Fantasy: With Greg Jennings out (we always thought he could play through injury) it's next man up. James Jones, Donald Driver and even Randall Cobb have value.
Cincinnati (-6.5) @ St. Louis
Tennessee @ Indianapolis (+6.5)
On the surface, these two games look very similar. Both the Bengals and the Titans are fighting tooth-and-nail for a playoff spot in the AFC, while the Colts are Rams are a combined 2-24.
Guess who has both of those wins?
The difference between these two games is that Indy is somewhat competitive (4-9 ATS and Dan Orlovsky is the new Backdoor Cover King), and Tennessee is very average (regardless of whether Matt Hasselbeck or Jake Locker plays), while Cincinnati is good on both sides of the ball (16th offensive DVOA, 14th defensive DVOA), and St. Louis is just terrible (2-11 ATS, 32nd offensive DVOA).
We were tempted to fade the public twice here, and take the Rams and the points, but upon further review we'll lay the wood with Andy Dalton and trust Orlovsky to pull off another miraculous cover.
Fantasy: Nate Washington and Damian Williams are very interesting plays – Indy is 32nd in defensive DVOA.
New Orleans (-6.5) @ Minnesota
Neither the Saints (30th in defensive DVOA) nor the Vikings (25th in defensive DVOA) can stop anybody. Fortunately for New Orleans, they have a guy named Drew Brees. Honestly, this should've been the biggest line of the week – the Saints are 7-1 ATS on turf, and move like clockwork inside a dome. The only way Minnesota keeps this competitive is if Christian Ponder can throw for at least 350 yards (both Eli Manning and Matthew Stafford threw for 400 yards against New Orleans and still lost). That's far from a guarantee - Ponder has only crossed the 300-yard mark once this year.
This feels like a rout.
Fantasy: Adrian Peterson and Brees are obvious plays, while Percy Harvin is the most appealing receiver in the game. Of course all three Saints receivers have value, but no one knows which one is going to go off.
Carolina @ Houston (-6)
Picking against Killa Cam Newton is bad for you're health, but this Texans team is for real (6th offensive DVOA, 6th defensive DVOA). They've won seven consecutive games, going 6-0-1 ATS in that span, and T.J. Yates looks very competent at quarterback. Wade Phillips deserves most of the credit for Houston's first playoff birth – the Texans have never been known for their defense, and they're beasting without Mario Williams.
We're nervous about Cammy Cam, but he's not as dangerous as he once was. Once upon a time the Panthers were 5-2 ATS, but since then they're only 2-4 ATS – the market has adjusted.
Fantasy: If you're in a bind, Ben Tate could have a nice day against the terrible Panthers defense (31st DVOA).
Seattle (+3.5) @ Chicago
Washington (+6.5) @ New York Giants
These are two sneaky teams on the road against very public teams. Since losing Jay Cutler, the Bears have only covered once, and it was by a half-point last week in Denver. The Giants are only 2-3-1 ATS at home, and are 1-3 when favored by six or more points. Both the Redskins and Seahawks have had success recently. Washington has covered in three of their last four games, and Seattle has covered in five of their last six.
Neither team is very sexy, but sexy doesn't win. Fade the public, and take the dogs.
Fantasy: Santana Moss is Rex Grossman's favorite target, and he could have a big game against New York's weak secondary.
Miami @ Buffalo (+1.5)
So you're telling us that Tony Sparano deserves to get fired now? Why didn't Miami fire him when they were 0-4 heading into the bye week? How about when they were 0-7? No. The Dolphins waited until Sparano won four games in six weeks to fire him. That makes sense.
Sparano was the most passionate 0-7 coach in the history of the NFL, and the crazy thing is; his players bought into it. Rather than lay down and die like Indianapolis, Miami fought hard, played solid defense, and came away with four victories.
If you've ever wondered what it looks when a team quits, tune into this game on Sunday. Without Sparano, the Dolphins are a shell of themselves.
Fantasy: Reggie Bush continues to be a solid play, while Stevie Johnson is descending and has a tough matchup against Sean Smith and Vontae Davis.
Detroit @ Oakland (+1)
We've got Ndamukong Suh at -2500 to commit a personal foul penalty.
Fantasy: Calvin Johnson owners can't be too happy with his recent performances, but don't get too cute. It's the playoffs, start your studs.
Cleveland @ Arizona (-6.5)
Don't look now, but the Cardinals are a sneaky team. They're 8-5 ATS (4-2 at home), and have won and covered in five of their last six games. Last week's outright win over the Niners was really impressive, and shows that Arizona is indeed a solid home team. Somehow John Skelton isn't destroying this team – it's probably because Larry Fitzgerald is making plays like this.
Conversely, the Browns can't do anything right. We predict that next year, Colt McCoy won't be a starting quarterback, Peyton Hillis won't be a starting running back, and Cleveland will suck once again. Sorry, maybe LeBron James will come back one day to retire with the Cavs? Too soon?
Fantasy: Early Doucet is the only player you can reach for. Other than him, start your studs.
New York Jets (+3) @ Philadelphia
Dear Eagles, please lay down. Signed, Jets fan.
Philadelphia is still mathematically alive, but last week felt like a flash in the pan. The Eagles are 5-8 ATS (1-5 at home), and have only won consecutive games once this season. Michael Vick is a huge threat against New York's slower linebackers, but we all know how prone to injury he is once he leaves the pocket. If the Jets can contain Vick, then they can use bigger personal and zero in on LeSean McCoy.
The Eagles defense is improving, but so, too, is the Jets offense. Mark Sanchez is making less mistakes, and more importantly, Shonn Greene is running the harder than ever. Philadelphia struggles mightily against the run because they're undersized in the middle, and Rex Ryan will certainly be looking to ground and pound.
Fantasy: Want to roll the dice at tight end? How about Brent Celek. New York struggles to cover tight ends, and they are without safety Jim Leonhard.
New England @ Denver (+7)
Was there ever a doubt?
Fantasy: Demaryius Thomas is a really fun play against New England's awful secondary. He's Tim Tebow's favorite target, and he's scored three touchdowns in the past two weeks.
Baltimore -2.5 @ San Diego
Pittsburgh (+2.5) @ San Francisco
Call it an East Coast bias.
Fantasy: If you have better options, then benching Ryan Matthews and/or Rashard Mendenhall isn't a bad idea.
This Week: 0-1
Last Week: 7-9
Season: 107-93-10
Follow us on Twitter for up-to-the-minute news.
Get up-to-the-minute NFL betting lines at Sportmoose.com.