2nd Annual Hellmuth's Hold'em with Agrace HospiceCare Raises $110,000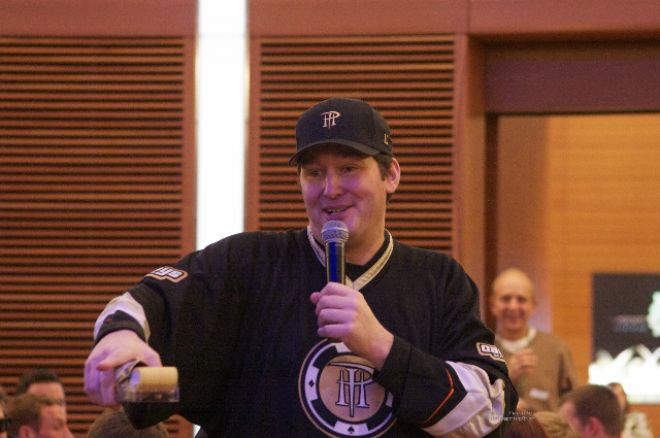 The holiday season is one of my favorite times of the year, not only because I get time off to see family and friends, but because the poker world comes out in full force to help others. This past holiday season was no different, with numerous pros donating time and money to charities, including Phil Hellmuth, who returned to Madison, Wisconsin, on Saturday, Dec. 17, 2011 for the 2nd Annual Phil Hellmuth's Hold'em with Agrace HospiceCare.
I had the honor of being an invited guest to the event, which was my second year in attendance. The charity event featured a poker tournament, raffle, and silent auction, and was designed to raise money and awareness for Agrace HospiceCare.
Agrace HospiceCare "is a nonprofit, community-based hospice dedicated to providing expert physical, emotional and spiritual support to patients and families dealing with life-limiting conditions."
The event drew an eclectic mix of observers, supporters, and more than 250 players, including poker pros such as 2007 World Series of Poker Europe Champion, Annette Obrestad; 1998 WSOP fourth-place finisher, Dewey Weum; online pros Anthony "D1rtyR1v3r" Nardi and Mark "P0ker H0" Kroon, with the latter being the defending champion of the event.
In addition, many local celebrities were in attendance including professional golfer Jerry Kelly, NFL and UW Badgers football player Derek Engler, NBC 15's Carleen Wild, Charlie Shortino and Leigh Mills, UW Badgers women's hockey coach and member of the 1980 US Olympic Hockey team Mark Johnson, to name a few.
Not only was the guest list impressive, but the venue also was impeccable. The state-of-the-art Wisconsin Institute of Discovery in downtown Madison served as host to the charity event, and believe me when I say this is one of the most impressive buildings in the entire city. Speaking of Madison, the entire poker community came out in full force to help put on the event, including volunteer dealers, tournament directors, and attendants.
To get a better idea of what I'm talking about, check out the venue and learn a little more about the event in the following interview, which was conducted by one of the tournaments celebrities, Jaymz Larson of the Heartland Poker Tour.
The tournament itself was a fun affair. The atmosphere was laid back, and after playing against Hellmuth's father and sister, who are soft spoken and reserved, I learned that Phil Hellmuth is nothing like the rest of his family. I also got to play against the mayor of Madison, Paul Soglin, who had actually announced his candidacy at the same event the year before. Soglin was gracious, entertaining, and had a sly way of criticizing your play in a complimentary way.
As far as the actual outcome of the poker tournament went, I had my eyes firmly set on making the final table and putting myself in a position to capture the title, but it didn't happen. I was eliminated late in the evening with approximately 70 players remaining after shoving
into pocket aces. I should have known better, but that is poker.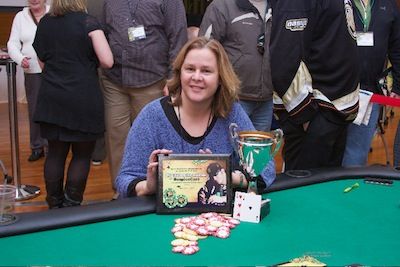 I didn't stay to see the final table, but I was later informed that the winner ended up being Laura Schultz. She overcame some stiff competition including John Orr, a successful Wisconsin businessman, who became the final table bubble boy in 10th place. Schultz went of to square off against Morgan Machina, John Green, Nardi and Kroon at the final table. Kroon came closed to defending his title, ultimately finishing in fourth place, but it was Schultz who defeated Green in heads-up action to claim the 2nd Annual Phil Hellmuth's Hold'em with Agrace HospiceCare trophy.
The tournament may have been the keystone of the event, but everyone was anxious to see who would win a seat to the 2012 World Series of Poker and secure a two-year lease of a 2012 Honda Civic LX from Zimbrick Honda. Late in the evening, Obrestad did the honors of drawing the big raffle winners, who were Jerry Mistele and Tiffany Schreiber respectively.
The drawing also produced nine winners who were chosen to play private heads-up matches the following day against Kroon (Winners: George King, Mark Stevens and Gary Rice), Obrestad (Winners: Scott Saunders, Wayne Harris and Dick Solis), and of course Hellmuth (Winners: Mike Saunders, Paul Guyette, and Josh Nelson).
The 2nd Annual Phil Hellmuth's Hold'em with Agrace HospiceCare was a fun evening for all, raising $110,000 for Agrace HospiceCare. The wheels are already in motion for next year's event, which is estimated to be the best yet, with several Hollywood names being tossed around as possible celebrities.
For more information on the event, visit agracehospicecare.org.
In addition, you can check out dozens of pictures from the event courtesy of Ryan Bauer Photography.
Stay up to date on all the latest news by following us on Twitter and liking us on Facebook.


*Photos courtesy of Ryan Bauer Photography.