Pigskin Diaries: Championship Weekend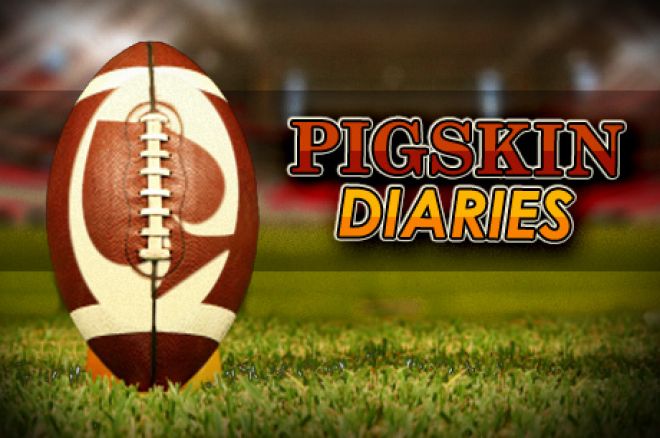 This Sunday, for the last time this season, there will be multiple National Football League games. Championship weekend has produced some absolute classics, including 2009: New Orleans 31, Minnesota 28 (OT); 2007: New York Giants 23, Green Bay 20 (OT); 2006: Indianapolis 38, New England 34; 1998: Atlanta 30, Minnesota 27 (OT); 1987: Denver 38, Cleveland 33; 1986: Denver 23, Cleveland 20 (OT); 1981: San Francisco 28, Dallas 27; and many more.
You can't win a Super Bowl unless you win the penultimate game — just ask Donovan McNabb, who led the Eagles to four consecutive NFC Championship Games from 2002 to 2004, and only had one shot at the Lombardi Trophy. The same can be said for Rex Ryan and the Jets, who reached the AFC Championship Game in both 2010 and 2011. They failed to win the penultimate game twice, becoming the first team since the '87-'88 Cleveland Browns to lose consecutive AFC title games.
Since 2002, no team has represented the NFC more than once in the Super Bowl, but three AFC teams have reached Super Sunday multiple times. The New England Patriots did ti in 2002, 2004, 2005 and 2008); Pittsburgh Steelers in 2006, 2009 and 2011; and Indianapolis Colts in 2007 and 2010.
Here is every Super Bowl matchup since 2002:


| Super Bowl | AFC | NFC |
| --- | --- | --- |
| XXXVI | New England Patriots | St. Louis Rams |
| XXXVII | Oakland Raiders | Tampa Bay Buccaneers |
| XXXVIII | New England Patriots | Carolina Panthers |
| XXXIX | New England Patriots | Philadelphia Eagles |
| XL | Pittsburgh Steelers | Seattle Seahawks |
| XLI | Indianapolis Colts | Chicago Bears |
| XLII | New England Patriots | New York Giants |
| XLIII | Pittsburgh Steelers | Arizona Cardinals |
| XLIV | Indianapolis Colts | New Orleans Saints |
| XLV | Pittsburgh Steelers | Green Bay Packers |
Through the first two rounds of the playoffs, we're 6-2 ATS. The worst we can finish is 6-5, which is over .500, but we want to close out the year strong. Each game from here on out will attract a large number of public bettors, and hopefully we'll be able to capitalize on their mistakes.
Baltimore at New England (-7)
Despite only going 4-4 ATS at home during the regular season, New England demolished Denver last week 45-10, covering the 14-point spread with ease. In their last regular season home game against Buffalo, the Patriots were down 21 in the first half and still covered the double-digit spread. New England scored 49 unanswered points, winning 49-21. Tom Brady can turn it on at the drop of a hat.
In last week's Pigskin Diaries, we argued that Denver would fail to cover because they lack a strong passing attack. New England's weakness is in their secondary — it's much easier to score on Devin McCourty than it is to stop Brady — and Joe Flacco, while he's not as bad as Tim Tebow, is not a big game quarterback. Ed Reed confirmed this during the week, saying that Flacco was "rattled" against the Texans.
"I think a couple times he needed to get rid of the ball. It just didn't look like he had a hold on the offense," Reed said on SiriusXM NFL Radio.
The Patriots average over 30 points per game at home (over 32 if you count last week's playoff game), while the Ravens average just 20 points per game on the road. In fact, the last time Baltimore scored 30 or more points in a game was on Nov. 20, 2011.
Obviously Baltimore's best chance in this game is to run the ball, control the clock, and play defense. That's easier said than done, though. How are they supposed to stop New England's offense? Aaron Hernandez and Rob Gronkowski are matchup nightmares, especially considering that both Terrell Suggs and Ray Lewis are run-stopping linebackers that are just average in pass coverage. Haloti Ngata will be the make-or-break player in this game. If he can create pressure in non-blitz situations, then Brady will struggle. If Baltimore has to send five or more defenders to create pressure, then Brady will pick them a part.
It's never fun to lay a touchdown with the most public team in the world, especially on Championship Sunday, but betting on Brady and Belichick in a big game is usually a profitable strategy. The two are 4-1 in AFC title games, beating their opponents by an average of 10 points per game. Take New England.
New York Giants at San Francisco (-2.5)
Take a bow, Alex Smith. You drove San Francisco down the field not once, not twice, but three times in the fourth quarter last Sunday against the Saints, scoring 17 points in the last 7:36 of the game. The world was expecting Drew Brees to put up those numbers, not Smith. Not the seventh year bust stud from Utah.
All the Niners do is cover at home. Including last week, they're 8-0-1 ATS — they pushed against the Cowboys way back on Sept. 18 — and they've won their last four home games (again, including the New Orleans game) by an average of 23 points. These two teams already met in Candlestick Park back in Week 10, with the Niners prevailing 27-20. Frank Gore only had six carries during the contest — he left the game at halftime with a knee injury.
Gore is now fully healthy.
Last week, we picked against the Giants thinking we were fading the public, when in reality we were one game early. Everybody is picking the G-Men to beat the Niners. Some how, some way, despite being 8-1 at home, Jim Harbaugh can still play the "nobody believes in us" card. According to the line, the Giants are a point and a half better than they were in Week 10. You can't deny that New York is on fire, but you also can't forget about San Francisco. The Niners should be favored by at least three points, maybe even more.
Eli Manning is a stud, but so is Brees, and he looked very average last week. We love the Niners giving three or less points, and we're hoping that the New York bettors can move the line even further away from three by game time.
Regular Season: 129-115-12
Last Week: 3-1
Playoffs: 6-2
Get up-to-the-minute NFL betting lines at Sportmoose.com.
Follow PokerNews on Twitter for up-to-the-minute news.