Pigskin Diaries: Wildcard Weekend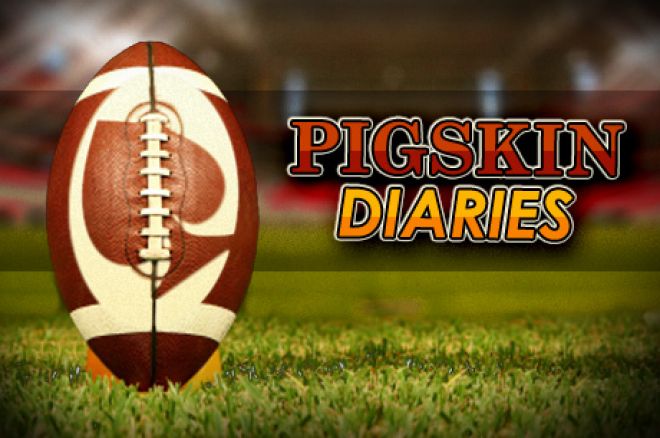 We finished the regular season of the National Football League 14 games over .500. That's not great, but it's certainly not too shabby, either. This week marks the beginning of the playoffs, which means there are only four games on the slate, and our margin for error is slimmer than ever.
Wildcard Weekend, here we come.
Cincinnati at Houston (-3)
According to Football Outsiders, the Texans (1.4 percent chance) and the Bengals (1 percent chance) are very unlikely to win the Super Bowl. In fact, only one team is less likely to raise the Lombardi Trophy — the Denver Broncos (0.5 percent chance). These two teams met four weeks ago in Cincinnati, and the Texans (+2.5) defeated the Bengals 20-19. The Texans have lost three straight since their Week 14 meeting, however, including a Week 16 loss to the then 1-13 Indianapolis Colts.
You shouldn't be worried about the last three weeks, though, because Houston has Cincinnati's kryptonite — a winning record. The Bengals are 2-6 (2-5-1 ATS) against teams with winning records, and both of their wins were over two months ago. In the last nine weeks of the regular season, Cincinnati went 0-3-1 ATS as underdogs, eking out a push against Baltimore in Week 11 thanks to a Mike Nugent field goal with 5:32 remaining in the fourth quarter.
Andy Dalton and A.J. Green showed us this season that a rookie quarterback and a rookie wide receiver can win together in this league, but that doesn't mean they're ready for a playoff run. T.J. Yates may scare you (and watching Jake Delhomme last week didn't help matters any), but Yates has a solid foundation around him. Arian Foster is a workhorse, Ben Tate is an effective spell, and, when healthy, Andre Johnson can't be covered. Yates won't have to be a hero for Houston to win and cover, which is what they should do Saturday afternoon.
Detroit (+10.5) at New Orleans
The Saints won eight of their 13 games by 11 or more points, including a 31-17 win against the Lions in Week 13, but this line is simply too high. Despite breaking every offensive record ever recorded, New Orleans was only favored by double digits twice, covering once. The Saints are a perfect 8-0 ATS at home, and covered their last eight games of the regular season. Vegas knows that the public will bet New Orleans no matter how high the line is, and if the line gets higher as we get closer to the game, then I like Detroit even more.
This line isn't all about the Saints though; the Lions left a sour taste in our mouths this season. Whether it was Jim Schwartz trying to fight Jim Harbaugh over a handshake, Ndamukong Suh stomping an offensive lineman on Thanksgiving, Matthew Stafford getting hurt again, or the team giving up 480 yards and six touchdowns to a backup quarterback last week, it seems like all Detroit did was screw up this season. These things factor into public thinking; thus, they affect the betting line.
Think about this: if the Lions win outright on Saturday, how surprised would you be? Would it shock you? Would you expect to see it on NFL Top Ten: Biggest Upsets a decade from now? No, you wouldn't. We're too comfortable with New Orleans right now, and that's never a good thing.
Atlanta at New York Giants (-3)
We've known since the start of the season that the Falcons are a fraudulent team. Like Cincinnati, Atlanta struggled against teams with winning records, going 1-5 ATS, and they struggled on the road (3-5 ATS), and in the open air (2-3 ATS). Unfortunately, this feels like a stay-away game because the Giants are so inconsistent, especially at home. Big Blue is 3-4-1 ATS at home, losing outright to Seattle, Washington, and Philadelphia. However, if you include their road game against the Jets as a home game, which essentially it was, the Giants have covered three of their last four games at home.
While this is cliche so say, the Giants look like they did in 2007. They're a solid team that's getting hot at the right time, and they do two things really well; they throw the ball, and they rush the quarterback. The defense doesn't need the lead to create pressure either; it's their packages that give opposing teams nightmares. At any given point in the game, the Giants can have three or four defensive ends on the field. The emergence of Jason Pierre-Paul has made them even more dangerous, creating more opportunities for Justin Tuck and Osi Umenyiora to wreack havoc.
New York's biggest hole is their secondary, but Atlanta can't drop back and pass every down because that would put too much pressure on their offensive line. Pass-blocking is incredibly difficult and physically demanding. If the Falcons are going to cover the spread, then they're going to need a good game from Michael Turner. He can control the clock, control the game, and create opportunities in the passing game with play action. Obviously Ryan has to play well, he's the quarterback, but Turner seems to be the make-or-break guy in this contest.
Again, this feels like a stay-away, and if the New York market bets the Giants up, then the Falcons are probably the right play.
Pittsburgh at Denver (+8.5)
Remember last year, when nobody believed in the Seattle Seahawks, and then they did this. The Hawks didn't back into the playoffs like the Broncos, but they were big underdogs at home, and they won outright. With Ryan Clark benched for medical reasons, Rashard Mendenhall out for the season with a torn ACL, and Ben Roethlisberger hobbling around on one leg, why can't Denver win?
Yes, the Broncos have lost three straight. Yes, they've failed to cover in their last four games. Yes, they're 1-7 ATS at home. Yes, Tim Tebow looks like a right-handed person throwing left-handed. And yes, the entire front office wants him to fail.
These are all reasons why the public is hammering the Steelers, and why we're going to fade them like Tiquan Underwood. It would make absolutely no sense if Denver won. It would defy logic. It would infuriate the droves of haters who are relieved that we only have "one more week of Tebow," and it would be cause for celebration for Tebow lovers like Skip Bayless.
In actuality, this game has nothing to do with Tebow and everything to do with Elvis Dumervil and Von Miller. Miller was an early candidate for defensive rookie of the year but suffered an injury and hasn't been the same since. It's paramount that he and Dumervil apply pressure on Big Ben, because he can't move. The Niners applied constant pressure on the Steelers in Week 15, sacking Roethlisberger three times and forcing three interceptions. San Francisco dominated the game, winning 20-3.
Hopefully, the public is 0-3 going into this game and will bet Pittsburgh up to double digits. If they do, then we're certainly going to send it in on Denver. Let's go Tebow!
Regular Season: 129-115-12
Get up-to-the-minute NFL betting lines at Sportmoose.com.
Follow PokerNews on Twitter for up-to-the-minute news.