Pigskin Diaries: Divisional Weekend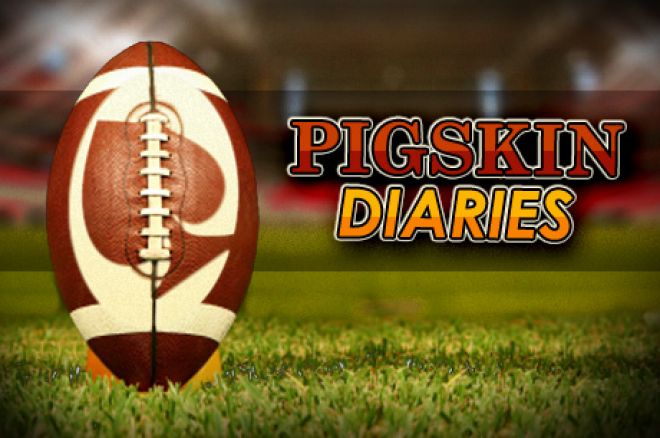 Sweet baby Tebow, Wildcard Weekend was as exciting as ever. The Lions tried to give us a perfect weekend, but we won't complain about going 3-1 in the National Football League playoffs. Let's extend the lead this weekend, because after this there are only three more games.
We're not big enough degenerates to bet the Pro Bowl.
New Orleans at San Francisco (+3.5)
Both the Saints and the Niners won 12 games against the spread during the regular season, but New Orleans was only 2-3 ATS on grass, while San Francisco was 9-1-1. The Niners were a great home team during the regular season (7-0-1 ATS), and they were favorites in seven of their eight home games. Only the Cowboys entered Candlestick Park as road favorites this year, and the only reason they pushed was because of a miraculous throw-and-catch in overtime.
The Saints offense is incredible, and it's very difficult to bet and root against it, but they are imperfect, especially on the road. New Orleans scored 20 or more points in every game this season, but their four lowest scoring days came on the road. Three of those four games were outside of a dome (20 points at Tampa Bay, 22 points at Tennessee, 23 points at Jacksonville), and none of those three defenses ranked higher than 12th in Defense DVOA, including Tampa Bay, who's ranked last in the league.
The Niners are second in Defense DVOA.
Aldon Smith and Justin Smith create tons of pressure up front for San Francisco, and their job will be to disrupt Drew Brees' rhythm passing game. I think they can do that, and I also think the Niners will win outright.
Denver at New England (-13.5)
When these two teams met in Denver a few weeks ago, the Patriots beat the Broncos 41-23. New England's Achilles Heel is their pass defense, but we won't have to worry about that until a later round because the Denver passing game is so incredibly weak.
Yes, Tim Tebow threw for over 300 yards last week, but 80 yards of that was on a crazy play to end the game, and Ryan Clark, one of the best safeties in the league, didn't play because of a health condition. If you're betting on Denver because you think Tebow can throw for 250 to 300 yards again, then you're setting yourself up for failure. Bill Belichick, who's had two weeks to prepare for this game, won't let that happen.
Moreover, the Broncos (7-9 ATS in the regular season, 6-2 on the road) only backdoor-covered one game this year — they only cover as underdogs when they win outright. Additionally, the Patriots are 2-1 ATS when they're favored by double-digits, and in Week 17, they proved that they can cover any line. Down 21-0 in the first half, New England stormed back to beat the Bills 49-21, easily covering the 10-point line. That was one of the most insane things we've ever seen, and it just goes to show how good Tom Brady is, and how relentless the offense can be.
New England has scored 30 or more points in seven of their last eight games, so Denver will need to score more than 20 points if they want to cover, which they've only done three out of their last nine games. We'll happily bet against that happening, and take the Pats.
Houston (+7.5) at Baltimore
Before you call me a Ravens hater [*cough* Christian Harder *cough*], let me explain. Baltimore was only 4-3-1 ATS at home, and 2-5-1 ATS when favored by a touchdown or more. Yes, Baltimore covered when they played Houston at home, but this is a much different Texans team.
At the time, even though they still had Matt Schaub, the team was shaken. They had just lost at home to the Raiders, and were without one of the best receivers in football; Andre Johnson. Last week, they demolished the Bengals by three touchdowns because their defense, ranked third in Defense DVOA, is full of play makers, and Wade Phillips is putting them in a position to succeed.
The most important player in this game is T.J. Yates — if he craps the bed, there's no way that Houston will stay within two or three touchdowns. Thankfully, he has two great backs in Arian Foster and Ben Tate, and a solid tight end in Owen Daniels to protect him. The Texans will do everything they can to make sure Yates doesn't have to be a hero, but as the quarterback, he's still going to have to make plays. That's kind of scary.
But even if Yates has a poor game, can the Ravens pull away? If they score on defense, they can certainly extend the lead, but if you're banking on Joe Flacco throwing the ball all over the place, you're setting yourself up for disappointment — in seven playoff games, he's thrown for only four touchdowns and seven interceptions.
New York Giants at Green Bay Packers (-7.5)
The love has gone too far for the "hottest team" in the NFL. Just because the Packers have rested for the last three weeks, doesn't mean they're stale, it doesn't mean they're rusty, and it certainly doesn't mean the Giants are going to win this game outright. Green Bay was 7-1 ATS at home during the regular season, and 5-1 ATS at home when favored by a touchdown or more. Aaron Rodgers' offense is a well-oiled, unstoppable machine that has been forgotten because the Saints played their starters in Week 17 and played a Wildcard game, and the Giants are so hot right now.
Did we mention that the Giants are hot? They are hot!!!
This line is a dream scenario because for the first time this season, the market is down on Green Bay and up on their opponent. When these teams played in New York two months ago, the Packers were favored by seven points. Now, at home, on the frozen tundra of Lambeau Field, the Packers are only favored by an extra half point? At home? In the playoffs? Did these guys not watch Rodgers during the first 15 weeks of the season? Did they not watch him in the playoffs last year?
New York's front four is great, and Eli Manning has the propensity to be clutch, but when I'm getting value with the best team in the NFL, I am going to snag it as fast as possible. Lay the wood with the Packers — you won't regret it.
Regular Season: 129-115-12
Playoffs: 3-1
Get up-to-the-minute NFL betting lines at Sportmoose.com.
Follow PokerNews on Twitter for up-to-the-minute news.