PokerStars.net Latin America Poker Tour Season 5 Kicks Off in Chile, March 21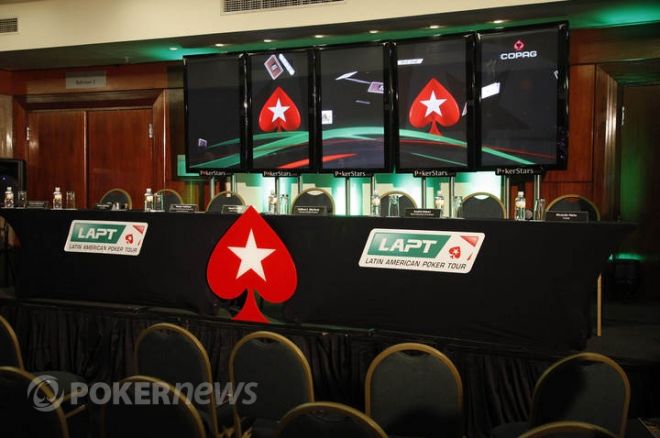 The PokerStars.net Latin American Poker Tour Season 4 may have just concluded with the Grand Final in Brazil, but plans for Season 5 have already been made. The newest season will kick off on March 21, 2012, at Viña del Mar, Chile, the first of five stops that include Uruguay, Colombia and Peru.
This marks the third time the LAPT has returned to the Viña del Mar Enjoy Casino & Resort and looks to build on last year's Main Event field of 621 players, which was won by Brazilian Murilo Figueredo. With the buy-in lowered to just USD $1,000 + $100, event organizers are expecting a massive turnout and have raised the capacity to 1,000 players.
"The Latin American Poker Tour will once again take place at Enjoy Viña del Mar, an iconic city which offers both locals and tourists a unique experience in a beautiful seaside setting," said Carolina Elchiver, Enjoy's corporate marketing manager. "We are very proud to bring a high-caliber tournament with worldwide recognition back to Chile, providing a significant push to the development of tourism within the region and we can't think of a better way to kick off Season 5 of the LAPT."
She went on to say: "For this third visit to Chile, the capacity for the Main Event has been increased to allow up to 1,000 players, so we can cater for the entire Latin American and international poker community. In addition, the seven side events will also have an increased capacity."
LAPT President David Carrion added his thoughts: "LAPT Season 5 will be a confirmation of growth and stability for poker and the LAPT brand in the region. Chile and Colombia proved to be record-making destinations in Season 4 and a new demographic opened up with the lower buy-in events. Season 5 will focus on delivering an A-class poker experience to players at all levels."
In regard to the other stops on the Season 5 schedule, Carrion stated: "We are proud to return to the Mantra Resort, Spa & Casino in Punta del Este, Uruguay, which has been an ever-present destination since the start of the LAPT. Meanwhile, Atlantic City in Peru is a player favorite that offers superb customer service, and Allegre in Colombia has an opportunity to build on the record set last year for the largest LAPT Main Event field of 681 players. The Grand Final will be confirmed at a later date, so watch this space for an announcement."
LAPT Season 5 Schedule
| Destination | Main Event Date | Buy-In |
| --- | --- | --- |
| Chile, Vina del Mar Enjoy Casino and Hotel | March 21–25, 2012 | USD$1,000 +100 |
| Punta del Este, Uruguay Mantra Resort, Spa and Casino | May 24–27, 2012 | USD$2,300 +200 |
| Medellín, Colombia, Casino Allegre | Aug. 8–12, 2012 | COL$ 3,820,000 +380,000 (≈USD$2,300) |
| Lima, Peru Casino Atlantic | Nov. 29 – Dec. 2, 2012 | USD$2,500 +200 |
| LAPT Grand Final | TBC | TBC |
Stay up to date on all the latest news by following us on Twitter and liking us on Facebook.