Moon Kim Wins 2012 World Poker Tour Bay 101 Shooting Star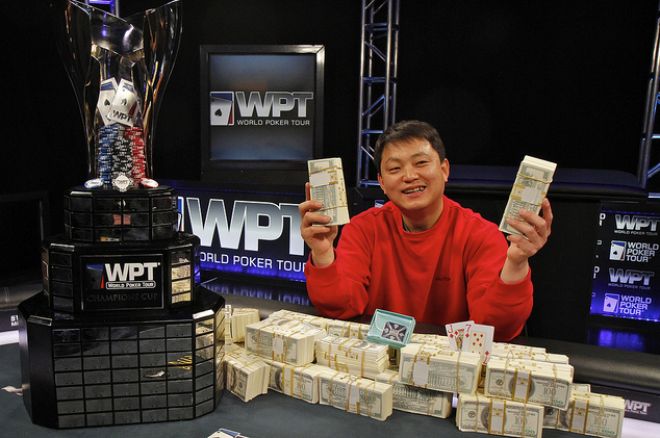 The World Poker Tour Bay 101 Shooting Star Main Event continued on Friday as the final six players of a 364-player field battled to a winner. Moon Kim bested the stacked final table to capture the $960,900 first-place prize.
Here's how things stacked up at the start of the fourth and final day:
| Seat | Player | Chip Count |
| --- | --- | --- |
| 1 | Joe Elpayaa | 908,000 |
| 2 | Joe Serock | 952,000 |
| 3 | Moon Kim | 2,098,000 |
| 4 | Ubaid Habib | 2,274,000 |
| 5 | Erik Cajelais | 3,640,000 |
| 6 | Andrew Badecker | 1,040,000 |
To say it was a marathon final table would be an understatement; in fact, it took an astonishing 113 hands for the first elimination to occur. According to the WPT Live Update Team, it happened when Joseph Elpayaa, who was crippled after doubling Andrew Badecker, was all in from the big blind for 35,000. Ubaid Habib limped from middle position, but soon folded when Badecker moved all in over the top.
Showdown
| | |
| --- | --- |
| Elpayaa | A♣6♣ |
| Badecker | K♦J♥ |
Elpayaa was ahead, but that soon changed when the J♦9♥8♥ flop delivered a pair of jacks for Badecker. Neither the 3♣ turn nor 9♦ river helped Elpayaa, and he was eliminated in sixth place for $128,200.
A little while later, on Hand #135, action folded to Badecker on the button and he opened for 130,000. Kim was in the big blind and moved all in, prompting Badecker to quickly call off.
Showdown
It was a classic race, but Badecker was the one who needed to catch, which is exactly what he did when the flop came down A♠5♠2♠. Unfortunately for him, the 3♥ spiked on the turn to give Kim a wheel and the lead. The 8♦ river was of no consequence, and Badecker hit the rail in fourth place, taking home $192,300.
It took 36 hands before the next elimination to occur, and happened when Habib opened for 200,000 under the gun and Erik Cajelais moved all in from the button for 460,000. Kim came along for the ride from the big blind, while Habib called the additional 260,000. The two active players checked it down as the board ran out K♠K♦7♥5♦Qx, prompting Kim to show Ax8x for ace high. Habib then rolled over Qx9x for a rivered pair of nines, which was good as Cajelais flashed an ace and mucked. The start-of-the-day chip leader finished in fourth place for $256,300.
Joe Serock was the next to go when he moved all in from the big blind for 1,020,000 after Kim had opened for 210,000 on the button. Kim thought of a moment before making the call, discovering that he was in another race situation.
Showdown
This time it was Kim who needed to improve to win the race, but he fell further behind on the 8♠6♦3♥ flop. Unfortunately for Serock, and much to Kim's delight, the K♠ spiked on the turn to give the latter the lead. The 7♦ river was a brick as far as Serock was concerned, and he was dispatched in third place for $320,400.
Heads-up action began with Kim holding 6,760,000 in chips to Habib's 4,160,000. It was a relatively lengthy battle, lasting 36 hands, before the final hand developed. It happened when Kim min-raised to 240,000 and Habib called, bringing about a 9♦4♣2♦ flop. Habib checked, Kim bet 300,000, and Habib check-raised to 900,000. Kim stood up, hesitated, and then moved all in. Habib tanked for about two minutes before calling off his last 2.8 million.
B]Showdown[/B]
It was a good call by Habib as he was ahead with his pair of nines, though he needed to dodge the flush draw of Kim. He did it on the A♣ turn, but not on the 8♦ river! Kim spiked his card to give him the WPT Bay 101 Shooting Star title and an entry into the season-ending WPT $25,500 World Championship; meanwhile, Habib finished as runner up for $570,200.
WPT Bay 101 Shooting Star Final Table Results
| Place | Player | Prize |
| --- | --- | --- |
| 1st | Moon Kim | $960,900 |
| 2nd | Ubaid Habib | $570,200 |
| 3rd | Joe Serock | $320,400 |
| 4th | Erik Cajelais | $256,300 |
| 5th | Andrew Badecker | $192,300 |
| 6th | Joe Elpayaa | $128,200 |
*Photo courtesy of the World Poker Tour.
Get all the latest PokerNews updates on your social media outlets. Follow us on Twitter and like us on Facebook today!
Executive Editor US, PokerNews Podcast co-host & 2013 WSOP Bracelet Winner.