The Nightly Turbo: Storytelling with Doyle, Robert De Niro and the APPT, and More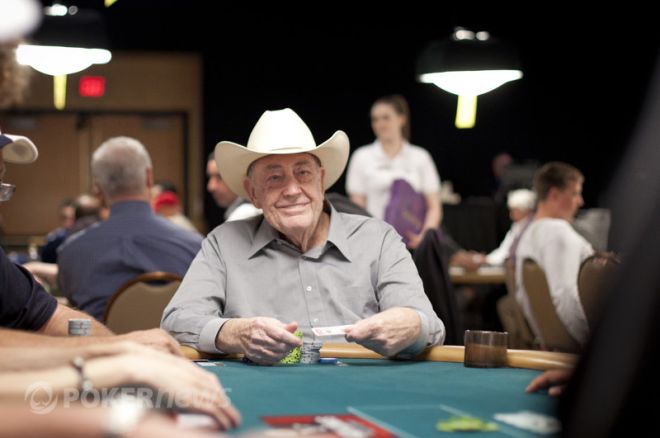 The Full Tilt Poker/Groupe Bernard Tapie deal didn't go through this week like we hoped, but there seems to be some light at the end of the tunnel. We'll cover that story, as well as a tale from Doyle Brunson's past, in this edition of the Nightly Turbo.
In Case You Missed It
How was the high-stakes action at the PokerStars tables this week? Read the Online Railbird Report to find out the week's biggest winners and losers.
Day 1b of the PokerStars.net Australia New Zealand Poker Tour Sydney Main Event wrapped up on Friday. Tobin Ryall is the chip leader going into Day 2, but Maria Ho and Team PokerStars Pro Angel Guillen will also return on Saturday.
@AsianSpa's weekly blog was back on Friday. Head over to The Muck to read about Spa's trip to the Bicycle Casino, the weekly Karina and Chip Jett poker tournament at the MGM, and more.
The PokerStars.fr France Poker Series Snowfest kicked off on Thursday. Get the details in our daily recap.
Joao Lopes topped the leaderboard after Day 1b of the PokerStars.net Latin American Poker Tour Chile Main Event. To find out who else thrived, read our LAPT recap.
WSOP bracelet winner Ken Aldridge is attempting to play the Big One for One Drop this summer. Aldridge spoke with Rich Ryan about his venture.
This month, Utah became the first state to opt out of any potential federal online gambling legislation. Matthew Kredell talked to Poker Players Alliance Executive Director John Pappas about the decision.
Have you lost your passion to play poker? Alec Torelli discusses ways to get it back in his latest Pro Blog.
Did you miss anything from the past week? Don't worry, we've got you covered. Kristy Arnett breaks down all the big stories in the PokerNews Weekly.
Doyle's Tales of the "Old Days"
It's no surprise that Doyle Brunson gets a lot of requests to tell tales of the "old days" of poker. Back in the 1950s and 1960s, most card games were held in back rooms and smoky pool halls where armed guards protected the players from intruders. The illegal games were often run by members of organized crime, and rules weren't always enforced. Obviously, poker has come a long way since then.
Brunson took to his blog on Thursday to recount the first of five times he was robbed at gunpoint. Brunson said he was 24 years old and playing games on a dangerous street in Fort Worth, Texas, when four gunmen posing as cops busted into the room and began pocketing his money.
"We were used to being arrested, taken down to the police station and paying a fine for gambling, then being released," Brunson recalls. "It was part of the risk of illegal poker, but when these guys started taking our money from the table and searching us for more, we realized those 'policemen' were really robbers."
According to Brunson, the armed guard protecting the game was thrown off by the police uniforms and dropped his gun, allowing the gunmen to escape with all of the money. "The robbers left and we never heard any more about them," he said. "On Exchange Avenue those type of things never got reported to the real police. We accepted it as part of the price of our lifestyle."
You can read the whole story at doylebrunson.com.
You Talkin' to Me?
The Paradise Walker Hill Casino in Seoul, South Korea, announced Thursday that actor Robert De Niro is its newest spokesperson. De Niro, famous for his bad-boy roles in films like Taxi Driver, Casino and Goodfellas, finished shooting commercials for the casino last week, according to the Korea Herald.
How does this apply to poker, you ask? Well, the Paradise Walker Hill Casino recently played host to the PokerStars.net APPT Seoul Main Event. This month's event saw 268 players participate, up from 186 the previous year, and Andrew Kim won the tournament for KRW 145,000,000.
Before the APPT Seoul event got under way, the PokerStars Blog reported seeing an ad featuring De Niro at the Incheon International Airport. Reporter Dave Behr sought answers as to why a Korean Casino would seek a Hollywood actor as a spokesperson, and APPT President Danny McDonagh told him that business relationships of that kind are quite common.
"It's illegal for nationals to gamble in the casinos here," McDonagh told Behr. "The numbers [at APPT Seoul] would be nuts if they could. Only internationals can play. We have a few Koreans in the field, but they hold multiple passports."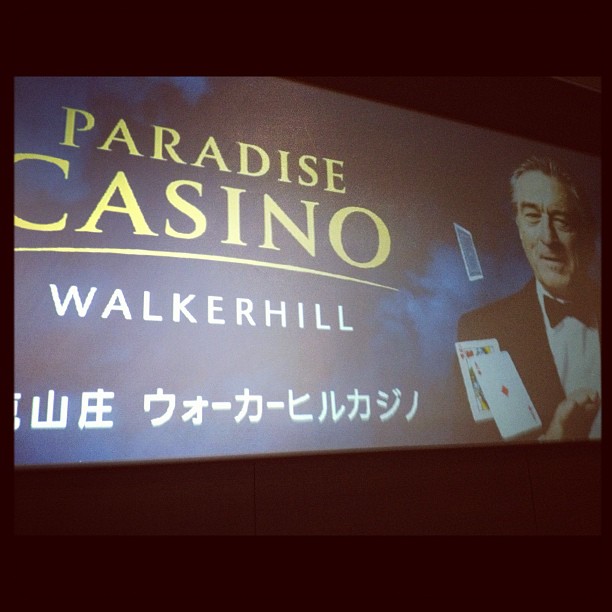 We don't suspect De Niro will be playing any APPT events anytime soon, but if his face can help increase the game's popularity in the Asia Pacific region, we're all for it.
Read more at the PokerStars Blog.
Full Tilt Poker Poised For Re-launch?
The sale of Full Tilt Poker didn't close on Friday (as some sources suggested might happen), but there was some good news regarding the embattled company this week. Wicked Chops Poker reported on Thursday that Full Tilt Poker is in "full ramp-up mode" for a re-launch, leaving the WCP entities "the most confident we've felt about the acquisition being finalized since November of last year."
Multiple sources told WCP that Groupe Bernard Tapie is working on re-acquiring Full Tilt Poker's gaming license which was stripped away by the Alderney Gaming Control Commission last September. Then, barring any setbacks, GBT hopes to re-launch the poker room by the end of this month.
PokerNews' Chad Holloway spoke with GBT lawyer Behnam Dayanim this week, but there was "no update" on any progress on the pending deal.
For more, check out Wicked Chops Poker (beware of the paywall).
Survey Says: Women Like Online Poker
While several bills seeking intrastate online poker have failed in recent weeks, New Jersey poker players are still holding out hope that a platform will be up and running sometime this year. If it happens, we may see more and more women the virtual tables.
According to a survey conducted by the Lloyd D. Levenson Institute of Gaming, Hospitality and Tourism at New Jersey-based Richard Stockton College, 40 percent of females said they favored poker over any other form of online gambling, compared to 13 percent of males.
The survey, which was taken by 3,000 people from major markets on the eastern half of the country, also found that nearly one in four people under the age of 30 would gamble online. That number dropped to one in 10 for people aged 30 to 49.
NJ.com has more.
Poker Lingo IRL
Kristy Arnett brought us another gem from Chile on Thursday. This time, she showed how poker terms relate to the beach. Sit back and enjoy.
Get all the latest PokerNews updates on your social media outlets. Follow us on Twitter and like us on Facebook today!