The Nightly Turbo: Chris Ferguson Receives Extension, Vanessa Rousso's Bentley, and More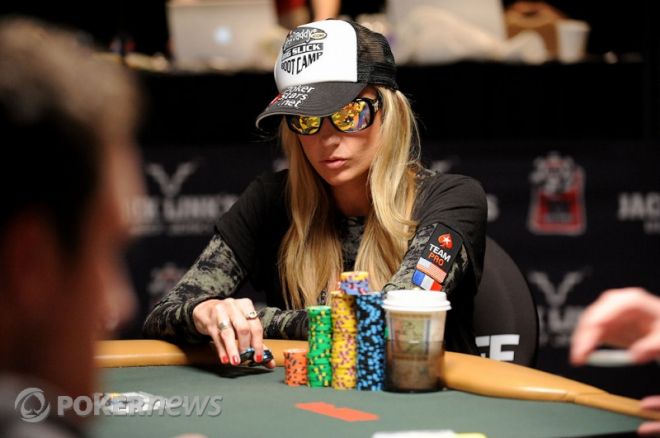 Another week has come and gone without an announcement of a finalized sale of Full Tilt Poker. But that doesn't mean the company hasn't been making headlines. Chris "Jesus" Ferguson was back in the news on Friday, and we'll bring you that story and more in this edition of the Nightly Turbo.
In Case You Missed It
Poker pro Terrence Chan competed in his first professional MMA fight on Friday. Find out the results over at The Muck.
How was the high-stakes action at the PokerStars tables this week? Read the Online Railbird Report to find out the week's biggest winners and losers.
Why is the business world losing faith in Steve Wynn? Find out that and more in the latest Inside Gaming.
A final table was reached quickly on Day 4 of the PokerStars European Poker Tour Campione Main Event. Olivier Busquet headlines the eight players contending for the title and €640,000.
Busquet still had time to join the PokerNews Podcast this week. He chatted with Kristy Arnett about EPT Campione and his crazy taxi ride.
Did you miss anything from the past week? Don't worry, we've got you covered. Sarah Grant and Laura Cornelius break down all the big stories in the PokerNews Weekly.
Ferguson Granted Extension
Last week, PokerNews reported that another extension had been granted to the respondents of an amended civil complaint in the case of theUnited States of America v. PokerStars, et al, filed last September. The series of filings included Full Tilt Poker, PokerStars, Absolute Poker, Howard Lederer, Ray Bitar, Rafe Furst and payment processor Chad Elie. One name missing from the list was Full Tilt Poker board member Chris Ferguson.
On Friday, we learned that Ferguson has also been given an extension to respond to the amended complaint, albeit a week later than the other defendants. The latest Stipulation and Order was signed by Judge Leonard B. Sand on Tuesday, March 27, and stated the following:
"Christopher Ferguson's time to file an answer or otherwise respond to the Amended Complaint until 5/14/2012."
Ferguson's name was pulled into the Full Tilt Poker mess on Sept. 21, 2011, when the Department of Justice amended its original civil complaint, alleging that Full Tilt Poker and board members Ferguson, Ray Bitar, Howard Lederer and Rafe Furst defrauded thousands of online poker players out of more than $300 million still owed to them.
Ferguson reportedly funneled approximately $60 million of his FTP payments into his own bank accounts beginning in at least 2007 and withdrew or spent around $45 million of the funneled money.
The extension filing for Ferguson and the rest of the respondents can be found at Docs.Justia.com.
You Can See My Bentley G.T.
Poker players are notorious for making outlandish purchases. You'll probably recall Phil Galfond building a slide in his $5 million condo in New York. David Einhorn bought tried to buy ownership in the New York Mets. Darvin Moon bought ... um ... a lawnmower.
For Team PokerStars Pro Vanessa Rousso, big dollars are worth spending on luxury cars. In 2009, Rousso purchased a 2007 Lamborghini Gallardo — one of only 5,000 of its kind in the world. She recently sold that outdated hunk of garbage and upgraded to a 2012 Bentley GT, which she showed off to her Twitter followers on Friday:
Wow just drove my new Bentley GT to the gym (sold Lambo) n Im in love w way it drives! #ImALuckyGirl @celebritycarsLV http://t.co/lJWYddBY

— Vanessa Rousso (@VanessaRousso)
Yeah, it seems Vanessa is doing pretty well for herself. How does one go about applying to be a GoDaddy girl?
Place Your Bets
Once again, online betting site Matchbook.com is giving railbirds a chance to place wagers on the outcome of the PokerStars SuperStar Showdown between Viktor "Isildur1" Blom and Isaac "philivey2694" Haxton.
The next match is to take place at Pokerstars.com on Saturday, March 31 at 1300 EDT (1700 GMT) and will feature Haxton and Blom playing four tables of $200/400 no-limit hold'em. They'll each sit down with $500,000 and the match won't end until one of them has it all.
Haxton (-110) is listed as the slight favorite over Blom as of press time. Bettors can purchase Blom at +106. Haxton bested Blom in each of the first two SuperStar Showdowns for a total of $46,794 over 5,000 hands. In the first match, Haxton took $41,701 from the Swede. The second match was played earlier this month with Haxton overcoming a huge deficit to win by just $5,093.
The live odds for this weekend's match can be found at Matchbook.com.
Same Voice, Different Megaphone
Daniel Negreanu says he'll be distancing himself from the TwoPlusTwo forums after his ban heard 'round the world, but that doesn't mean "Kid Poker" will be removing himself from the online community altogether. On Thursday, Negreanu returned to his roots over at Full Contact Poker and made some interesting comments about Phil Hellmuth, Annie Duke, and the "unholy trinity" of Chris Ferguson, Howard Lederer and Ray Bitar.
"First of all, comparing Hellmuth to Annie at UB is akin to comparing apples and rotten oranges," said Negreanu, who answered questions for several hours on Thursday. "PH wasn't involved in any decision making or marketing anything but 'PH the brand' while Annie was more intimately involved in the business end of things. You need to understand the psyche of these people. They were getting paychecks, but essentially had nothing to do with the running of the business, much like if you owned stock in Google and it was later revealed they were involved in shady business, that isn't something that makes you guilty by association in the least.
"How can you possibly believe that Juanda, Jennifer, Allen Cunningham, Andy Bloch etc. are equally guilty to the unholy trinity of Bitar, Ferguson, and Lederer? The hate should, and IS appropriately on their shoulders because they were driving the ship."
Daniel tackled several other interesting topics in the thread. If you have a question of your own that you'd like answered, visit the thread at FullContactPoker.com.
Poker Tracker 4 Beta
Big news, online grinders. The long-awaited public beta release of Poker Tracker 4 has been made available for Windows OS user to test for free.
For those not familiar, PokerTracker imports hand histories to a player's computer and converts them into data. The data is then parsed and stored into a local database, where the player can analyze and review the information in a user-friendly format to examine the best path of decision making for each hand.
Poker Tracker 4 will have most of the same features of the first three versions, but the new software also includes a redesigned replayer with social networking functions, personalized HUD display, automatic database maintenance, and ICM analysis and quizzes.
PokerTracker 4 is expected to go on sale before the third quarter of this year. Video previews of PT4 can be found at PokerTracker.com.
Antonuis Versus ElkY
What do Patrik Antonius and Bertrand "ElkY" Grospellier think of one another? Sarah Grant caught up with both players at EPT Campione to find out.
Get all the latest PokerNews updates on your social media outlets. Follow us on Twitter and like us on Facebook today!