The Weekly Turbo: iSeriesLIVE, "ElkY" Joins PartyPoker Premier League V, and More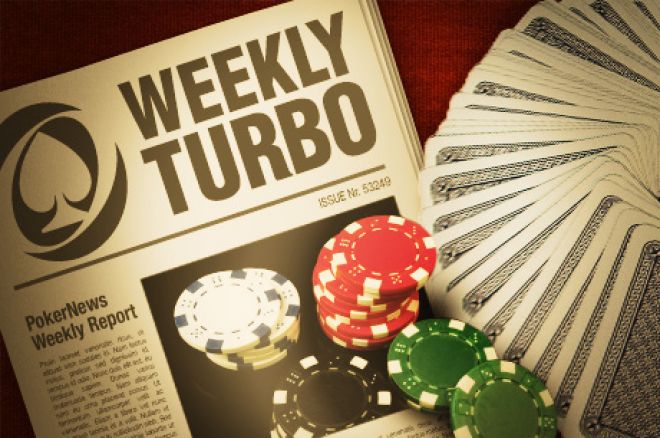 Did you miss any of the top poker news stories this week? Well you've come to the right place to get caught up. We're covering the new innovative tournament series iSeriesLive, Bertrand "Elky" Grospellier joining the loaded Premier League V lineup, and much more.
Poker Tournaments
Introducing iSeriesLIVE
Degens are in for a real treat as Poker Royalty has announced its new poker series: iSeriesLIVE.
iSeriesLIVE will be a groundbreaking new concept whereby fans will be able to bet on the action as it's happening. The series will include some of the game's top pros, including Daniel Negreanu, Phil Hellmuth, Maria Ho and Carlos Mortensen, facing off in a number of different tournament formats.
Viewers will be able to follow live hole-cam feeds online while they bet on the action. The real gamblers out there will even be able to bet on red or black flops. All betting will be done online through sportsbook giant PaddyPower.
For the entire series, the pros will be without cell phones or outside access to Internet, so there will be no way for them to check out the feeds themselves. The first event is set to take place on April 5 at 1700 GMT (1300 EST).
For a closer look at iSeriesLIVE, check out our article at PokerNews.com.
Premier League Gets French Flavor
Didn't think the lineup for the upcoming PartyPoker Premier League V could get any stronger? Think again.
Triple Crown winner Bertrand "ElkY" Grospellier added his name to the mix on Wednesday. The no-limit hold'em specialist with more than $8.7 million in live tournament earnings joins superstars like Tom Dwan, Patrik Antonius, Vanessa Selbst, Sam Trickett, Tony G, Luke "FullFlush" Schwartz, and Erik Seidel who are putting up the $125,000 buy-in when the event kicks off on April 4 in Vienna, Austria.
"This will be the first time I have taken part in the Premier League and I'm super excited to compete with all those great players in such a unique and interesting format," Grospellier told the PartyPoker Blog on Wednesday.
Read more at PokerNews.com.
Poker Legislation
Another One Bites the Dust
On Tuesday, Hawaii Representatives Joseph Souki and Angus McKelvey told PokerNews that a group of bills aimed at legalizing online gambling in Hawaii have been put to rest, temporarily ending the state's hopes for an online poker platform.
Earlier this year, House Bill 2422 was introduced in the Hawaii state legislature. The bill intended to create an Internet lottery and gaming corporation, and the state-run lottery would then be authorized to offer games of chance and games of skill, including poker and casino games, on the Internet.
The bill, which was co-sponsored by Representatives Souki, McKelvey, and Faye Hanohano, failed to advance in the legislature.
Hawaii and Utah remain the only two states without any form of gambling. While Hawaii has made efforts to legalize the activity, Utah has been strongly opposed to any gambling measure. Rep. Stephen Sandstrom recently introduced a bill intended to prevent online gaming in Utah if and when the U.S. Congress legalizes online gaming.
Hawaii, Mississippi, Iowa and the District of Columbia have failed to pass online gaming measures this year. Washington, D.C. was the first U.S. jurisdiction to approve and operate a Web wagering system, but the legislation was repealed last month.
U.K. Changes Gambling Tax
In an attempt to encourage offshore operators to return to the United Kingdom, chancellor George Osborne announced Wednesday that online betting operators around the world will be forced to pay taxes on gross profits generated from customers based in the U.K.
The U.K. tax regime currently in place allows offshore gambling operators like Ladbrokes and William Hill to avoid paying duties. The new system will enforce taxes on a point of consumption, meaning operators will no longer benefit from their offshore locations.
"Ninety percent of online gambling consumed by our citizens is now supplied from outside the UK, and the remaining UK operations are under pressure to leave," the chancellor said. "This is clearly not fair — and not a sensible way to support jobs in Britain."
It's important to note that the new tax regime will not affect online poker players in the U.K. who do not pay any tax on winnings.
The Financial Times has more.
Poker Business
Tzvetkoff to Testify
The Australian entrepreneur accused of bringing down online poker in the U.S. is set to testify in the trial of two Black Friday principals.
Daniel Tzvetkoff, whose company InstaBill processed more than $1 billion in illegal online poker transactions in the U.S., is set to appear as a witness in the trial of John Campos and Chad Elie on April 9 in New York. The 29-year-old businessman was facing up to 75 years in prison after his arrest in Las Vegas in 2010, but he struck a plea bargain with prosecutors and provided vital evidence incriminating PokerStars, Full Tilt Poker and Absolute Poker. He has since been living in hiding under FBI protection as the star informant in the case.
According to the Australian Associated Press, Tzvetkoff has handed more than 90,000 documents over to prosecutors, including confidential emails to and from Elie, a former business partner. Elie is facing up to 85 years in prison on nine charges, including conspiracy to commit bank fraud, money laundering and violating the Unlawful Internet Gambling Enforcement Act (UIGEA). Campos, meanwhile, could spend 35 years in jail on six charges.
Get the full story at PokerNews.com.
FTP, PokerStars and AP Given More Time to Respond
While the world continued waiting for the pending deal between Groupe Bernard Tapie and Full Tilt Poker to be completed this week, the U.S. Attorney for the Southern District of New York granted another extension to FTP and other respondents of an amended civil complaint regarding last April's Black Friday indictments.
After the previous deadline of March 19 passed, PokerStars, Absolute Poker, Howard Lederer, Ray Bitar, Rafe Furst and payment processor Chad Elie were given until May 14, 2012, file a response. The extension is another on a growing list since the respondents' original response date of the indictment passed on Nov. 30, 2011.
Read more at PokerNews.com.
Adios, Bodog
Bodog was back in the news this week after announcing that it is exiting the Spanish market ahead of the country's new gambling market. The company released a statement to players in Spain about the decision:
"We would like to inform you that due to recent regulatory changes, we are no longer able to offer our betting or wagering services to residents of Spain or Spanish territories. Your account will be disabled on the 31st of March 2012 and as of today; you are no longer able to make any further deposits to your account."
The new gambling regulations in Spain are expected to go into effect later this year. More than 60 companies have applied for operating licenses. Among the online poker rooms interested in the space include PokerStars, bwin.party, 888 and Ladbrokes. Groupe Bernard Tapie also reportedly submitted an application before the Dec. 14, 2011, deadline.
Poker Players
Doyle's Tales of the "Old Days"
It's no surprise that Doyle Brunson gets a lot of requests to tell tales of the "old days" of poker. Back in the 1950s and 1960s, most card games were held in back rooms and smoky pool halls where armed guards protected the players from intruders. The illegal games were often run by members of organized crime, and rules weren't always enforced. Obviously, poker has come a long way since then.
Brunson took to his blog on Thursday to recount the first of five times he was robbed at gunpoint. Brunson said he was 24 years old and playing games on a dangerous street in Fort Worth, Texas, when four gunmen posing as cops busted into the room and began pocketing his money.
"We were used to being arrested, taken down to the police station and paying a fine for gambling, then being released," Brunson recalls. "It was part of the risk of illegal poker, but when these guys started taking our money from the table and searching us for more, we realized those 'policemen' were really robbers."
According to Brunson, the armed guard protecting the game was thrown off by the police uniforms and dropped his gun, allowing the gunmen to escape with all of the money. "The robbers left and we never heard any more about them," he said. "On Exchange Avenue those type of things never got reported to the real police. We accepted it as part of the price of our lifestyle."
You can read the whole story at doylebrunson.com.
Another Viktim
Five days after blowing a massive lead against Isaac "philivey2694" Haxton, Viktor "Isildur1" Blom faced off against high-stakes regular Alex "Kanu7" Millar in the PokerStars SuperStar Showdown last Sunday.
Millar isn't well known outside of the high-stakes online realm but has fared well against some of the toughest competition in the game. Millar accepted Blom's challenge to play 2,500 hands of $100/200 no-limit hold'em on Sunday, but he handed over $37,687 to the Swede when the match was all over.
In the biggest (and sickest) hand of the match, Blom raised to $600 preflop and called Millar's $2,600 three-bet. The flop brought
and Millar fired 4,000 into the pot. Blom called, and the
fell on the turn. Millar led out again, this time for $11,500, and Blom put in a call. The
hit the river and Millar moved all in for his last $32,350. Blom decide to call and showed a meager
for bottom pair, but Millar tabled just
. The $100,900 pot gave Blom a lead he would never relinquish despite a late surge from Millar.
Blom is 9-4 in 13 SuperStar Showdown matches and boasts winnings of $534,090. Here's a look at his results since last December:
SuperStar Showdown Breakdown
| Date | Opponent | Profit/Loss | Record |
| --- | --- | --- | --- |
| Dec. 19, 2010 | Isaac "philivey2694" Haxton | -$41,701 | 0-1 |
| Jan. 2, 2011 | Antanas "Tony G" Guoga | +$44,280 | 1-1 |
| Jan. 30, 2011 | Daniel "w00ki3z" Cates | +$51,196 | 2-1 |
| Feb. 13, 2011 | Eugene "MyRabbiFoo" Katchalov | +$111,750 | 3-1 |
| Feb. 27, 2011 | Attila "DodgyFish72" Gulcsik | +$10 | 4-1 |
| March 20, 2011 | Daniel "KidPoker" Negreanu | +$150,000 | 5-1 |
| March 27, 2011 | Daniel "KidPoker" Negreanu | -$26,500 | 5-2 |
| April 3, 2011 | Scott "urnotindangr" Palmer | -$5,425 | 5-3 |
| April 10, 2011 | Scott "urnotindangr" Palmer | +$66,607 | 6-3 |
| April 24, 2011 | "Mastermixus" | +$1,279 | 7-3 |
| June 19, 2011 | Rui "PepperoniF" Cao | +$150,000 | 8-3 |
| March 11, 2012 | Isaac "philivey2694" Haxton | -$5,093 | 8-4 |
| March 18, 2012 | Alex "Kanu7" Millar | $37,687 | 9-4 |
Total SuperStar Showdown Profit to Date: $534,090
For a detailed recap of Sunday's SuperStar Showdown, check out the PokerStars Blog.
Daniel's Weekly Rant
This week, Daniel Negreanu opens his video blog with an explanation of iSeriesLIVE, a new project he's involved with. Something in this video blog was apparently enough to get Negreanu temporarily banned from the popular poker forum, TwoPlusTwo.
Follow PokerNews on Twitter for up-to-the-minute news.