World Poker Tour on FSN: World Poker Finals Season X — Part II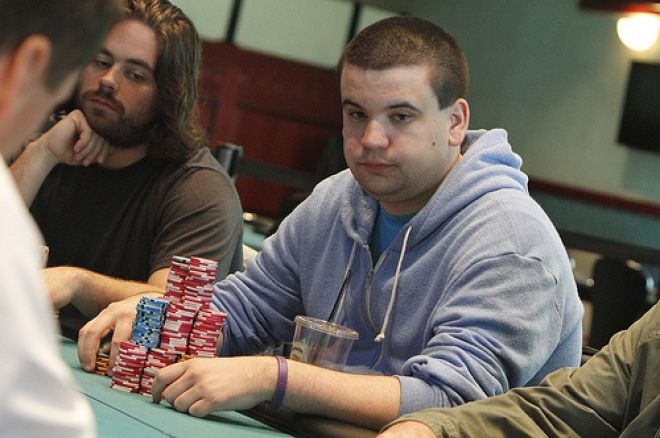 Season X of the World Poker Tour on Fox Sports Network continued Sunday with part two of the 10th annual World Poker Finals from Foxwoods Resort Casino in Mashantucket, Connecticut. The $10,000 event initially attracted 189 players and created a prize pool of $1,778,550, with $449,910 reserved for first place, but only five remained at the top of the broadcast.
In part one, the early stages of the tournament were highlighted while the first final-table casualty occurred. It happened on the third hand of the final table when Eli Berg raised to 36,000 with
. Christian Harder squeezed out
on the button and limped, and Andy Frankenberger came along from the big blind with
.
Frankenberger checked the king-high flop, Berg bet 73,000 and Harder called. Frankenberger got out of the way and the
turned. This time Berg checked, Harder bet 104,000 and Berg moved all in for 381,000. Harder took a few seconds before making the call and Berg cringed when the cards were turned up. The
river changed nothing, and Berg exited in sixth place for $83,580.
Here's how things stacked up at the start of the final table:
WPT Foxwoods World Poker Finals Final Table
| Seat | Player | Chips |
| --- | --- | --- |
| 1 | Steven Brackesy | 1,637,000 |
| 2 | Daniel Santoro | 1,426,000 |
| 3 | Christian Harder | 1,783,000 |
| 4 | Bob Carbone | 517,000 |
| 5 | Andy Frankenberger | 358,000 |
| 6 | -Empty- | |
First Hand: On what would be 13th hand of the final table, with the blinds at 8,000/16,000 and a 2,000 ante, Steven Brackesy opened for 37,000 with
and received a call from Daniel Santoro who was holding
. Christian Harder was next to act and three-bet 127,000 holding
on the button, then Andy Frankenberger moved all in for 354,000 with
from the big blind. Both Brackesy and Santoro quickly got out of the way, and Harder insta-called.
Frankenberger, the reigning WPT Player of the Year, only had a 30 percent chance of winning the pot, which dropped to 17 percent on the
flop. The
turn meant he needed an ace on the river, but it was not meant to be as the
blanked. Frankenberger was eliminated in fifth place for $99,585, missing out on an opportunity to become a two-time WPT Champion.
"I'm not really concerned about getting respect," Frankenberger said in his post-elimination interview with sideline reporter Matt Savage. "I think my record pretty much speaks for itself, but I would like to get back here sooner than later so I can do a little bit better than I did today."
Steven Brackesy Eliminated in Fourth Place: Steven Brackesy opened for 43,000 from the small blind with
and was met with a three-bet to 110,000 by Daniel Santoro, who held
in the big blind. Not to be outdone, Brackesy four-bet 243,000, Santoro five-bet 440,000, and Brackesy six-bet all-in for 1.488 million.
"This would be quite sick," Santoro said before shrugging and making the call. Both Mike Sexton and Vince Van Patten were incredulous in the booth, while Brackesy remained stoic. The
flop wasn't particularly interesting, but the
turn brought things to life as it gave Brackesy a straight and flush draw. The crowd was on its feet when they saw Brackesy had a 33 percent chance for the come-from-behind win, but it was stymied when the
appeared on the river.
Brackesy finished in fourth place for $129,816 while Santoro chipped up to 3,279,000. "Small blind versus big blind, I just didn't believe he had that big a hand," Brackesy told Matt Savage after his elimination. "I thought I could get him off it, I was wrong. I'm going to take some time off and see if I can get back again and do a better job."
Off to the Races: On the button, Christian Harder opened for 45,000 with
and was met with an all-in three-bet to 581,000 by Bob Carbone, who held
in the small blind. Harder asked for a count before making the call. It was off to the races with Carbone having a 53 percent chance of surviving the hand. The
flop was nothing special as neither player held a heart, while the
turn meant Harder needed either an ace or nine on the river to dispatch the 62-year-old pawn shop owner. Much to Carbone's delight, the
appeared on the river and he doubled to 1,191,000.
Harder Folds the Best Hand: Bob Carbone opened for 55,000 from the button with
and was called by Christian Harder who held
. The two checked the
flop, leading to the
turn. Again Harder checked, opening the door for Carbone to bet 75,000. It proved enough to win the pot as Harder folded the best hand.
Chop It Up: Daniel Santoro limped from the small blind with
and Christian Harder checked his option from the big holding
. The
flop gave each a pair of aces, but as Mike Sexton pointed out, "Neither is going to put the other on in ace in their hand because the pot wasn't raised preflop."
Santoro led out for 30,000, Harder called, and the
appeared on the turn. Again Santoro bet, this time 60,000, and Harder called. The
river meant it would be a chop if there was a showdown, but first Harder needed to deal with Santoro's 100,000 bet. He thought long and hard before making the call, earning half the pot.
Last Hand of the Episode: With the blinds at 12,000/24,000 and a 4,000 ante, Daniel Santoro opened for 48,000 from the button with
. Bob Carbone then squeezed out
in the big blind and three-bet to 124,000. Santoro eyed up his opponent's stack, did some calculations in his head, and then made the call. The
flop saw Carbone quickly move all-in and Santoro fold immediately.
Tune in Next Week: Part III of the Foxwoods World Poker Finals is set to air on Sunday, May 6, on FSN, so be sure to check your local listings. If by chance you miss it, check back next week for the latest recap of all the action right here on PokerNews.
Who will be the 156th name on the WPT Champions Cup? Find out next week.
Past Foxwoods World Poker Finals Champions
| Season | Player | Entrants | Earnings |
| --- | --- | --- | --- |
| 1 | Howard Lederer | 89 | $320,400 |
| 2 | Hoyt Corkins | 313 | $1,089,200 |
| 3 | Tuan Le | 674 | $1,549,588 |
| 4 | Nick Schulman | 783 | $2,167,500 |
| 5 | Nenad Medic | 609 | $1,717,194 |
| 6 | Mike Vela | 575 | $1,704,986 |
| 7 | Jonathan Little | 412 | $1,120,310 |
| 8 | Cornel Andrew Cimpan | 353 | $910,058 |
| 9 | Jeff Forrest | 242 | $548,752 |
| 10 | ??? | 189 | $449,910 |
If you love poker, be sure to follow us on Twitter and like us on Facebook for all the latest updates on the World Poker Tour.
*Picture courtesy of World Poker Tour.