The Nightly Turbo: Foster Leads ANZPT Perth Day 1b, PocketFives Launches Local Pages & More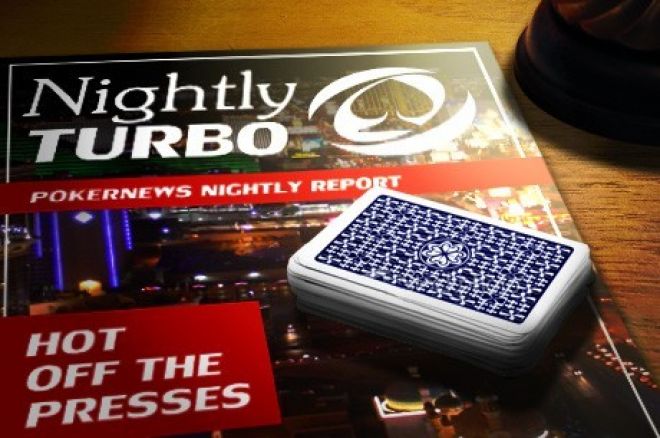 Poker is a worldwide affair, which is evident in our latest edition of the Nightly Turbo. Tonight, we take a look at Day 1b of ANZPT Perth, PocketFives new worldwide Local Pages, and online poker licenses in Germany. Find all of those stories and more below.
In Case You Missed It
The World Poker Tour Jacksonville BestBet Open crowned a champion on Wednesday. The final table included Will Failla, Tony Dunst, Shawn Cunix, James Calderaro, Daniel Buzgon and Darren Elias, but you'll have to read our recap to find out who won.
We knew it was going to happen and this week it is official — Bertrand "ElkY" Grospellier is No. 1 on the Global Poker Index. Find out how he did it, and the rest of the standings in our GPI breakdown.
On the latest edition of Strategy with Kristy, Nick DiVella discusses taking shots in live games and two cash-game hands. Listen to the podcast now.
After four days of intense play at the 2012 Chad Brown Poker Challenge, A.P. Phahurat captured the $116,449 first-place prize. Find out what he had to say about his first major win.
Foster Leads Day 1b of ANZPT Day1b
In last night's Nightly Turbo, we told you about Day 1a of the PokerStars.net Australia and New Zealand Poker Tour (ANZPT), which attracted 89 players. The turn out for Day 1b was expected to be bigger, but no one expected the massive turnout of 221 players, bringing the total to 310 entrants. That created a prize pool of $310,000 and $78,275 of it is reserved for first place.
Among those in Day 1b action were Vesko Zmukic, Aaron Benton, Michael Kanaan and Team PokerStars Pro Bryan Huang. Unfortunately, none of these men were among the 94 players who survived the day.
Huang's final hand came in the last level of the evening when he raised under the gun and the big blind defended. The latter led out for 3,000 on the
flop, Huang raised to 8,300 and the big blind moved all in. Huang called off his last 20,000 with
, but it was behind his opponent's
. Neither the
turn nor
river help the Team Pro, and he was sent to the rail.
Some players who punched their tickets to Day 2 were Paul Barry (43,000), David Lloyd (74,400), Andrain Chin (84,200), Tu Lee (94,400), John Nicholas (111,900), Didier Guerin (136,100) and chip leader Josh Foster, who's 143,500 was considerably larger than the end of Day 1a chip leader, Peter Zaknic, who bagged up 91,100.
Here's a look at the top ten chip counts at the end of Day 1b:
ANZPT Perth Day 1b Top Ten Chip Counts
| Player | Chip Count |
| --- | --- |
| Josh Foster | 143,500 |
| Dider Guerin | 136,100 |
| Richard Mann | 122,200 |
| Mark Johnson | 111,900 |
| John Nicholas | 111,900 |
| Luke Millen | 104,000 |
| Tu Lee | 94,400 |
| Paul Ivankovich | 93,300 |
| Andrain Chin | 84,200 |
| Anthony Aston | 84,000 |
The remaining 136 players from both starting flights will return for Day 2 on Friday at 1230 WST (2130 PDT Thursday).
For more on the ANZPT Perth, be sure to check out the PokerStars Blog.
PocketFives.com Launches Local Poker Communities
PocketFives.com, a leading source of poker rankings with a 120,000-member community, has recently introduced PocketFives Local, which are localized poker community pages that "provide a unique medium for poker players to view local activity and interact with players in their area."
Every country in the world and each state in the United States has its own Local Page, which features a plethora of information including automated updates for members when they notch live/online cashes, earn a badge, post or reply in a forum and whenever a new member signs up, just to name a few. Think of it as a mixture of Facebook, Google+ and FourSquare for poker players.
"The central feature of this page is a column displaying updates on players in that location," said PocketFives co-founder Cal Spears. "Any time a player in that location does something noteworthy, such as cash in a live or online tournament or win a new PocketFives badge, we'll automatically generate a post to this column."
In addition, each community will designate "leaders," including Ambassador (the member with the most referrals), Chip Leader (the player with the largest cash in the last three months), Table Captain (the player with the most Local posts), and Grinder (the player with the most cashes in the last three months).
Check out the new Local Pages for yourself by visiting PocketFives.com.
Hellmuth Joins Heartland Poker Tour Season Eight Broadcasts
The Heartland Poker Tour debuted the eighth season of its nationally syndicated poker show Thursday night on 250 television stations across North America. Since 2005, the HPT has aired broadcasts of its final tables weekly to over 100 million U.S. households.
What's more, Phil Hellmuth is joining the Season VIII broadcast each week to host the pro tips segment, previously hosted by such pros as Greg Raymer and Daniel Negreanu.
"Throughout eight years in the business, we've been fortunate to work with many of the legends of the game," said co-founder Greg Lang. Fred Bevill and Chris Hanson will continue to serve at the broadcast desk, evening commentating their 200th episode together this July.
"Advancements in technology, investment in equipment and an experienced production team keep the show evolving," said Bevill, who also produces each episode in addition to his on-air role.
HPT Director of TV Distribution Mark Schlader echoed his sentiments: "The appetite for HPT programming continues to grow. Stations and viewers recognize HPT as a high-quality and compelling show."
In addition to the television broadcast, HPTpoker.com is now offering full-length episodes on demand at no charge. That means you can watch all 30 episodes of Season VII for free. The new Season VIII episodes will be released two weeks after appearing on TV.
Broadcast and tour information is available at HPTpoker.com.
Schleswig-Holstein Awards Three Online Gaming Licenses; Betfair Benefits
On Thursday, Schleswig-Holstein awarded three online gambling licenses. In September, the German state voted to allow sports betting and online poker as long as the sites were established in the European Union.
Betfair was awarded a license for sports betting, as was mybet, a subsidiary of Jaxx AG, and the state lottery. The licenses are valid until 2018.
"We view this as a significant positive for the company [Betfair], given that it further erodes the bear case on the stock that Betfair would be unable to get licensed outside of the UK," said analysts at BarCap.
For more information, pay a visit to Reuters.
Ohio and Minnesota Changing Poker Legislation
On Wednesday, an Ohio State Senate panel added provisions into a sweeping bill on casino regulations that would allow state counties in Ohio the ability to open up charity poker rooms, the Associated Press reported.
The government reform and oversight committee put the amendment into a bill that would reach the senate floor next week. If the bill passes, all 88 Ohio counties will be allowed to open charity poker rooms. Senate President Tom Niehaus said that the new charity poker rooms should not cut into the profits of the four new casinos is Ohio. There is currently only one charity poker room in Ohio.
Minnesota is also expanding its gambling industry as well as both houses of the Minnesota legislature passed an amendment Tuesday that would allow the maximum number of table games at the Canterbury Park as well as Running Aces Harness Park to be increased from 50 to 80, as well as a raise in betting limits from $60 to $100. For poker fans, the number of tournaments and tournament tables that the tracks will be able to run will now be unlimited.
The rules for many of the table games will change from "player-banked games," to being "house-banked games." Meaning that players will no longer compete against each other, but they will play against the house. This bit of the legislation is similar to the way Native American casinos and other casinos operate, but it remains to be seen how it will affect cash game players in Minnesota, as even though the measure takes effect immediately after it is signed, it will see a bit of lag before its implementation.
The Daily Racing Form has more on Minnesota's legislation, and you can find more regarding Ohio's charity poker rooms on WKYC.com.
Party Time
Everyone loves a good party, and the PokerStars crew definitely knows how to throw one. Nicki Pickering is in Perth for the Australia New Zealand Poker Tour and is bringing you a look at the player party and all the dance moves Down Under.
Follow PokerNews on Twitter for up-to-the-minute news.