2012 WSOP: A Look at the Biggest Poker Hands of the Week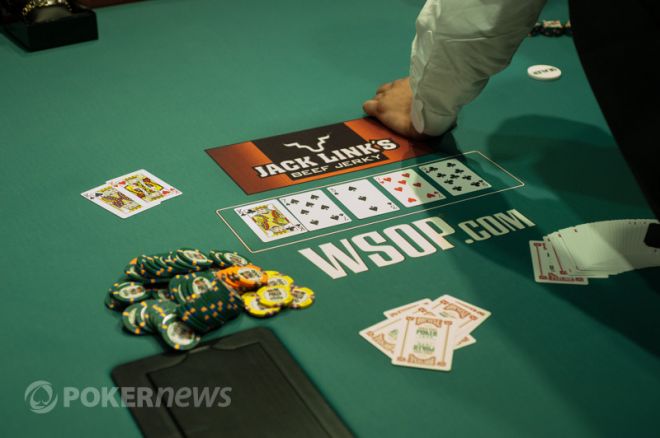 Fifteen events have either been completed or are currently in progress at the 2012 World Series of Poker, so we thought it would be fun look at the biggest and most influential poker hands of the week. Some of these hands directly influenced the outcome of the tournament; others were insignificant but highly entertaining.
Cheong's Six-Bet in Event #6: $5,000 No-Limit Hold'em Mixed-Max
On Monday, June 4, the final match of Event #6: $5,000 No-Limit Hold'em Mixed-Max took place and saw the final two players of a 409-player field, Joseph Cheong and Aubin Cazals, square off in a heads-up match for a $480,564.
Cazals was coming off a victory against Warwick Mirzikinian the day before, which was the longest in WSOP history at nine-and-a-half hours, and Cheong seemed to be the favorite after defeating Hugo Lemaire in the Round of 4. If you recall, Cheong is a 2010 November Niner and was a part of a notorious hand at that final table. When action was three-handed, Cheong six-bet shoved
and was called by the
of Jonathan Duhamel. It was a massive 95.05 million pot;, one that Cheong did not win.
Say what you will about that hand, one thing is for sure, Cheong is not afraid to gamble. That was evidenced a second time in Event #6 when another Cheong six-bet came back to bite him. As Rich Ryan explained in the PokerNews Live Blog:
Joseph Cheong had the button and opened to 50,000. Aubin Cazals three-bet to 130,000, and Cheong put in the second four-bet of the match, making it 350,000. Cazals responded with the first five-bet of the match, re-raising to 730,000, and Cheong moved all in for 2,936,000.

Cazals nodded, checked his cards one more time, and called.

Showdown
Cheong:
Cazals:

The flop gave Cazals a set of kings, but Cheong could still make a straight with a running five and six. The on the turn was all she wrote though, and a meaningless fell on the river.

It took the tournament staff around three minutes to verify that Cazals had Cheong covered, and once they did, spectators gave the competitors a round of applause.

Cheong fell short of the gold, but he'll take home $296,956 for his efforts.
Rast Dominates Middle Stages of Event #9 $1,500 No-Limit Hold'em Re-Entry
The first re-entry event of the World Series of Poker, Event #9: $1,500 No-Limit Hold'em Re-Entry, attracted 3,404 entrants and created a prize pool of $4,595,400. An eclectic mix of amateurs and pros took their shots at the $781,398 first-place prize, including Greg Mueller, Amanda Musumeci and Brian Rast, all making the final table.
While the final table was a story in and of itself, the headlines leading up to the last day were dominated by Rast, last year's $50,000 Poker Players' Champion, who amassed a monster chip lead and proceeded to steamroll his opponents.
Here's a look at one of Rast's more notable hands as reported by Rich Ryan on Day 3 of the tournament:
Brian Rast started the action by limping in the hijack seat. Jonathan Duhamel raised to over 300,000 on his direct left, leaving less than 100,000 behind. Barry Hutter moved all-in for over 600,000 from the big blind, and the action was back on Rast.

Rast went into the tank, and cut out enough chips to make the call. He then stood up and walked around his seat for the better part of a minute before committing the chips. Duhamel stuck the rest of his chips in, and the cards were turned over.

The dealer rapped the table, burned a card, and then dealt three cards face down. In the window was the , and she was followed by the and . The turn and river both bricked , respectively, and Rast was shipped an absolutely monster pot, ballooning his stack to 2.5 million chips.
Despite catching fire and entering the final table second in chips, Rast was unable to parlay the performance into his third bracelet, ultimately finishing in sixth place for $137,632.
Tryba Gets Revenge Eight Years in the Making in Event #11: $1,500 Pot-Limit Omaha
Nothing beats a good Phil Hellmuth story, especially one where the "Poker Brat" ends up a little rattled. That's exactly what happened on Tuesday in Event #11: $1,500 Pot-Limit Omaha when Chris Tryba and Hellmuth tangled in a hand that would result in the elimination of the latter.
We missed the action and ran across the room as we saw Phil Hellmuth standing up and talking to the table. The last thing we caught was Hellmuth saying, "I don't remember you from Adam buddy."

Chris Tryba couldn't have been happier with the outcome. "I've been waiting eight years to bust him. He put such a bad beat on me in 2004," Tryba announced to the table.

The table recounted that Chris Tryba limped from under the gun, and Hellmuth made it 1,800 from the button. Tryba potted (all-in) and Hellmuth pulled his patented "can't get my chips in fast enough with two hands" move.

Tryba:
Hellmuth:

A king and queen fell on the flop and then the board bricked out for Hellmuth. Tryba took the pot and exacted revenge that took eight years to get.
Immediately after eliminating the 11-time bracelet winner, Tryba took to his Twitter for a quick brag:
busted Hellmuth...been waitin since 2004 to issue him a bad beat #paybackbiatch

— christopher tryba (@christryba)
While it was a fairly irrelevant hand from Day 1, it proved one of the most entertaining; in fact, PokerNews even asked Tryba to elaborate for The Muck:
Chris has been waiting eight years to return the favor. "The Poker Brat" knocked out Tryba in the 2004 World Poker Tour Foxwoods Main Event on a bad beat.
"I was at a table with Allen Cunningham, Phil Hellmuth, Phil Ivey, Jeff Shulman, and Bob Stupak. I was crushing the table," Tryba said. "I raised with kings and Hellmuth flatted from the blinds. The flop came
or whatever."
According to Tryba, Hellmuth led out on all streets and he called him down only to lose to a rivered gut-shot. Tryba said he lost all momentum after that hand.
"Phil was all pumped and excited and did this whole dance. It really affected me." When asked how he felt after returning the favor to Hellmuth, Tryba replied "F**k him!"
Despite the fun Tryba was having at Hellmuth's expense, he expressed his respect for the man in his blog right here on PokerNews: "I got to bust Hellmuth, which turned into a spontaneous, fun + frenzied event, for me. FTR, I hold no ill will towards the guy, he's nice enough and great for the game."
"Isildur1" Plays His First WSOP Tournament, Event #12: $10,000 Heads-Up No-Limit Hold'em
On Tuesday, the Rio was abuzz by the arrival of online legend Viktor "Isildur1" Blom, who recently turned 21 and was making his first appearance at the WSOP in Las Vegas. He registered for Event #12: $10,000 Heads-Up No-Limit Hold'em, which marked the first WSOP (not Europe) event Blom had ever played.
In his first match, Blom squared off against Andy Bloch and emerged victorious. It was a good start for the Swede, and early on it looked as if the second match would end in the same fashion:
From the button, Viktor "Isildur1" Blom raised to 1,600 in the last level. Tommy Chen called and the flop came down . Chen led for 2,300 and Blom called.

On the turn, Chen checked and Blom bet 4,200. Chen folded and Blom won the pot.

A few hands later in the current level, Chen was all-in preflop with the versus Blom's . The flop, turn and river ran out and Blom forced Chen to use one of his add-on lammers.
Unfortunately for Blom, his momentum would come to a halt. The Live Reporting Team didn't capture the hand as it happened, but Chen was kind enough to fill in the details on the hand that would put an end to Blom's first WSOP event:
Viktor "Isildur1" Blom has just been eliminated from the tournament by the hands of Tommy Chen. Today marked the debut on the World Series of Poker for the online super stars who had already made his mark on the live tournament circuit when he won the PCA Super High Roller banking just over $1.2 million. Blom had beat Andy Bloch in the first round but couldn't continue his run as he just busted.

Chen told us he put Blom all-in from the button and the Swede snap-called for his final 26,000 chips in the 1,000/2,000 level with . "I guess it's an unexploitable call, but I would never make it," Chen said about the move. Chen had and his hand held up.
Be sure to follow all of the action from the 2012 World Series of Poker in the PokerNews Live Reporting Blog.
Get all the latest PokerNews updates on your social media outlets. Follow us on Twitter and like us on Facebook now!