The Nightly Turbo: Online Poker Deal in California, the EPT's New Bling, and More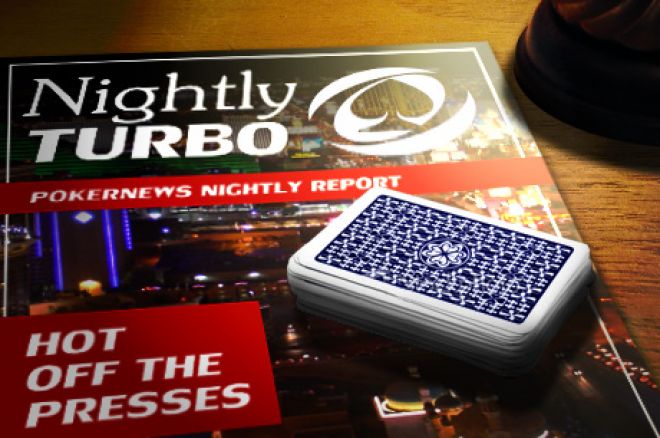 Before everyone is glued to their televisions for the start of the London Olympic Games, we're here to deliver Friday's biggest stories in the world of poker. In this edition of the Nightly Turbo, we're covering an online poker deal in California, the new bling of the European Poker Tour, and more.
In Case You Missed It
The Senate Committee on Indian Affairs released a discussion draft of a bill on Internet gaming on Thursday. PokerNews' Matthew Kredell breaks down the details.
Olympians from all over the world have made their way to London for the 2012 Olympic Games. PokerNews spoke with some members of Team USA who enjoy playing poker during their down time from competition.
How was the high-stakes action at the PokerStars tables this week? Read the Online Railbird Report to find out the week's biggest winners and losers.
Poker coach Nick DiVella recently made a deep run in the World Series of Poker Main Event. In the latest Strategy With Kristy podcast, DiVella discussed some key hands he had along the way.
Day 2 of the 2012 Australia New Zealand Poker Tour Queenstown Snowfest Main Event came to a close on Friday. Find out who advanced to Day 3 in our daily ANZPT recap.
Declarations in Queenstown
Liam O'Rourke won't agree that he crushes online poker tournaments. We'll let you be the judge after his chat with PokerNews' Nicki Pickering during the ANZPT Queenstown Main Event.
Follow PokerNews on Twitter for up-to-the-minute news.
888poker Revenue Skyrockets
888 Holdings Plc, which operates 888poker.com, announced this week that poker revenues for the second quarter of 2012 were up 59 percent over Q2 of 2011. Revenue reached $20 million from April 1 through June 30 of this year, up from $13 million last year.
888 also had 378,000 active business-to-consumer customers in the second quarter, a 63 percent increase over the same quarter last year. The company said the numbers were "primarily boosted by ongoing product improvements, targeted marketing and effective CRM."
888 CEO Brian Mattingly credited the positive results to the company's marketing campaigns and market-leading customer relationship management. "We have the right product offering and back office capabilities to grow and sustain market share, as indicated by the success in building a significant market share in the newly regulated Spanish poker market," Mattingly said in a statement.
888poker has done well in the new Spanish gaming market, which opened early last month. According to PokerScout.com, 888poker.es ranks second to PokerStars.es in real-money ring game traffic. Meanwhile, 888poker's dot-com offering ranks fourth overall behind PokerStars, iPoker and PartyPoker.
Read the full financial report at 888's website.
New Watches for EPT Winners
When Season 9 of the European Poker Tour kicks off next month, a new piece of hardware will be up for grabs at every stop.
Each of the six EPT Main Event winners will receive a "Black and Steel" design Slyde by HD3 watch worth €5,480. In addition, the winner of the PokerStars.com and Monte-Carlo®Casino European Poker Tour Grand Final will receive a "Black and Rose Gold" design a retail value of €9,000.
"The EPT is delighted to be working with Slyde by HD3, and are very pleased to be offering our winners these beautiful watches as part of their prize," said EPT President Edgar Stuchly. "We are looking forward to an exciting Season 9, and the fact that we are working with such a prestigious brand of luxury Swiss watches shows the appeal of the European Poker Tour to companies outside of poker."
Season 9 gets under way Aug. 15 in Barcelona. The tour then makes stops in San Remo, Prague, the Bahamas, Deauville, London, and Berlin before the Monte-Carlo®Casino European Poker Tour Grand Final in May 2013.
The full EPT schedule can be found right here at PokerNews.com.
Cantor Prepares for Online Poker in California
On Friday, Cantor Gaming and Horse Racing United announced an exclusive agreement under which Cantor would develop an Internet poker platform once online poker is legalized in California.
Cantor Gaming, which operates race and sports books across seven Las Vegas resorts, would provide Horse Racing United the technology and supporting infrastructure to operate an online poker site within state lines. The agreement is subject to Horse Racing United receiving a license to operate an intrastate gambling website. Horse Racing United is a not-for-profit organization representing the interests of substantially all Thoroughbred racing and breeding within California.
Horse Racing United and Cantor Gaming are both supporters of Senate Bill 1463, which was introduced in California last February. The bill seeks to generate "hundreds of millions of dollars" for the state in the fiscal year 2012-13. California is facing one of its most concerning budgetary crises in its history, and many state politicians have looked to online gaming to help get the budget under control.
"As other states begin to move to legalize online gaming, California is well positioned to leverage its size and generate revenue that otherwise would not exist," said Lee M. Amaitis, president and CEO of Cantor Gaming. "If enacted, it will provide additional support to California's horse racing industry."
The online poker deal is the second made by Cantor Gaming in California. Last month, the company agreed to provide mobile gaming for Colusa Casino Resort.
Read more in Cantor Gaming's press release.