The Weekly Turbo: Nadal's PokerStars Debut, Phil Galfond on Happiness, and More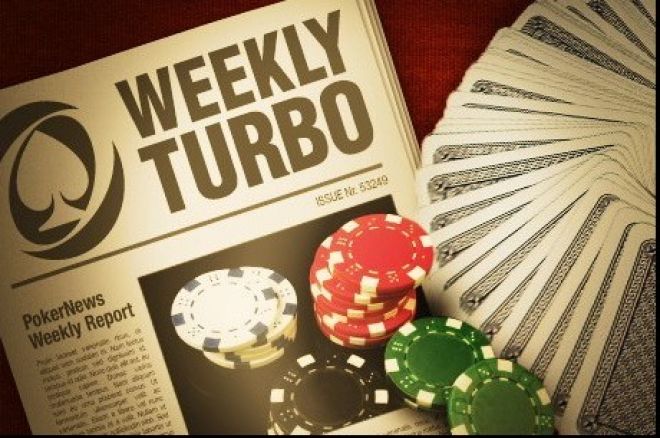 Did you miss any of the top poker news stories this week? Well you've come to the right place to get caught up. We're covering Rafael Nadal's debut at PokerStars, Phil Galfond's blog about happiness, and more.
Poker Tournaments
Hairabedian Wins WPT National Series Mazagan
Poker pro Roger Hairabedian won the World Poker Tour National Series Mazagan last weekend, besting a field of 158 players to earn €63,890 and his first WPT title.
Hairabedian was near the top of the leaderboard on each day of the €1,650 buy-in event. It came down to him and Hicham Zaakour for the title, and after a three-hour duel Hairabedian emerged as champion. On the final hand of the match, Hairabedian's
bested Zaakour's
when the board rolled out
.
With the win, Hairabedian also earned a trip and a seat to the World Poker Tour Grand Prix de Paris in September.
WPT National Series Mazagan Results
| Place | Player | Prize |
| --- | --- | --- |
| 1 | Roger Hairabedian | €63,890 |
| 2 | Hicham Zaakour | €40,960 |
| 3 | Kamal Sefrioui | €26,390 |
| 4 | Philippe Barouk | €19,110 |
| 5 | Karim Bennani Smires | €14,380 |
| 6 | Mohamed Benboubker | €11,380 |
| 7 | Rachid Arbaoui | €9,560 |
| 8 | Philippe Garet | €7,640 |
Read more at fr.PokerNews.com (Google Translate is your friend).
Who You Takin'?
Now that the final table is set for the WSOP Main Event, sports books all over the globe are giving poker enthusiasts a chance to bet on the next world champ.
Betting giant Ladbrokes opened lines for the "Octo-Nine" shortly after the final table was reached Monday night. Not surprisingly, Ladbrokes listed chip leader Jesse Sylvia as the favorite, giving the American poker pro 3-to-1 odds to win the tournament. He's followed by Andras Koroknai and Greg Merson, both at 5-to-1.
Here's a look at Ladbrokes' odds for the 2012 World Series of Poker Main Event final table:
| Player | Chips | Odds |
| --- | --- | --- |
| Jesse Sylvia | 43,875,000 | 3/1 |
| Andras Koroknai | 29,375,000 | 5/1 |
| Greg Merson | 28,725,000 | 5/1 |
| Russell Thomas | 24,800,000 | 6/1 |
| Steven Gee | 16,860,000 | 8/1 |
| Michael Esposito | 16,260,000 | 8/1 |
| Robert Salaburu | 15,155,000 | 9/1 |
| Jacob Balsiger | 13,115,000 | 12/1 |
| Jeremy Ausmus | 9,805,000 | 16/1 |
Last year, Pius Heinz was sixth in chips with 16,425,000 going into the Main Event final table. Many sports books had him listed at 11-to-1 to win the bracelet — a great value for bettors.
In previous years, Jonathan Duhamel (2010) held a significant chip lead over the rest of the field and was a 3-to-1 favorite to win it all; Joe Cada (2009) was fifth in chips coming into the final table and opened at 18-to-1; Peter Eastgate (2008) was fourth and listed at 13-to-2; and Jerry Yang (2007) was eighth in chips and priced at 19-to-1.
Keep those numbers in mind when placing your bets. You can find this year's odds at Ladbrokes.com.
PokerStars Macau Expands
PokerStars has announced two new events to be included in 2012 Asia Player of the Year season. The Macau Poker Cup Championship will take place from September 7 through 16, and the inaugural APPT: Asia Championship of Poker is scheduled for Oct. 26 through Nov. 11. Both events will take place at the Grand Waldo Entertainment Complex.
The Macau Poker Cup Championship is the annual finale for Asia's premier poker series and will feature a HKD $20,000 buy-in Main Event that has a HKD $4.5 million guarantee. Meanwhile, the much anticipated APPT: Asia Championship of Poker (ACOP) will feature a HKD $100,000 buy-in Main Event with a massive HKD $10,000,000 guarantee. The 17-day poker festival will have 18 official Asia Player of the Year events, including a HKD $25,000 buy-in ACOP Warm-up (HKD $5,000,000 guarantee) and a HKD $250,000 buy-in High Roller event.
"ACOP is the next evolution of tournaments in Asia," said Danny McDonagh, director of live operations for Asia-Pacific. "This is an exciting step towards reaching the success of major international tournaments like the PCA, EPT, and WSOP."
Here's a look at the remaining PokerStars Macau schedule for 2012:
| Date | Event | Buy-in (HKD) |
| --- | --- | --- |
| Aug. 11-20 | Red Dragon Main Event | $11,000 ($3,000,000 Guarantee) |
| Sept. 7-16 | Macau Poker Cup Championship | $20,000 ($4,500,000 Guarantee) |
| Oct. 26-Nov. 11 | Asia Championship of Poker | $100,000 ($10,000,000 Guarantee) |
For more information, check out PokerStarsMacau.com.
Follow PokerNews on Twitter for up-to-the-minute news.
Online Poker
The Race Is On
The South Point Casino is poised to launch the first licensed real-money online poker site in the United States.
The casino, which created a free-to-play site last October, is set to meet with the Gaming Control Board next month to discuss recommendation for an operating license in Nevada. If approved, South Point will seek final license approval from the Nevada Gaming Commission.
South Point owner and CEO Michael Gaughan told eGaming Review that a real-money online poker site would be ready to launch as early as September. Gaughan says his gaming platform has already been approved by an independent testing laboratory, meaning it can go live as soon as it is licensed to do so.
"We're finishing up our second wave of testing and so far no problems," Gaughan told eGamng Review. "I may not be the biggest or the best but hopefully I'll have a head start by two or three months."
Last month, slot machine suppliers IGT and Bally Technologies became the first companies to receive licenses to act as service providers for Internet poker operators. However, it could take up to six months for their technology to be tested by the board and the state. The providers also need to wait on partnering casinos to receive license approval from the NGC.
Read more about South Point Poker at eGR North America.
High Stakes Cash Games on PartyPoker?
They gone.
On Thursday, PokerNews obtained a statement from PartyPoker regarding the removal of its high-stakes cash games.
"We have removed some of our super high stake games, this decision has been taken to make improvements to our poker ecology and in our players best interests. We believe this change will improve the action at our tables and is in the best interest of the poker room as a whole."
The cash games that have been removed include all no-limit and pot-limit games with blinds of $10/$20 and higher, and fixed limit games with blinds of $50/$100 and higher.
If you want to find out more, head on over to UK.PokerNews.com.
PKR v. 2.08
On Wednesday, PKR.com unveiled a new version of its innovative 3D software that will bring smiles to the faces of online grinders.
The biggest change in the software is the ability to open up to nine separate 3D real-money table windows, allowing players to fill their monitor with tables if they so choose. The windows can be set to tile, cascade or custom to your liking.
Other software enhancements include improved table chat, revamped remote controls for your avatar, a new "My Seat" camera angle, and tableside virtual drinks including tequila shots and mojitos.
PKR also announced it will be releasing a revolutionary Hand Replay Tool that will allow players to export their hand histories to YouTube and other social media platforms.
Here's a closer look at PKR version 2.08:
Read more at PKR.com.
Poker Players
Phil Galfond is Happy
Rarely does a poker blog get more attention than the one written by Phil Galfond. The admired high-stakes poker pro submitted a new entry this week that immediately received a great response from his peers and the community.
The blog, titled Poker and Your Life, touches on several issues poker players face during their career. Among other things, Galfond explains his discovery of the true meaning of happiness:
What I now realize is that I'm sacrificing happiness for… happiness! Once I made this realization (recently), I started seeing how much happier I could be in my day to day life by sacrificing some EV. I used to feel like I HAD to work hard, and I was doing the "right" thing by maximizing my earn rate rather than being my happiest. It almost felt like a duty… like it was honorable. But now when faced with a decision of making a sacrifice in happiness for more $EV in poker, I'm no longer comparing apples to oranges. I'm choosing apples (happiness) or apples (happiness). So really, all I need to do is decide what (which apple) will make me more happy (apple).
As always, Galfond's blog is tl;dr a must-read for every poker fan. You can find it at PhilGalfond.com.
Fault!
Tennis icon and newest Team PokerStars Pro Rafael Nadal recently made his debut at the world's leading online poker site. Last week, Nadal was introduced to the PokerStars Mobile app and then quickly learned how not to play a small pocket pair.
Rafa's first lesson: Don't trust anybody. Not even a poker coach.
Clearly, he still has a lot to learn about the game. Nadal recently pulled out of the London Olympic games, so maybe we'll see him give it another go at the tables before the U.S. Open next month. We're excited to see the eight-time French Open winner at the PokerStars tables in the near future.
The PokerStars Blog has more.
End of an Era
Last Sunday, poker pro Adam Junglen announced he will be taking an extended break from the game after a "disappointing" end to his 2012 World Series of Poker.
Junglen, who has close to $1 million in live tournament cashes, says he wants to focus on "finding happiness" rather than continue his career on the felts. Junglen played in 20 events this summer, cashing three times without any final tables.
"It's completely normal to be burnt out from the tourney grind after the (World Series), but this year I've slowly noticed the enjoyment level just isn't quite as high as it used to be," Junglen wrote in his blog. "My backer and friend for over 5 years now, Daniel Negreanu, had noticed and we agreed it'd be in my best interest to take an extended break from poker. Basically just work on finding happiness, something I've unintentionally set aside for quite some time now."
Read Junglen's full blog entry at AdamJunglen.com.
Baker's Recipe for Success
Fresh off winning his first World Series of Poker bracelet and running deep in the WSOP Main Event, David "ODB" Baker is the new man to catch in the Global Poker Index Player of the Year race.
Baker was nowhere to be found in the top 10 of the rankings entering this week, but he climbed 13 spots to overtake Jonathan Duhamel for the top spot. Baker won the $2,500 8-Game Mixed event in June, and followed that up with three more final tables before placing 56th in the Main Event for $128,384. His eight cashes at the 2012 WSOP amounted to nearly $800,000.
World Poker Tour Championship winner Marvin Rettenmaier jumped one spot to No. 2 in this week's rankings, dropping Duhamel two spots to No. 3. Dan Smith and Kyle Julius were fourth and fifth, respectively, and Phil Ivey (sixth) was knocked out of the top five for the first time in four weeks.
Another big mover this week was Erik Cajelais, who moved up 15 spots to No. 10 after an 86th-place finish in the WSOP Main Event. Cajelais also had a runner-up finish in a WSOP this summer and also took fifth in the WPT Bay 101 Main Event in May. Cajelais is just a few points ahead of superstars Vanessa Selbst, Jason Mercier and Eugene Katchalov for 10th in the standings.
Here's a look at the Top 10 of the Global Poker Index Player of the Year standings:
| Place | Player | Total Score | Change in Rank |
| --- | --- | --- | --- |
| 1 | David Baker | 715.90 | +13 |
| 2 | Marvin Rettenmaier | 682.08 | +1 |
| 3 | Jonathan Duhamel | 668.79 | -2 |
| 4 | Dan Smith | 662.47 | -2 |
| 5 | Kyle Julius | 637.63 | -- |
| 6 | Phil Ivey | 629.12 | -2 |
| 7 | Daniel Negreanu | 607.28 | +2 |
| 8 | Andrew Lichtenberger | 605.49 | -- |
| 9 | Samuel Chartier | 583.37 | -3 |
| 10 | Erik Cajelais | 559.60 | +15 |
The Global Poker Index Player of the Year, presented by PokerNews, honors the player who has the strongest performance in live tournaments during the calendar year, according to the USA Today Global Poker Index point system.
For the full GPI Player of the Year standings, head on over to EpicPoker.com.
Doyle Updates Us on His Summer
After more than a month, Doyle Brunson has graced us with another blog. We can't blame him for the wait, he's "on the best heater" that he's had in years. We'd probably do the same thing, but we're not really familiar with "heaters" except for the kind that keep you warm in the winter, so on we go, writing away.
In his blog, Brunson tells us that the WSOP was "pretty uneventful," that he didn't really get into the bracelet race, and thinks the "tournaments are for younger players."
He also says that Vanessa Selbst "is not only the best female player in the world, she is one of the top players, male or female."
Brunson then reflects on his lost scooters (three scooters lost, all during the WSOP) and an interesting turn of events that occurred at the Bellagio one night.
"Some kid that looked like he might not be old enough to be in the casino walked into Bobby's Room. He looked at all the cash and large denomination chips then turned back and walked to the door as if he was leaving. He made a quick spin and came back to our game and looked directly at me. He then looked again at the money, turned and went out the door where several players at a different game heard him say, 'I'm going to come back with a gun and take that money.'"
Brunson being the old-school poker player that he is said that he told security if they let him get his gun from his car, he'd stay and keep playing. "I didn't like the idea of being a sitting duck for some nut case," Brunson wrote. (No, they didn't let him get his gun.)
Read about the Bellagio encounter and the rest of Brunson's summer in his blog on DoyleBrunson.com.