The Nightly Turbo: Andy Bloch Talks FTP, Trial Delayed for Jonathan Duhamel's Ex, & More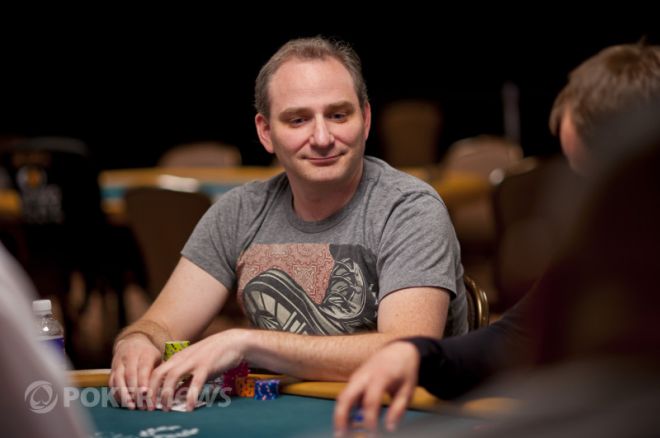 Are former Full Tilt Poker shareholders beginning to reveal information about the company's collapse? We'll get into that story, plus the latest in the Jonathan Duhamel burglary case, in this edition of the Nightly Turbo.
In Case You Missed It
How was the high-stakes action at the PokerStars tables this week? Read the Online Railbird Report to find out the week's biggest winners and losers.
Andrew Seidman made his third appearance on the Strategy with Kristy podcast this week. This time, Seidman discussed a hand he played against poker pro Dan O'Brien.
The Poker Player's Alliance recently released Congressional Ratings Guide for the 2012 U.S. elections. Matthew Kredell takes a look at what the scores mean for the poker industry.
What did we learn from Week 1 of the NFL season? Rich Ryan gives his take, and previews the Week 2 slate of games for the Pigskin Diaries.
Andy Bloch on FTP
On Friday, DiamondFlushPoker.com published an interview with former Full Tilt Poker shareholder Andy Bloch, discussing the company's downfall before and after Black Friday.
Bloch, who was a member of Team Full Tilt for many years, put much of the blame for Full Tilt Poker's demise on CEO Ray Bitar, who "never really giving anybody the full picture of what was happening" while the company was accruing a nine-figure backlog of deposits because of issues with payment processors. The U.S. Justice Department accused Full Tilt of defrauding its customers out of more than $300 million in total.
"We didn't have much input into what was going on, and I am sure that whatever information that Ray had given to other people was not full information anyway," Bloch said in the interview.
Bloch also touched on the aftermath of the April 15 indictments, including the emergence of handful of potential investors and the unsuccessful attempt to force Bitar to step down from his powerful positions at the company. Bloch claims that some members wanted to get rid of Bitar, but none of them wanted to step up and run the company in his place.
Check it out at DiamondFlushPoker.com.
Duhamel Burglary Trial Delayed
The trial for Bianca Rojas-Latraverse, the woman accused in the home invasion of ex-boyfriend and poker pro Jonathan Duhamel last December, has been delayed for medical reasons, the Montreal Gazette reported on Friday.
Rojas-Latraverse's court date was scheduled for Friday morning, but her attorney claims that she was involved in an accident and needed to see a doctor. According to the Gazette, prosecutor Nancy Delorme said she was informed there was "an incident involving violence" and that there appeared to be marks on Rojas-Latraverse's face when she appeared in court.
The 21-year-old's trial stems from the break-in at Duhamel's home in which the 2010 World Series of Poker Main Event champ was tied up and severely beaten before robbers escaped with his WSOP bracelet, a Rolex watch and cash from his condo in South Shore Boucherville. Rojas-Latraverse is facing five charges, including grand larceny, kidnapping, breaking and entering, assault and battery, and conspiracy.
The Montreal Gazette has more.
Summary of Federal Online Poker Bill
A summary of a federal online gaming bill put forth by Sens. Harry Reid and Jon Kyl has been circulating through the online poker community this week. The bill, entitled the Internet Gambling Prohibition, Poker Consumer Protection and Strengthening UIGEA Act of 2012, calls for a restriction of most forms of online gambling, with the exception of online poker.
The Reid/Kyl bill would look to modify the 1961 Wire Act and the 1970 Illegal Gambling Business Act so that they "clearly apply to modern technologies and to all forms of unlicensed Internet gambling." However, the measure would permit licensed online poker, in addition to off-track horse-race wagering and online lottery tickets.
Should the bill become a law, it would take a minimum of 15 months before an online poker market would be open in the U.S. The activity would be allowed only in states or on tribal lands that opt in to the law. A tribe can only opt in if the state in which it resides also opts in.
Despite recent optimism about the prospect of a federal online poker bill, the future of the measure was threatened this week because of a heated conflict between Reid and Senator Dean Heller, who has been working with Kyl to coax Republican leaders and GOP senators into supporting the bill. According to the Las Vegas Review-Journal, Reid had given Heller a deadline of Sept. 10 to secure the 60-vote majority in the Senate to move the bill through Congress before it recesses in November. Heller responded by saying that it would be beneficial for the House of Representatives to first address this issue. Kyl sided with Heller, and questioned Reid's motives in creating the deadline.
For a closer look at the bill, read the summary at QuadJacks.com.
WSOP Europe Live Stream
The 2012 World Series of Poker Europe is just one week away, and on Friday the WSOP announced that it will be live streaming the final table of all seven gold-bracelet events.
Live streaming will begin at WSOP.com as soon as each official final table gets under way. The WSOP Europe Main Event final table on Oct. 4 will be streamed in the United States via ESPN3.com, and throughout 59 countries in Europe via Eurosport.eu. The rest of the world can watch the coverage at WSOP.com. Once play gets four-handed, Eurosport TV will provide live television coverage to more than 150 million European households in 59 countries and 20 different languages.
Here's a look at the WSOP Europe live streaming schedule (subject to change):
| Date | Air Time (Approx.) | Event |
| --- | --- | --- |
| Sept. 23 | 1300 CEST (0700 EST) | €2,700 Six Handed No Limit Hold'em |
| Sept. 25 | 1300 CEST (0700 EST) | €1,100 No Limit Hold'em |
| Sept. 26 | 1300 CEST (0700 EST) | €5,300 Pot Limit Omaha |
| Sept. 27 | 1300 CEST (0700 EST) | €3,250 No Limit Hold'em Shootout |
| Sept. 29 | 1300 CEST (0700 EST) | €1,650 Six-Handed Pot Limit Omaha |
| Sept. 29 | 1900 CEST (1300 EST) | €10,450 Mixed-Max No-Limit Hold'em |
| Oct. 4 | 1300 CEST (0700 EST) | €10,450 Main Event Championship |
PokerNews be providing live coverage of every WSOP Europe bracelet event, so stay locked in to the PokerNews Live Reporting page when the action begins next Friday.
Macau Cup Championship
Day 2 of the HKD$20,000 buy-in Macau Poker Cup Championship Main Event saw 123 players hit the felts at the Grand Waldo Entertainment Complex on Friday. After eight levels of play, only 45 survived with the money bubble looming on Day 3.
Aussie Ryan Hong emerged as the commanding chip leader when Day 2 came to a close. Hong finished with 430,300 chips, more than 160,000 chips above his closest competitor, Rui Chen (264,200). Jin Wenlong (255,900), Lei Zhang (239,700) and Sparrow Cheung (217,100) rounded out the top five in the counts.
The money bubble will burst Saturday with the top 31 players sharing a prize pool in excess of HKD$4,800,000. The final table will take place on Sunday, with the last player standing being awarded just over HKD $1,100,000.
Here's a look at the top stacks heading into Day 3:
| Place | Player | Chips |
| --- | --- | --- |
| 1 | Ryan Hong | 430,300 |
| 2 | Rui Chen | 264,200 |
| 3 | Jin Wenlong | 255,900 |
| 4 | Lei Zhang | 239,700 |
| 5 | Sparrow Cheung | 217,100 |
| 6 | Lisi Wei | 208,800 |
| 7 | Shaq Lin | 205,100 |
| 8 | Hon Cheung Kwong | 153,100 |
| 9 | Ying Kit Chan | 142,800 |
| 10 | Andy Asihwardji | 135,600 |
For daily updates from the Macau Poker Cup Championship Main Event, stay tuned to the PokerStars Blog.
WPT Champions Dinner
Former World Poker Tour champions were treated to a world-class meal by famous French chef Joël Robuchon on Friday. Kristy Arnett was there to get a closer look at the celebration.
Follow PokerNews on Twitter for up-to-the-minute news.