Pigskin Diaries Week 2: Avoiding Overreaction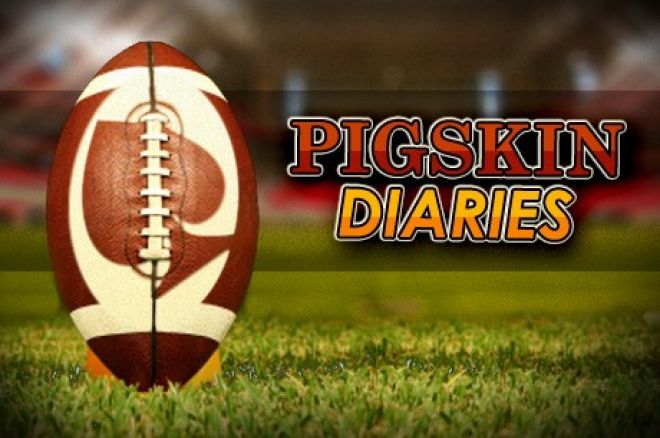 This week, the Pigskin Diaries comes to you from the City of Light, Paris, France, because I'm here for the World Poker Tour Season XI Grand Prix de Paris. Thanks to the wonders of modern technology — more specifically, NFL Game Pass — I was still able to catch all 16 Week-1 games, and have 10 quick thoughts about what I saw:

1. The Broncos defense, which tends to get a bad rap because they have a small front seven, looked amazing. They applied pressure to Ben Roethlisberger, swarmed to the ball on running plays, and are ranked third in defensive DVOA. The DVOA rankings will become more significant as the season extends, but that's still very impressive.
2. If Blaine Gabbert continues to play like that, the Jaguars could win 10 games against the spread (ATS), because the public will never bet them with confidence.
3. If Kevin Kolb's last drive against the Seahawks is indicative of what's to come, the Cardinals could win 10 games outright — ruining two of my preseason future bets.
4. The second game in the Monday Night Football doubleheader was brutal to watch. It was also so random that you can't really deduce much from it. Thanks Jon Condo. Thanks a lot.
5. The Saints may have the worst defense in the league. Thus, no lead is safe, and if they're ever more than a touchdown favorite at home, or a road favorite, we're probably going to go the other way. Hint, hint.
6. OK, even I have to admit that Joe Flacco looked really good on Sunday night. There's still something missing between him and Torrey Smith, but the connection he has with tight end Dennis Piitta might make up for it. If Ray Lewis and Ed Reed can somehow, someway play at this level all year, and the Flacco hype is real, then Baltimore might be this year's public team that finds a way to win 12-13 games ATS.
7. "Good" teams that scare me: Detroit Lions (poor secondary, no running game), Philadelphia Eagles (Andy Reid refuses to run the ball), and New Orleans Saints (zero defense).
8. "Bad" teams that I like a lot: Jacksonville Jaguars (Gabbert looks like an NFL quarterback, they play solid defense, Maurice Jones-Drew is a work horse), St. Louis Rams (Jeff Fisher gets every ounce of effort out of this team, Cortland Finnegan gives them an edge on defense), Minnesota Vikings (Adrian Peterson is a man!).
9. Week-1 winners that are overvalued in Week 2: New England Patriots, Houston Texans, Washington Redskins.
10. Week-1 losers that are undervalued in Week 2: Cincinnati Bengals, Carolina Panthers, Seattle Seahawks.
The following picks are a bit abridged, but I have a good feeling about this week.
Cleveland @ Cincinnati (-7)
The Ravens out-played the Bengals on Sunday night, but they aren't 31 points better than Andy Dalton and company. There are better days ahead for Cincinnati, and it starts on Sunday against Brandon Weeden and the Cleveland Browns. The Browns defense deserves credit for how well they played against the Eagles, but with Joe Haden suspended for the next four games and a nonexistent offense, this team is going to struggle.
If the Bengals won last week, what would this line be? At least 10.5, right? Had they kept it close, it would be no less than 7.5. Don't be alarmed by one game. The Bengals are a solid team with playoff expectations.
Fantasy: BenJarvus Green-Ellis looked superb against Baltimore. He's now a steady RB2, and a great play this week in same-day fantasy football leagues.
Houston @ Jacksonville (+7)
For all of the reasons listed above. The Texans didn't really blow out the Dolphins, so why should we believe that they're going to go on the road and blow out a division rival?
Fantasy: If you drafted MJD, kudos. Not only did he look good against the Vikings, his backup Rashard Jennings suffered a somewhat serious injury. Expect MJD to get a full load from here on out.
Kansas City (+3) @ Buffalo
One of these teams isn't as bad as they played in Week 1. Seeing that the Chiefs are getting Tamba Hali back (possibly Brandon Flowers as well) and the Bills lost Fred Jackson and Donald Nelson last week, Kansas City seems like a logical choice.
Fantasy: C.J. Spiller was a fantasy playoffs MVP in 2011, racking up Start him with supreme confidence in Jackson's absence.
Tampa Bay (+7) @ New York Giants
This line is simply too high. The Bucs played very well in all three phases of the game last week, and the Giants secondary is too banged up for them to be a touchdown favorite over any decent team. In fact, Tampa Bay (+260) to win outright is very enticing.
Fantasy: Doug Martin is a three-down back that can catch the ball out of the backfield and make plays. If he stays healthy, he will be a top-twelve fantasy back come year's end.
New Orleans @ Carolina (+2.5)
Barring a tie, one of these teams will be 0-2 on Sunday night. If the Panthers lose, then they'll be 0-2 in the division. I don't see that happening however, because I don't see how the Saints defense can stop Cam Newton. Drew Brees and the Saints tend to struggle outdoors, especially in the NFC South (they lost to the 4-12 Bucs on the road last season), and the absence of Sean Payton is glaring. The Saints should not be favored in this game — it should be a pick'em at best.
Fantasy: DeAngelo Williams was a huge disappointment last week, but give credit to Tampa Bay's defense for shutting down Carolina completely. This should be a nice game for all Carolina runners, even Jonathan Stewart if he suits up.
Arizona (+13.5) @ New England
Just an insanely high line for a team that ranked sixth this week in defensive DVOA. The Patriots looked good on defense as well, and their rookies Chandler Jones and Dont'a Hightower made an immediate impact, tag-teaming a defensive touchdown, but how repeatable is that performance?
Sure, the Pats can win this game 42-0, but they can also lose outright. Don't think that's impossibility. Take the points and close your eyes.
Fantasy: The Cardinals running back situation is about as bad as it gets. Neither Beanie Wells nor Ryan Williams should be anywhere near your starting lineup.
Baltimore (+2.5) @ Philadelphia
I wish this line was (+3), but with all of the hate pouring in on the Eagles, this line could move to (+1.5) or even (+1) by game time. Hop on in before it does, and watch as Andy Reid refuses to run the ball.
Fantasy: Chances are, Pitta is already owned in your league after his great performance on Sunday night. If not, though, snag him.
Minnesota @ Indianapolis (+1.5)
Oakland @ Miami (+2.5)
Dallas @ Seattle (+3)
Washington @ St. Louis (+3)
Home dogs are your friends. In order of confidence, I'll rank these: Rams, Colts, Seahawks, Dolphins. If Dallas wins this game by more than a touchdown however, then I'm all in on Big D — Rob Ryan's defense looked great against the Giants.
Fantasy: It will be interesting to see whether Kevin Ogletree is Laurent Robinsin 2.0 or just another guy. I'd start him as a WR3 or a FLEX, but with tempered expectations.
Tennessee (+6) @ San Diego
New York Jets (+5) @ Pittsburgh
The Chargers looked very average in their Monday night win against the long snapperless Raiders, and the Steelers defense looked predictably old. If the Jets play half as well as they did on offense in Week 1, there's a good shot they'll win outright at Heinz Field.
Fantasy: It's getting to the point where, if you have better options, benching Chris Johnson isn't crazy. The Titans offensive line is horrendous, Jake Locker can't stretch the field quiet yet, and Johnson does everything he can do to avoid contact. His stock is dropping very, very fast.
Detroit (+6.5) @ San Francisco
Detroit played really bad last week. San Francisco played really good this week. The public will favor the team that played well in one nationally televised game, and we will fade the public.
Fantasy: Until he proves something, Titus Young is not as valuable as veteran Nate Burleson. Likewise, Kendall Hunter's upside will be frozen as long as Frank Gore is running hard.
Denver (+3) @ Atlanta
I have an Orange Crush on Denver's defense. If they played like they did on Sunday night, this team is going to win a lot of games. Better still, Manning gets to play in a dome, which will allow him to dissect the opposing defense even more precisely.
Fantasy: Demaryius Thomas and Eric Decker are both top-25 receivers this week, and could both be in the top-20s all season.
All lines are courtesy of Covers.com, and are accurate as of 1200 CEST on Friday.
Follow PokerNews on Twitter for up-to-the-minute news.