The Nightly Turbo: Full Tilt Poker's Relaunch, BOOM Documentary Update, and More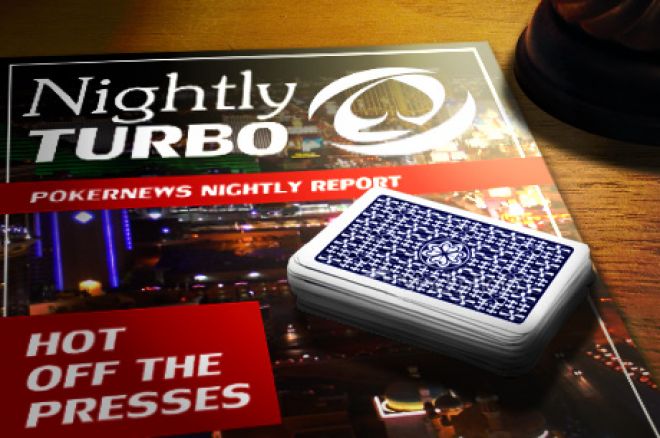 How near is the relaunch of Full Tilt Poker? We're bringing you that story, plus a tentative timetable for the release of the BOOM Documentary, in this edition of the Nightly Turbo.
In Case You Missed It
How did Greg Raymer learn how to play poker? Find out that and more in the latest Seat Open.
How did Sunday's WCOOP events play out on PokerStars? Who took down the biggest score? Find out in the Sunday Briefing.
The first bracelet was awarded at the World Series of Poker Europe on Sunday. Who collected the hardware? Find out in our WSOP Europe recap.
Only 11 players advanced through Day 2 of the 2012-13 World Series of Poker Circuit Horseshoe Bossier City Main Event. Find out which notables were still in contention going into the final day.
Did you miss Sunday's World Poker Tour coverage on FSN? Read our WPT recap to get caught up.
Full Tilt Poker Repayment Plan
On Monday, PokerStars announced that it will relaunch Full Tilt Poker during the first week of November and detailed its plan to repay $184 million to former customers of Full Tilt Poker outside U.S.
PokerStars closed a deal with the Department of Justice to acquire Full Tilt Poker's assets on Aug. 6 and specified that it would relaunch FTP and repay players outside the U.S. within 90 days. Those plans have not changed according to Monday's press release.
Once the newly managed Full Tilt Poker opens, non-U.S. players will have different withdrawal processes depending on their jurisdiction. In segregated markets like France, Spain, Denmark, Estonia and Belgium, former Full Tilt Poker players will be repaid through the locally-licensed PokerStars platform. In all other non-U.S. markets Full Tilt Poker players will have full access to their accounts when www.FullTiltPoker.com re-launches during the first week of November.
PokerStars is still working with regulators in Italy and details will be released as soon as possible.
In the U.S., Full Tilt Poker customers are still waiting on the Department of Justice to provide details of a remission process for the estimated 1.3 million people in the U.S. who had money stuck on Full Tilt Poker. As of last month, the government was seeking help from a third-party "claims administrator" to oversee the procedure. Applications for the position were due on Aug. 31.
For more, read the article here at PokerNews.com.
A Herculean Effort
While PokerStars was working on finalizing details for the repayment of Full Tilt Poker's rest-of-world customers last week, the company was busy transporting around 30 tons of Full Tilt Poker hardware from Dublin to its headquarters on the Isle of Man.
In an interview with news station Manx TV, PokerStars Head of Corporate Communications Eric Hollreiser said that Full Tilt's hosting racks, servers and other equipment were loaded onto a privately chartered Hercules military airplane and shipped to the Isle of Man. The hardware had resided at FTP's Dublin headquarters under the supervision of the Alderney Gambling Control Commission (AGCC), but in accordance with Isle of Man law, the online poker site will be licensed under Isle of Man regulations when it relaunches in November.
Lee Jones, Head of Home Games at PokerStars, provided an in-depth look at the entire process over at the PokerStars Blog. Said Jones about using a military plane, "We love the Manx 2 planes over here in the Isle of Man, but they're not equipped to carry 15 tons of computer hardware. In fact, that Hercules payload represents about half the total weight of computer server equipment that's coming over; the rest came by more traditional methods."
The PokerStars Blog has more.
BOOM Documentary Update
The highly-anticipated BOOM Documentary could be finished by this November, co-producer Jay Rosenkrantz wrote in his blog on Monday. Rosenkrantz says he doesn't know exactly when the film will be released, but he expects the final cut to be finished by the November deadline date for the South by Southwest Film Festival.
Rosekrantz is co-producing the documentary with former high-stakes poker pro Taylor Caby. The feature-length film, directed by Ryan Firpo, captures the growth of poker during the "boom" of the Chris Moneymaker era, and then the trials and tribulations of Black Friday. The film includes interviews with several poker pros who have long been involved with the game.
In his blog, Rosenkrantz touches on the steps that need to be taken in the final stages of production. He says there's still "a long road ahead," but the finish line is in sight.
"We have submitted an edit to Sundance, but we're still absorbing feedback, contemplating improvements, and polishing the rough edges," Rosenkrantz said on Monday. "When/where can you see our movie? We don't know yet, but stay tuned!"
Read Rosenkrantz's blog at JayRosenkrantz.blogspot.com.
ACEP Partners with Bally Technologies
Less than a week after American Casino & Entertainment Properties LLC was a granted an interactive gaming license in Nevada, the company joined forces with business-to-business provider gaming Bally Technologies to provide online poker within state lines.
"We are excited about the opportunity to partner with a premier gaming operation and a globally recognized brand like the Stratosphere," said Bally Technologies' Vice President of Business Development John Connelly. "What makes this even more significant is the fact that ACEP is located in Nevada, one of the only approved and regulated markets within the United States."
Earlier this year, Bally became the first company licensed in the United States as an interactive gaming system manufacturer and service provider. Bally will provide its poker platform for all of ACEP's properties, including the Stratosphere Casino in Las Vegas and the two Arizona Charlie's properties.
"We are pleased to be involved in the leading edge of this emerging segment in the U.S.," said ACEP CEO Frank Riolo. "This partnership with Bally will allow us to establish a play-for-free poker site by the end of the year, which we plan to use to further enhance our brands and enable us to be poised to launch a real money poker site at such a time as permitted."
Read the full press release at DailyFinance.com.
Welcome to Cannes!
The World Series of Poker Europe kicked off in Cannes, France, over the weekend. Sarah Grant highlighted some of the reasons why the city is the perfect destination for one of the world's most prestigious poker tournaments.
Get all the latest PokerNews updates on your social media outlets. Follow us on Twitter and like us on Facebook today!