The Weekly Turbo: Drama at Partouche Poker Tour, Patrik Antonius Signed, and More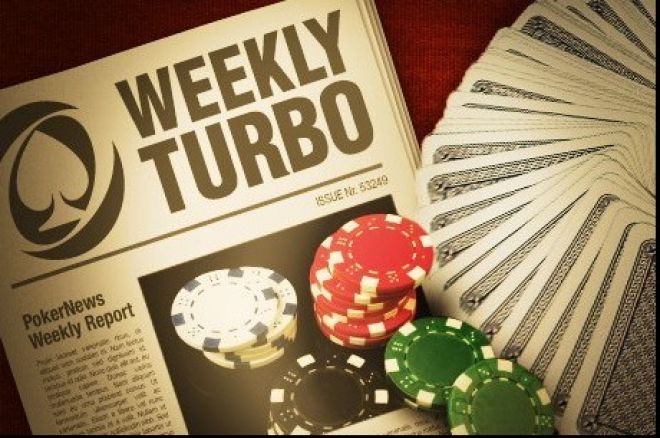 Did you miss any of the top poker news stories this week? Well you've come to the right place to get caught up. We're covering the major drama at the Partouche Poker Tour, Patrik Antonius' new deal with a poker tour, and more.
Poker Tournaments
Feaux Pas in France
The Twitterverse exploded on Wednesday with news that the Partouche Poker Tour (PPT) Main Event would offer a €4.3 million prize pool, not the previously advertised €5 million — a fact that did not sit too well with players.
The PPT announced that 573 players had entered the €8,500 Main Event and created a prize pool of €4,264,580, which was €735,420 short of the previously advertised €5 million guarantee. This caused an uproar among the players, prompting Maxime Masquelier, head of Partouche Poker Tour, to state: "For a buy-in of €8,500, I think we can be proud of the final figure. At no time did we say that €5 million was secured when it is guaranteed in writing."
The assertion that the PPT had never advertised a €5 million guarantee was quickly debunked on TwoPlusTwo as posters offered various pieces of evidence that showed otherwise. One such piece of evidence was a cache on Google, which clearly stated: "The Partouche Poker Tour and €5 million guaranteed!"
The poker community argued against the decision, prompting Groupe Partouche CEO Patrick Partouche to change his mind and honor the guaranteed money on Friday. Partouche, though, announced that this year's tournament would be the PPT's last.
Said Partouche, "I am going to announce the 'shuffle up and deal' of what will be the last edition of Partouche Poker Tour and I will tell you in terms of conclusion something I was told not very long ago. I was told, 'When being spat on, you don't have to say that it's raining.'"
Read more here at PokerNews.com.
ISPT Signs Patrik Antonius, Liz Lieu
The International Stadiums Poker Tour (ISPT) continues to add star power ahead of its inaugural event in London next May. On Thursday, the tour announced the signing of poker pro Patrik Antonius as an ambassador for the Europe-based tour
A quick check of the ISPT website revealed that Antonius was representing the ISPT for the duration of the Partouche Main Event: "Always looking for new and exciting experiences, Patrik Antonius was immediately attracted by the concept of ISPT. The Finnish player wore an ISPT logo during the final of the Partouche Poker Tour that takes place in Cannes from Sept. 3 to Sept. 9, 2012."
Liz Lieu was also signed as an ambassador for the upcoming tour. She and Antonius join Michael Mizrachi and Sam Trickett on the ISPT team. The first ISPT event is scheduled to kick off on May 31, 2013 at Wembley Stadium in London.
Read more about the event at ISPT.com.
Poker Legislation
Democratic National Platform Does Not Mention Online Poker
During the Democratic National Convention in Charlotte this week, Democrats released Moving America Forward: 2012 Democratic National Platform. No where in the platform's 39 pages does it so much as mention the words "poker" and "gambling." As the Rich Muny, vice president of player relations for the Poker Players Alliance, tweeted:
BREAKING: '12 Democratic Platform silent on online #poker. The platform in full: http://t.co/zysRs0g5

— Rich Muny (@RichMuny)
The Democratic National Platform came about a week after the GOP platform included a clause seeking to prohibit Internet poker for the fourth consecutive presidential election. On page 32 of the GOP platform, under a section titled "Making the Internet Family-Friendly," the text reads: "Millions of Americans suffer from problem or pathological gambling that can destroy families. We support the prohibition of gambling over the Internet and call for reversal of the Justice Department's decision distorting the formerly accepted meaning of the Wire Act that could open the door to Internet betting."
"We were hoping they'd just remain silent on it this year," Muny said of the GOP's platform. "We thought there was a decent chance they would just let it go and not speak on the issue at all. I hadn't heard it mentioned at the convention. But it's very difficult to get something removed when it's on the previous platform."
For more on the GOP platform and clause regarding the prohibition of Internet poker, have a look at Matthew Kredell's recent analysis.
More Progress in Nevada
On Thursday, the Nevada Gaming Control Board gave two more companies preliminary approval for an interactive gaming license in Nevada.
Slot machine maker WMS Industries Inc. and casino operator American Casino & Entertainment Properties LLC were each given the green light by the three-member NGCB panel. Both companies will seek final license approval from the Nevada Gaming Commission on Sept. 20.
ACEP, which owns the Stratosphere and two other casinos in Las Vegas, was recommended as an interactive gaming operator. The company will need to link up with a licensed business-to-business service provider to provide an online poker platform.
WMS was recommended as an interactive gaming system manufacturer and as a service provider. In July, WMS inked a partnership with online gaming operator 888 for the launch of a real-money online poker offering once the licensing and regulation process is completed in Nevada and other U.S. states.
Under the agreement, WMS will market and distribute 888's online poker platform to land-based casino customers in venues in the U.S., initially with a play-for-free offering. The joint offering will be ready to go as soon as a real-money platform is given the go-ahead by gaming authorities. 888 has also applied for a gaming license in the state.
Poker Business
The World Series of Poker and Other Caesars Assets in Question
It's been a rough ride for Caesars Entertainment Corp. as of late. The company, which owns the World Series of Poker, was down 2 percent on Wednesday and opened at $6.55, which came on the heels of a 7 percent slide on Tuesday. Needless to say, it was not a good couple of days for Caesars, which had lost $241.7 million in the second quarter.
The dismal showing inspired Fitch Ratings to change its ratings outlook for the company from stable to negative, and some analysts believe Caesars may have to restructure in order to meet its $19.9 billion debt obligations. A possible restructure could see assets like the WSOP spin off, but some analysts are high on the hopes of interactive gaming giving the company a boost.
"A spin-off of Caesars' Interactive unit or other means of monetizing the online business could be logical precursors to a restructuring. The parent guarantees OpCo's debt and sponsors, if electing to restructure OpCo, would likely want to extract value out of Interactive and not risk the entity being pulled into the restructuring proceedings," Fitch said in its report. "Fitch believes that most of Caesars' current equity value is attributable to this unit, which would benefit materially if online gaming is legalized on the federal level in the U.S.,"
For more on Caesars Entertainment Corp.'s financial situation and the Fitch Report, visit vegasinc.com.
Online Poker
iPoker Splits Player Pool
The iPoker Network's new tiered platform has been successfully implemented as planned, dividing the player pool of the network's 40-plus skins.
Among the skins residing on the top tier going forward include William Hill, Poker770, bet365, Titan Poker and Paddy Power Poker. Those sites each met the set of requirements introduced by iPoker owner Playech in June. Skins were required to maintain a base of at least 6,000 active players, as well as 850 new real-money players per month from July 1 through the end of August.
The top tier will offer larger player pools and more games to select from. While multi-table tournaments will be shared across the entire network, many ring game tables and sit-and-gos will be separated. The smaller sites which didn't qualify for the top tier are expected to draw less recreational players and more sharks looking to maximize volume.
Get more information about the split at TwoPlusTwo.com.
Poker Players
Ivey Leads The Nuts ... Again
The latest edition of ESPN's The Nuts was released late last week. The monthly blog post ranks the best poker players in the world at the moment. The 10-person panel includes Elaine Chaivarlis, PokerNews' editor in chief; Don Peters, PokerNews' tournament reporting manager; and ESPN's Andrew Feldman, Gary Wise, and Bernard Lee, among others.
Phil Ivey maintained the top spot, receiving all 10 first-place votes from the panel, but his reign is being threatened by two of the hottest players of 2012. Marvin Rettenmaier, winner of back-to-back World Poker Tour titles this year, entered the rankings at No. 4, and Dan Smith made his debut at No. 6. Smith has six wins this year and currently leads the Global Poker Index Player of the Year race.
John Juanda and Sam Trickett also returned to The Nuts rankings. Juanda is fresh off an eighth place finish in the EPT Barcelona Main Event ($93,500) and fifth place result in the Macau High Stakes Challenge ($1,645,753). Trickett also cashed in Macau, and his runner-up finish in the Big One for One Drop won't soon be forgotten.
Here's a look at the top 10 for September.
| Rank | Player |
| --- | --- |
| 1 | Phil Ivey |
| 2 | Jason Mercier |
| 3 | Michael Mizrachi |
| 4 | Marvin Rettenmaier |
| 5 | Vanessa Selbst |
| 6 | Dan Smith |
| 7 | Phil Hellmuth |
| 8 | Bertrand Grospellier |
| 9 | John Juanda |
| 10 | Sam Trickett |
For more analysis on The Nuts rankings, check out ESPN.com.
Eva Longoria Celebrity Casino Night
Desperate Housewives star Eva Longoria is returning to the felt for her 5th annual Celebrity Casino Night on Saturday, Oct. 6. The event will take place at the JW Marriot San Antonio Hill Country Resort and Spa, and proceeds will to go toward Eva's Heroes.
Among the stars in attendance will be poker pro Phil Hellmuth and Saved By The Bell star Mario Lopez. Hellmuth will emcee the festivities while guests take part in blackjack, roulette, craps, live and silent auctions, casino prizes, and a Texas hold'em tournament.
Individual tickets for the event cost $200, which includes cuisine by celebrity chefs and chips to use at the casino. The charity poker tournament has an additional entry fee of $200.
Check out the Eva's Heroes website for more information.
Follow PokerNews on Twitter for up-to-the-minute news.