The Weekly Turbo: The Lederer Files, Phil Galfond Sues Poker Training Site, and more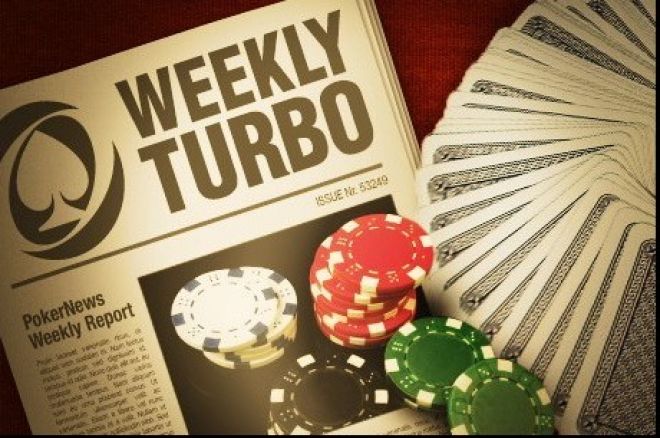 Did you miss any of the top poker news stories this week? Well you've come to the right place to get caught up. We're covering the response from the community about The Lederer Files, Phil Galfond's lawsuit against his former company, and more.
Poker Business
Full Tilt Poker Owners, Players Respond to The Lederer Files
With the Lederer Files becoming the talk of the poker community this week, several of the industry's biggest names have spoken up about Lederer's comments to PokerNews.com.
Some of the most interesting talk has been about former Full Tilt owners Phil Ivey and Erick Lindgren, both of whom were painted in a negative light by Lederer. Lederer called Ivey's June 2011 lawsuit against the company "horrific" because of its avaricious nature, but Barry Greenstein came to Ivey's defense in a post at TwoPlusTwo on Thursday.
"Phil never thought about the lawsuit in terms of money, only in terms of leverage to get out," Greenstein said. "He had given them an ultimatum to get the company sold by a certain time, and they failed. They had rejected a potential offer that Phil was involved with as being a bad deal."
Lindgren, meanwhile, was accused of being double-credited for a $2 million loan before Black Friday and never paying back the extra $2 million even though it never belonged to him. Lindgren has been harshly criticized by the community for the accusation, but Daniel Negreanu went after Lederer for singling out his friend and none of the other players who had outstanding loans with the company.
Lederer Files: the list of people who owed FTP money is MUCH longer than what he listed. NO ONE would pay back a Ray Bitar led FTP ever!

— Daniel Negreanu (@RealKidPoker)
Another player mentioned by Lederer was John Juanda, who was displeased with Lederer's assertion that Juanda was the second largest shareholder of FTP.
For the record, Howard Lederer was wrong when he said I was 2nd largest shareholder of FTP! Maybe he REALLY didn't know!!??? #LedererFiles

— John Juanda (@LuckBoxJuanda)
Juanda also addressed the loan he owed to the company.
I owe FTP $256K, was offered to settle for 80% but declined when I found out Ray, w/boards' approval,was still taking home 200K+/mo post BF

— John Juanda (@LuckBoxJuanda)
Instead I offered to pay 100% as soon as I could be certain it'd go toward paying players NOT management salary &lawyers fees #LedererFiles

— John Juanda (@LuckBoxJuanda)
We're anticipating a lot more discussion in the coming days. If you happened to miss any of the seven episodes of The Lederer Files, you can find them right here at PokerNews.com.
Galfond Sues Blue Fire Poker
When Phil Galfond parted ways with BlueFirePoker.com last November, he elected not to reveal his reasons for leaving, saying only that "it was a very difficult decision that I struggled with for a long, long time."
This week, we learned a bit more about Galfond's falling out with the training site he helped build. According to Courthouse News Service, Galfond has sued his former business partner William F. Murphy for breach of contract and conversion, and is seeking damages.
Galfond claims that he and Murphy agreed in 2008 to form a joint venture to operate the poker training website, from which he was to receive one-third of the profits from the site and ownership interest of up to 38.33 percent. But Galfond says he has still not been paid for his work for the site in 2011. Galfond also claims that he never received accounting records, financial statements or tax returns from Murphy in 2009 or 2010 to verify that the amounts he was paid were correct.
"Blue Fire has been immensely successful, having thousands of members who pay an initial enrollment fee of $100 in addition to a subscription fee of $30 per month," the complaint states. "Upon information and belief, the defendant Murphy has misappropriated and converted to his own use and possession the assets of MGH."
As part of his agreement with the company, Galfond provided more than 150 training videos for BlueFirePoker.com during his three years as an instructor. Galfond also played a key role in the site's content management and the hiring of the BlueFire instructors.
Read more at CourthouseNews.com.
Burtnick's Plea Agreement
One of the men responsible for the financial fiasco at Full Tilt Poker is facing up to 15 years in prison after pleading guilty to conspiracy and gambling charges in a Manhattan, New York City, court on Wednesday.
Nelson Burtnick, the former payment processing director for Full Tilt Poker, admitted to the court that he authorized illegal online poker transactions for both FTP and PokerStars between 2006 and 2011. Burtnick, along with Full Tilt Poker CEO Ray Bitar, were among the 11 men indicted by the U.S. government on April 15, 2011.
Burtnick's sentencing is scheduled for Dec. 19, 2012.
Read more in the story here at PokerNews.com.
Poker Players
Antonio Esfandiari Talks With Howard Stern
As we reported in Monday's Nightly Turbo, Antonio Esfandiari joined the Howard Stern Show Tuesday morning to discuss his life as a poker player, his win at the Big One for One Drop, and — as expected — the usual diversions that go with a Howard Stern interview.
Antonio talked a lot about his childhood as an "unpopular" kid and living with a single father who did not approve of his decision to become a magician, and then, of course, a poker player. Esfandiari described his father as an "old school Persian dude" who would have a heart attack if he knew how much Antonio was wagering at the table. Obviously, as we saw at the Big One for One Drop, Poppa Esfandiari has changed his mind about Antonio's career.
Stern and his crew seemed most intrigued by Esfandiari's take on poker being a game of skill more than a game of chance. Antonio explained that each poker hand is like a "formula" which can be solved by combining math with the perceived "comfortability" of his opponents. "It's all about making good decisions," he said. "If you keep making good decisions mathematically and putting your money in with the best hand, math with prevail."
"This seems like hard work!" Stern sidekick Robin Quivers commented.
We highly recommend listening to the full interview. You can find it right here.
Trickett Cleans Up
2011 was a great year for Sam Trickett, and on Monday the high-stakes poker star was recognized for his many achievements at the British Poker Awards in London.
Trickett scooped up awards for Player of the Year, Best Cash Player and Best Tournament Player during the night's festivities. Trickett had three seven-figure cashes on the tournament circuit in 2011 and was a regular in some of the biggest cash games in Macau. He beat out some tough players in the three categories, including JP Kelly, Roberto Romanello, Ben Grundy, and Chris Moorman.
Although Moorman fell short in the Best Tournament Player category, he did win Best Online Player for the third year in a row. Others collecting hardware on Monday were Liv Boeree (Poker Personality of the Year), Craig McCorkell (Breakthrough Player of the Year), and Vanessa Selbst (Best International Player).
Here's a look at all of the winners at the 2012 British Poker Awards:
| Award | Winner |
| --- | --- |
| Player of the Year | Sam Trickett |
| Best Cash Player | Sam Trickett |
| Best Tournament Player | Sam Trickett |
| Best Online Player | Chris Moorman |
| Poker Personality of the Year | Liv Boeree |
| Best International Player | Vanessa Selbst |
| Breakthrough Player of the Year | Craig McCorkell |
| Biggest Contribution to Promoting Poker | Kirsty Thompson (UKIPT) |
| Best Tournament Director | Toby Stone (UKIPT) |
| Best Card Room Manager | Simon Trumper (Dusk Till Dawn) |
| Best UK Tournament | Champions Poker League |
| Best Poker Forum | The Hendon Mob |
| Best Blogger/Social Media User | Neil Channing |
| Best Card Room Bar | Palm Beach, London |
| Best Card Room Restaurant | Grosvenor Victoria, London |
| Best Card Room | Dusk Till Dawn |
For a look at all of the nominees for each category, check out the British Poker Awards website.
More Developments in Duhamel Robbery
A fifth person has been arrested for his alleged involvement in the December 2011 robbery of poker pro Jonathan Duhamel.
According to CBC News, a 21-year-old man was arrested near his home on Wednesday after a warrant was issued for his arrest. The individual is the alleged getaway driver for the men who invaded the home of the 2010 World Series of champ, robbing him of $115,000 cash and jewelry and leaving him beaten up.
Earlier this week, the lawyer for Bianca Rojas-Latraverse said her client would plead guilty to plotting the attack and robbery of Duhamel. Rojas-Latraverse is the ex-girlfriend of Duhamel and is facing charges of grand larceny, kidnapping, breaking and entering, assault and battery, and conspiracy.
It's unknown at this point whether Rojas-Latraverse's guilty plea had anything to do with the identification of the fifth suspect.
"With our investigative techniques, we found out who that person was," said Mark David of the Longueuil police. "The minute we had enough evidence, we received a warrant and the Gatineau police assisted us in this case."
CBC News has more.
Poker Tournaments
WPT in China
The World Poker Tour has expanded greatly in recent years, adding several stops in Europe and one in Canada. On Thursday, the WPT announced that it is adding another new and exciting destination to its growing slate of events.
From Dec. 14 through 17, 2012, the WPT will host its inaugural National Series tournament in China. WPT National China Poker Tournament: Sanya will take place at the MGM Grand Sanya Resort on the tropical beaches of Sanya, Hainan Island, China.
"WPT National China Tournament Sanya demonstrates the exploding popularity of WPT National and Regional events, which provide players around the world with the opportunity to compete in affordable, world-class poker tournaments," said WPT CEO Steve Heller. "We are very excited about the potential of this tournament as there are thousands of players in China who aren't able to play in large tournaments such as this without having to deal with the expense and hassle of traveling out of the country."
The event will be capped at 500 players, but tournament organizers are expecting around 60,000 to compete for the available seats. A buy-in for the event is still to be determined, but we'll make that information available as soon as it is released.
Read more about the new WPT event here at PokerNews.com.
Rui Chen Wins Macau Poker Cup
Rui Chen survived one of the longest final tables in Macau Poker Cup history over the weekend to win the 2012 Macau Poker Cup Main Event. After a grueling 12 hours at the final table, Chen bested Yosuke Sekiya heads-up to claim the title and the HKD$1,108,500 (USD$143,000) top prize.
Despite the long road to victory, Chen got off to a quick start at the final table by eliminating Robert Streatfield with pocket aces on the second hand of the day. From there, Chen sent the two ladies at the final table — Lisi Wei and Jessica Ngu — packing in sixth and fifth place, respectively. Sekiya then eliminated Kevin Kung, Sunny Jung and Wenlong Jin in successive fashion to set up the heads-up battle with Chen.
Heads-up play began with Chen having a 3-to-2 edge in chips, but the rollercoaster match began with Sekiya coming from behind with
against Chen's pocket eights after all the chips went in preflop. The
landed on the river, keeping Sekiya alive. Despite the brutal beat, Chen was able to keep his composure and go on to win the match. On the final hand of the tournament, Sekiya's
was unable to outrun Chen's
and Chen finally secured the victory.
Here's a look at the results from the final table:
| Place | Player | Prize |
| --- | --- | --- |
| 1 | Rui Chen | HKD$1,108,500 |
| 2 | Yosuke Sekiya | HKD$759,000 |
| 3 | Wenlong Jin | HKD$458,000 |
| 4 | Sunny Jung | HKD$361,500 |
| 5 | Kevin Kung | HKD$289,160 |
| 6 | Jessica Ngu | HKD$241,000 |
| 7 | Lisi Wei | HKD$193,000 |
| 8 | Ryan Hong | HKD$144,500 |
| 9 | Robert Streatfeild | HKD$120,500 |
Read the full final table recap at the PokerStars Blog.
Poker Legislation
Online Poker Licenses Granted in Nevada
On Thursday, the Nevada Gaming Commission approved two more companies for intrastate online gaming licenses.
Slot machine maker WMS Industries Inc. received licensure as an interactive gaming system manufacturer and as a service provider. The company recently partnered with online gaming operator 888 to launch a real-money online poker offering once the licensing and regulation process is completed in Nevada and other U.S. states. 888 has applied for a gaming license in Nevada and is waiting for its turn to meet with gaming regulators.
American Casino & Entertainment Properties LLC, the parent company of the Stratosphere in Las Vegas, was granted an interactive gaming license as an interactive gaming operator on Thursday. Moving forward, the company will need to link up with a licensed business-to-business service provider to provide an online poker platform.
IGT, Bally Technologies, Shuffle Master and the South Point Casino are among the other companies to receive interactive gaming licenses this year. South Point, with its in-house poker operation, is expected to get off the ground first. The other three companies will serve as business-to-business providers, offering online poker and other interactive games to Nevada casinos looking to compete in the market.
For more, check out the Las Vegas Review-Journal.
Online Poker
PokerStars had added two new pros to its Team Online roster, signing Naoya "nkeyno" Kihara and Caio "pessagno" Pessagno to represent the site online and at tournaments around the globe.
In June, Kihara became the first Japanese player to win a bracelet at the World Series of Poker, winning the $5,000 six-handed pot-limit Omaha event for $512,029. In addition to playing on PokerStars, Kihara says he plans to don the PokerStars red spade at tournaments in Macau in at the PokerStars Caribbean Adventure in January.
"I want to be a top poker pro who every poker players knows and can be proud of. To be a member of Team Online is a really big step," said Kihara.
Pessagno has been grinding mid- and high-stakes tournament of PokerStars for years and boasts more than $1.8 million in cashes on the site. He plans to continue his "ridiculous volume" online, mixed in with appearances at Brazilian Series of Poker (BSOP) and Latin American Poker Tour (LAPT) events as well as the PCA in January.
"Being part of this team is a dream for any professional player, and for me this is the beginning of a new stage in my life. I sacrificed a lot to be here and I feel very accomplished to have followed this path," said Pessagno.
Read more about the two new PokerStars Team Online Pros at the PokerStars Blog.
Follow PokerNews on Twitter for up-to-the-minute news.