Josh Williams Wins 2012-13 World Series of Poker Circuit Horseshoe Hammond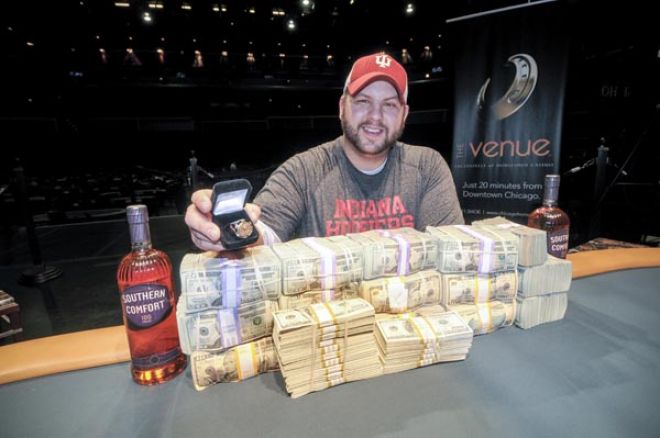 All good things must come to an end, and that's what happened at the World Series of Poker Circuit Main Event in Hammond, Indiana. The final day was a long 18-hour affair, but Josh Williams emerged victorious to claim the $385,909 first-place prize.
When Day 3 began, 29 players remained. Everyone from the media to the tournament staff to the players knew it was going to be a long day on the felt, so the coffee was brewed in full force. Things got started off quickly, though, and hopes of a short day briefly hopped into the minds of everyone involved.
Matt Newcombe was the first player eliminated on Monday. Then, Ralph Massey was out the door in 28th place before the players reworked themselves across three tables. After a slew of eliminations that included Lee Childs (25th - $12,695), Nick Grippo (21st - $17,787), Adam Cook (20th - $17,787), Rob Zazay (15th - $25,805), Christopher Underwood (12th - $31,565) and Joshua Reichard (11th - $31,565), the field was down to just 10 players. All 10 of the competitors redrew to one table before they played to lose one more and officially set the final table.
Claudia Crawford spent most of 10-handed play flirting with the short stack but could never quite get herself back into the mix. Eventually, she was eliminated on the official final table bubble at the hands of Tripp Kirk.
With the blinds at 25,000/50,000/5,000 in Level 30, Crawford raised all in from under the gun for 850,000. Kirk made the call on the button holding
, and Crawford held
. The board ran out
, and Crawford was sent to the rail despite picking up a promising flop. She earned $31,565 for her finish.
When the final table began, Josh Williams held the chip lead over Kirk in second place. The difference between the two was less than 500,000 as Williams had 5.575 million to Kirk's 5.13 million. No one else was over 5 million, but Shiva Dudani was almost at that mark in third place with 4.855 million.
Erik Roussakis began the final table as the third shortest stack and was looking to better his performance from last year in this event when he took third place. It was an amazing feat alone making two back-to-back final tables in this event with such large fields, but unfortunately, Roussakis was the first to go this time around.
After a raise to 160,000 from Brad Albrinck with the blinds at 40,000/80,000/10,000 in Level 32, Roussakis reraised all in for 1.145 million. Albrinck made the quick called holding
. Roussakis held
and the board ran out
. Roussakis was eliminated, earning $39,168 for his finish.
Much like Crawford did when play was 10-handed, Nick Guagenti nursed the short stack for the majority of eight-handed play. On his final hand, Guagenti moved all in from under the gun with
for 915,000 when the blinds were at 50,000/100,000/10,000 in Level 33. Guagenti was called by Sean Szurko with
. The board ran out
to send Guagenti to the rail and he collected $49,075.
After Guagenti's exit, Albrinck and Kirk played a massive pot worth over 10 million in chips. All the chips had gone in preflop with Kirk's pocket kings running into Albrinck's pocket aces. Albrinck won the pot and crippled Kirk on the hand, but Kirk was able to battled back with a couple of double-ups and get right back into the mix.
Dudani fell in seventh place, Albrinck headed out the door in sixth place and Zal Irani was bounced in fifth place. With Irani's elimination, Mike Leah had officially locked up the Casino Champion title and earned an automatic bid to the $1,000,000 National Championship presented by Southern Comfort 100 Proof.
Szurko was then next player felted, and his elimination hand came immediately after Irani's during Level 34 with the blinds at 60,000/120,000/10,000. Szurko moved all in from the big blind after a raise from Ryan Riess out of the small blind. Riess called with
and had Szurko's
dominated. The board ran out
, and Szurko was eliminated. For his finish, Szurko walked away with $137,088.
Three-handed play between Williams, Kirk and Riess lasted several hours. Kirk was knocked short at one point but battled back into the match, and the other two seemed to swap back and forth with the lead.
Finally, the three players discussed the option of shortening the levels on one of the breaks and ended up doing so. They cut the levels down to just 15 minutes in length, and that's when play really picked up. When the final hand came up, it was Riess who put the pressure on Williams, but Williams stood tough to the test.
Riess limped in from the button, and Williams checked his option in the big blind to see the flop come down
. Both players checked, and the turn brought the
. After Williams checked the turn, Riess bet 600,000 and Williams called. The river completed the board with the
, and Williams checked. Riess moved all in, and Williams went into the tank.
"This would be the thinnest call of all time, but I think you have jack-ten," Williams said as he thought. Then he called.
His call was close as Riess held the
for ten high. Williams had
for a pair of sevens and won the pot. Riess was eliminated in second place and walked away with $239,063 for his effort.
Final Table Payouts
| Place | Player | Prize |
| --- | --- | --- |
| 1 | Josh Williams | $385,909 |
| 2 | Ryan Riess | $239,063 |
| 3 | Tripp Kirk | $180,403 |
| 4 | Sean Szurko | $137,088 |
| 5 | Zal Irani | $104,371 |
| 6 | Brad Albrinck | $80,179 |
| 7 | Shiva Dudani | $62,438 |
| 8 | Nick Guagenti | $49,075 |
| 9 | Erik Roussakis | $39,168 |
Not only did Williams take home over $385,000 and the gold ring for first place, but he also earned a spot in the $1,000,000 WSOP Circuit National Championship presented by Southern Comfort to be held at the end of the season in New Orleans. That means this victory could turn into even more cash for Williams.
The next stop on the WSOP Circuit will be River Rock Casino in Vancouver, British Columbia, at the beginning of November. PokerNews will be there and we hope you can join us then.
Follow PokerNews on Twitter for up-to-the-minute news.