The Nightly Turbo: Analyzing Stu Ungar's Poker Game, Prague Poker Festival, and More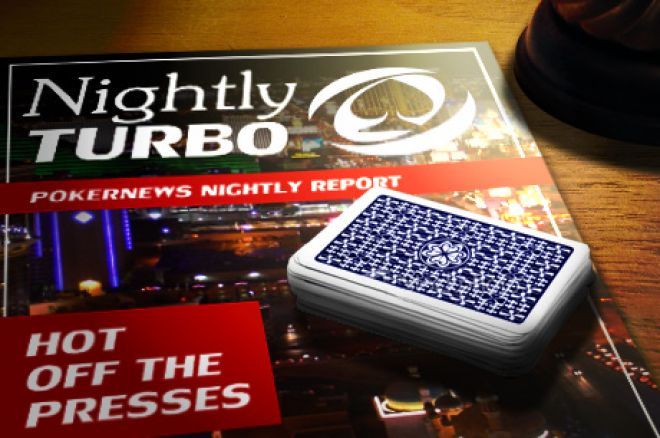 In Case You Missed It
How was the high-stakes action at the PokerStars tables this week? Read the Online Railbird Report to find out the week's biggest winners and losers.
The October Nine is right around the corner. What has Jeremy Ausmus done to prepare for the biggest final table of his life? Find out in his interview with PokerNews.
Dominik Nitsche added a World Poker Tour title to his WSOP bracelet on Friday. Take a look at his domination of the WPT South Africa final table in our WTPSA recap.
Kristy Arnett returned with her Strategy With Kristy strategy podcast on Friday. This week, Kristy was joined by Andrew Moreno and Lincoln Garner for Part 2 of her Live Cash Game Grinders series.
The 2012 PokerStars.net Australia New Zealand Poker Tour Melbourne Main Event kicked off on Thursday. High-stakes regular Billy Jordanou enjoyed a great day in his hometown, finishing Day 1a as the chip leader.
Rich Ryan went 8-0 in his NFL bets last week. But he learned a valuable lesson after this week's Thursday Night game. Ryan discusses that and gives his picks for the rest of Week 8 in the latest Pigskin Diaries.
Did you miss anything from the past week? Don't worry, we've got you covered. Lynn Gilmartin broke down all the big stories in the PokerNews Weekly.
Inside Ungar's Mind
Stu Ungar is often regarded as the greatest poker player ever. Affectionately known as "The Kid," he is one of only two players to win the World Series of Poker Main Event three times. He was inducted into the Poker Hall of Fame in 2001, three years after he passed away from a heart condition.
Up until recently, there was little visual evidence of Ungar's abilities at a poker table. Aside from limited television coverage of Ungar at the WSOP, most of what we know about him comes from those who played against him during his prime. Mike Sexton, for example, once called Ungar the "most talented player who's ever walked on the planet Earth."
Last week, however, WSOP.com Managing Editor Jess Welman stumbled upon some pieces of poker history that offer some insight into Ungar's playing style. While doing some research for the upcoming WSOP Main Event final table, Welman found the hand-for-hand coverage of WSOP Main Event final tables from 1995 until 2000. The reporting was done by Tom Sims, who relayed all of the action into a micro-cassette recorder and later wrote it down.
Welman shared the pieces of poker history with the community this week. And taking it one step further was poker pro Clayton Newman, who looked over each hand from the 1997 WSOP Main Event final table won by Ungar and examined the play using statistics and data used in the analytical approach to today's game.
Newman's findings shed some light on why Ungar was levels above most poker players of his time. "Ungar played like a solid lagTAG, vpip in the low thirties and PFR in the low twenties," Newman said after studying the entire final table. "I also like that he kept his raises on the smaller side (3.5x to 3x), as I'm told most live pros would routinely 4x or 5x it and would have inconsistent preflop raise sizing (3x with 55, 6x with AK etc). Ungar stayed consistent and on the smaller side."
We highly recommend taking the time to read through Newman's analysis. You can find it in his blog at LeggoPoker.com.
2012 Prague Poker Festival
The 2012 Prague Poker Festival is set to kick off in one month, and tournament organizer Living it Loving it has unveiled three-week schedule that includes more than 30 poker tournaments from the World Poker Tour, PokerStars European Poker Tour, Grand Series of Poker (GSOP), and more.
The festival kicks off on Tuesday, Nov. 27 with a €2,200 buy-in World Sit 'n' Go Masters Main Event, and concludes with the €1,100 buy-in Grand Series of Poker Main Event final table on Saturday, Dec. 15. Sandwiched in between those events will be the €5,300 EPT Main Event and the €3,300 PartyPoker WPT Prague Main Event, as well as tournaments organized by King's, 888 and Planet Win 365.
Organizers of the Prague Poker Festival announced that they will be handing out free seats to the World Poker Tour Prague Main Event to show gratitude to the players for their continued support of the festival. Any player who busts on Day 1a of WPT Prague can head to the cage and register for a Day 1b freeroll where a Main Event seat for Day 1C will be given away for every 11 entries into the freeroll.
If you're interested in taking part in the action in Prague, check out the schedule at PraguePokerFestival.com.
PokerStars' Prompt Payouts
Earlier this month, non-U.S. Full Tilt Poker customers were reassured they would be repaid by PokerStars on Nov. 6 as part of the deal with the U.S. Department of Justice. But payday could come sooner for FTP players who reside in France.
According to CasinoChoice, French poker players with money still frozen on FullTiltPoker.fr could begin the reimbursement process as early as next week. French regulator ARJEL said in a statement Thursday that "the date of effective implementation of the reimbursement process of players is Nov. 2, 2012."
Last month, the ARJEL issued a statement indicating that PokerStars has set up a trust fund to ensure that repayment of FullTiltPoker.fr players goes smoothly. Members of the ARJEL board formed a procedure by which players could verify their identities and transfer funds to their bank accounts. That procedure will be in place by Nov. 2, according to the report.
Once the reimbursement process in France is ready to go, players will transfer the funds from their Full Tilt Poker account to their PokerStars.fr account. Full Tilt Poker customers living in Spain, Denmark, Estonia, and Belgium will be also repaid through the locally licensed PokerStars platform. In all other markets (except the U.S. and Italy), Full Tilt Poker customers will have full access to their accounts when FullTiltPoker.com relaunches.
PokerStars is continuing to work with Italian regulators, and the details will be announced as soon as possible.
CasinoChoice has more on the story.
COPA Crumbles
They were all-in, but now it's all over for the California Online Poker Association (COPA).
The California group, created two years ago to lobby for online gambling, folded its efforts this week after legislators failed to pass a handful of bills. COPA barreled $1.2 million on lobbying in the first half of 2012 alone, outspending companies like Chevron and the California Teachers Association.
During COPA's two-year run, a handful of proposed bills fell through the cracks as interest dissipated or the state could not agree upon the financial rewards for who would be involved.
The COPA operating agreement stated the organization would dissolve if advancement within legislation had not been made by Jan. 2, 2013. "The decision was based upon insufficient progress within the Legislature toward the passage of an online poker bill," Ryan Hightower, the group's spokesman, said in a statement.
The San Manuel and Morongo tribes are two groups involved with COPA that are keeping the faith in seeing online gambling happen in California. But both believe it will just take time. "The politics over Internet poker over the last two years simply has not caught up with modern technology's inroads into California gaming economics," said San Manuel Chairwoman Carla Rodriguez.
Efforts within the group might be reassessed if legislation makes some headway in 2013's proceedings.
Read more at the Sacramento Bee and The Press Enterprise.
Full Tilt Poker's Ad Campaign
Full Tilt Poker's growth in becoming the world's second largest real-money poker site had a lot to do with its television ads. The sleek, black and white images of high-profile pros like Tom Dwan, Phil Ivey and Patrik Antonius are forever entrenched into the minds of many poker enthusiasts.
As the popular saying goes, "if it ain't broke, don't fix it." On Thursday, FTP unveiled some of the new TV spots set to debut outside of the U.S. after the site's relaunch on Nov. 6. They might look a little familiar:
Check out all four ads at Youtube.com.
Follow PokerNews on Twitter for up-to-the-minute news.