The Nightly Turbo: FTP Repayment Update, Brandon Cantu and Jon Aguiar Rematch, and More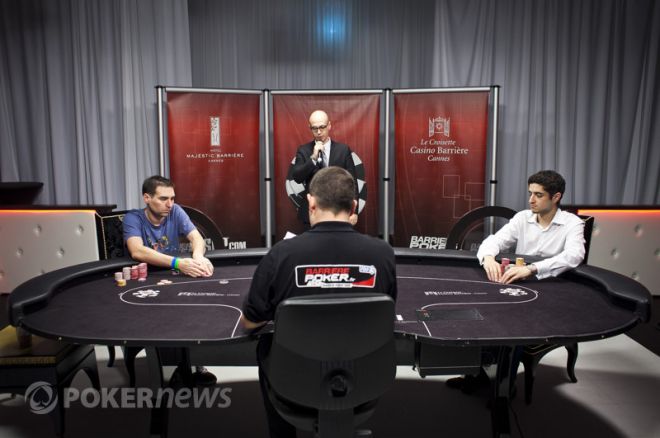 We're only a few days from the reopening of Full Tilt Poker. What did PokerStars have to say about highly anticipated relaunch? We're bringing you that story, plus a $130,000 grudge match between Brandon Cantu and Jon Aguiar, in this edition of the Nightly Turbo.
In Case You Missed It
How was the high-stakes action at the PokerStars tables this week? Read the Online Railbird Report to find out the week's biggest winners and losers.
We all know what poker players do on the felt, but what about in "normal" life? In the latest from the Off the Felt series, we talk to Mike Leah about fantasy sports, music, and more.
Did you miss anything from the past week? Don't worry, we've got you covered. Kristy Arnett and Sarah Grant broke down all the big stories in the PokerNews Weekly.
Countdown to (Re)Launch
The repayment process for non-U.S. Full Tilt Poker customers is already under way, and on Friday PokerStars released a statement about its plans leading up to the Nov. 6 relaunch date.
Eric Hollreiser, PokerStars' head of corporate communications, posted in his blog that PokerStars has reopened Full Tilt Poker for play-money action in order to beta-test the software and iron out any bugs before Nov. 6. The company has also provided access to accounts for former players in many licensed markets, including Estonia, Belgium, Denmark, Spain and now France.
"Today we will open the functionality to French players, allowing them to transfer funds from their Full Tilt Poker account to a PokerStars.fr account," Hollreiser said Friday. "As we've indicated in recent "weeks, we continue to face obstacles in Italy so unfortunately we will be unable to provide Italian players with access to their Full Tilt Poker funds by November 6th as we had originally hoped. We continue to work with legal advisers and Italian authorities to resolve this matter, and will be updating Italian players on the progress."
Hollreiser added that Full Tilt Poker is still on schedule for the Nov. 6 reopening, at which point non-U.S. players will have full access to their account and will once again be able to play on FullTiltPoker.com.
Added Hollreiser, "For the millions of players who will have access to their funds, this marks the end of a long and emotional roller-coaster ride. We hope this begins a new journey that allows players to enjoy two great poker sites - Full Tilt Poker and PokerStars — with the confidence in the shared ownership of The Rational Group, who will ensure the safety and security of your funds and the integrity of your poker action."
Check out the PokerStars Corporate Blog for more.
$130,000 Grudge Match
Last month at the World Series of Poker Europe, Brandon Cantu claimed that the WSOP "robbed" him of a bracelet in the €10,000 Mixed Max event, in which he lost heads-up to Jon Aguiar after a controversial decision to delay the match two days. In case you missed it, Cantu unleashed his true feelings to PokerNews' Sarah Grant in an rant interview that circled through the community.
Shortly after losing the heads-up match in Cannes, Cantu proposed that he and Aguiar play a heads-up grudge match for the money difference between first and second place — $130,000. Aguiar quickly accepted, and the match is now on for Wednesday, Nov. 7 at the Aria Poker Room in Las Vegas.
There's certainly no love lost between the two, as evidenced by the nasty table banter during their match in Europe. Things didn't get any friendlier on Thursday when Aguiar posted a picture of his bracelet and some casino chips on Twitter, simply saying to Cantu, "come and get it."
Aguiar said the match will be a "non-title fight," meaning the bracelet will not be up for grabs, but there will certainly be plenty of interested spectators at Aria when this one goes down.
Check in next week as we'll provide the results right here in the Nightly Turbo.
Bwin.Party Poker Revenue Slides
Bwin.party digital entertainment, the world's largest online gaming group, announced that it took a hit of 10 percent in its third quarter due to a new gaming tax in the German market combined with a drop in poker sales.
"The introduction of a 5% turnover tax on sports betting in Germany, revenue decline in poker and continued pressure on consumer spending, particularly in parts of southern Europe, held back our performance in the third quarter," the company said in a statement.
Bwin.party has faced a €175.7 million drop as compared to the same three-month period last year. In poker, net revenue fell 29% year-on-year to €37 million. "We believe that the integration of our dotcom poker networks later this quarter will be the first major catalyst to return our poker business to growth. This will soon be followed by the launch of PartyPoker on mobile and then a complete repositioning and relaunch of PartyPoker in the first half of 2013."
Although the company has seen a drop, it is confident to regain strength by end of year in part thanks to a newly agreed partnership with Zynga, the world's largest social gaming company. Through their partnership, they intend to launch white-label real-money poker and casino services for U.K. players.
Also this week, Bwin.party completed the deal with Amaya Gaming to sell the OnGame Network for up to €25 million ($32.2 million). An initial payment of €15 million ($19.3 million) was payable in cash on completion, and additional payments of up to €10 million ($12.9 million) become payable if regulated online gaming arrives in the U.S. in the next five years.
Read the full report at Bwin.Party.com.
Boeree, MacPhee Prepare for Reality TV Debut
PokerStars Team Pro, former model and TV presenter Liv Boeree's new show I Bet My Life will be debut this Sunday on the Travel Channel in U.S. at 11 p.m.
The show revolves around Boeree and boyfriend Kevin MacPhee as they travel to Monaco to play in one of the largest poker tournaments of the year, the PokerStars and Monte-Carlo® Casino EPT Grand Final. It combines the integrity of a travel documentary and the guilty pleasures of a reality show, displaying some rather extravagant activities like flying a helicopter or driving a Porsche around the Grand Prix. The show will definitely expose the perks of being a successful professional poker providing all that much more entertainment.
In a recent entry at the PokerStars Blog, Boeree admitted that filming was quite a challenge: "Not only were we playing the tournament but before and after each day we had to film numerous scenes, do interviews and multiple re-takes which left us very little room to do anything else. That said, it gave us a taster for reality TV and even tested our, ahem, acting skills... Pretty crazy to see how much footage is required to be condensed into a 30-minute episode."
Boeree expressed her hopes for the show, stating, "mainstream TV shows about poker and its lifestyle is exactly what our beautiful game needs to spark interest and promote it to the masses."
In case you haven't seen it, here's a sneak peek of I Bet My Life:
Read more about Boeree's adventures filming the show at the PokerStars Blog.
Follow PokerNews on Twitter for up-to-the-minute news.