The Weekly Turbo: DOJ Discusses Full Tilt Poker Repayments, Lederer Petition, and More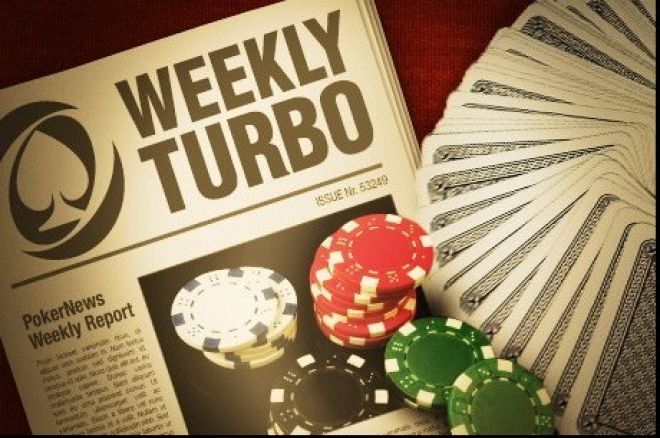 Did you miss any of the top poker news stories this week? Well you've come to the right place to get caught up. We're covering a hearing between the Poker Players Alliance and the Department of Justice about Full Tilt Poker refunds, a petition to ban Howard Lederer from a poker room in Las Vegas, and more.
Poker Business
Delay at the DOJ
We're more than three months past the deal that allowed for repayment of all Full Tilt Poker players, but it appears that U.S.-based customers will be waiting much longer to recoup more than $200 million in funds that were frozen last April.
On Tuesday, the Poker Players Alliance met with the Department of Justice to discuss the remission process taken on by the DOJ after its deal with PokerStars in July. After the hearing, the PPA reported that the DOJ is still "a long way away" from completing reimbursement to players. In fact, PPA Executive Director John Pappas said that "no decisions have been made at the DOJ regarding the manner of repayment of player balances."
Pappas added that there is no date set for selecting a third-party claims administrator, even though the DOJ posted an employment notice for the position three months ago. According to the PPA, the process is being delayed by a lack of resources and a long list of forfeiture cases that need to be taken care of.
Tuesday's news wasn't met well by U.S. players, who sat idly by last week while Full Tilt Poker's "Rest of World" players were given access to their funds. Blair Hinkle, a Missouri-based poker pro with more than $1 million stuck on Full Tilt Poker, responded via Twitter by saying, "What a joke."
For more, read the full story here at PokerNews.com.
Poker Players
Players Take Stand Against Lederer
Nick DiVella, a well-known Las Vegas cash-game grinder, has created a petition to ban former Full Tilt Poker exec Howard Lederer from playing at the Aria Poker Room. The petition follows several instances of Lederer participating in high-stakes cash games at Aria and Bellagio, and even entering Bellagio's 2012 Festa al Lago Main Event.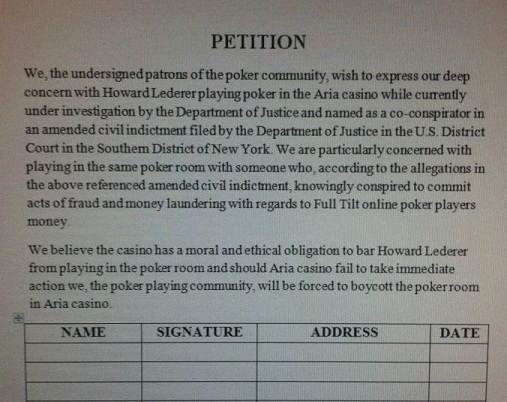 The petition has mixed reviews from the poker community, with many people agreeing that it would be a just punishment, and many opposed believing it is juvenile to ban a player for being "disliked."
"We believe the casino has a moral and ethical obligation to bar Howard Lederer from playing in the poker room and should Aria casino fail to take immediate action we, the poker playing community, will be forced to boycott the poker room," the petition reads in part.
On Thursday afternoon, DiVella continued action to gather signatures for his petition. "Come down to Aria tonight starting at 4PM to sign (the petition)," DiVella tweeted. Aria management quickly put an end to his efforts as they prevented him from circulating the petition once on Aria grounds.
DiVella went on to say, "I just had a 45 minute meeting with Aria and they are taking our concerns to upper management but I was told as of right now the poker room must stay neutral on the situation." Later in the evening, DiVella further tweeted, "This movement goes for Bellagio and any other poker event around the world. Aria is my favorite place to play, wish I didn't pick on them."
The petition has since generated much discussion at the TwoPlusTwo forums. Several pros, including Isaac Haxton, debated whether Lederer should be blacklisted from casinos. "I think players should feel free to make him feel unwelcome and I think it takes some real audacity on his part to show up, but I hope Aria doesn't give in to the pressure of the petition," Haxton said. "Casinos are not in the habit of barring white collar criminals and as of now Howard isn't even convicted of anything."
While the poker community tosses between the pros and cons of DiVella's efforts, the final decision on his petition is still unknown. We'll continue following this story as it develops.
#TeamIvey Gets Stronger
Phil Ivey has recruited yet another star player, Cole South, to the team of professionals for his training site at IveyPoker.com.
South, a former Full Tilt Poker Red Pro, joins Ivey, Patrik Antonius, Jennifer Harman, and 2012 WSOP Main Event champion Greg Merson as instructors for IveyPoker. The site is intended to provide free coaching to players from able instructors who will "teach the world how to play better poker" through instructional videos.
South is one of the most recognized online players and is known for his hyperaggressive and creative style. He began playing poker online in November 2005 and ran up his bankroll to over $2 million in just two years by playing small stakes and transitioning to high-stakes games.
South has endured significant swings playing against top players like Tom Dwan, Illari Sahamies and Viktor Blom. He is known for winning $1.1 million in a single day, but also suffered significant seven-figure losses to Dwan and Sahamies.
Outside of his poker endeavors, South was part owner of Cardrunners.com and co-author of Let There Be Range, a particularly expensive poker e-book listed for $1,850 on Amazon.com. He has invested and managed a variety of businesses, including Draft Day, Expert Insight, Hold'em Manager, and even a documentary on the online poker boom.
IveyPoker.com is accepting sign-ups and is "in the final stages of developing an innovative social poker game that also provides poker training content from some of the world's top pros."
For more, visit IveyPoker.com.
Jake Cody on the Market
Triple Crown winner Jake Cody has parted ways with online poker room PKR.com one year after signing a deal to represent the company online and at tournaments around the globe.
Cody, 24, joined PKR last November, just months after winning the $25,000 No Limit Hold'em Heads-Up event at the 2011 World Series of Poker to complete his Triple Crown (he also has major wins on the EPT and WPT). He immediately became the biggest name on the seven-member Team PKR Pro and was excited to make PKR his first sponsorship opportunity in poker.
Now, the talented Brit is back on the free-agent market.
"PKR's one year association with Jake Cody has now come to its conclusion," PKR Media Manager Dan Grant told UK & Ireland PokerNews on Tuesday. "We are proud to have worked with Jake over the last year and wish him the best of luck for the future both at and away from the felt. He is a huge talent, a class act and a pleasure to deal with."
Cody is the second member of Team PKR Pro to leave the site this year. In March, James "james666" Sudworth left PKR to pursue other endeavors. With Cody and Sudworth departing, only four members of Team PKR Pro remain: Vladimir "Beyne" Geshkenbein, Sofia "welllbet" Lövgren, Scott Shelley and Marc "Waswini" Bariller.
Read more at UK & Ireland PokerNews.
Somerville Featured in OUT Magazine
On Thursday, poker pro Jason Somerville announced via Twitter that he will be featured in an upcoming issue of OUT Magazine describing his decision to come out as a professional poker player.
Exactly one year and one month ago i went on my first date ever with a guy. Today i somehow am on the out100 list with elton john #reallife

— Jason Somerville (@JasonSomerville)
On Feb. 14, 2012, Somerville took to his blog and entered an extensive well-written piece about coming out as an openly gay man to his friends, family, and the poker world. Fearing he would receive mixed reviews, Somerville was relieved to find the opposite. "Instead, I got a strong reaction of acceptance from both the poker world and the gay community," he said.
With a line of final table finishes, Somerville has succeeded in earning his first bracelet in a $1,000 Texas No-Limit Hold'em event in 2011. Just this year, Somerville was named "One to Watch" by the World Poker Tour, and cashed three events at the WSOP for $124,683, with his best run coming in the Main Event (69th place). He even took part in commentating for the $1 million buy-in Big One for One Drop on ESPN.
With a successful poker career, Somerville is now content with his personal life, as well, saying, "I have been in an amazing relationship this entire year, and I don't know where I would be without him. He's my biggest supporter, my most passionate motivator, my inspiration, and my best friend."
Read more at OUT.com.
Lisa Simpson Goes All In
*SPOILER ALERT*
Last Sunday, Season 24 of The Simpsons rolled along with Episode No. 4 "Gone, Abie, Gone." The main theme focused on Abe, better known as Grandpa, and a mistress he encountered while performing music at various bars in Springfield during his 30s, but there was a subplot that focused on Lisa and online poker.
In the opening sequence, Homer is burned while ordering onion rings at Krusty Burger. He sues the restaurant, wins $5,000, then deposits the money onto an online poker site because Moe tells him it's safer than keeping it in the bank.
This is ironic in many ways.
Homer's online handle is "Lisa Simpson College Fund," and he proudly tells Lisa where he's invested her future. Naturally, she's disgusted and becomes even more distraught when she finds Bart playing on the account. She shoos him away but then tries to win the $60 or so her brother lost. Lisa ends up flopping quad queens on the first hand she plays and becomes hooked.
Jennifer Tilly makes an appearance in the episode when Lisa watches her instructional DVD. Lisa also reads a few poker books, but rather than choosing classics like Super System or Harrington on Hold'em, she prefers Al Roker on Poker and Fold Yourself Rich. Lisa runs the $5,000 up to over $360,000, but eventually loses an $800,000 pot to Sideshow Bob with a full house aces over threes.
Sideshow Bob has two threes, winning the pot with quads.
In the end, we find out that Bart was actually playing under the Sideshow Bob handle, and that the site took away all of the winnings when they discovered that Bart and Lisa were both under the age of 18. Lisa's account was credited with the original $5,000, however, making her very happy.
The episode received mixed reviews on TwoPlusTwo, but TVFanatic.com rated it 4.5 out of 5 stars.
Poker Legislation
PokerStars Wins in Spain
A legal battle in Spain was decided in favor of PokerStars this week when a Barcelona court ruled that the online poker site operated lawfully since it first began offering its services in 2001.
Spanish land-based gambling giant Codere claimed that PokerStars was operating illegally before the country's new regulated market was implemented in June of this year. Codere challenged the legality of a number of online gambling operators and even sought injunctions to block many of them, including PokerStars, from offering games to gamblers in Spain.
However, according to a PokerStars press release, the Spanish court ruled that the company operated lawfully in the country before June 2012 because "the lack of regulation meant that there was no relevant law preventing such activity."
"This ruling confirms the legal advice we have been given and which we have followed in Spain for years," said Paul Telford, Group General Counsel. "We are very pleased the court agreed with our position and look forward to continuing to provide our licensed poker services as the leading brand in the Spanish market."
Read more here at PokerNews.com.
No U.S. Legislation for 12 Months?
According to Reuters.com, International Game Technology doesn't expect much progress toward legal online poker in the United States in the next year. CEO Patti Hart believes that social gaming is growing faster than expected, however.
"We don't expect legislation in the U.S. to move significantly in the next 12 months," Hart told Reuters. "[IGT's gaming license is] for people who reside in Nevada, so the pool of potential players is not significant enough."
In January, IGT purchased DoubleDown, one of the biggest providers of games on Facebook. The company had revenue of $35.8 million in the fourth quarter of 2012 — a 20 percent increase from the third quarter. Among the games DoubleDown provides are poker, blackjack, and slots.
Hart added, "We've been slowed down by the legislative process, there's no question about it. Our reaction was to find a way to extend a gaming experience to the public that is not really encumbered by the legislative process and that's what we've done [with DoubleDown]."
Hart, who left Yahoo Inc earlier in 2012, believes that the online gaming environment, "looks social for an extended period of time."
Reuters.com has more.
Poker Tournaments
Two weeks ago, Germany's Wojtek Barzantny didn't have a major live poker tournament win on his résumé . Today, he has two.
Barzantny dominated the PokerStars UK & Ireland Poker Tour series in Bristol, winning two titles in five days at the Gala Harbourside Casino in Bristol. Last week, Barzantny won the UKIPT Online Main Event, defeating poker superstar Chris Moorman heads-up for the title and £77,000. And on Monday, Barzantny pulled double duty by emerging victorious in the UKIPT Bristol Main Event for £90,400.
Barzantny entered the Main Event final table with a massive chip lead and never looked back, eliminating four of the seven players en route to his victory. He held a 1.5-to-1 chip edge over James Greenwood when heads-up play began, and after three hours it was all over. On the final hand, Greenwood raised to 200,000 preflop and Barzantny called to see a
flop. Baratzny led out for 200,000, Greenwood moved all in for 1,725,000 and Baratzny called.
Greenwood:

Baratzny:
Baratzny was out in front with top pair, and the
turn and
river secured his second UKIPT victory in a week. According to the PokerStars Blog, Barzantny's chances of a double victory in Bristol were around 340,000-to-1, but he was able to defy the odds and etch his name in the UKIPT record books.
Here's a look at the final results of the UKIPT Bristol Main Event final table:
| Place | Player | Prize |
| --- | --- | --- |
| 1 | Wojtek Barzantny | £90,400 |
| 2 | James Greenwood | £54,500 |
| 3 | Robert Bull | £33,300 |
| 4 | Anthony Forsyth-Forrest | £24,400 |
| 5 | Amanda Sidark | £19,000 |
| 6 | Craig Goddard | £15,100 |
| 7 | Niall Murray | £11,600 |
| 8 | Jonathan Prince | £8,800 |
For an extensive recap of the final table, check out the PokerStars Blog.
DeepStacks Heads to Pennsylvania
DeepStacks Poker Tour, the nationally televised international tournament series, has partnered with Mohegan Sun at Pocono Downs (MSPD) for the 2013 Northeast Pennsylvania Poker Open.
The inaugural nine-day tournament series will run April 6 through 14. The series will feature a $1,100 buy-in Main Event with a $100,000 guaranteed prize pool hosted by Michael "The Grinder" Mizrachi, Tristan Wade, and Jennifer "Jennicide" Leigh. The entire event will also be streamed live on Deepstacks.com, Deepstacks360.com, and Mohegansunpocono.com.
The winner of the event will earn a seat to the $2,500 buy-in, $500,000 Guarantee DSPT World Championship at Mohegan Sun later in the year.
"Mohegan Sun at Pocono Downs has been a focus of ours since we joined forces with their Connecticut property earlier this year," said DeepStacks CEO Chris Torina. "They are the premier gaming destination in that region and bringing the DeepStacks Poker Tour there will only add more excitement to their world-class casino."
As DeepStacks' newest member, Mohegan Sun-Pocono Downs joins a team of partners that includes Mohegan Sun (Connecticut), Westin (Aruba), The Isle of Pompano (Florida), Chinook Winds Casino Resort (Oregon), and Turlock Poker Room (California).
"We are excited to be partnering with DeepStacks on the Northeast PA Poker Open this coming April," said Jeff Walker, vice president of table games for Mohegan Sun at Pocono Downs. "Our sister property, Mohegan Sun in Connecticut, has an established relationship with DeepStacks so we have seen the energy they have brought and are excited to be able to share that with our customers here in Pennsylvania."
For more, visit DeepStacks.com.
Follow PokerNews on Twitter for up-to-the-minute news.