The Weekly Turbo: Negreanu on Lederer's Return, Two Poker Players Indicted, and More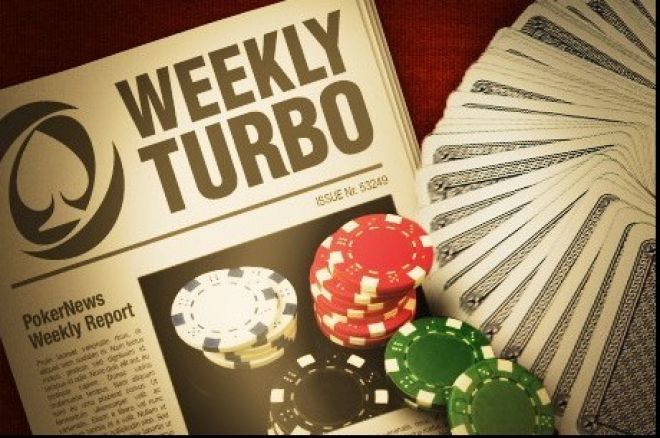 Did you miss any of the top poker news stories this week? Well you've come to the right place to get caught up. We're covering Daniel Negreanu's thoughts on Howard Lederer playing poker tournaments in Las Vegas, two poker players arrested for their involvement in an illegal gambling ring, and more.
Poker Players
Negreanu on Lederer
Even though the $10,000 buy-in Festa al Lago event at the Bellagio isn't the high-profile tournament it once was with the World Poker Tour, it created quite a buzz on social media networks Tuesday evening. That's because former Full Tilt Poker exec Howard Lederer bought into the event and played his first tournament since Black Friday.
As PokerNews' Rich Ryan explained in his Five Thoughts piece on Wednesday, Lederer was heckled throughout the day at Bellagio and eventually called it quits after blowing through two buy-ins for $20,000. Lederer is facing a civil suit from the Department of Justice and could be on the hook for $42 million in illegal distributions he received as an owner of the online poker site. Meanwhile, Full Tilt's U.S. customers are still uncertain about when — or if-- they'll ever recoup their funds.
Daniel Negreanu has been one of Lederer's biggest nemeses since the whole debacle at Full Tilt Poker unfolded and voiced his opinion Wednesday about Lederer's return to the tables. In his blog at Full Contact Poker, Negreanu said he wasn't surprised to see Lederer rejoin the "Big Game" at Bellagio with his friends this month, but he was "shocked" to learn that Lederer played a tournament with people that detest him.
"I have yet to sit down in a game where Howard was there, and I've thought about what I would do if he did choose to play in a game I was in," Negreanu wrote. "There are a lot of variables to think about. First of all, the reason Howard feels comfortable playing there is because he is amongst friends who support him: Doyle Brunson, Eli Elezra, Huck Seed, and David Grey. This is the one place in the world where Howard can fit in at a poker table, order wine, drink, gamble, and laugh it up while players outside the glass look in ... Still without their money."
You can find Negreanu's full blog at FullContactPoker.com.
Busted
Two men with close ties to the poker community have been arrested for their involvement in an illegal sports betting ring that has captivated the online gambling world this week.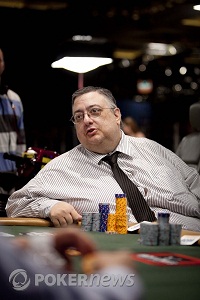 Former Full Tilt Poker Red Pro Paul Sexton, 29, and World Series of Poker regular Steve Diano, 48, are among 25 people being variously charged with promoting gambling, money laundering and conspiracy. They each face up to 25 years in prison if convicted.
According to the indictment, Sexton acted as an agent/money collector in the multi-million dollar sports betting operation between April 13, 2011 and Oct. 18, 2012. The enterprise, dubbed World Wide Wagers, is accused of illegally accepting more than $50 million in bets on horse races, pro and college football, basketball, hockey and baseball during that time span.
Diano allegedly served as bookmaker and was charged with enterprise corruption, money laundering, and conspiracy. A regular at the World Series of Poker during the past decade, Diano has nearly $240,000 in live poker tournament cashes, including a pair of WSOP final tables. One of those final tables, shown on ESPN in 2005, also featured Paul Sexton's father, Keith.
Small world.
According to the indictment, the illegal gambling charges involve Pinnacle Sports, an offshore online gambling website that exited the U.S. market in 2007. The ring allegedly used nontraditional "wire rooms" such as PinnacleSports.com whereby bettors and agents could place sports wagers.
For more in the story, read the article here at PokerNews.com.
Rob Salaburu's RunGood
October Niner Rob Salaburu will be representing poker-themed clothing company RunGoodGear when he takes his seat at the World Series of Poker Main Event final table next week. Salaburu, who enters the final table seventh in chips with 15,155,000, will sport apparel from RunGoodGear's online store along with the company's signature patch.
"The RunGood office and I are ecstatic that Rob agreed to help represent our company," said Tana Karn, founder and President of RunGoodGear.com. "We hope to send him all the run-good we can muster for his final stretch into poker history."
One of the tee-shirt designs by RunGoodGear is taken from a memorable Salaburu quote during ESPN's coverage of the Main Event. With Salaburu looking on during a key moment at the feature table, David Balkin misread the hand of opponent Gaelle Baumann at showdown, thinking Baumann had a pair of jacks. She had actually rivered a flush against Balkin's flopped set of tens.
As Balkin celebrated with his rail, Salaburu bluntly said to him, "You lost, bro." Thus, a new poker catch phrase was born.
Salaburu isn't the only 2012 Octo-Niner who inked a sponsorship deal since July. Steve Gee signed with PokerAce.com; Jeremy Ausmus will be endorsing Hog Wild Poker and social media company TTAGIT Social Networks Inc.; and Jesse Sylvia, Russell Thomas and Jake Balsiger will be wearing 888poker gear.
For more, visit RunGoodGear.com.
Follow PokerNews on Twitter for up-to-the-minute news.
Inside Ungar's Mind
Stu Ungar is often regarded as the greatest poker player ever. Affectionately known as "The Kid," he is one of only two players to win the World Series of Poker Main Event three times. He was inducted into the Poker Hall of Fame in 2001, three years after he passed away from a heart condition.
Up until recently, there was little visual evidence of Ungar's abilities at a poker table. Aside from limited television coverage of Ungar at the WSOP, most of what we know about him comes from those who played against him during his prime. Mike Sexton, for example, once called Ungar the "most talented player who's ever walked on the planet Earth."
Last week, however, WSOP.com Managing Editor Jess Welman stumbled upon some pieces of poker history that offer some insight into Ungar's playing style. While doing some research for the upcoming WSOP Main Event final table, Welman found the hand-for-hand coverage of WSOP Main Event final tables from 1995 until 2000. The reporting was done by Tom Sims, who relayed all of the action into a micro-cassette recorder and later wrote it down.
Welman shared the pieces of poker history with the community this week. And taking it one step further was poker pro Clayton Newman, who looked over each hand from the 1997 WSOP Main Event final table won by Ungar and examined the play using statistics and data used in the analytical approach to today's game.
Newman's findings shed some light on why Ungar was levels above most poker players of his time. "Ungar played like a solid lagTAG, vpip in the low thirties and PFR in the low twenties," Newman said after studying the entire final table. "I also like that he kept his raises on the smaller side (3.5x to 3x), as I'm told most live pros would routinely 4x or 5x it and would have inconsistent preflop raise sizing (3x with 55, 6x with AK etc). Ungar stayed consistent and on the smaller side."
We highly recommend taking the time to read through Newman's analysis. You can find it in his blog at LeggoPoker.com.
Poker Tournaments
Selbst Defeats Stacked Final Table in Bellagio Festa al Lago $5K
Poker tournaments were being held in Chicago and South Africa this week, but many poker pros opted to stay in Las Vegas for the Bellagio's Festa al Lago, which included a $5,000 No-Limit Hold'em Event over the weekend. That tournament attracted some heavy hitters and resulted in a final table that included Daniel Negreanu, Justin Young, Andrew Lichtenberger, Chris Björin, Dan Shak, Cliff "JohnnyBax" Josephy and Vanessa Selbst.
Selbst ended up adding another victory to her already impressive résumé. While details are scant, Negreanu shed some light via Twitter. According to him, Selbst got extremely fortunate during five-handed play when Bjorin opened with
, Selbst three-bet holding
, and he four-bet with
. Bjorin then five-bet, Selbst moved all in, Negreanu folded, and Bjorin made the call. The at-risk Selbst was far behind, but a
on the river extended her tournament life.
Selbst went on to take a commanding chip lead of 840,000 into three-handed play against Young and Negreanu, who had 160,000 and 100,000, respectively. Negreanu ended up falling in third place when his
failed to overcome Young's
, and then Selbst finished off the latter to win the $90,000 prize.
Thanks everyone for the congrats. To all asking, 90k for first. Feel very fortunate, ran great to beat a rly tough final table.

— Vanessa Selbst (@VanessaSelbst)
Check out all of the 2012 Festa al Lago results at TheHendonMob.com.
Greg Raymer's Triple Crown
Greg Raymer's success on the 2012 Heartland Poker Tour continued Monday when he bested a 185-player field at Prairie Meadows Racetrack Casino Hotel in Altoona, Iowa. Raymer collected $72,089 for the victory, his third on the HPT this season. He won his first title in July at the Route 66 Casino Hotel in Albuquerque, New Mexico, and followed it up with a win at River City Casino in St Louis, Missouri in September.
Raymer secured the Triple Crown Monday by putting away amateur Chad Lawson in a mostly one-sided heads-up match. After the two men began play with nearly identical stacks, Raymer crippled Lawson on the first hand and eventually finished off the Iowa native when his
held up against
on the final hand of the tournament.
With the win, Raymer became the first player to win three Heartland Poker Tour titles in one year. Minnesota's Jeremy Dresch is the only other three-time champ during the tour's eight-year history, earning his titles in 2009 and 2011.
Raymer thanked his fans and supporters via Twitter after his win:
Thx everybody for all the kind words in your tweets. Winning a 3rd HPT title this year was a blast, and your support makes it even better!

— Greg Raymer (@FossilMan)
Here's a look at the final table results of the 2012 Heartland Poker Tour Prairie Meadows Main Event:
| Place | Player | Prize |
| --- | --- | --- |
| 1 | Greg Raymer | $72,089 |
| 2 | Chad Lawson | $41,771 |
| 3 | Craig Casino | $26,275 |
| 4 | Ben Stroh | $22,233 |
| 5 | Ed Sinnett | $16,978 |
| 6 | Josh Birkenbuel | $14,526 |
The next Heartland Poker Tour event kicks off Oct. 26 at Route 66 Casino Hotel in Albuquerque, New Mexico, the same venue where Raymer won his second HPT title this year. For more on Raymer's victory in Iowa, visit the Heartland Poker Tour website.
Online Poker
Deal Me In
We're less than two weeks away from the relaunch of Full Tilt Poker. On Nov. 6, 2012, non-U.S. players will again have access to more than $184 million in funds, and the once popular online poker room will reopen for business.
To help build the excitement around the return, FTP has announced a "Deal Me In" promotion which will see $250,000 given away in a series of freerolls from Nov. 6 through 11. The prize pools will increase in size on a daily basis, with $10,000 to be won in each of the ten tournaments scheduled for Sunday, Nov. 11.
In addition to the freerolls, each real-money player will be offered Full Tilt Poker's "Deal Me In Bonus" package, which includes a cash bonus of at least $200 and a free Rush Poker Ring Game Ticket. New players will be extended their bonus offer, in addition to the First Deposit Welcome Package, once they make a deposit and begin playing real-money games.
The Deal Me In promotion will also feature Happy Hour Week, during which double Full Tilt Points will be available in select games around the clock. Players can then turn their Full Tilt Points into real-money prizes by purchasing discounted Ring Game Tickets and Tournament Tickets from the Full Tilt Store.
Full Tilt Poker recently ramped up its marketing efforts by signing Gus Hansen, Tom Dwan and Viktor Blom to its team of sponsored pros called "The Professionals." The site is also bringing back the Full Tilt Online Poker Series (FTOPS) in December. We expect many more announcements leading up to the relaunch date next month.
For more information about the site, check out the TwoPlusTwo thread created by FTP poker room manager Shyam Markus.
PokerStars' Prompt Payouts
Earlier this month, non-U.S. Full Tilt Poker customers were reassured they would be repaid by PokerStars on Nov. 6 as part of the deal with the U.S. Department of Justice. But payday could come sooner for FTP players who reside in France.
According to CasinoChoice, French poker players with money still frozen on FullTiltPoker.fr could begin the reimbursement process as early as next week. French regulator ARJEL said in a statement Thursday that "the date of effective implementation of the reimbursement process of players is Nov. 2, 2012."
Last month, the ARJEL issued a statement indicating that PokerStars has set up a trust fund to ensure that repayment of FullTiltPoker.fr players goes smoothly. Members of the ARJEL board formed a procedure by which players could verify their identities and transfer funds to their bank accounts. That procedure will be in place by Nov. 2, according to the report.
Once the reimbursement process in France is ready to go, players will transfer the funds from their Full Tilt Poker account to their PokerStars.fr account. Full Tilt Poker customers living in Spain, Denmark, Estonia, and Belgium will be also repaid through the locally licensed PokerStars platform. In all other markets (except the U.S. and Italy), Full Tilt Poker customers will have full access to their accounts when FullTiltPoker.com relaunches.
PokerStars is continuing to work with Italian regulators, and the details will be announced as soon as possible.
CasinoChoice has more on the story.
Poker Legislation
Player Penalties Removed from Reid-Kyl Online Poker Bill
About a month ago, a summary text of the Reid-Kyl Internet gambling bill, which had been circulating among lobbyists and lawmakers, was leaked. The bill, titled The Internet Gambling Prohibition, Poker Consumer Protection, and Strengthening UIGEA Act of 2012, inspired a number of concerns including player penalties.
In that regard, the bill read: "To deter U.S. players from patronizing illegal sites, the bill makes explicit that any property involved in or traceable to a gambling transaction in violation of the new act (including winnings) is subject to forfeiture." The language did not sit well with the Poker Players Alliance (PPA), who reacted to the bill.
"There was nothing like that in the 2010 bill, so it was surprising to see in the summary," John Pappas, executive director of the PPA said. "We have not seen exactly what is meant by this section that player funds can be targeted. The devil will be in the details, and we're trying to get to the bottom of that."
Additional details on the bill have emerged and the PPA has acquired a copy of a new draft, one that has removed the language regarding player penalties. "It's very clear and explicit that there are no criminal penalties for players," Rich Muny, VP of Player Relations for the PPA, told PokerFuse about the new bill, which QuadJacks posted online in full. "They knew we would likely oppose a bill with player penalties and were willing to answer us on that."
The bill may be considered during the upcoming lame-duck sessions, though experts are mixed as to whether or not that will actually happen.
For more on the Reid-Kyl Internet gambling bill, check out Matthew Kredell's recap. You can also join the discussion in a thread on TwoPlusTwo and view the bill here.
Get all the latest PokerNews updates on your social media outlets. Follow us on Twitter and like us on Facebook now!