The Nightly Turbo: Petition Against Howard Lederer, PokerStars' Legal Battle, and More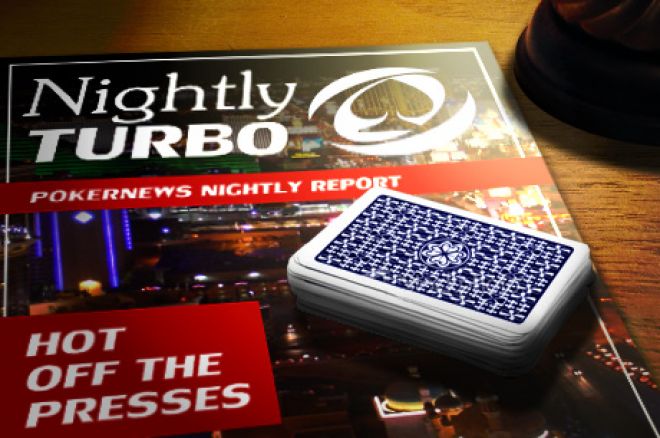 Howard Lederer was back in this news on Friday. We've covering the latest on him, a legal victory for PokerStars, and more in this edition of the Nightly Turbo.
In Case You Missed It
How was the high-stakes action at the online tables this week? Read the Online Railbird Report to find out the week's biggest winners and losers.
On Thursday, Howard Lederer filed a motion to dismiss a $42.5 million civil complaint against him. Read the full story here at PokerNews.com.
A final table is in place at the World Poker Tour Copenhagen Main Event. Find out who is still in contention in our WPT recap.
It's Friday, which means we're only two days away from Sunday's Week 11 schedule of NFL games. Rich Ryan offers his picks for each game and some fantasy advice in the Pigskin Diaries.
Did you miss anything from the past week? Don't worry, we've got you covered. Kristy Arnett and Sarah Grant broke down all the big stories in the PokerNews Weekly.
Players Take Stand Against Lederer
Nick DiVella, a well-known Las Vegas cash-game grinder, has created a petition to ban former Full Tilt Poker exec Howard Lederer from playing at the Aria Poker Room. The petition follows several instances of Lederer participating in high-stakes cash games at Aria and Bellagio, and even entering Bellagio's 2012 Festa al Lago Main Event.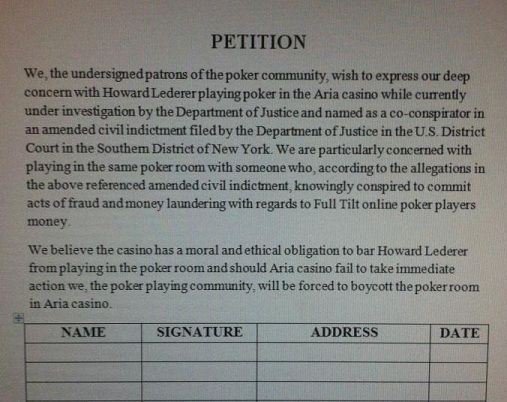 The petition has mixed reviews from the poker community, with many people agreeing that it would be a just punishment, and many opposed believing it is juvenile to ban a player for being "disliked."
"We believe the casino has a moral and ethical obligation to bar Howard Lederer from playing in the poker room and should Aria casino fail to take immediate action we, the poker playing community, will be forced to boycott the poker room," the petition reads in part.
On Thursday afternoon, DiVella continued action to gather signatures for his petition. "Come down to Aria tonight starting at 4PM to sign (the petition)," DiVella tweeted. Aria management quickly put an end to his efforts as they prevented him from circulating the petition once on Aria grounds.
DiVella went on to say, "I just had a 45 minute meeting with Aria and they are taking our concerns to upper management but I was told as of right now the poker room must stay neutral on the situation." Later in the evening, DiVella further tweeted, "This movement goes for Bellagio and any other poker event around the world. Aria is my favorite place to play, wish I didn't pick on them."
The petition has since generated much discussion at the TwoPlusTwo forums. Several pros, including Isaac Haxton, debated whether Lederer should be blacklisted from casinos. "I think players should feel free to make him feel unwelcome and I think it takes some real audacity on his part to show up, but I hope Aria doesn't give in to the pressure of the petition," Haxton said. "Casinos are not in the habit of barring white collar criminals and as of now Howard isn't even convicted of anything."
While the poker community tosses between the pros and cons of DiVella's efforts, the final decision on his petition is still unknown. We'll continue following this story as it develops.
PokerStars Wins in Spain
A legal battle in Spain was decided in favor of PokerStars this week when a Barcelona court ruled that the online poker site operated lawfully since it first began offering its services in 2001.
Spanish land-based gambling giant Codere claimed that PokerStars was operating illegally before the country's new regulated market was implemented in June of this year. Codere challenged the legality of a number of online gambling operators and even sought injunctions to block many of them, including PokerStars, from offering games to gamblers in Spain.
However, according to a PokerStars press release, the Spanish court ruled that the company operated lawfully in the country before June 2012 because "the lack of regulation meant that there was no relevant law preventing such activity."
"This ruling confirms the legal advice we have been given and which we have followed in Spain for years," said Paul Telford, Group General Counsel. "We are very pleased the court agreed with our position and look forward to continuing to provide our licensed poker services as the leading brand in the Spanish market."
Read more here at PokerNews.com.
LAPT Peru Under Way
The Latin American Poker Tour (LAPT) Peru Grand Final kicked off Thursday with 376 players putting up the $2,300 buy-in at the Atlantic City Casino. After a long day of action, only 122 players survived to return for Day 2 on Friday.
Peru's Marcelo Marchand ended Day 1 with the chip lead, commanding an impressive stack of 306,900. According to the PokerStars Blog, Marchand picked up a huge pot when his pocket tens turned into quads and busted another player holding pocket queens. Marchand's closest competitor at the end of the day was Daniel Ospina (273,900), an LAPT regular who took seventh place at LAPT Lima last season.
Others taking big stacks into Day 2 were Maxence Arnavo Marie (178,900), Sebastian Marcel Miranda (171,000), Oded Oscar Minond (164,900), Juan Celi Chavez (164,100) and Gerardo Godinez Estrada (154,200).
Several members of Team PokerStars Pro made the trip to Peru this week. Chris Moneymaker, Vanessa Selbst, Angel Guillen, Christian de Leon and Leo Fernandez all failed to survive on Day 1, but Humberto Brenes and two-time LAPT champ Jose "Nacho" Barbero managed to advance to Day 2. Brenes finished the day with 27,600 and Barbero bagged 44,700.
Day 2 will see the remaining 122 players attempt to play through the money bubble (the top 56 get paid) and down to the final 24. The final table will play out on Sunday, with the eventual winner taking home $187,300.
For full coverage of LAPT Peru, visit the PokerStars Blog.
Micro Grinders Win Big
The PokerStars MicroMillions III tournament series is under way with a handful of events already in the books. The low-stakes event kicked off on Nov. 15 and will run through Nov. 25, totaling 100 events with a massive $5 million guaranteed prize pool. Buy-ins starts as low as $0.11 and tournaments will run around the clock throughout the series with as many as 10 events every day.
Here's a look at the winners from the first seven events on Thursday:
| Event | Entrants | Winner | Prize |
| --- | --- | --- | --- |
| #1: $0.11+R NL Hold'em [Hyper-Active] | 53,870 | poker izrod8 | $1,761.22 |
| #2: $1+R NL Hold'em [3x-Turbo] | 42,942 | AAligator33 | $17,952.06* |
| #3: $3.30 NL Hold'em [6-Max] | 45,569 | Devil_DuckDK | $11,580.93 |
| #4: 4: $3.30+R NL Hold'em [Action Hour] | 15,365 | ADP1985 | $14,096.69* |
| #5: $3.30 NL Hold'em | 16,413 | MUFC9999 | $5,769.96 |
| #6: $2.20+R NL Hold'em [2x-Turbo] | 6,876 | Alfons777999 | $7,371.32* |
| #7: $5.50 NL Hold'em | 7,388 | magpie1985 | $5,622.86 |
Stay up to date with the latest winners, tournaments, and other coverage by visiting the PokerStars Blog.
PokerStars VIP Party
The PokerStars VIP Club is headed to Amsterdam Dec. 1 for an exclusive event featuring plenty of beer, wine, and food, showcasing a presentation of VIP Club changes for 2013, and featuring guests appearances by PokerStars Pros Marcel Luske, Richard Veenman, Fatima Moreira De Melo and Lex Veldhuis.
Attendees will have the chance to walk away with a National Tour Player's Choice package worth €1,500, giving them an opportunity to play the Main Event at any upcoming France Poker Series, Estrellas Poker Tour or Eureka Poker Tour event.
The event will be held at the Tobacco Theatre in Amsterdam and is restricted to PokerStars VIP members only. However, it will be streamed live at the PokerStars Blog on Dec. 1 at 18:30 CET. You can also catch a video replay and a summary of the changes that will be made shortly after the announcement is made.
For more information, visit PokerStars.com.
Follow PokerNews on Twitter for up-to-the-minute news.