Remembering Noted Poker Media Member & Author Lou Krieger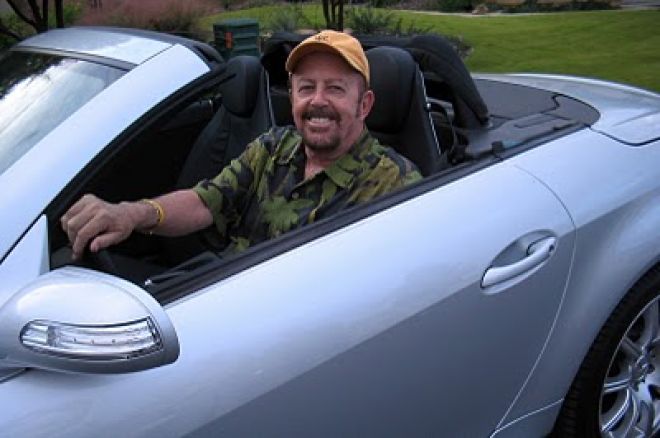 "In poker, as in life, intuition can be a valuable attribute, but temper it with thought and logic. And don't follow it blindly. If you persist in doing so, magicians will fool you, con men will swindle you, and good poker players will take your money." — Lou Krieger
On Monday, the poker world learned that noted poker media member and author Lou Krieger passed away after an approximately six-month battle with cancer of the esophagus.
"It is my deepest regret to inform you that early this morning, Lou's fight against cancer ended," Krieger's family posted to his Facebook wall on Monday. "He fought courageously to the end with the same pride and dignity that carried him through his life. He wanted everyone to know that he did not go peacefully in his sleep, but fighting like hell. He was surrounded by his family. We know he would want everyone to keep floppin' aces. He will be missed by all that knew him. Poker has lost a star."
Indeed, Krieger had been a staple in the poker community for well over two decades as a writer, broadcaster and player. Krieger penned hundreds of columns devoted to the game, as well as an extraordinary 11 books on poker strategy including the widely popular Poker for Dummies, The Poker Player's Bible and Hold'em Excellence: From Beginner to Winner, just to name a few. Krieger was also the host of the "Keep Flopping Aces" weekly radio show on Rounder's Radio, former editor of Poker Player Newspaper, and wrote the popular Talking HORSE with Lou Krieger series right here on PokerNews.
In his blog, noted poker historian and World Series of Poker Media Director Nolan Dalla elaborated on his friend and colleague:
"Lou was a writer, a teacher, a broadcaster, a strategist, and a player. But his accomplishments within the game of poker — although widely appreciated — were but a tiny fraction of the very full life of the man who was born in Brooklyn, NY and died yesterday at his home in Palm Springs, CA.

"Indeed, Lou was actually born as Roger Lubin. The son of Jewish parents, Lou spent his early childhood on the streets and playgrounds of Brooklyn and his summers along Coney Island. Although he later blossomed into a true philosopher and gifted intellectual, Lou never veered very far from his working-class roots. He was able to converse with just about anyone, on virtually any subject, and was able to make those around him feel as though they were both heard and respected. Trust me, that's a rare gift.

"Lou eventually left New York and moved west to Long Beach, CA, where he spent most of his adult years. He worked for a utility company he once described as 'very conservative,' which managed much of California's precious water supply. One of the reasons he adopted the pen name "Lou Krieger" was to essentially pull off two very real identities — one as a buttoned-down business executive, and the other as a poker player and writer."
While the poker community was saddened by the news, many took the time to express their condolences and fondest memories of the man:
"I simply want to extend my deepest and most heartfelt condolences. Lou was a friend to me throughout my career in poker. He supported my writing and my growth as a person as well as in the industry, and he was always so kind and thoughtful. I looked up to him and respected him greatly." — Jennifer Newell
"We have been pals since we were 8 years old, Public school, high school,college, the army, up to now, even though I live in South Florida & you live in California. We are glad we saw you 2 weeks ago. We love you" — Bobbie and Rick
"RIP Lou. I am so grateful to have met Lou and to have worked with him at our live events and doing several radio shows together. He was always so generous with his time and his wisdom. He will be greatly missed." — Jason Rosenberg
"I am so sorry to hear this. Lou was a great friend of poker. We've been on one another's podcasts a few times. He's a class act and will be greatly missed." — The PPA's Rich Muny
Without the likes of Lou Krieger paving the way, I would never had the opportunity to do what I love. RIP Lou, you will be missed....

— Jay WhoJedi Newnum (@WhoJedi)
RIP Lou Krieger, a man without whom the term "poker media" would carry a lot less weight.

— Brad Willis (@_otis_)
It's with deep sadness that I report that Lou Krieger lost his battle with cancer today. Rest in peace Lou you will be missed.

— Allen Kessler (@AllenKessler)
According to Krieger's family on Facebook: "There will be a memorial service in the coming months… [Those who] wish to send your condolences to the family, the mailing address is: PO Box 1441, Palm Springs, CA 92263-1441."
*Lead picture courtesy LouKrieger.com.
Get all the latest PokerNews updates on your social media outlets. Follow us on Twitter and like us on Facebook now!
Executive Editor US, PokerNews Podcast co-host & 2013 WSOP Bracelet Winner.