The Nightly Turbo: PokerStars Pro Shot During Robbery, Mike Sexton Talks EV, and More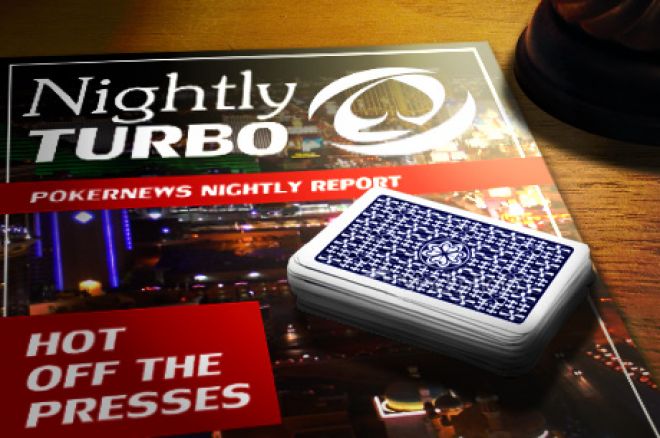 The poker world is sending out thoughts and prayers to Theo Jorgensen tonight. We'll bring you that story, plus Mike Sexton's thoughts on the tournament structure debate, in this edition of the Nightly Turbo.
In Case You Missed It
The Full Tilt Online Poker Series (FTOPS) returned on Sunday. Several notables made deep runs in Event #1, including the blazing hot Dan "KingDan23" Smith.
What was life like for Team PokerStars Pro Randy "nanonoko" Lew before he found poker? Find out that and more in the latest Seat Open.
How did Sunday's majors play out at PokerStars? Who took down the biggest score? Find out in the Sunday Briefing.
The 2012 DeepStacks Poker Tour Mohegan Sun National Championship played down to 36 players on Sunday. Get the full Day 2 recap here at PokerNews.com.
Earlier this year, Matt Kirby became the second player to win two titles on the Mid-States Poker Tour. Chad Holloway caught up with Kirby to discuss his titles, family, and more.
Theo Jorgensen Shot During Robbery
On Monday, the poker world was stunned to learn that Team PokerStars Pro Theo Jorgensen had been shot three times in the leg by armed robbers at his home in Greve, Denmark.
According to reports, three masked men entered the residence Sunday and demanded money from Jorgensen, who was home with his wife. After Jorgensen handed over an unknown amount of euros and U.S. dollars, one of the robbers reportedly shot Jorgensen in the leg three times. Jorgensen's wife called the police, but the three men escaped and are still at large.
Jorgensen's injuries are not thought to be life-threatening. He issued the following statement on his Facebook page following the frightening ordeal:
It is important for me to emphasize that I am a cautious man. I have prepared myself mentally and practically that this situation could arise to protect myself and my family against outsiders. I know that the outsiders may have a mistaken idea of how much cash I have in my home. I have alarm systems installed, always so get cash lying as possible [sic] and generally taken my precautions. It has unfortunately proved not to be enough.

I have it under [control] well, and right now I want to focus on taking care of my family, so we can get through this.
For more, read the story here at PokerNews.com.
Sexton Talks EV
On Monday, World Poker Tour commentator and Poker Hall of Famer Mike Sexton posted an entry titled The Structure Debate over at the PartyPoker Blog. In it, Sexton cites his experience to debunk the belief that adding levels and extending play in poker tournaments gives players added EV (expected value). The argument has been a big topic of late, as Chad Holloway discussed in an op-ed on Saturday.
"I know I'm 'old school' but when it comes to structures, I love what a wise man once told me: 'Great players don't bitch about structures, they adapt to them,' Sexton said in the blog. "As for wider structures and longer events, I'm against them because I don't think they're good for the game (nor for the players who think they're good for them). First of all, longer events make it less likely that businessmen (amateurs that add value) will play a tournament. Recreational players can't take a week off their job or away from their families to play poker tournaments. Second, if a recreational player wins a big-time event, it helps the growth of the game. Remember Moneymaker?"
Sexton then laid out his argument by offering two scenarios and asking readers to choose which was more plus-EV. He pointed out that shorter tournaments with bigger fields and prize pools creates the most value and discussed why he wants all WPT events to last four days.
He also said he prefers shortening levels rather than eliminating them. "Many players can't see the forest for the trees," Sexton explained. "They think extra levels and longer tournaments give them a better chance to win. They don't understand how shortening tournaments, which give amateurs a better chance to win, helps them. Here's how. All longer tournaments do is eliminate recreational players from playing, make the field more 'pro heavy' and tougher to win, and obviously, they shorten the field and provide a smaller prize pool. Eliminating recreational players reduces value – plain and simple."
To read Sexton's post in its entirety, check out the PartyPoker Blog.
The Squid Wins in London
British poker pro Sam "The Squid" Grafton won the 2012 Grosvenor UK Poker Tour (GUKPT) event in London on Sunday, besting a field of 137 to collect a top prize of £102,700. The £2,500 buy-in at the famous London Victoria Casino drew some of the top poker talents in the region, including Sam Razavi, Neil Channing, Toby Lewis and James Akenhead, Stuart Rutter. But it was animated and colorful Grafton who emerged as the last man standing.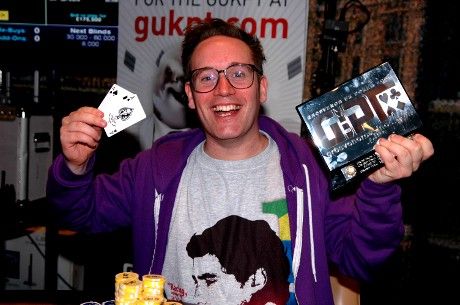 The talent-laden field generated an extremely tough final table that included pros like Jon Spinks and Chris Brammer. Grafton was among the middle stacks when the final table began but he got a huge boost early when he found pocket aces against Spinks' pocket kings. That pushed Grafton into the lead with more than 1 million in chips, and he never looked back from there.
On the final hand of the tournament, Grafton three-bet shoved with
and Peter Charlambous called with pocket tens. The
flop brought two spades, giving Grafton 13 outs for the win, and he got there when the
hit the turn. That sealed the victory for Grafton, who collected his biggest score ever in a live tournament.
"I've got a real sense of achievement," Grafton told GUKPT media officials after the win. "The quality of the field made it tough competition — it's something you can be proud of. Starting out playing, the list of the great British pros that I looked up to when I was starting out, they're all the old GUKPT champions — like Paul Foltyn, Sam Trickett and Karl Mahrenholz. To add your name to that list, it's great."
| Place | Player | Prize |
| --- | --- | --- |
| 1 | Sam Grafton | £102,700 |
| 2 | Peter Charlambous | £72,800 |
| 3 | Victor Ilyukhin | £45,400 |
| 4 | Matt Moss | £28,250 |
| 5 | Jon Spinks | £22,250 |
| 6 | George Hassabis | £17,100 |
| 7 | David Maudlin | £10,300 |
| 8 | Sandeep Khosa | £10,300 |
| 9 | Chris Brammer | £7,700 |
For a closer look at the final table, check out the story at UK.PokerNews.com.
Photo and hand data courtesy of the PokerStars Blog.
Slyde Watches at PCA
As if taking down a big tournament at the PokerStars Caribbean Adventure 10th Anniversary next month wouldn't be enough, the winners of the Main Event, High Roller and Super High Roller will receive a Slyde watch as part of their prize. Director of Live Operations for the PCA and Latin America David Carrion announced Monday that the luxury Swiss watch brand would be the official watch sponsor for the 2013 PCA, an announcement that follows on the heels of Slyde becoming the official watch sponsor of the EPT Season 9 Main Events earlier in the year.
"The PCA is one of the biggest events in live poker; for poker players, winning a PCA event is a career highlight," said Jorg Hysek, creator of Slyde. "We are excited to be partnering with such a prestigious event and look forward to awarding the winners of the High Roller, Super High Roller and Main Event with their watches and congratulating them on their success."
Added Carrion, "Slyde and the PCA are a natural partnership fit as both brands share a brand vision that embraces and celebrates innovation and heritage. We look forward to awarding these beautiful watches to the winners as part of their prize."
The winner of the prestigious $10,000 Main Event will be awarded a "Black and Steel" design watch worth €5,250, while the winners of the $25,000 High Roller and the $100,000 Super High Roller will take home a "Rose Gold" design watch worth €11,990 and a "Steel and Diamond" design watch worth €14,880 respectively.
For more information about Slyde, visit www.Slyde.ch.
VIP Changes at PokerStars
The PokerStars VIP Club traveled to Amsterdam over the weekend for an exclusive event featuring plenty of beer, wine, and food, plus a presentation of PokerStars VIP Club changes for 2013. Among the announcements: a new VIP level (Chrome), faster and easier ways to move up levels, and even a VIP Hall of Fame. Have a look:
The PokerStars Blog has more.
Get all the latest PokerNews updates on your social media outlets. Follow us on Twitter and like us on Facebook today!