The Weekly Turbo: Harry Reid's Online Poker Efforts Expire, Maria Ho's New Job, & More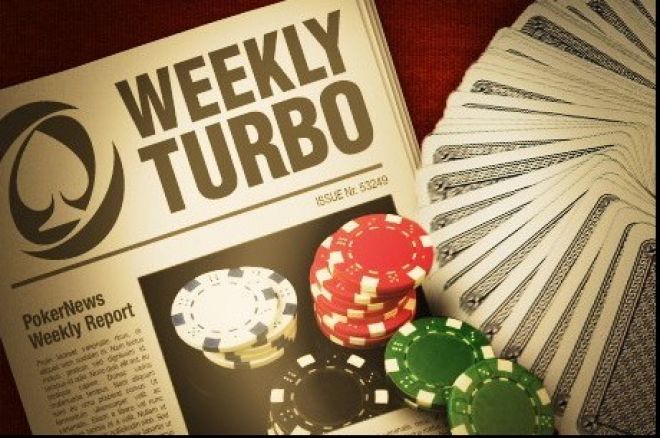 Did you miss any of the top poker news stories this week? Well you've come to the right place to get caught up. We're covering the death of Harry Reid's online poker bill during the lame-duck session, Maria Ho's new job as a television commentator, and more.
Poker Legislation
Federal Bill Expires
Federal efforts to pass Internet poker legislation during the lame-duck session of Congress officially expired on Friday, perhaps ending the last chance for federal regulation before the states take on online gambling.
David Krone, chief of staff for Senate Majority Leader Harry Reid (D-Nev.), told the Las Vegas Review-Journal that the Senator had "run out of time" on his push to establish licensing and regulation of Internet poker in 2012.
Krone indicated that Reid would try again next year but didn't seem optimistic.
"Our goal is to definitely try again next year but Senator Reid's feeling is that after a while there comes a time when you've lost momentum, you've lost the consensus you've built," Krone said. "There will be a window next year, but I don't see it going long."
This effort seemed like the last and best chance to create a federal structure for online gambling before the states strike out and make their own systems and regulations. Nevada already is licensing companies for its online poker, which is expected to be up and running in the first half of the new year. Delaware passed legislation this year to offer full online gambling through its state lottery. New Jersey is looking to pass legislation next week that would allow Atlantic City casinos to offer full online gambling. Nevada and New Jersey have aspirations to get other states to approve online poker and allow their citizens to play through Nevada and New Jersey in exchange for tax revenue.
"It is an extremely disappointing end to a year where tremendous progress was made," said John Pappas, executive director of the Poker Players Alliance. "I am most upset for the players, who have been calling on Congress for years to pass an Internet poker law that protects consumers, restores their freedoms and raises revenue. While I don't think these voices have fallen on deaf ears, I am discouraged that Congress could not coalesce around a solution in the wake of the ongoing fiscal crisis."
For more, check out the full story here at PokerNews.com.
New Jersey Bill Headed for Vote
The death of the federal bill could open the door for states like New Jersey to launch their own platform in 2013. An amended intrastate online gambling bill is scheduled to be heard by the full New Jersey Assembly on Monday, Dec. 17, potentially paving the way for Atlantic City casinos to offer online poker within state lines.
John Brennan of NorthJersey.com reported Thursday that Bill A-2578 is among the 28 bills on Monday's agenda. If it moves through the Assembly, State Sen. Ray Lesniak expects a state Senate vote later in the week.
Lesniak previously predicted the legislature would pass the bill in March and then again in May, but the bill's movement was delayed because it didn't have enough votes to be addressed by the state Senate. He said that this time is different because the casino industry is fully behind the proposal.
"This time there is no one lobbying against it and the need for it is even greater," Lesniak told PokerNews last week. "The Atlantic City casinos continue to suffer from reduced revenue, and this will be the big boost that they desperately need."
One of those suffering casinos is the Atlantic Club, which is reportedly a target for PokerStars' potential return to the U.S. The Wall Street Journal reported last week that PokerStars has shown interest in purchasing the casino; a licensed PokerStars could then use the Atlantic Club poker room as a platform to rebuild its online customer base in the U.S.
PokerStars' interest in the property followed the removal of language in Bill A-2578 that would have prohibited companies that served customers in the U.S. after the Unlawful Internet Gambling Enforcement Act (UIGEA) was passed in 2006. Lesniak added that PokerStars' interest in New Jersey played a major part in the bill's modification.
"When it was pointed out to us that the previous language would restrict PokerStars entry into New Jersey — and other companies that have rehabilitated themselves and would offer competition to give our casinos the best deals possible — when that was discussed with the assembly sponsor and supporters, it was clear to us that entry into the New Jersey marketplace for a company like PokerStars is something we desire and want," Lesniak said.
For more, check out NorthJersey.com.
California to Revive Online Poker Bill
Sen. Roderick Wright of California is promising to reintroduce his SB1463 online poker bill to legislation in January.
As reported by PokerFuse on Thursday, Wright hopes to bring his poker-only bill back to the table as early as next week with a few key changes in the measure's language. One of the changes is the removal of "a blanket waiver of tribal sovereign immunity" requested by The Tribal Alliance of Sovereign Indian Nations (TASIN), a group that represents nine federally recognized tribes in Southern California.
It is believed Wright will have an easier time this go-around because of the closure of the California Online Poker Association (COPA) in October. The organization, which represented 31 poker rooms and 29 Indian gaming tribes, pledged support of the bill only if changes were made to restrict horse racing associations from being eligible license applicants. COPA reportedly spent more than $1.2 million in lobbying efforts to legalize online poker, but the group folded after the efforts made little headway.
With nearly 38 million people living in California, the state represents the largest potential market for intrastate online poker. While state-by state liquidity is a concern for many, California is a compelling market for operators.
PokerUpdate has more.
Bwin.party Enters Belgium Legally
Online gambling firm bwin.party digital entertainment has entered an agreement that will allow it to operate legally in Belgium. On Friday, bwin.party announced a partnership with Partouche-owned gambling company Belcasinos in which the two companies will collaborate to offer online sports betting, poker and casino games to consumers in the country.
The announcement comes just weeks after bwin.party co-CEO Norbert Teufelberger was summoned for questioning by Belgian authorities while attending the Responsible Gaming Day conference in Brussels. Teufelberger's detainment stemmed from the Belgium Gambling Commission's (BGC) view that bwin.party was in breach of the country's gambling legislation. The company was placed on Belgium's gambling blacklist in May but continued offering its services in the country.
"We are excited to have reached an agreement with Partouche to offer our market-leading products under license to consumers in Belgium," said bwin.party co-CEOs Teufelberger and Jim Ryan. "Following recent developments in Belgium and after further dialogue with the local regulator, we have put our differences of opinion behind us and are now focused on the immediate commercial opportunity.
"Together with our new partner we are now in the process of securing the necessary approvals to meet the requirements set by the BGC and do not expect any interruption to our service for customers in Belgium."
Bwin.party said in a press release that after the deal with Partouche, the BGC agreed to drop all pending legal disputes and will lift bwin's websites from its blacklist. Bwin.party added that it has begun to adapt its systems to comply fully with the current licensing regime.
Read the full press release at bwinparty.com.
Poker Players
Maria Ho Enters Heartland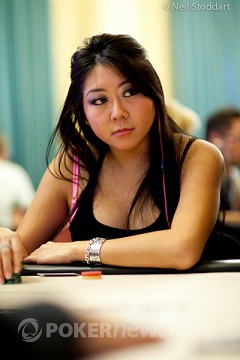 The Heartland Poker Tour has added a new voice and some glamour to its popular television program. On Monday, the HPT announced that poker pro Maria Ho will join commentator Fred Bevill in the broadcast booth starting in January when the tour's ninth season kicks off. Ho will replace Chris Hansen, who signed on as a commentator for the HPT in 2005.
"I am thrilled to be joining the HPT family," said Ho in a press release. "As a player, I am flattered they are welcoming my poker expertise. As a woman, I am grateful to HPT for being the first poker show to offer this strategist position to a female. I look forward to bringing a new and fresh perspective to HPT broadcasts."
Alongside Bevill, Ho will provide analysis, commentary and strategy advice during each televised Heartland Poker Tour event in Season 9. Ho is already well acquainted with the tour, having played HPT events all over the U.S. during her career. She's cashed once at the HPT, placing 29th at the $1,500 buy-in Main Event at Michigan's Soaring Eagle Casino & Resort in 2010.
"I love what HPT is about, providing lower buy-in, big-value TV tournaments to the average poker enthusiast," added Ho. "I'm excited to travel the country as part of Season 9, discovering new poker talent and watching dreams come true."
According to HPT Director of Operations Jen Mastrud, Ho's familiarity with HPT's loyal following across the country was a key factor in the selection process for the role. "She's already part of the family," said Mastrud, "She bellies up to the bar and fits right in."
For more, visit HPTPoker.com.
Dwan Versus Blom
It wasn't quite reminiscent of the battles they had three years ago, but the result was basically the same. Last Sunday, Viktor "Isildur1" Blom defeated Tom "durrrr" Dwan in a $400,000 winner-take-all heads-up match at Full Tilt Poker.
It had the makings for a lengthy heads-up duel as Blom and Dwan each sat with $200,000 across four $100/$200 no-limit hold'em tables, but it took less than three hours and 1,381 hands for Blom to take every last cent from Dwan.
Dwan darted out to an early lead when his pocket kings held up against Blom's pocket tens for a pot worth $45,198, but the American's good fortune wouldn't last long. Dwan picked poor spots to bluff Blom, including one bold play that cost him $28,000 — one of the largest pots of the match.
Dwan made another big bluff with ace high into Blom's trips that left "durrrr" with around $50,000 on two tables. Blom grinded Dwan all the way down to $3,500 on the last table, and the match ended when Dwan's pocket tens failed to hold up against Blom's
after the money went in preflop.
We expect these two to duke it out man more times in the future, so stay tuned to PokerNews.com for the latest. For more on Sunday's match, visit HighStakesDB.com.
Jungleman's New Challenge
Daniel "Jungleman" Cates is regarded as one of the best NLHE heads-up players in the world. The 23-year-old poker pro has won more than $5 million playing high-stakes cash games online, and is possibly best known for leading Tom "durrrr" Dwan by more than $1 million in the second Durrrr Challenge match prior to Black Friday.
Last October, Cates even issued an open challenge to anyone willing to go heads-up for a minimum of €100,000 at the Prague Poker Festival. No one accepted in Prague, but Cates has finally found a challenger in the U.S.
The Dover Downs Poker Room in Delaware announced this week that Cates will participate in a live heads-up match with Brian "tsarrast" Rast on Feb. 1, 2013. The match will be a $100,000 buy-in with $100/$200 limits and will be open to the public.
Rast is recognized for his tournament success, having won two bracelets at the 2011 World Series of Poker and making the final table at this summer's Big One For One Drop. But ring games are his bread and butter, and there's no doubt he has more live game experience than Cates.
These two also have some history against each other, as you'll see in the following video (action starts at the 1:35 mark):
For more on the showdown, check out the Dover Downs website.
Online Poker
#TeamIvey Set For Launch
Phil Ivey has recruited seven more players to his talented IveyPoker.com team, which already includes Patrik Antonius, Cole South, Greg Merson, James Dempsey and Jennifer Harman.
Ivey announced the new additions to his team via Twitter on Monday:
New members of the #IveyPoker team: @JBrikis @driverseati @GillEpp @MattGiannetti @johneamespoker David Peters and Balazs Botond #teamivey

— Phil Ivey (@philivey)
The seven players will serve as pros and instructors at IveyPoker.com, which is in the final stages of developing an "innovative social poker game." According to John Eames, the site will officially launch on Jan. 14, 2013.
Here's a closer look at the new additions:
Josh Brikis — The Pittsburgh native earned his spot on the team with three WSOP final tables and close to $1.5 million in live tournament winnings. His latest achievement was placing sixth at a WSOP Circuit event at Harrah's Resort in Atlantic City for $4,464.
Jonathan Tamayo — One of Tamayo's earliest poker achievements was making Supernova Elite status on PokerStars in 2009. Since then, Tamayo has crushed both live and online play by cashing for more than $1.5 million in live tournaments around the globe.
Gillian Epp — The Canadian is a successful high-stakes no-limit cash-game player who contributes to various poker publications around the world.
Matt Giannetti — Giannetti earned his biggest score at the 2011 WSOP Main Event where he finished fourth for just over $3 million. Despite spending most of his time at the cash-game tables, Giannetti has more $4 million in tournament cashes live and online.
John Eames — The British poker pro has made final tables at the WSOP and EPT. Eames has three career tournament titles and more than $1.1 million in winnings.
David Peters — While he's quiet at the tables, Peters has a loud and aggressive playing style that has helped him collect more than 200 cashes on the live tournament circuit. Peters has more than $3.5 million in live tournament winnings, plus another $2.9 million online.
Balazs Botond — The Hungarian pro has three deep EPT runs and more than $500,000 in live tournament earnings. His biggest score on the EPT came this year in Campione, where he placed fourth for $208,256.
For more on the Team Ivey, visit IveyPoker.com.
Rafa's Run at PokerStars' ESCOOP
Team PokerStars SportStar Rafael Nadal made his real-money online poker debut over the weekend at the Spanish Championship of Online Poker (ESCOOP), the first series of its kind at PokerStars.es since the official launch of Spain's online poker market in June.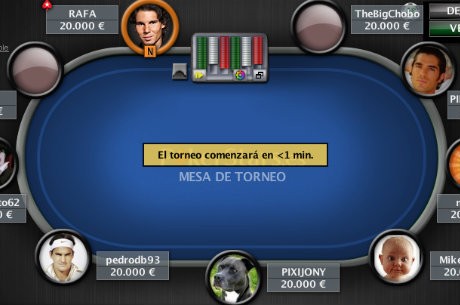 The €200 buy-in Main Event attracted a field of 1,842 players, all of whom had an opportunity to play in the same tournament as the tennis icon. Nadal went into the event as a complete novice, but he held his own early on with the help of some big hands. He eliminated one player with a set of tens against a pair of aces to increase his stack to 25,900 (starting stack was 20,000), and then won a big pot with
against
to eclipse 31,000 in chips.
But Nadal then ran into a disastrous spot which cost him his entire stack. Our friends at PokerNews Spain reported that Nadal was all in with
on a
flop against two opponents; one had
for middle set and the other had
for bottom set. The
on the turn gave Nadal some extra outs, but the
on the river ended his first tournament on PokerStars.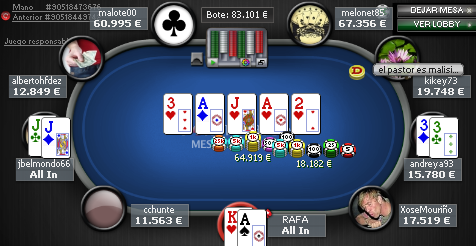 The winner of the inaugural ESCOOP Main Event was "Tonet_1981," who collected the bracelet and €49,994 after making a heads-up deal with "caponata1."
Check out the full coverage of the ESCOOP Main Event at PokerNews Spain.