The Weekly Turbo: PokerStars Eyes Return to U.S., Theo Jorgensen Shot During Robbery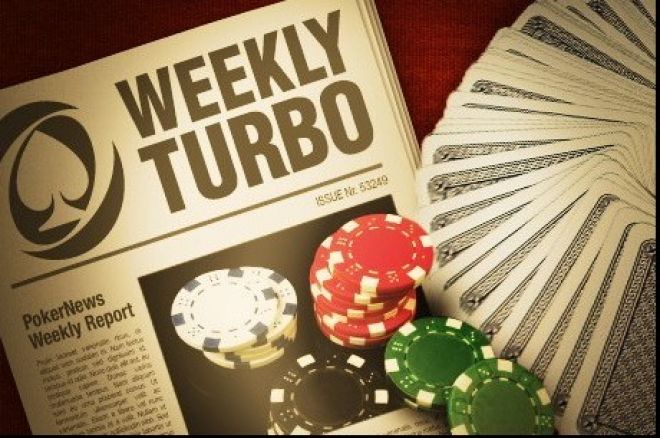 Did you miss any of the top poker news stories this week? Well you've come to the right place to get caught up. We're covering PokerStars' interest in purchasing an Atlantic City casino ahead of New Jersey's legalization of online gambling, the robbery of poker pro Theo Jorgensen, and more.
Poker Legislation
PokerStars on the Jersey Shore?
Less than 20 months after being booted out of the U.S., PokerStars may have discovered a way back in. On Thursday, The Wall Street Journal reported that PokerStars has shown interest in purchasing the Atlantic Club casino in Atlantic City, New Jersey, paving the way for a potential return to the poker market in the States.
The move would coincide with New Jersey's push for legalized online gambling. A New Jersey assembly recently approved an amended bill that would allow for licensed casinos in Atlantic City to offer authorized games — including poker — to state residents. If approved for a license from the state, PokerStars could eventually use The Atlantic Club poker room as a platform to rebuild its online customer base in the U.S.
State Sen. Ray Lesniak told PokerNews this week that he thinks the bill could signed by Gov. Chris Christie by the end of the year.
PokerStars settled with the Department of Justice in August, forfeiting $731 million to the U.S. government while acquiring the assets of Full Tilt Poker. PokerStars also admitted no wrongdoing as part of the deal, allowing for Stars to apply for a gaming license once the applicable laws are passed.
For more, read the story here at PokerNews.com.
Caesars Approved For Online Poker In Nevada
On Wednesday, Caesars Interactive Entertainment — which owns the World Series of Poker brand — moved one step closer toward offering legalized intrastate online poker in Nevada. In a hearing with the three-member Nevada Gaming Control Board, Caesars received preliminary approval to offer real-money online poker as an operator.
The casino giant will seek final license approval from the Nevada Gaming Commission on Dec. 20.
During the hearing with the NGCB, Caesars general counsel Michael Cohen said that the online poker website would be operated as a World Series of Poker brand in conjunction with 888 Holdings, according to the Las Vegas Review-Journal. In January, Caesars and 888 agreed to a deal which will see 888 power a selection of Caesars' poker brands once online gaming is regulated in the U.S.
888 has applied for an interactive poker license as a service provider in Nevada but isn't expected to meet with regulators until next year.
Caesars Interactive Entertainment is expected to be one of the leaders in Nevada's emerging online poker market, competing with operators like MGM Resports International, South Point, and Fertitta Interactive. In an interview with PokerNews this year, WSOP Executive Director Ty Stewart said that Caesars and the WSOP brand could "absolutely revolutionize" online poker in the U.S, whether it be at the federal or state-by-state level.
"Of the big casino gaming companies we have more customers in our database, more consumer traffic through our floors, more properties in more territories than anywhere else," Stewart said. "Obviously one would hope we could offer an exciting product and regularly host games with significant liquidity — potentially the softest games with the highest ROI for players. I think consumer confidence has always been the No. 1 barrier to entry for online customers, and Caesars has buildings all over the world. People will know where to find us. And we're never going to turn our back on customers."
The Las Vegas Review-Journal has more.
Lobbying for Federal Online Poker Bill Continues
The American Gaming Association (AGA) has launched a campaign pushing Congress to pass a federal online poker bill before Congress' lame-duck session ends.
Earlier this year, Senate Majority Leader Harry Reid and Minority Whip Jon Kyl created a bill that would legalize online poker but would ban other forms of Internet gambling like slots or baccarat. The bill was created by a new interpretation of the Wire Act that reversed the 1961 law that bans wagering over telecommunications lines — applying it only to sports betting.
Frank Fahrenkopf Jr., president and CEO of the AGA, leads the lobbying efforts urging Congress to pass the bill to prevent the gaming's expansion on a state-by-state basis. "Without swift congressional action, the U.S. will soon see the largest expansion of legal gambling in its history," Fahrenkopf said in a statement this week. "And without any federal guidelines in place, the result will almost certainly be inadequate oversight that creates a world of unnecessary risk and problems for law enforcement and U.S. consumers."
Senator Kyl is also set to retire after the session, another reason why it is necessary to push for legislations now. "Kyl is critically important in convincing other conservatives that something must be done," Fahrenkopf added.
The bill, entitled the Internet Gambling Prohibition, Poker Consumer Protection and Strengthening UIGEA Act of 2012, would establish a framework to license and regulate Internet poker companies, and to assist in the growth of a US-based online poker industry while targeting companies such as Full Tilt Poker and PokerStars, which violated The Unlawful Internet Gambling Enforcement Act of 2006.
"Congress must establish federal minimum standards that address consumer protection, prevent underage gambling, promote responsible gaming and provide help for those with gambling problems," Fahrenkopf said. "It must also provide a regulatory structure allowing for Native American casino operators — who will never agree to be regulated by the states—to be involved, and clarify and restore federal law so that law enforcement communities have the tools necessary to prosecute illegal online gambling operators."
The Las Vegas Review-Journal has more.
Poker Players
Theo Jorgensen Shot During Robbery
On Monday, the poker world was stunned to learn that Team PokerStars Pro Theo Jorgensen had been shot three times in the leg by armed robbers at his home in Greve, Denmark.
According to reports, three masked men entered the residence Sunday and demanded money from Jorgensen, who was home with his wife. After Jorgensen handed over an unknown amount of euros and U.S. dollars, one of the robbers reportedly shot Jorgensen in the leg three times. Jorgensen's wife called the police, but the three men escaped and are still at large.
Jorgensen's injuries are not thought to be life-threatening. He issued the following statement on his Facebook page following the frightening ordeal:
It is important for me to emphasize that I am a cautious man. I have prepared myself mentally and practically that this situation could arise to protect myself and my family against outsiders. I know that the outsiders may have a mistaken idea of how much cash I have in my home. I have alarm systems installed, always so get cash lying as possible [sic] and generally taken my precautions. It has unfortunately proved not to be enough.

I have it under [control] well, and right now I want to focus on taking care of my family, so we can get through this.
For more, read the story here at PokerNews.com.
Clash Of The Professionals
Online railbirds will have good reason to log into Full Tilt Poker on Sunday. At 15:00 ET, Tom "durrrr" Dwan and Viktor "Isildur1" Blom will face off at the site for the first time in nearly two years, each putting up $200,000 across four tables for a winner-take-all heads-up match.
Blom announced the terms of the match via Twitter on Thursday:
the poker gods and @FullTiltPoker have answered my tweets. @TomDwan has accepted my challenge and wants to play this Sunday :)

— Viktor Blom (@RealIsildur1)
Dwan and Blom make up two-thirds of The Professionals, Full Tilt Poker's pro team (Gus Hansen is the other member). But the two cash-game specialists have battled for millions of dollars in the past, playing some of the biggest pots in online poker history. Blom has gotten the best of Dwan for the most part, taking more than $4.5 million from his nemesis during their previous encounters at Full Tilt Poker, according to Poker Table Ratings.
During a four-day stretch in 2009, Dwan lost more than $3 million to the Swede. At that time, Blom's real identity was unknown; it wasn't until the 2011 PokerStars Caribbean Adventure that Blom was revealed as the mysterious Isildur1.
Although this doesn't quite have the feel of some of their previous battles, we still expect some eye-popping action at Full Tilt Poker on Sunday. Be sure to check out PokerNews on Monday for the results.
Learn From Phil
It has been more than 12 months since Phil Galfond departed Blue Fire Poker, the site he helped build for several years. Now, Galfond is back into training mode with the debut of his new site, RunItOnce.com.
His site comes with a powerhouse team of instructors, including Di and Hac Dang, Steve Gross, James Obst, Jason Koon, and a handful of others who will provide instruction in no-limit hold'em, pot-limit Omaha, and tournaments. The pros are divided into two categories — essential and elite — which will play a role in the subscription package each customer selects.
Galfond tweeted the release of his first video, offered free to everyone, to help launch his site. The video features him playing a $200/400 PLO session against Ben "Sauce 123" Slusky, Viktor "Isildur1" Blom, and Gus "Broski" Hansen.
You can see his first training video at RunItOnce.com, along with other features like a community discussion board where members can discuss hands, bad beats, or anything poker-related. Players can also use the video-recorder feature where they can upload their own sessions, hand reviews, and more, and can create their own custom playlists of the videos they want saved in their library.
Check it out at RunItOnce.com.
Poker Tournaments
NBC Brings Back National Heads-Up Poker Championship
After a one-year hiatus, the popular NBC National Heads-Up Poker Championship will return in 2013, according to a Twitter post by POKER PROductions on Thursday.
The $20,000 buy-in event will run from Jan. 24 through 26 at Caesars Palace, the same venue where the event was held from 2005 through 2011. POKER PROductions announced Thursday that episodes will arrive in March and run for six consecutive weeks. Each episode will air for two hours.
The event posted a respectable 1.5 rating during its seven years on NBC, but the network pulled the plug after PokerStars and Full Tilt Poker, two of the show's biggest advertisers, were removed from the U.S. market.
The National Heads-Up Poker Championship is mostly an invitation-only event featuring 64 of the world's top poker players and celebrities. Phil Hellmuth won the inaugural event in 2005, and he was followed into winner's circle by several heavy hitters, including Chris Ferguson, Ted Forrest, Annie Duke, and reigning champ Erik Seidel.
The show is produced by Poker PROductions, the same company that produces the World Series of Poker for ESPN, as well as Poker After Dark. In an interview with PokerNews in February, producer Mori Eskandani said there was a "90 percent chance" that the event would return to TV in 2013.
"That's a very fun event and I know it's going to be sorely missed this year, but it's coming back," Eskandani told Chad Holloway. "All these shows are coming back, it's just that things got murky out there, and like I said, all of a sudden there were dark clouds up there. I know it's still there and all of us are hoping it'll go away. I'm confident, I have a lot of faith in our justice system, and I think things will get worked out."
Celebs Earn $300,000 in Charity Poker Event
Mel Gibson, Jodie Foster, Robert Downey, Jr., Sean Penn, and Gene Simmons – unfortunately, it's not the cast for an epic new film. Instead, it is the list of major Hollywood celebs who convened for the "Four Kings & An Ace" celebrity poker tournament benefiting Mending Kids International.
The event took place Dec. 1 at the London Hotel in West Hollywood and raised $300,000 for the organization. Mending Kids International is one of L.A.'s non-profits that sponsor critical surgeries for children around the world correcting congenital heart defects, orthopedic abnormalities, severe scoliosis, and cranial facial deformities.
The event came with a $10,000 ticket donation, which came with perks like dinner at Gordon Ramsay's restaurant, poker lessons from World Poker Tour commentators Vince Van Patten and Mike Sexton, and round-robin style poker with each one of the celebrity hosts — all for a noble cause to benefit the children in need.
Great time at poker charity event last night w/Mel Gibson, Jodie Foster, Sean Penn, Robert Downy Jr., & many others.

— Mike Sexton (@MikeSexton_WPT)
The event included performances from The Commodores, Dominic Scott Kay, Nia Peeples, American Idol winner Lee Dewyze, and featured other celebs like Danny Trejo of Machete, Linda Thompson, and Camille Grammer.
The Hollywood Reporter has more.
The Squid Wins in London
British poker pro Sam "The Squid" Grafton won the 2012 Grosvenor UK Poker Tour (GUKPT) event in London on Sunday, besting a field of 137 to collect a top prize of £102,700. The £2,500 buy-in at the famous London Victoria Casino drew some of the top poker talents in the region, including Sam Razavi, Neil Channing, Toby Lewis and James Akenhead, Stuart Rutter. But it was animated and colorful Grafton who emerged as the last man standing.
The talent-laden field generated an extremely tough final table that included pros like Jon Spinks and Chris Brammer. Grafton was among the middle stacks when the final table began but he got a huge boost early when he found pocket aces against Spinks' pocket kings. That pushed Grafton into the lead with more than 1 million in chips, and he never looked back from there.
On the final hand of the tournament, Grafton three-bet shoved with
and Peter Charlambous called with pocket tens. The
flop brought two spades, giving Grafton 13 outs for the win, and he got there when the
hit the turn. That sealed the victory for Grafton, who collected his biggest score ever in a live tournament.
"I've got a real sense of achievement," Grafton told GUKPT media officials after the win. "The quality of the field made it tough competition — it's something you can be proud of. Starting out playing, the list of the great British pros that I looked up to when I was starting out, they're all the old GUKPT champions — like Paul Foltyn, Sam Trickett and Karl Mahrenholz. To add your name to that list, it's great."
| Place | Player | Prize |
| --- | --- | --- |
| 1 | Sam Grafton | £102,700 |
| 2 | Peter Charlambous | £72,800 |
| 3 | Victor Ilyukhin | £45,400 |
| 4 | Matt Moss | £28,250 |
| 5 | Jon Spinks | £22,250 |
| 6 | George Hassabis | £17,100 |
| 7 | David Maudlin | £10,300 |
| 8 | Sandeep Khosa | £10,300 |
| 9 | Chris Brammer | £7,700 |
For a closer look at the final table, check out the story at UK.PokerNews.com.
Photo and hand data courtesy of the PokerStars Blog.
Poker Business
Jim Ryan Announces Retirement
Jim Ryan, co-CEO of bwin.party Digital Entertainment, has announced his decision to retire from his position on Jan. 15, 2013.
Ryan joined PartyGaming Plc in in June 2008 as CEO and became co-CEO with Norbert Teufelberger in March 2011 after the merger between PartyGaming and bwin Interactive Entertainment. Ryan's departure will leave Teufelberger as the sole CEO of the company. Teufelberger praised Ryan, calling him "an excellent business partner," adding that Ryan was a "good friend" to him.
During his time as co-CEO, Ryan played an integral role in securing partnerships with MGM, Boyd Gaming, United Auburn, and Zynga.
"Together with Norbert, Jim has been a driving force behind the merger. His expertise and passion for the Group's gaming products have been instrumental in ensuring that the merger integration has proceeded as planned, putting the Group in an excellent position to remain at the forefront of the global online gaming market," said Simon Duffy, non-executive chairman of bwin.party.
In a press release, Ryan said, "Being co-CEO of bwin.party has been my dream job. As we approach the final stages of our merger integration, I am immensely proud of what we have achieved and know that with Norbert at the helm, the business is in excellent hands and is particularly well-placed for the future. Having given over 11 years of my life to the online gaming industry, I am now looking forward to returning to Canada and enjoying more time with my family."
Read more here at PokerNews.com.
Get all the latest PokerNews updates on your social media outlets. Follow us on Twitter and like us on Facebook today!