The Nightly Turbo: Isildur1 Wins Again, Negreanu and Esfandiari Give Back, and More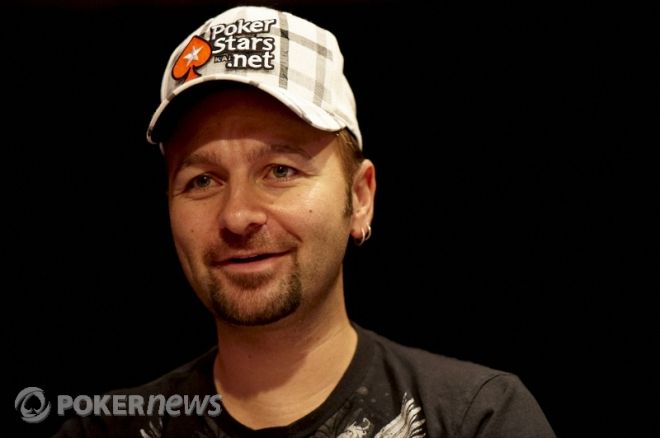 Great news, poker fans. After a six-month hiatus, Tom Dwan has returned to Twitter. The password issues he told us about in January have been fixed, and "durrrr" is back microblogging with the rest of the poker world.
With that problem out of the way, maybe a return to online poker next? We'd love to see Dwan in the PokerStars SuperStar Showdown. You know, the one where Viktor "Isildur1" Blom defeated another opponent on Sunday. We'll bring you that story and more in this edition of the Nightly Turbo.
In Case You Missed It
How did the Sunday Majors play out on PokerStars? Who took down the biggest score? Find out in the Sunday Briefing.
We all know what poker players do on the felt, but what about in "normal" life? In the latest from the Off the Felt series, we talk to Galen Hall about rituals, March Madness, and more.
Poker pro Alec Torelli was back with another blog on Monday. Torelli discusses shifting perspective and finding happiness in our daily lives.
Did you miss Sunday's World Poker Tour coverage on FSN? Read our WPT recap to get caught up.
How did Melanie Weisner get her start in poker? Find out that and more in the latest edition of Seat Open.
A No. 1 seed has already been eliminated from the PokerNews Fan Bracket. Which player pulled the upset? You can find all of the first round results in The Muck.
Another Viktim
Five days after blowing a massive lead against Isaac "philivey2694" Haxton, Viktor "Isildur1" Blom faced off against high-stakes regular Alex "Kanu7" Millar in the PokerStars SuperStar Showdown on Sunday.
Millar isn't well known outside of the high-stakes online realm but has fared well against some of the toughest competition in the game. Millar accepted Blom's challenge to play 2,500 hands of $100/200 no-limit hold'em on Sunday, but he handed over $37,687 to the Swede when the match was all over.
In the biggest (and sickest) hand of the match, Blom raised to $600 preflop and called Millar's $2,600 three-bet. The flop brought
and Millar fired 4,000 into the pot. Blom called, and the
fell on the turn. Millar led out again, this time for $11,500, and Blom put in a call. The
hit the river and Millar moved all in for his last $32,350. Blom decide to call and showed a meager
for bottom pair, but Millar tabled just
. The $100,900 pot gave Blom a lead he would never relinquish despite a late surge from Millar.
Blom is 9-4 in 13 SuperStar Showdown matches and boasts winnings of $534,090. Here's a look at his results since last December:
SuperStar Showdown Breakdown
| Date | Opponent | Profit/Loss | Record |
| --- | --- | --- | --- |
| Dec. 19, 2010 | Isaac "philivey2694" Haxton | -$41,701 | 0-1 |
| Jan. 2, 2011 | Antanas "Tony G" Guoga | +$44,280 | 1-1 |
| Jan. 30, 2011 | Daniel "w00ki3z" Cates | +$51,196 | 2-1 |
| Feb. 13, 2011 | Eugene "MyRabbiFoo" Katchalov | +$111,750 | 3-1 |
| Feb. 27, 2011 | Attila "DodgyFish72" Gulcsik | +$10 | 4-1 |
| March 20, 2011 | Daniel "KidPoker" Negreanu | +$150,000 | 5-1 |
| March 27, 2011 | Daniel "KidPoker" Negreanu | -$26,500 | 5-2 |
| April 3, 2011 | Scott "urnotindangr" Palmer | -$5,425 | 5-3 |
| April 10, 2011 | Scott "urnotindangr" Palmer | +$66,607 | 6-3 |
| April 24, 2011 | "Mastermixus" | +$1,279 | 7-3 |
| June 19, 2011 | Rui "PepperoniF" Cao | +$150,000 | 8-3 |
| March 11, 2012 | Isaac "philivey2694" Haxton | -$5,093 | 8-4 |
| March 18, 2012 | Alex "Kanu7" Millar | $37,687 | 9-4 |
Total SuperStar Showdown Profit to Date: $534,090
For a detailed recap of Sunday's SuperStar Showdown, check out the PokerStars Blog.
Daniel Negreanu Giving Back
He may be a bit too opinionated for your liking, but Daniel Negreanu is truly one of the good guys in poker.
Last year, Negreanu dove into some hands-on charity work by volunteering at Three Square, a hunger-relief program based in Las Vegas. The organization collects food donations and distributes the items to food pantries, soup kitchens, shelters, and after-school programs across Southern Nevada.
On Friday, Negreanu got even more involved by hosting a dinner at Café Martorano at the Rio All-Suite Hotel & Casino for the first four $1,000 donors during Three Square's 2011 Fight Holiday Hunger campaign. The four lucky donors also received a private poker lesson package with Daniel and a photo-op next to the WSOP Main Event final table in the Rio poker room.
"We're so fortunate to have the support of poker pro Daniel Negreanu who shares our passion for hunger relief and can continue to bring this critical issue into the lime light," said Three Square Food Bank President and CEO Brian Burton. "It was a fantastic time at the Rio, as well as a shining example of the support and compassion we experience from the gaming community and its professionals."
Read more about Three Square at threesquare.org.
An "Older and Wiser" Antonio
Speaking of good guys, Antonio Esfandiari reached his goal of raising $10,000 for St. Jude Children's Research Hospital last week. Esfandiari aimed to raise at least that amount in donations and contributed another $10,000 to the foundation, which attempts to find cures and save the lives of children.
"I'm kind of on a mission to make the world a better place," Esfandiari told ESPN 850 about his recent charity work. "I know it sounds kind of trippy and it's not the famed party boy Antonio you're used to hearing from, but I'm a little older and a little wiser these days."
Esfandiari even offered to take some big donors out on the town if they step up to the plate and make a $5,000 donation. If you'd like to make even a small contribution, visit Esfandiari's page at waystohelp.stjude.org.
A Day With Frosty
Vancouver-based poker pro Tyler "frosty012" Frost is the latest member of Team PokerStars Online to be featured in a short documentary about his life as a poker player. Frost, who joined Team Online in December 2010, is perhaps best known for achieving Supernova Elite VIP status by 24-tabling low-stakes no-limit hold'em cash games in 2010 and 2011.
The documentary takes viewers through Frost's rise up the ranks and his hobbies outside of poker. Frost also talks about the summer of grinding that gave him the confidence to turn poker into a full-time career. He was joined in the film by a group of friends who helped tell his story.
"The movie was a ton of fun to make," says Frost. "It was a long day — probably 12 hours for a 8 minute video — but the whole time I enjoyed getting a taste of what it could be like to be famous, even if on such a micro level. The best part was probably going downtown at night and having the guys follow my 'entourage' with cameras as we toured different bars and clubs. The attention that comes along with everything is pretty fun and I feel as if I played movie star for a day."
To learn more about Frost, check out his blog at frosty012.com.
Introducing iSeriesLIVE
Degens are in for a real treat as Poker Royalty has announced its new poker series, iSeriesLIVE.
iSeriesLIVE will be a groundbreaking new concept where fans will be able to bet on the action as it's happening. The series will include some of the games top pros, including Daniel Negreanu, Phil Hellmuth, Maria Ho and Carlos Mortensen, facing off in a number of different tournament formats.
Viewers will be able to follow live hole-cam feeds online while they bet on the action. The real gamblers out there will even be able to bet on red or black flops. All betting will be done online through sportsbook giant PaddyPower.
For the entire series, the pros will be without cell phones or outside access to Internet, so there will be no way for them to check out the feeds themselves. The first event is set to take place on April 5 at 1700 GMT (1300 EST).
For more information on iSeriesLive check out the website at iSeriesLIVE.com.
On Your Bike, Robl
Tony G and Andrew Robl first became enemies when they appeared together on the PokerStars Big Game. The rivalry has since grown following a number of different confrontations, including one at the 2011 World Series of Poker Europe where Tony was accused of angle-shooting Robl.
Now, the two are set to face off in the PartyPoker Big Game VI in Vienna next month.
"I look at things very rationally and in my mind if Tony G is in Vienna I have to go as I need to make money — that's the bottom line," Robl told the PartyPoker Blog this week. "I'm sure people will love watching him lose on the live stream on the internet – the idea of playing him for 48 hours straight is appealing!"
As announced last week, PokerNews will be providing live video of the PartyPoker Big Game VI from April 11 through 13. The game will run nonstop for 48 hours and is expected to include top pros like Tom Dwan, Patrik Antonius, Phil Laak, Luke "Full Flush" Schwartz, Sam Trickett, and the aforementioned Tony G and Andrew Robl.
You can find Robl's full interview about Tony G. at the PartyPoker Blog.
EPT Madrid Recap
The European Poker Tour stop in Madrid came to a close over the weekend. Kristy Arnett took a look back at the highlights of the event.
Follow PokerNews on Twitter for up-to-the-minute news.