Off the Felt with Galen Hall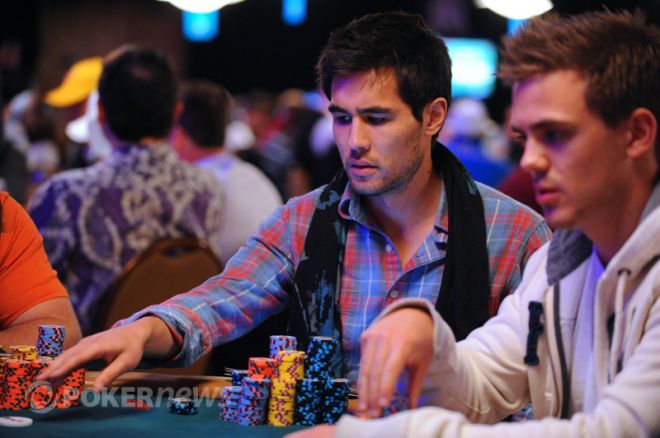 Off the Felt is interviewing your favorite people in the poker industry to find out more about their lives — you've got it — off the felt. We recently sat down with Galen Hall to talk a little poker, rituals, and March Madness.
How did you start playing poker?
I started playing in high school with my friends. I started playing online in college, but didn't put in much volume until a year after I graduated.
What does your poker schedule look like for the next few months before the World Series of Poker?
I'll be pretty busy with school during the Spring quarter. I think I'll play the Bellagio 100k and possibly the 25k and that's likely it.
Where is your favorite tournament stop?
PCA, obv.
Tournament stop with the best food?
I haven't really been to enough places to say for sure. I guess Vegas, since I've been there enough so that I know where to go.
What are some of your hobbies away from the table?
I play rugby and basketball. I've been involved in three different start-ups since I graduated, and I really enjoy meeting new people with different experiences and backgrounds.
Where is your favorite place to stay in Vegas?
Probably the Mandarin or the Cosmo. But during WSOP, Palms Place since it's so much closer.
Let's hear some predictions for March Madness. Which teams will be in the final four and who will take down the whole thing?
I have a pretty complex model that weights Vegas odds, Dr. Bob's adjustments and Kenpom and paint a pretty accurate picture. Then I lay the market picks over that and run optimizations for a portfolio of brackets based on pool size. This year I have 22 brackets and 13 drafts. I haven't had a losing March Madness since 2002.
This year I ran well in my drafts and got the No. 1 pick in three out of my four biggest ones, so I'm really long on Kentucky.
Obviously picking Kentucky in any bracket pool is highly suboptimal because of how frequently they are picked. In my pools, I'm long on OSU, MSU, Kanas, Wisconsin, Vandy, Cincy, Wichita, Memphis, Baylor, Georgetown and New Mexico and have shorter positions on FSU, Duke, Kentucky, UNC, Syracuse and am fairly neutral on Missouri and Kansas.
If you had to put together a basketball team of professional poker players who would be on your team and why?
I played a bunch of hoops this summer. My roommate Yev Timoshenko is athletic and fundamentally solid. Olivier Busquet is easily one of the best players around — really aggressive in transition and can handle, score and pass really well. I felt like I was probably the most consistent shooter, but we could use a couple of bigs. I know Huck Seed plays and seems pretty tough, and I'd probably grab a couple of those guys like [Patrik Antonius] and [Brandon Adams] that are good at tennis because it's a pretty similar skill set. I'd round out the team with Vanessa Selbst who plays ball and would be our resident Rasheed Wallace — good for at least one technical foul per game.
Do you have any superstitions or rituals before a tournament?
Every time I make a major final table I listen to "The ecstasy of gold" by Ennio Morricone from The Good, The Bad & The Ugly soundtrack.
Would you rather learn to play tennis from Rafael Nadal or learn to play golf from Tiger Woods?
Golf from Tiger. He seems more fun off the court.
If you weren't playing poker what would you be doing?
I'd be in my second year at Stanford business school instead of my first year, but otherwise I'd still be doing start-ups and trying to travel the world and enjoy being young.
For news, updates, and more follow PokerNews on Twitter and Facebook.