Off the Felt with Kara Scott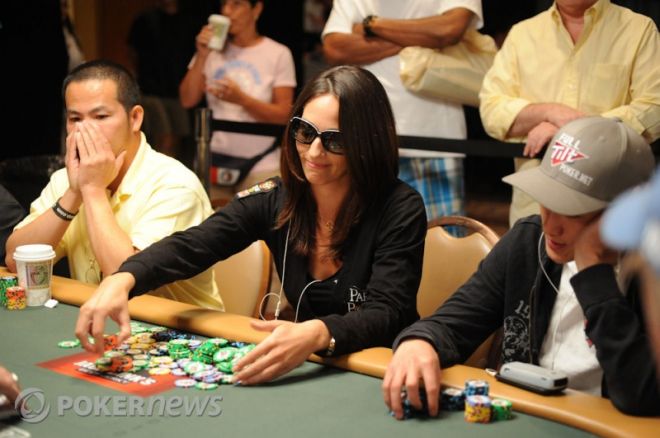 Off the Felt is interviewing your favorite people in the poker industry to find out more about their lives — you've got it — off the felt. We recently sat down with Kara Scott to talk a little poker, pick up lines, and photography.
How did you start playing poker?
I was working as a sports reporter for a TV channel in England when a poker channel saw some of my work and asked me to come in and screen-test for a job on a show called Poker Night Live. I knew very little about poker at that point but they were looking for an experienced on-camera person to learn the game alongside their poker-novice audience. Thankfully, I fit the bill!
It was a steep learning curve, but I was working with a bunch of interesting, funny, and engaging pros who taught me a pretty wide variety of playing styles. Soon enough I'd caught the poker bug myself and was playing online and at local live competitions and before I knew it, poker had basically taken over my life!
What is your tournament schedule like for the next couple of months? What events do you plan on playing? Hosting?
I won't be playing that much poker over the next few months. In fact, I think the WPT Bay 101 Shooting Stars event is my last major tournament until the World Series this summer. I'm going to be doing some PR work in Canada for the Montreal PartyPoker Classic charity event in late March and then from there, I'm off to Vienna where I'm hosting the PartyPoker Premier League Main Event and the Big Game at the Montesino Casino. I'll be spending a bit of time catching up with friends in Europe after that and then it's straight to Vegas for the WSOP.
What is your favorite tournament stop?
There are some really incredible stops on the European side of the WPT. I think my favorite one so far has to be Venice. We were there in February and even though it was really cold that time of year, it's one of the most beautiful places in the world. The WPT managed to schedule the tournament to coincide with the Venetian Carnevale so there was even more to do than usual. The food is great there too and it's just such a unique city — there really is nowhere else like it in the world!
What tournament stop has the best food?
I'd have to say Vegas is tops for food, and I'm not sure anyone could really disagree with me there. No matter what kind of cuisine you fancy, Vegas has you covered. It's like a foodie's paradise! And there are always new and interesting restaurants to check out, no matter how often you go. I'm already planning some pretty incredible dinners over the WSOP this summer.
Have you ever participated in any ridiculous prop bets?
I'm not generally one for making prop bets — mostly because I'm terrible at them and I tend to lose! I did have a bet with Chris Tessaro from Hardcore Poker Radio though a few years back when I was working on the EPT. We bet on my finishing position in a certain tournament I was playing and if I lost, I was going to have to wear a bunny suit for one day while I was doing live-updates from our San Remo event.
Well, I lost. Rather than going down the Playboy Bunny route, which is so not my style, I bought this big, fluffy pink rabbit costume, complete with a rather scary mask and wore that instead.
What are some of the best pick-up lines you've heard at the table?
Thankfully I don't really hear actual pick up lines very often unless it's kind of meant as a joke. For example, at the LAPC I had a poker player tell me that I was a beautiful flower in the world of poker and that he'd like to be the one to "deflower" me. It was so cheesy and so bad that I had to laugh and I'm pretty sure that was his intention.
The people that I play against or interview are generally really cool so it's always a shock when someone acts in an obnoxious way. Once, a drunk poker player got angry when I turned him down and his best rebuttal was "You can't treat me like that, I'm a millionaire." Seriously. Ugh.
What's the most embarrassing moment you've had interviewing someone?
Oh, I've had some doozies. I mostly try not to remember them for too long because it makes it hard to get back in front of a live camera and keep going.
There was a tournament once where we were streaming the final table online, as well as filming it for TV. After one of the longest heads-up battles ever, we finally had a winner. I couldn't see the table from where I was sitting so I had to go on what I thought I was hearing from the producers in my earpiece. Unfortunately, the cheering was so loud that I apparently misheard and thought that the other guy had won. The look on the runner-up's face when I congratulated him on winning was painful and something I'll not soon forget.
What are some of your hobbies away from the table?
I get to spend a lot of time traveling to exceptionally cool places for poker, so my hobbies tend to be based around sightseeing and eating and drinking very, very well. I read a lot and I write, too, so I can usually be found hanging out at one of my local coffee shops with a book or my laptop.
I'm a big fan of live music, and I used to love Music Festivals and camping out with friends when I lived in England. I love museums and art galleries too, and try to get to a show a couple of times a month. Mostly though, my very favorite thing to do in the world is to eat great food, drink great wine, and spend as much time as possible talking absolute bollocks with the people I love.
Do you have any hidden talents?
I make a mean huevos rancheros. I really love to cook.
Who are some of your favorite people to play with at the table?
I was able to sit beside Billy Baxter during the LAPC Main Event recently and wow, he has some incredible stories. I think it was actually a really bad thing that I was sitting with him though because I was definitely paying more attention to him than I was to the game.
There are a few people who I think really make the table a more interesting place to be, but I'm not sure I actually like playing with them, because they're clearly better at poker than me. Adam "Roothlus" Levy is one of them. I feel like I've played with him a fair amount in the past couple of years and he is one funny dude.
What prompted you to start the photo of the day on your Twitter?
A friend of mine in Santa Barbara was doing this "photo a day" challenge that she found online. I was really enjoying looking at her pictures but I've never been much of a photographer myself. I'm more just a "point and click" kind of person and if the framing is good or the colors look nice, that's a complete fluke. I thought it would be fun to try to get better and also to document this year of my life, as it looks like it'll be one of the busiest so far.
I've always traveled a lot for my job and so many of the great places I go to and the stories from there get lost. Someone suggested to me that I use this "photo a day" challenge to give me a way to show my friends at home where I am and what I'm doing. I'm loving it so far!
What would you be doing if you weren't in the poker industry?
I would either still be working in the entertainment industry as a writer/TV presenter/producer, or working for a nonprofit organization.

Follow PokerNews on Twitter for up-to-the-minute news.