Circuit Grinder: Three-Time WSOP Circuit Ring Winner David Nicholson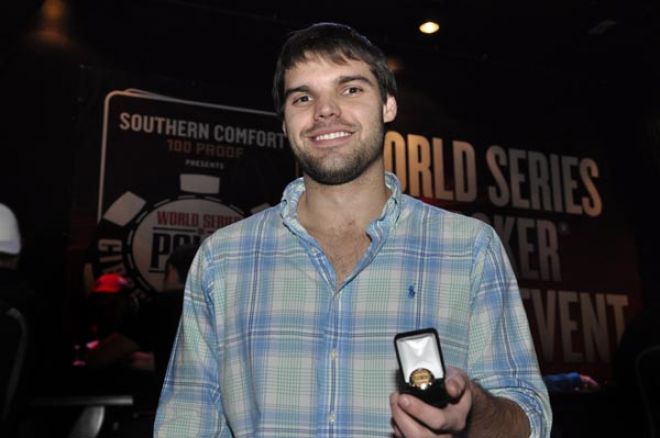 I first met David Nicholson in May 2012 during the World Series of Poker Circuit stop in New Orleans, a city I once called home. Although I knew of Nicholson from his win in the 2011/2012 WSOP Circuit Bossier City $1,600 Main Event for $148,590 and shared a few drinks with him on the celebrated Bourbon Street, it wasn't until last week in Durant, Oklahoma, that I got to know Nicholson the poker player.
After covering the PokerStars Caribbean Adventure in Nassau, Bahamas, I flew to Oklahoma for the 2012/2013 WSOP Circuit Choctaw Durant. I arrived a few days before the Main Event, which Rich Ryan and I live-blogged for PokerNews and took the opportunity to play a tournament—Event #9 $365 Pot-Limit Omaha, which attracted 266 players and created a prize pool of $79,800. I was fortunate enough to make a deep run, ultimately finishing in 18th place, and had the privilege of sitting next to Nicholson during part of Day 1 and all of Day 2.
"I started playing poker in high school with buddies, the same old story as everyone else," Nicholson told me at the table. "I didn't really get into the online thing as much as everyone else did. In college I didn't know anyone who played online. I graduated, got my master's degree and couldn't really find a job, so I started playing poker. I was losing at first and then met the right kind of people and learned a ton of information just sharing hand histories with players who're better than me. It took off from there."
Indeed, the 27-year-old got off to a quick start on the 2011/2012 WSOP Circuit at the first stop of the year—Bossier City. He took fifth there in Event #6 $345 No-Limit Hold'em and then followed up five days later with a win in the $1,600 Main Event, which awarded him $148,590 and a seat in the National Championship.
"It was fantastic," Nicholson said of the win. "I had had a brutal summer, and I didn't have a lot of money at the time, so for me to hit that score was great. Also, it was my first big win, so it verified I belonged here. Knocking the first one out last year spoiled me, but I actually have to work for it this year. I actually still had the most points on the Circuit last year even though I qualified through the first event."
Nicholson, who often sells action through per-stop packages, managed nine cashes that year, including winning his second ring a month after his first. It happened at the Horseshoe Hammond in Event#9 $350 Limit Omaha Eight or Better for $17,467. Some of his other notable cashes included sixth in Council Bluffs Event #6 $350 Limit Omaha Eight or Better for $1,943; third in Council Bluffs Event #10 $350 Pot Limit Omaha w/ $100 Re-buys for $8,566; and seventh in Harrah's New Orleans Event #12 $355 No-Limit Hold'em Turbo for $1,913. Then, this past summer, Nicholson made his presence known by making a final table in 2012 WSOP Event #33 $1,000 No-Limit Hold'em for $75,314 while making an appearance in the National Championship.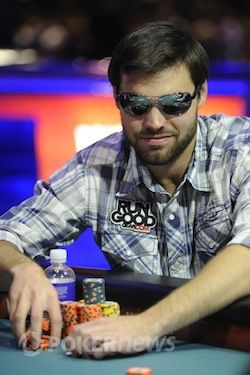 "It was pretty awesome. I was short going into Day 2, and I got fortunate to double up in some 30/70 situations and flips," Nicholson recalled about his final table appearance. "Then I caught a heater. Once I got to the final table, I got kind of handcuffed and card dead. Matt Stout was on my right shoving, and I didn't really have any spots. Obviously, I was disappointed that I didn't win the bracelet or finish better, but it was still a great experience."
Of the National Championship, in which he didn't cash, Nicholson said: "It was at the end of the summer, so I'd already played with all the big-name players [at the WSOP] and it wasn't like a shock experience or anything, but it was still cool playing for $400K when you paid nothing to get into the tournament."
Despite not cashing in the National Championship, Nicholson made his presence known on poker's biggest stage. Not only did he make a final table, he was in Las Vegas representing the newly launched Run Good Gear, a poker clothing company with numerous circuit representatives. "I knew AP Phahurat, one of the main guys along with Tana Karn, and they contacted me before the WSOP this summer and asked if I'd represent Run Good Gear," Nicholson explained. "I said sure as I had nothing to lose. It's a cool company, cool clothes, and it looks like it's taking off and doing well. I'm happy to be a part of that."
Since an amazing summer, Nicholson has been back on the circuit and picked up right where he left off. Before our meeting in Choctaw, he already had five cashes on the 2012/2013 WSOP Circuit including two final tables—fourth in Bossier City Event $9 $1,125 No-Limit Hold'em for $13,218 and eighth in Horseshoe Hammond Event #7 $365 H.O.R.S.E. for $2,320. Amazingly, hours later Nicholson went on to win his third ring in the event we were playing, adding an additional $19,547 to his bankroll.
"It feels amazing. I didn't think I was going to win again," Nicholson told me after the win. "It's been over a year since I've won a ring. I guess I kind of got spoiled when I won two in two months. It definitely feels good to win again. I feel really proud that I have three rings in three different games. I'm most experienced in no limit, but I've also made a point to learn the other games. I think there's a bigger edge in the PLO and Stud, and some of the other games people don't know as well. Eventually I want to win a bracelet in multiple events, which is obviously a tough thing. You just have to know all the games. All these no-limit players are topping out and it's because they only know no limit and nothing else."
Even though he was fresh off winning his third gold ring, Nicholson kept things in perspective. "Of course, in a heartbeat. For sure," when I asked if he'd be willing to trade those three rings for a single WSOP bracelet. And he said he has no big plans for the money: "I'm pretty much a nit when it comes to purchases. I'll do a lot of window-shopping. I'll got to a store, look at something, pick it up off the shelf, and then just put it back down. Maybe I'll buy an iPad. We'll see."
What's more, just two days later, Nicholson made a run at his fourth ring in the Choctaw Durant $1,675 Main Event. He made a deep run but found himself in a bad spot late on Day 2. It happened when he opened the action with a standard raise and Lee Abramson flatted from the small blind. Jason Hall then moved all in from the big for approximately 350,000, Nicholson moved all in over the top, and Abramson made a quick call.
Abramson:

Nicholson:

Hall:
Abramson had the big stack, and he got an even bigger one when the board ran out
to give him aces and threes for the win. With that, Abramson took over the chip lead with 1.85 million while Nicholson was eliminated in 34th place for $6,532.
Nicholson told me he wasn't pleased with Hall's line in the hand, but he immediately turned his attention to the next tournament: "I'm going to Tunica and Palm Beach. I'm trying to lock these points up so I can get in the National Championship. After that I'm probably going to take some time off. I'm trying to focus more on cash games, and I'm just playing these tournaments to get the points really. It's hard to pass up the National Championship equity."
WSOP Circuit Choctaw Durant Ring Event #9 Pot-Limit Omaha
| Buy-in | Entrants | Prize Pool |
| --- | --- | --- |
| $300+$65 | 266 | $79,800 |
| Place | Player | Hometown | Prize |
| --- | --- | --- | --- |
| 1 | David Nicholson | Perkinston, MS | $19,547 |
| 2 | George Ward | Mount Juliet, TN | $12,080 |
| 3 | Ryan Rowland | Sherman, TX | $8,728 |
| 4 | Marcus Ruiz | Hobbs, NM | $6,423 |
| 5 | Frederic Roetker | Lafayette, LA | $4,812 |
| 6 | Robert Slagle | Sherman, TX | $3,667 |
| 7 | Bobby "Shooter" Hempkins | Allen, TX | $2,841 |
| 8 | Jeremy Barber | Hooks, TX | $2,237 |
| 9 | Allen Kessler | Huntington Valley, PA | $1,789 |
Get all the latest PokerNews updates on your social media outlets. Follow us on Twitter and find us both Facebook and Google+!