Kyle Cartwright Talks About Winning Fifth Gold Ring & Tying WSOP Circuit Record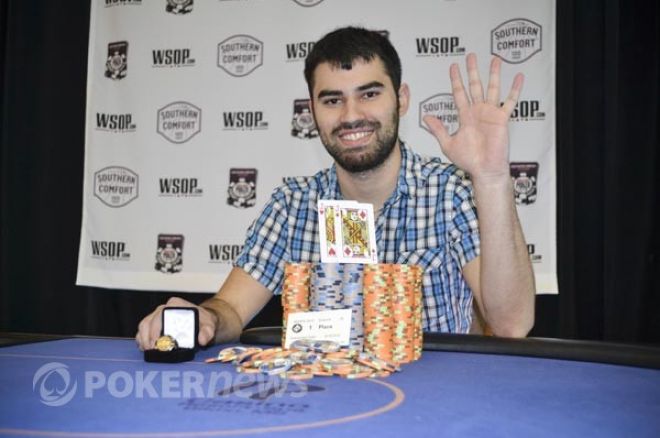 In April 2011, Kyle Cartwright won his third World Series of Poker Circuit ring in just three months and inspired us to write a piece titled Kyle Cartwright: Poster Boy for the WSOP Circuit. Now, just over a year later, Cartwright has added two more rings to his résumé and has tied the record set by Mark "Pegasus" Smith.
The 24-year-old from Tennessee began his journey in February 2011 at the Harrah's Tunica stop. There he won two events within eight days — Event #20: $345 No-Limit Hold'em and Event #44: $345 No-Limit Hold'em for $25,678 and $31,111 respectively. That performance earned him the title of Casino Champion and a spot in the inaugural National Championship. Two months later, Cartwright traveled to Harrah's St. Louis where he conquered a 449-player field in the $1,600 Main Event for another $142,290.
A year later, Cartwright was back in St. Louis where he captured his fourth ring in Event #10: $1,090 No-Limit Hold'em for $55,533. Combined with eight other cashes in the 2011-2012 season, Cartwright earned enough points to qualify for the second annual National Championship. Unfortunately for him, he was unable to make anything happen in the nationally televised tournament.
Cartwright wasted little time in getting back in the saddle and was at the first stop of the 2012-2013 season last month — IP Biloxi. It was there that he topped a 300-player field in the $1,675 Main Event to capture his record-tying fifth gold ring and the $107,992 prize, the second six-figure score of his career.
Not surprisingly, the well-mannered Smith was the first to congratulate Cartwright via Twitter:
@da_kyky Let me be the first to congratulate u on your 5th ring!!! Let the race begin.......

— Mark S Smith (@pegasusmss)
"I couldn't be more pleased it was him." Smith later told the WSOP's Lukas Willems on Cartwright's win. "He is not only a really nice guy but a wonderful player. I'm flattered to be in such good company. These young guys play two to three times the stops I do and I'm sure over time I will be passed up, but from 2009 to now I have either been tied or held the world record in rings. How blessed am I?"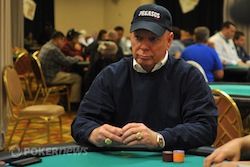 Cartwright vs. Pegasus
| Player | Rings | WSOP Circuit Cashes | Circuit Earnings |
| --- | --- | --- | --- |
| Mark "Pegasus" Smith | 5 | 31 | $536,729 |
| Kyle Cartwright | 5 | 15 | $406,279 |
PokerNews recently caught up with Cartwright to talk about his record-tying accomplishment.
You recently took down your record-tying fifth WSOP Circuit gold ring. How did the win feel?
The win felt amazing. I have only been traveling the circuit since February of last year and to win five rings in such a short period of time feels pretty good. I did not have that good of a summer so to win this tournament with such a stacked final table means a lot to me.
It was also your second ring in a WSOP Circuit Main Event, a feat only accomplished a couple of times in history. What did winning another Main Event mean to you?
I am not sure who the other people are to win multiple Main Event titles besides Kurt Jewell, but Kurt and I are good friends on the circuit. It feels good to pass him in rings and now tie him with two Main Event titles. Winning another Main Event boosts my confidence even more because a lot of skilled players travel to play the WSOP Circuit just to play Main Events.
How do you always manage to be the last man standing in these tough tournaments? You're obviously doing something right. What do you think that is?
Well, I try to stay patient and not give up even if I have a short stack. I was hovering around 10 to 20 big blinds for the first four to five hours of the Main Event on Day 2. I waited patiently and got my stack in good four out of five times, and the latter being a race with
versus
. I was fortunate enough to win basically every race I was in.
I'm not sure what it is about me, but players always think I am bluffing. I get called in weird spots where players should not be seeing flops much less be putting me in on the river. For instance, second hand of the final table I raise
under the gun plus one. The big blind ends up defending. He check-calls the flop and I end up folding a big river bet when there was an
on the flop. I show my kings and the player shows me
offsuit. The player put in over half his stack just to show me a bluff. This happens to me all the time and I have had to adjust accordingly to these types of players.
In just over a year you went from playing your first major live tournament to a record-tying five WSOP Circuit rings. Not only that, you've won hundreds of thousands of dollars. How has this changed your life over the last year?
Winning this kind of money has obviously changed my life drastically. I am now engaged and set to be married this October. There is no way I would be where I am without my fiancé. She never has a problem with me traveling and is very supportive on all my decisions regarding poker. Obviously, I have bought me a few toys and am now looking to purchase a house to get out of the apartment I have been living in for a couple years.
Mark "Pegasus" Smith is the man you tied for the record. Smith still travels the circuit from time to time. Was he in Biloxi when you won? If not, has he reached out to congratulate you on the win?
Mark was not in Biloxi for my win, but he was one of the first people to wish me luck on Twitter when I reached the final table. As soon as I had won, Lukas Willems immediately came up to me and said Mark had text him to tell me congratulations on me tying him. He is a great player and there is no doubt he will get another ring in the near future.
I honestly do not see five rings being the most at the end of this year. There are a handful of players that have four rings including Kurt Jewell and Alex Masek, and both are more than capable of winning two this year.
Smith has always said the young players would pass him — it was only a matter of time. You haven't passed him yet, but do you have aspirations to do so in the near future?
I definitely want to break the record this year and am already making my plans to go to Bossier City. I could not be happier that Bossier is a couple weeks after IP so I can go home and spend time with my family and friends before being back on the road again.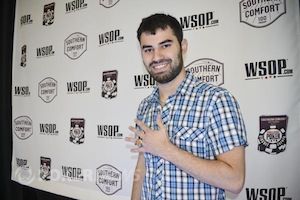 What do your family and friends think of your success?
My friends and family could not be happier for me. I have gotten a lot of them watching and even playing poker since I have done so well the past year and a half. They want to know more about it so when I tweet out hands or even text them about my day they know what I am talking about. I still like to play in the $10 to $20 home games with friends whenever I am in town. Even though there was a game tonight with a bunch of my friends and I did not get the invite. I will just pretend they were unaware of me being in town.
Speaking of your friends, you travel the Circuit with a group of players who've also had their fair share of success. What can you tell us about them?
Well, I mostly travel with Tripp Kirk and Bradley "Tip" Lipsey. They both have had amazing success on the WSOP Circuit. Tripp now has two rings including a Main Event win. He is one of my very best friends on and off the felt. He is from Atlanta while I am from Memphis, but we still make time to travel back and forth at least once a month. My fiancé and his wife are also very close which makes it easier for us to see each other outside of poker.
Tip does not have a win yet, but it is without a doubt coming soon. He has numerous final tables and has had several deep WSOP Circuit Main Event runs. He also finished fifth in a WSOP event this summer. They keep me positive about everything including things outside of poker.
What's it like to punch your ticket to the National Championship at the first stop and not having to worry about points for the entire season?
It is such a relief getting my seat on the very first stop. Last season I was right on the bubble and had to travel to Chester in order to rack up some more points to make sure I qualified. I will not have to worry about traveling so far away from home this year. I have now made the National Championship all three years with little success in the first two. Hopefully the third time's a charm and I will be able to make a deep run.
Now that you're qualified for the National Championship, will you still be traveling this year's Circuit? Perhaps you're still going to play a lot to capture #6?
I will without a doubt still travel the circuit as much as possible this year. I want that record very badly now and will not stop until I have it. Not only for the record, but I still have to provide for my fiancé and I. She is now back in school and cannot work as many hours as in the past. There is not much poker around Memphis so traveling is my only option.
Of your five rings, which win meant the most to you and why?
This might sound strange, but my fourth ring meant the most to me. It was the $1,000 event in St. Louis. I had been on a small drought and not won a WSOP Circuit tournament in almost a year. It was also by far the toughest field that I had overcome. There just were not many soft spots at any of the tables. The final table was stacked with AP Phahurat, Amanda Musumeci, and many other skillful players. I was lucky to win some races and cooler AP three-handed with
versus his
.
Has your tremendous success on the WSOP Circuit provided you with any opportunities (i.e. sponsorship, etc.)?
I have had two sponsors because of my WSOP Circuit success. I was a pro on the online poker site SureBet and also got a clothing deal with RunGoodGear for this past year's WSOP.
My success has also found it very easy for me to sell action whenever it is needed. Poker players know how expensive it is every summer when the WSOP comes around and to play on your own dime just isn't smart unless you have a huge bankroll. I was able to sell out rather quickly this summer at a good markup and still had people wanting to buy at a higher price. I did not have a good summer to say the least, but want to thank everyone that bought a piece and can't wait until next year to have another crack at a bracelet.
What are your plans concerning poker for the rest of 2012?
I am fairly confident that my only WSOP Circuit stop for the remainder of this year is Bossier City. I will be getting married in October and will more than likely not have the time to travel until sometime next year. There is a small event coming to Tunica, which is very close to my house that I will definitely play. I believe it is coming sometime in December and called the Winter Poker Classic. Other than these two stops, I do not see myself playing much poker for the rest of 2012.
Get all the latest PokerNews updates on your social media outlets. Follow us on Twitter and like us on Facebook now!
Executive Editor US, PokerNews Podcast co-host & 2013 WSOP Bracelet Winner.