Kurt Jewell Looks to Add a Gold Bracelet to His Four WSOP Circuit Rings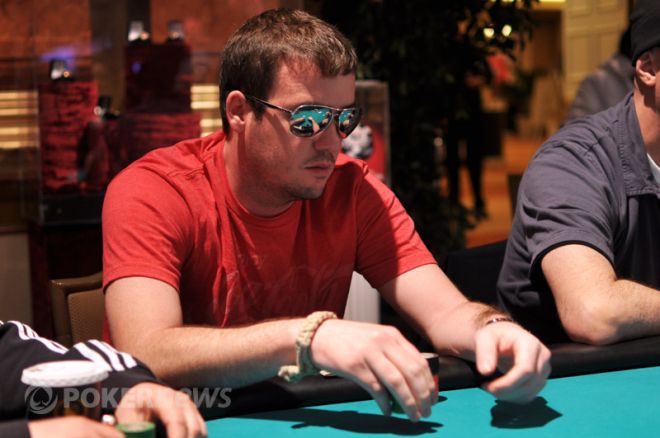 When the World Series of Poker Circuit was revamped for the 2010-2011 season, a number of young guns began to emerge as superstars including Alek Masek, A.P. Phahurat, Tripp Kirk and Kyle Cartwright. Someone else who belongs in that group is Kurt Jewell, who has 12 cashes on the Circuit totaling $504,692, including four gold rings.
That gives Jewell an astounding 25 percent win rate when he has made the money. What's more, two of Jewell's gold rings have come in Main Events, an unparalleled feat in the modern era of the WSOP Circuit.
Jewell's Notable WSOP Circuit Accomplishments
| Date | Event | Place | Prize |
| --- | --- | --- | --- |
| October 5, 2010 | $350 NLHE Shootout Horseshoe Southern Indiana | 3rd | $4,870 |
| October 9, 2010 | $550 NLHE Shootout Horseshoe Southern Indiana | 5th | $6,312 |
| October 22, 2010 | $1,600 Horseshoe Hammond Main Event | 1st | $242,909 |
| February 13, 2011 | $1,600 Harrah's Tunica Main Event | 8th | $17,328 |
| April 3, 2011 | $345 Omaha 8 or Better Harrah's St. Louis | 1st | $13,206 |
| February 11, 2012 | $1,600 Main Event Harrah's Tunica | 1st | $192,984 |
| April 22, 2012 | $355 NLHE Harrah's St. Louis | 1st | $19,269 |
PokerNews caught up with Jewell prior to the WSOP Circuit stop in New Orleans to get his thoughts on becoming a two-time WSOPC Main Event champ, chasing the ring record and his plans for this year's WSOP in Las Vegas.
Can you give our readers a little background on yourself?
I'm from Frankfort, Kentucky, but currently living in Louisville. I have one older brother and he and his wife just had their first kid, so I'm a proud uncle. I went to Eastern Kentucky and graduated with a degree in sports management. I learned to play poker online, and during my first year in college my roommate introduced me to PokerStars. I started playing really small, learning things here and there, then got hooked up with some good players and just learned a lot.
In April 2011, you won a ring at Harrah's St. Louis by winning the Omaha 8 or Better event. Are you an Omaha player?
I registered for the tourney honestly thinking it was a PLO-hi tourney only to find out it was a limit O8 tourney when I sat down. I had played a little PLO but never O8. I literally was asking people about what hands to be playing, and googled top starting hands for O8! How the win came about, I'm still not really sure, I was very lucky I guess. And after that win, I retired from O8 having a perfect record!
Last year you captured two WSOP Circuit rings, and this year you've captured two more. Which of your rings means the most to you and why?
I would say the Main Event from Tunica this year. I was having a dry spell for a long time, and for me to come back to the same final table that I made the year before where I gave up a huge chip lead, it was pretty special to redeem myself with a win.
Of your four rings, two came in Main Events. What was it like becoming a two-time WSOP Circuit Main Event champ?
Really amazing to be a two-time Main Event winner. They both mean a lot to me, and I would have to say Tunica was a little better. Though the Hammond one was my first real big final table, and it had some really sick players there. To come out on top in that one, being my first really big payday, that really was awesome.
This year in Tunica, you returned to the final table in the Main Event after finishing in eighth place the year before. What was it like making back-to-back final tables and having the chance to redeem yourself?
Making back-to-back final tables in this event and having the chance to redeem myself meant a lot. I really messed the one up from the year before pretty badly and caught a lot of grief about it from people. So having the chance to redeem myself and actually doing it meant the world to me.
You're now one ring behind tying all-time ring winner Mark "Pegasus" Smith. Does catching him appeal to you? What would it mean to you to join him or even pass him?
Of course I would love to tie and/or pass him. I've been close to Mark since I started playing — a super nice guy and a really good player. No matter how nice he is, I still would like to pass him!
What would you rather accomplish: pass Mark "Pegasus" Smith as the all-time WSOP Circuit ring winner or capture a WSOP bracelet?
I'll be honest, my goal is both. I really feel like this summer is going to be a really big summer for me, and I really hope I get an opportunity to play for a bracelet. I will still play ring events, and continue to try to get more rings, but as of now, I have bracelets on my mind.
You're qualified for this year's National Championship. You also played it last year. Did you learn anything from the inaugural event that you think will help you in this year's tournament?
Well, this year the event is completely different, structure, players, everything. So really I'll just be going into this event just as I would any other tourney.
There will be quite a few pros in this year's revamped National Championship. Are there any players you'd like to play against?
I'd like to play with all of them if I could. I think playing four- to five-handed with Phil Ivey would be the nuts though.
What's your favorite stop on the WSOP Circuit and why?
I bricked in West Palm Beach, but that was the best trip. It was fresh off my win in Tunica. My boy Aaron Massey went with me and roomed with me, and we just had a great vacation. We had such a good time on that trip, maybe next year it will be the same amount of fun with a cash or a win!
What's next for you as far as poker goes?
Next is the Circuit stop in New Orleans, and this year will be my first pretty full schedule for bracelet events at the WSOP. I'm going out the whole time from May 27 through the Main Event. Really hoping to have a big summer.
Get all the latest PokerNews updates on your social media outlets. Follow us on Twitter and like us on Facebook now!