Four-Time WSOP Circuit Ring Winner Alex Masek on his Victories, Poker, and the 2012 WSOP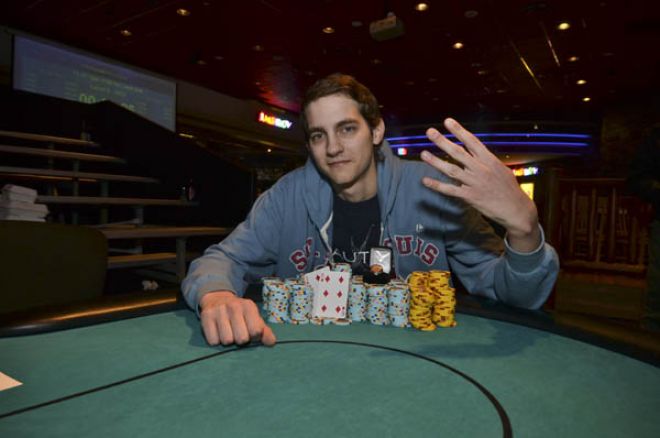 If you've followed the World Series of Poker Circuit over the last two years, you've no doubt heard of Alexandru Masek. In a short time, the 27-year-old law graduate from St. Louis has won an astounding four gold rings, just one behind all-time leader Mark "Pegasus" Smith.
What's more impressive, Masek won his first two rings while playing part time during law school. Now, Masek is turning his attention to poker full time and has high hopes of taking his game to the next level, which includes taking over the top spot on the WSOP Circuit, where he has 21 cashes totaling $247,649.
PokerNews caught up with Masek to learn a little more about his victories, how he got in the game, and his plans for the 2012 WSOP.
Tell us a little about yourself.
I grew up and went to college in St. Louis. I enjoyed my time there a lot and still go back several times a year. In 2008 I moved to San Diego for law school, and after graduating, I moved to Los Angeles late last year. Though I liked both St. Louis and San Diego, neither city has great year-round poker tournament action. I knew that if I wanted to really concentrate on tournament poker I'd have to live in a city like L.A., where there seems to be a good series going on basically every week.
How did you learn to play poker and when did you decided to pursue it more seriously?
I began playing in 2003 right as I was starting college. The poker boom in the U.S. began at the same time and it seemed like everyone at school was playing. I first started playing in games on campus freshman year and then shifted my focus to playing online, as well. Since then, I've been playing poker to some extent almost continuously. Although I realized I had a passion for the game from the beginning, I didn't really consider playing it full time until early last year. Due to the depressed job market and low opportunity cost of postponing a legal career, I figured this would be the best time for me to dedicate several years to truly concentrate on poker.
You went to law school in San Diego in 2008 and graduated in May 2011. Did you play poker during this time? Likewise, a lot of players left school to pursue the game, did this ever cross you mind?
I kept playing throughout law school but wasn't able to put in as many hours as I did while I lived in St. Louis. My poker playing mostly consisted of several live tournaments a month in L.A., as well as the WSOP Circuit in San Diego every spring. I never really considered leaving school to pursue the game because I wanted to finish my education and wasn't really sure whether I'd want to play poker full time. During the last semester of law school, I realized that my best opportunity to pursue the game would be right after graduation and decided that moving to L.A. would put me in the best position to do that.
You said you plan on playing poker full time for the next couple of years. What exactly are your plans and goals?
I'm going to play tournaments almost exclusively and will focus primarily on playing live. I haven't really played online this year but am hoping that regulation allows for online poker to return to close to the way it was before Black Friday because I'd love to be able to play online again seriously.
I find tournaments a lot more engaging than cash games and have never really had much fun playing cash. I'd like to avoid ever having the game feel like a grind, and I know that I'm much more interested and focused when I'm playing tournaments.
My goals within the game are to constantly look for ways to improve and to put myself in good position to close out tournaments by making as many deep runs as possible. I'd certainly love to win a bracelet or World Poker Tour Main, but given the variance in the game, I don't like having results-oriented goals. I just want to focus on playing my best every time I'm at the table and improving my game as much as I can away from it.
Outside of the game, my primary goal right now is to take and pass the California Bar Exam at the end of the summer. I've already spent a good amount of time preparing for it and will try to balance studying and playing poker for the next couple of months.
How often did you play online? What sites and games?
I played online pretty frequently while in St. Louis. I've mostly played tournaments the entire time, starting off with sit-n-go's and then switching to MTTs. The first couple of years in San Diego I didn't have as much time to play and generally stuck to live tournaments. Last year, I started playing online regularly again and was looking forward to playing a lot more after graduation. Unfortunately after Black Friday that option was no longer really there, so I've been playing mostly live tournaments over the last year.
Do you have any money trapped online? If so, how much?
I have a bit stuck on Full Tilt Poker. Fortunately it wasn't enough to affect my summer plans last year, but it's certainly an amount I'd like to get back. I wrote it off early last summer and haven't really relied on it to any extent. I haven't followed much of the Full Tilt news, but, hopefully, we get at least a portion of it back at some point.
What do your family and friends think of your poker success and plans to play full time?
My parents have always encouraged me to do whatever makes me happy, and they know how much I enjoy playing, so they've been supportive. They emphasized finishing my education before focusing on poker, which I'm grateful for because that's how you really get to keep your professional options open.
My friends are happy for me and have been very supportive, as well. My nonpoker friends are intrigued by the flexibility that playing poker affords, but I think they understand that success at the game takes dedication and hard work just like in any other field.
You have four WSOP Circuit rings — one behind all-time leader "Mark "Pegasus" Smith. Do you hope to catch and perhaps surpass him one day?
I'd certainly like to catch Pegasus. Mark is a great guy who always wishes me luck when we see each other on the Circuit, and I wish him the best both on and off the felt. At the same time, I'm pretty competitive, so I'd definitely like to catch, and, hopefully, surpass him. I also saw that at the WSOP Circuit in St. Louis a couple of weeks ago two more players won their fourth rings, Kurt Jewell and Kyle Cartwright, and I am happy for both of them. I think the competition will encourage all of us to travel and play more of these tournaments while hopefully bringing more exposure to the WSOP Circuit, as well.
What would you rather have, six WSOP Circuit rings to give you the record or WSOP bracelets and why?
That's a tough question. On one hand, the WSOP bracelet is historically the ultimate token of achievement for tournament players. On the other hand, there are plenty of players that have won a WSOP bracelet, but none that have won six circuit rings.
Winning six rings shows greater consistency over a longer period of time, but the Circuit fields are also significantly smaller than most WSOP tournaments in Vegas. In the end, I'd rather have a bracelet because they are much harder to win. In any single WSOP tournament at the Rio the field will be much bigger than in an average Circuit tournament. There are only 60 bracelet events each summer, yet close 200 Circuit ring events throughout the year. And with the bracelet, the prize money is also a lot higher!
Which of your four ring victories means the most to you and why?
Probably the last one, from Lake Tahoe in November. My opponent, Scott Stewart, is one of the toughest players I've ever played heads up at the end of a tournament and I had to focus very hard on not making any mistakes given that he was playing really creatively.
Heads-up play took a couple of hours, as it kept going back and forth, and I felt like either one of us could have won it. I had a good number of friends on the rail that day that were in Tahoe playing that circuit as well, so that aspect of it was certainly fun and I'm very appreciative of their support. It's also the tournament that made me realize I want to focus a bit more on the WSOP Circuit, as I've now traveled to five or six circuit stops this year after only playing at the San Diego stop last year.
What is your favorite stop on the Circuit and why?
The San Diego (Rincon) Circuit each spring. Some don't like it because it's almost an hour away from San Diego itself, but I like it because I get to see some of the San Diego people that I used to play with in the smaller card rooms while I lived there. I've had the most success at that stop as well, winning two rings there while in school, since it was the only Circuit I could play regularly while still focusing on my classes. I'm pretty sure it's the only stop that I've played multiple times, having played there each of the last four years.
What's you favorite memory from a Circuit stop, but one that didn't occur on the felt?
Well, I can't really think of a specific story that wouldn't be embarrassing to someone. I'll just say that in general, from what I've seen and heard, Matt Chang seems to have the best time on the Circuit.
You finished runner-up to Freddy Deeb in the WSOP Circuit Bicycle Casino Main Event. What was it like squaring off against a true poker legend?
Playing heads up against Freddy was great. He's one of the most accomplished tournament players ever and is undoubtedly very talented. I was very comfortable playing against him and feel like I played really well, yet it was also a great learning experience for me.
Although it ultimately came down to a big preflop coin flip that he ended up winning to knock me out, Freddy certainly outplayed me in some spots, opening my eyes to some adjustments I had to make in my own game to improve. It's also the biggest score I've ever had playing the game, so it solidified my bankroll and put me in good position to ride through the variance swings that will inevitably come when playing full time.
Do you play any games other than NLHE? If not, do you have any plans to add them to your arsenal?
I don't really play anything other than hold'em. Since I mainly play tournaments, I've focused on the game where the majority of tournament money is won, which is NLHE. I think if I played more cash games I'd spend some time trying to really learn the other games as that would likely be more profitable, but outside the WSOP every summer, all the major tournaments in the U.S. are NLHE. I'll likely focus more on some of the other games later on in the future, but won't concentrate much on them for now.
Will you be at this year's WSOP? If so, what events do you plan to play?
I plan on being in Vegas for a good part of the summer playing the WSOP. I've been traveling to play live tournaments for most of the last two months and am looking forward to just taking it easy at home in L.A. this month.
My primary focus for the next couple of weeks will be to continue preparing for the bar exam, and then to head to Vegas for most of June for the WSOP. I plan on coming back home at the end of June for a week or two to relax and finish studying before returning to Vegas for the Championship freeroll and the Main Event. In all, I think I'll probably play 15 to 20 WSOP tournaments this summer, after which I'll take the bar exam at the end of July.
Get all the latest PokerNews updates on your social media outlets. Follow us on Twitter and like us on Facebook now!
Executive Editor US, PokerNews Podcast co-host & 2013 WSOP Bracelet Winner.