The Nightly Turbo: Phil Ivey Hires New Pros, NBC Heads-Up Invitees, and More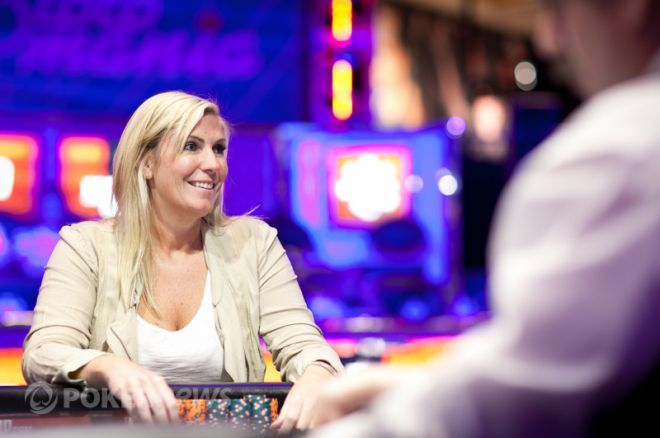 January is one of poker's most exciting months with the PokerStars Caribbean Adventure and Aussie Million Poker Championship running back-to-back. This month will also see the return of the NBC National Heads-Up Poker Championship, and the unofficial list of invitees has been leaking out to the poker community. We'll bring you that story, plus Phil Ivey's three new pros at IveyPoker.com, in this edition of the Nightly Turbo.
In Case You Missed It:
Patrick Kelly led the way after Day 3 of the 2013 PokerStars Caribbean Adventure Main Event. Read about all of the highlights in our PCA Main Event recap.
The International Stadiums Poker Tour introduced some major changes to its structure this week. Take a look at the new format in the article here at PokerNews.com.
The World Series of Poker Circuit Bicycle Casino Main Event kicks off Saturday. Chad Holloway takes a look at the winners from the preliminary events leading up to the Main Event.
It's Friday, which means we're only one day away from the NFL's Divisional Round. Rich Ryan offers his picks for each game in the Pigskin Diaries.
#TeamIvey Gets Stronger
The yet-to-be-launched IveyPoker.com added three more pros to its ever-expanding roster this week, signing Jackie Glazier, Griffin "Flush_Entity" Benger and Christian "charder30" Harder to represent the site. The additions bring the number of IveyPoker pros to 21 before the site has even gotten off the ground.
Glazier is one of the most respected and admired Australian poker players. She has almost doubled her total tournament cashes in each of the last four years. A second-place finish at the 2012 World Series of Poker added $458,996 to her bankroll, bringing her live tournament winnings to nearly $1 million.
Benger has almost $4 million in online cashes and won more than 100 tournaments on the virtual felt. He was formerly ranked No. 1 online tournament player in the world by PocketFives.com.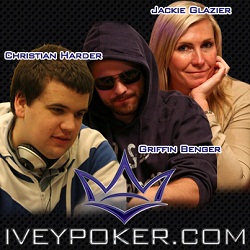 Last but certainly not least, Harder has established himself both online and in live, cashing for a combined $4 million with deep runs at the World Series of Poker, World Poker Tour and European Poker Tour. His biggest score of $571,965 came at the $25,000 buy-in WTP Championship Event in 2009.
The three new pros join the likes of Patrik Antonius, Jen Harman, Greg Merson, Dan Shak and James Dempsey on the IveyPoker team.
Phil Ivey's new website is dedicated to teaching people how to play poker the "right way." Ivey and his team of pros and instructors will provide free, downloadable video instruction to the poker community. The site will also offer an interactive social poker game in the near future.
The site will be getting off the ground on Jan. 14, according to IveyPoker pro Jon Eames. To read more about the site, check out IveyPoker.com.
See You On NBC
The NBC National Heads-Up Poker Championship is less than two weeks away, and the list of confirmed participants is growing by the day.
While neither NBC nor Poker PROductions has unveiled an official list of 64 players just yet, several have announced intentions to play the $25,000 buy-in event after receiving an invite from the network.
Great visit to KC, with family for Xmas. Now heading home to Raleigh. Next poker trip might not be til NBC HU end of Jan.

— Greg Raymer (@FossilMan)
Skipping #PCA for the first time in 4 years. Making my live poker debut with the NBC HU this month. Gl to my friends in the Bahamas!

— Yevgeniy Timoshenko (@JovialGent)
Selling a package for 25k PCA + 25k Aussie High roller and 25k NBC Heads UP. If interested post in thread or reply here http://t.co/E1LDT0hr

— Faraz Jaka (@FarazJaka)
i will play NBC Heads up in Vegas this month. playing heads up very well right now

— Viktor Blom (@ViktorBlom)
Others reportedly confirmed for the event include Chris Moneymaker, Will Failla, Andy Frankenberger, Olivier Busquet, Dan "Jungleman" Cates, and reigning world champion Greg Merson.
After a one-year hiatus, the NBC National Heads-Up Poker Championship will run from Jan. 24 through 26 at Caesars Palace in Las Vegas. Stay tuned for the full 64-player roster, which is expected to be released soon.
Romanello's Multi-Prize Pool Poker a Success
Multi-Prize Pool Poker (MPP), a new poker format created by poker pro Roberto Romanello, made its debut at the Dusk Till Dawn poker club in Nottingham on Thursday. The inaugural event proved to be successful as 177 players generated a prize pool of £10,400 — more than double the £5,000 guarantee.
Romanello was joined by a cast of top players at the event, including Rupinder Bedi, Chris Sly, Ben Vinson, Waheed Ashraf, Robert Cowen, recent WPT National Dublin champion Simon Deadman, and high-stakes superstar Sam Trickett.
The first MPP tournament ever offered three buy-in options for players to choose from: £25, £50 or £100. The £25 entry was a guaranteed buy-in by default, so a player who bought into the £50 prize pool was entered into the £25 prize pool and had £25 invested into Prize Pool 2. Those who bought into the £100 prize pool saw £25 of their buy-in invested in Prize Pool 1, £25 into Prize Pool 2 and the remaining £50 invested into Prize Pool 3.
To help the tournament run smoothly, every player received an identity card after buying in to clearly show which prize pool he or she had bought into.
David Manning was a prime example of how the prize pool was distributed. He bought in for £100 but was unable to cash in Prize Pool 3, finishing 12th. Only nine spots paid; however, because he was also invested in Prize Pools 1 and 2, he was able to cash in those fields – finishing 14th in Prize Pool 1 and 19th in Prize Pool 2.
| Buy-in | Entrants | Prize pool | Places paid |
| --- | --- | --- | --- |
| £25+£6 | 177 | £4,425 | 24 |
| £50+£8 | 111 | £2,775 | 14 |
| £100+£10 | 64 | £3,200 | 9 |
In the end, Brian Sheppard took the top spot for the first-ever MPP poker event. Because he bought into the top prize pool, he won the first-place prize from the £100 buy-in, the £50 buy-in and the £25 buy-in, giving him a total cash prize of £3,040.31. Sheppard had to defeat Romanello heads-up to win the title, leaving Romanello with second-place money from each of the three prize pools.
Now that the first event has been deemed a success, an MPP tournament is scheduled to take place every Thursday at the Dusk Till Dawn poker club. Room officials said that higher buy-ins and a substantial guaranteed prize pool will be implemented in the "not too distant future."
Get a full recap of the first event at UK PokerNews.
MiniFTOPS Results
Full Tilt Poker's MiniFTOPS XXI continued Thursday with two more events on the 35-event schedule. To no one's surprise, the two events exceeded the guaranteed prize pools with a combined $56,230 up for grabs.
"SmellsFish" swept Event #10 ($22 Limit Hold'em Rush), beating out 1,718 players for the top prize of for $5,484. The other winner was "Luecsen", who earned $3,203 in Event #11, a $33 NLHE Shootout with 729 players. "Luecsen" defeated Ivan "Shepa777" Sheptytskyi heads-up after agreeing to a deal, denying Sheptytskyi his second MiniFTOPS title in this series.
Here's a complete look at the results:
Event #10: Hold'em Limit 6-Max Rush Multi-Entry ($25,000 Guaranteed)
| Buy-in | Entrants | Prize Pool |
| --- | --- | --- |
| $20+2 | 1,718 | $34,360 |
| Place | Player | Prize |
| --- | --- | --- |
| 1 | SmellsFish | $5,484.96* |
| 2 | mars1888 | $4,618.20* |
| 3 | BigSwarly | $4,276.50* |
| 4 | LittSirk | $2,302.12 |
| 5 | Gennadiy As | $1,649.28 |
| 6 | rettel1 | $1,116.70 |
| 7 | Babybeaver | $694.07 |
| 8 | SoulCrusher69 | $694.07 |
| 9 | Teriakiboy | $456.99 |
* Winnings reflect post-deal payout amounts.
Event #11: NL Hold'em, 3xShootout($15,000 Guaranteed)
| Buy-in | Entrants | Prize Pool |
| --- | --- | --- |
| $30+3 | 729 | $21,870 |
| Place | Player | Prize |
| --- | --- | --- |
| 1 | Luecsen | $3,203.91* |
| 2 | Ivan "Shepa777" Sheptytskyi | $3,696.79* |
| 3 | deanimus | $2,940.80* |
| 4 | onetimeeedealer | $1,640.25 |
| 5 | bachelor80 | $1,202.85 |
| 6 | collader | $874.80 |
| 7 | guitey | $612.36 |
| 8 | GetSome2512 | $415.53 |
| 9 | PokerGuruKuhn | $295.25 |
*Winnings reflect post-deal payout amounts.
The MiniFTOPS action resumed Friday with two more tournaments: Event #12 ($22 No-Limit Hold'em 6-Max) and Event #13 ($33 2-7 Triple Draw Limit 6-max). Be sure to stay tuned to PokerNews.com for all the results from each event, and play on Full Tilt Poker to claim your share of at least $3 million in this month's MiniFTOPS series!
Eliminating a Legend
Michael Phelps made an impressive run at the 2013 PokerStars Caribbean Adventure Main Event, but his tournament ended during the final level of Day 2. Eddy Sabat, who did the dirty work, spoke to PokerNews' Kristy Arnett about eliminating the greatest Olympian of all time.
Get all the latest PokerNews updates on your social media outlets. Follow us on Twitter and like us on Facebook today!