The Nightly Turbo: WSOP November Nine Taxes, Sam Trickett is King, & More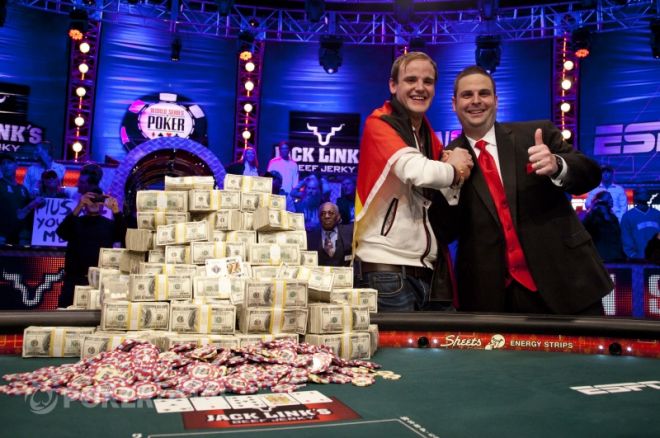 This just in: Pius Heinz and Sam Trickett have heaps of money. Okay, that's not breaking news, but both players saw their bankrolls grow considerably in the past week. We explain why in this edition of the Nightly Turbo.
In Case You Missed It
Aaron Kanter took fourth place in the 2005 WSOP Main Event. What has he been up to lately? We caught up with Kanter to find out in the latest edition of Where Are They Now.
How did Team PokerStars Pro member Bertrand "Elky" Grospellier become the player he is today? Find out in the latest edition of the Seat Open With series.
How did the Sunday Majors play out on PokerStars? Who took home the biggest win? Find out in the Sunday Briefing.
We all know what poker players do on the felt, but what about "normal" life? In the latest from the Off the Felt series, we talk to Joe Sebok about prop bets, his charity work, and more.
No Tax on Heinz
Pius Heinz collected $8.7 million for winning the World Series of Poker Main Event last week. How much of that will be taxed by his native country of Germany? None, according to Russ Fox of Clayton Financial and Tax.
CNBC sports analyst Darren Rovell tweeted a story by Fox that breaks down the tax situation for each of the 2011 November Niners. Fox says that Heinz benefits from the U.S.-Germany Tax Treaty, under which gambling income earned is "exempt from U.S. taxation." And, since Germany considers gambling to be a use of after-tax money, Heinz will keep all of his $8,715,638 in winnings.
Not a bad deal, considering 2008 champ Peter Eastgate handed over a reported 73 percent of his winnings to his native Denmark. Of his $9.1 million score, Eastgate took home less than $3 million.
A chart by Fox shows that $5.4 million of the $28.2 million awarded at the 2011 Main Event final table is considered taxable income. That's a total tax bite of 18.91 percent. Last year, the total tax bite at the final table was nearly 43 percent, but Fox notes that every player at the 2010 final table was subject to taxation.
For a closer look at the tax hits for each of the November Niners, check out taxabletalk.com.
Sam Trickett Wins Again
Move over Devilfish. There's a new king of poker in the United Kingdom.
Sam Trickett became Britain's all-time tournament money leader after winning the 2011 Partouche Poker Tour Main Event on Sunday. The 25-year-old pro collected €1,000,000 for the victory, moving him past Dave "Devilfish" Ulliott as the biggest winner in the country's history.
Trickett entered the final table as the chip leader and fought his way through a tough lineup that included Mads Wissing, Roger Hairabedian and WSOP bracelet winner Oleksii Kovalchuk. Trickett found himself heads-up with American Salman Behbehani for the title and overcame a two-to-one chip disadvantage to claim his second title of 2011. In January, Trickett won a High Roller Event at the Aussie Millions, and took second place in a Super High Roller event just five days later. His career earnings have now eclipsed $6 million, with more than $4.6 million coming this year alone.
Here's a look at the final results of the 2011 Partouche Poker Tour Main Event:
| Place | Player | Prize |
| --- | --- | --- |
| 1 | Sam Trickett | €1,000,000 |
| 2 | Salman Behbehani | €600,000 |
| 3 | Oleksii Kovalchuk | €379,760 |
| 4 | Ilan Boujenah | €300,000 |
| 5 | Roger Hairabedian | €230,000 |
| 6 | Mustapha Kanit | €190,000 |
| 7 | Alexander Dovzhenko | €160,000 |
| 8 | Alexander Coussy | €130,000 |
| 9 | Mads Wissing | €100,000 |
Read UK.PokerNews.com for more on Trickett's win.
Feldman, Dempsey Lead PartyPoker Premier League
It turned out to be a great weekend at the tables for the U.K. The PartyPoker Premier League Mixed Game Championships kicked off Sunday at the Playboy Club London and a pair of British pros all but secured spots in the final after victories in their first heat.
James Dempsey and Andrew Feldman earned 16 points by winning their first tables as both players used their "double up" card, which doubles a player's points and can be used once during the three heats. Tony G, Luke Schwartz, Ben Carpenter and Sorel Mizzi also used their double up cards in the first heat, but none were able to place in the top two at their respective tables.
Matt Giannetti and Andy Frankenberger collected six points each for their runner-up finishes in Heat 1. Schwartz collected four points and sits in third behind Dempsey and Giannetti in Group A, and Carpenter is third in Group B with four points of his own. The top three in each group will reach the final for a shot at the $100,000 top prize.
Jennifer Tilly, playing in her first PartyPoker Premier League, scored zero points in Heat 1. Tilly told Craig Ferguson last week that she wants to quit playing poker, but she spoke with the PartyPoker Blog about those comments during a break in play on Sunday:
Follow all the action of the Premier League Mixed Game Championships at PartyPoker.com.
Aussie Banks Opposed to Online Gambling Boundaries
The Australian Bankers' Association has informed the Australian government that a recent bill intended to clamp down on forbidden Internet gambling sites would be extremely difficult to enforce. The ABA and credit card company Visa stated they don't want restrictions placed on Internet gambling because it could interfere with unrelated transactions such as online shopping.
''(If) Australia was identified as a jurisdiction where payment obligations may not be fulfilled in a certain and timely manner, it is possible that merchants and online service providers will refuse to accept business and payments from customers designated as originating from Australia,'' ABA CEO Steven Munchenberg told the Sydney Morning Herald.
The bill, introduced by Senator Nick Xenophon, is meant to have a similar effect to the Unlawful Internet Gambling Enforcement Act (UIGEA) in the United States. Under Australia's current Interactive Gambling Act, it is illegal for online gambling operators to accept payments from Australian players. However, it is estimated Australians spent nearly $1 billion last year on illegal online casino, poker and bingo sites.
More on this story can be found at the Sydney Morning Herald.
Judicial Bias Alleged in Phil Ivey Divorce Case
The drama surrounding the world's greatest poker player added a new chapter this week. According to the Las Vegas Review-Journal, Phil Ivey's ex-wife has reportedly filed a petition with the Nevada Supreme Court claiming that there may have been bias involved in the original judgment of the couple's 2009 divorce.
Luciaetta Ivey claims that a $5,000 contribution was made by Ivey to Family Court Judge Bill Gonzalez three months after the divorce was finalized. The petition says that Ivey didn't make any other contribution to another Family Court Judge, and Luciaetta told the Review-Journal that she was "blindsided" when she discovered the donations.
Read more about the story here at PokerNews.com.
Nevada to Take Applications in February for Internet Poker Licenses
Nevada poker players received good news last week as a source told VegasInc.com that Nevada's Gaming Control Board will begin accepting applications in February from companies seeking licenses to operate online poker sites.
Gaming Control Board chairman Mark Lipparelli told industry professionals attending U.S. Online Gaming Law conference at Aria last Thursday that the license process would be quicker for companies already holding licenses in Nevada, and that operators would only be permitted to allow games to residents within the state border. Any online site would be off-limits to U.S. residents outside of Nevada.
Said Lipparelli, "We've taken our brick-and-mortar operational standards to a new level. We're going to continue to be flexible, but we think we've set the bar high for licensing and suitability."
Read more at PokerNews.com.
World Poker Tour Season X to Feature Eight Main Events in 2012
Season X of the World Poker Tour is nearing the midway point, and there will be no shortage of WPT stops around the globe in 2012. The tour will be hosting eight Main Events next year, both domestic and international, culminating with the WPT World Championship in May.
The WPT will be hosting a new event in Dublin, Ireland, in January, followed by a return visit to Venice, Italy in February. The last of European stops will be in Vienna, Austria, in March. Last year, the series in Vienna set the record for the largest field at the WPT Main Event in Europe.
Season X will also include its regular trip to California for the Los Angeles Poker Classic and Bay 101 Shooting Star events. The WPT then travels to Florida for the second-ever Seminole Hard Rock Poker Showdown and the debut WPT tournament in the brand new Jacksonville Poker Room.
A full list of the 2012 WPT schedule can be found at PokerNews.com.
Are you following PokerNews on Twitter? Like us on Facebook while you're at it, and sign up for the newsletter. You know you want to.