The Nightly Turbo: Raymer Testifies in Court, Gold Medalist Joins PokerStars, & More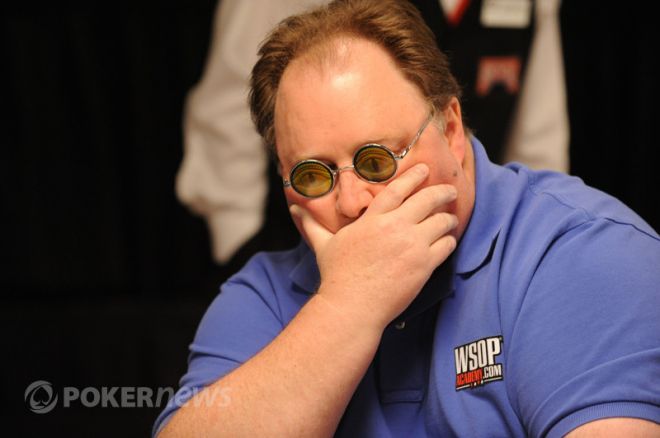 Is Kim Jong-Il a feared poker player? Which two-time Olympic gold medalist is the newest member of Team PokerStars? We tackle those questions and more in this edition of the Nightly Turbo.
In Case You Missed It
Pius Heinz is poker's new world champion. How is he feeling after Tuesday night's marathon finale? PokerNews caught up with Heinz to find out.
Randal Flowers has two titles on the World Poker Tour, so he knows a thing or two about no-limit hold'em. Flowers discussed bluffing preflop in the latest Strategy with Kristy podcast.
Thinking about moving out of the United States to continue playing online poker? PokerNews' Chad Holloway spoke with Shaun Deeb and Jonathan Aguiar about Playa del Carmen, Mexico, and what it has to offer poker players.
The Global Poker Index released its rankings as of Nov. 7. Erik Seidel hung on to the top spot, but Bertrand "ElkY" Grospellier is gaining ground.
Greg Raymer Testifies in Poker Case
According to an article in The Virginian-Pilot, 2004 World Series of Poker Main Event champ Greg Raymer was in a circuit courtroom on Tuesday as the star witness in a court challenge that sought to make poker halls legal in Virginia.
Raymer was called on by the Poker Players Alliance to help prove the case of Charles Daniels, whose poker hall in Portsmouth was closed down in 2010 by Portsmouth's commonwealth attorney Earle C. Mobley.
In front of Judge Thomas Shadrick, Raymer made a 15-minute demonstration showing that poker requires a high degree of skill. As such, Daniels' attorneys argued that poker didn't fall under the state's illegal gambling laws in which an outcome is "uncertain or a matter of chance."
Unfortunately for Daniels, Judge Shadrick was unmoved by his team's testimony and ruled in favor of Mobley. According to the article, Shadrick "conceded that poker involves skill, but the evidence also showed that, while better players will win more over time, the outcome of each hand is still uncertain." After the ruling, Daniels said he hadn't decided whether to appeal.
Get the full story at The Virginian-Pilot.
Gold Medalist Joins PokerStars
Pius Heinz isn't the only world champion to join Team PokerStars this month. Sweden's Marcus Hellner, a two-time Olympic gold medalist in cross-country skiing, was announced as the newest member of Team PokerStars SportStars on Thursday. Hellner will represent PokerStars at live events and play on the site under the screen name "M.Hellner."
At the 2010 Winter Olympics in Vancouver, Hellner won gold in the 30km Cross-Country Pursuit event and the 4x10km Relay event. His dominance in the sport continued this year when he won gold in the Men's Sprint event at the Nordic World Ski Championships.
Hellner took his first crack at the 2010 World Series of Poker where he competed in a three-part challenge against fellow Olympic cross-country skier Peter Northug. The two men battled it out in a head-up-hold'em match, a last-longer in the WSOP Main Event, and a roller-ski race outside the Palms Hotel in Las Vegas. We even captured the race on video:
Hellner joins the likes of tennis star Boris Becker, field hockey player Fatima Moreira de Melo, and race car driver Gualter Salles as members of Team PokerStars SportStar.
Read more about Hellner at PokerStars.com.
New CEO at Betfair
Betfair's search for a new chief executive is officially over. The online betting group announced Thursday that Paddy Power COO Breon Corcoran has resigned from his post in order take over as the CEO of Betfair in August next year.
Corcoran, 40, helped found Paddy Power 10 years ago and played an integral role in the company's transition to online gambling. He was appointed to COO in August 2010 after spending the rest of his time there leading its non-retail and development divisions.
Corcoran will replace current Betfair CEO David Yu, who informed the company this summer that he will not renew his contract that expires next October. Yu has spent six years at the CEO at the company but has watched the company's stock take a nosedive since it was listed in October.
"Betfair's unique technology provides the company with a fantastic position in the online gaming industry and I believe it has a bright future ahead of it," Corcoran said in a statement.
"I am very pleased to have the opportunity to lead the company and look forward to working closely with the Betfair team to grow the business further."
The press release from Betfair can be found at Reuters.com.
Who Will Be at the PartyPoker.com Premier League?
PartyPoker.com and Matchroom Sport have announced the 12-player lineup for the upcoming PartyPoker.com Premier League Poker Mixed Game Championship. The $25,000 buy-in invitation-only event will take place from Nov. 13 through Nov. 17 at the Playboy Club London in Mayfair. Sky Sports will broadcast the show in the U.K., and the shows will then be distributed internationally.
The 12 players will be tested in three disciplines of poker — no-limit hold'em, pot-limit hold'em and pot-limit Omaha — and divided into two groups as follows:
| Group A | Group B |
| --- | --- |
| Tony G | Mike Sexton |
| Max Pescatori | Ben Carpenter |
| Luke Schwartz | Andrew Feldman |
| Matt Giannetti | Sorel Mizzi |
| Jennifer Tilly | Yevgeniy Timoshenko |
| James Dempsey | Andy Frankenberger |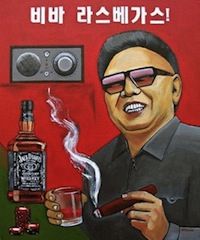 Read more about the PartyPoker.com Premier League Poker Mixed Game Championship right here at PokerNews.com.
Kim Jong-Il: Poker Shark?
Political artist Nadia Khuzika painted a unique piece that caught our eye this week. The painting is of North Korea's Supreme Leader Kim Jong-Il enjoying the finer things in life, holding a cigar and a glass of whiskey in front of a poker table. The text (written in Korean) reads "Viva Las Vegas."
We'll let the artist explain: "This propaganda painting represents the real Kim Jong-Il the rest of the world doesn't get to see in the news. He might be fighting imperialist America, but he still craves some of the more wholesome aspects of American culture such as Elvis and the fine Tennessee whiskey of Jack Daniel's."
Khuzika's boyfriend, whom she says is a professional poker player, posed for the picture pretending to be Kim Jong-Il. She writes that she's also heard rumors that Kim Jong-Il is a very good poker player.
If you like this piece, more of Nadia's work can be found at www.nadiakhuzina.com.
Meet the Hall of Famers
Barry Greenstein and Linda Johnson were inducted into the Poker Hall of Fame on Tuesday. PokerNews' Kristy Arnett spoke with both after the ceremony.
Are you following PokerNews on Twitter? Like us on Facebook while you're at it, and sign up for the newsletter. You know you want to.