The Nightly Turbo: FTOPS XXII Schedule, Greenstein Suspects Open-Face Chinese Cheating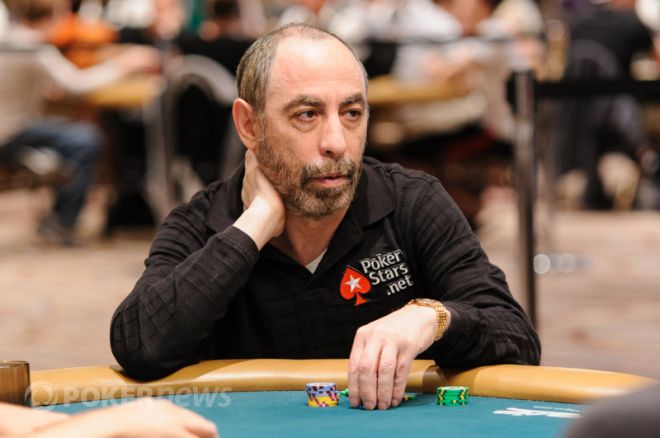 Miss any of the day's top poker stories? You've come to the right place. In this edition of the Nightly Turbo, we're bringing you Barry Greenstein allegedly being cheated at Open-Face Chinese poker, the schedule for Full Tilt Poker's FTOPS XXII series, and more.
In Case You Missed It:
Did you miss the announcement of the 2013 World Series of Poker schedule on Thursday? You can find it right here at PokerNews.com.
How was the high-stakes action at the online tables this week? Read the Online Railbird Report to find out the week's biggest winners and losers.
Need a pick for your fantasy poker team this week? Mickey Doft lends his advice and breaks down the biggest movers and shakers in this week's Global Poker Index rankings.
On Thursday, the Global Poker Index suspended two players from its ranking system because of alleged collusion. Rich Ryan explains why he thinks that was the wrong decision.
Stealing from the "Robin Hood" of Poker?
Open-Face Chinese Poker has become the latest craze in the poker community. The game continues to grow in popularity by the day, sparked greatly by the constant Twitter interchange between many of poker's most renowned professionals. But a recent finding by Team PokerStars Pro Barry Greenstein could put a slight damper on the mobile-based versions of the game.
On Friday, in his latest entry at the PokerStars Blog, Greenstein pointed out a major flaw in a popular iPad app, "Chinese Open Face Poker Pass N' Play," which allows players to select which cards they receive at any point in the game. Although the app itself is free to play, a lot of money is being exchanged on the side between players. Greenstein became wary of the app after allegedly being hustled by an unnamed player.
Greenstein's suspicion began when, after beating his opponent out of about 100 points at $50 per point, the stakes were doubled. From there, he realized something was wrong — that perhaps his opponent could have been cheating.
"It seemed like after being in trouble he kept getting saved on the river over and over and over," Greenstein wrote. "I decided I wanted to start keeping track of when he needed to get outs in these situations. When he had to get an out on the river to beat me, I wanted to see what his percentage was."
Greenstein found that his opponent was saved on the river seven out of 14 times. It was enough to force Greenstein to quit and seek out the advice of his nephew, a computer programmer, to figure out if cheating was possible.
The verdict: Yes.
"My nephew downloaded the app and once he had a chance to start looking at it he called me back within 30 minutes," Greenstein said. "He said anyone who's a programmer who knows how to hook up an iPad to another computer could easily cheat using the app.
"He said he could see all the cards and do whatever he wanted. I asked him if he could give me a demo, and we played a game and he sent me three kings on top, a flush in the middle, and a straight flush in the back. He explained that anyone who was a programmer or who had a friend who was a programmer could cheat me at the game, no problem."
Greenstein's blog quickly generated discussion among poker players on Friday. In response, the creators of "Chinese Open Face Poker Pass N' Play" went to work to fix the issue.
The current update that is waiting for review in the App Store addresses the security issue Barry Greenstein mentions in his latest blog

— ChineseOpenFacePoker (@ChineseOpenFace)
To read Greenstein's full blog entry, check out the PokerStars Blog.
Dr. Jerry Buss Battling Cancer
Los Angeles Lakers owner and high-stakes poker enthusiast Dr. Jerry Buss has been hospitalized with an undisclosed form of cancer, the Los Angeles Times reported on Thursday.
Buss was taken to the intensive care unit at Cedars-Sinai Medical Center in Los Angeles this week. Jim Buss, Jerry's son, told the LA Times that his father was "doing fine" on Thursday. However, Radar Online reported that Lakers players have been "calling Buss with well-wishes and even stopping by to see him in what they expect to be his final days." Kobe Bryant, Shaquille O'Neal and Kareem Abdul-Jabbar were among the players who visited Buss at the hospital.
Buss, 79, made regular appearances on televised poker shows and even skipped Lakers games many summers to play in the World Series of Poker. He admitted on the PokerNews Podcast in 2011 that he's never been a "premier" poker player, but he did put together some nice results through the years, including a third-place finish at the 1991 WSOP $2,500 Seven-Card Stud event, and a runner-up result at the 2003 World Poker Tour Celebrity Invitational.
Several poker players have sent thoughts and prayers to Buss via Twitter:
My thoughts and prayers go out to Dr. Jerry Buss and the entire Buss family during this time as he is currently in the ICU and very ill.

— Maria Ho (@MariaHo)
Lakers Owner Jerry Buss is being hospitalized & is in grave condition http://t.co/KoIpGrUE - Pray for Dr. Buss #PrayforDrBuss

— Allen Kessler (@AllenKessler)
@AllenKessler all of my best wishes to him and his family. He has always been amazingly nice to me!

— jason stern (@Gamble24x7)
Read more at the LA Times.
$7 Million Sunday at PokerStars
PokerStars is set to celebrate the seventh anniversary of the Sunday Million on March 3, 2013, and for that day only the site has increased the guaranteed prize pool from $1 million to $7 million, with $1 million going to the champion.
The event will kick off at 14:30 ET with the usual buy-in of $215. Players can also qualify for a seat through a variety of satellites, including a 1,000-seat guaranteed satellite starting Feb. 24, with feeder satellites starting at just $1.
"I remember playing in previous Sunday Million Anniversary tournaments well," said Team PokerStars Pro Lex Veldhuis. "The gigantic prize pools make them so memorable and I'm sure this one will be no different with $1 million for the winner! I'm going to stock up on food and drink so I'm ready to grind this one! It's so big that it's like playing an EPT online."
Last year's Sixth Anniversary Sunday Million celebration attracted 33,732 players, with the top prize of $480,761 going to "slyfox151" after an eight-way deal at the final table.
The biggest Sunday Million ever was in December 2011 for PokerStars' 10th Anniversary. The tournament saw 62,116 players create a record prize pool of $12,423,200, with first place and $1,146,574 eventually going to Kyle "First-Eagle" Weir.
For more information on satellite details, check out PokerStars.com.
DeepStacks Heads to Aruba
In May, the DeepStacks Poker Tour will make its first trip outside the U.S. for the 2013 DeepStacks Poker Tour Players Poker Championship at Aruba. The $2,500 Main Event will run from May 6 through 9 and boasts a $200,000 guarantee.
If you've never played poker in Aruba before, you won't want to miss this trip. Check out some of the sights and scenes of the Westin Resort:
Get all the latest PokerNews updates on your social media outlets. Follow us on Twitter and like us on Facebook today!