SkillBet Poker Has the "S" Factor
Skillbet.com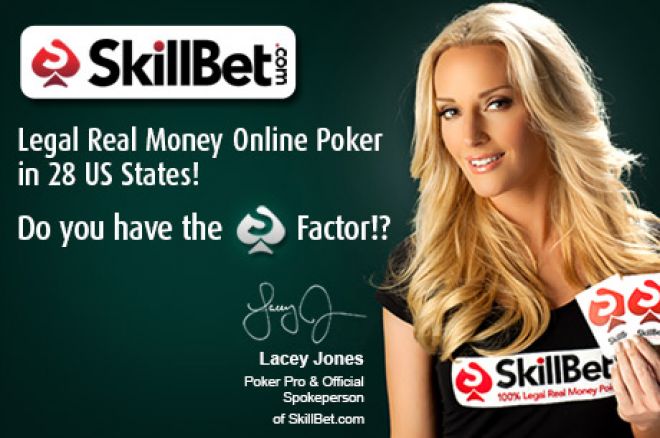 *Sponsored
You've heard of the "X" factor. That special something that makes a person stand out in a the crowd. It's what gives that person star quality. When it comes to poker, SkillBet has the "S" factor.
What is the "S" factor? Well, it's not easy to define in one or two words. Actually, we need five words: success, satisfaction, security, speed and skill. Pretty much everything we do at SkillBet is designed with those factors in mind.
SUCCESS
SkillBet offers exciting promotions, bonuses and incentives for players to build up their bankrolls. Players can challenge their friends to 30 free hands of SkillBet Poker and the winner gets $10 free. There is no deposit necessary, and you can challenge as many friends as you'd like through email, Facebook and Twitter. If they deposit, you receive an additional $15 bonus!
If that's not enough, SkillBet offers a 200% match sign-up bonus (up to $1,000).
SATISFACTION
A customer service representative is available 24/7 via live chat to answer your questions.
SECURITY
SkillBet.com is 100% legal in 28 U.S. states and offers players the assurance that their money is safe and secure, just like their peace of mind. SkillBet players can deposit safely and easily with any credit card or by using Dwolla.
SPEED
Withdrawals are processed on the same day! Need we say more?
SKILL
In SkillBet Poker, you and your opponent are dealt the same hand at identical tables versus the same computer opponents. For example, you and your opponent are both dealt pocket aces, and you win $10 from the computer players and your opponent wins $5. You would win the difference between your winnings and your opponent's, which is $5. Because you played the hand more skillfully, you are rewarded. It's as simple as that!
Do you want to be a part of the "S" factor? Try out your skills at SkillBet.com today!