WPT on FSN Parx Open Poker Classic Part III: Gregg Adds Name to WPT Champions Cup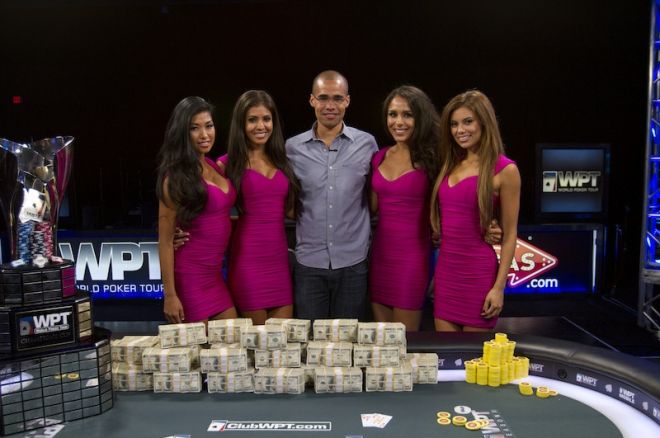 Three weeks ago, Season XI of the World Poker Tour kicked off on Fox Sports Network with Part I of the Parx Open Poker Classic, a $3,300 Main Event that attracted 500 entries in August 2012. The early stages of the tournament were highlighted in the first broadcast, along with the first elimination of the final table—Andre Nyffeler—but it wasn't until Part II that action really heated up when both Chris Vandeursen and Larry Sharp were sent to the rail in fifth and fourth places for $76,824 and $108,034, respectively.
Here's how things stacked up at the top of the broadcast this week:
WPT Parx Open Poker Classic Final Table
| Seat | Player | Chips |
| --- | --- | --- |
| 1 | Stephen Reynolds | 7,085,000 (118 BB) |
| 2 | -empty- | N/A |
| 3 | Chris "Genius28" Lee | 2,615,000 (43 BB) |
| 4 | Anthony Gregg | 5,170,000 (86 BB) |
| 5 | -empty- | N/A |
| 6 | -empty- | N/A |
Pocket Rockets on the First Hand: Action recommenced at the 30,000/60,000/10,000 level, and on the very first hand Anthony Gregg looked down at
on the button and opened for 125,000. Chris "Genius28" Lee then three-bet to 330,000 with
from the big blind, and it was no surprise to see Gregg four-bet to 585,000. Lee thought better of it and released his hand. The first pot went to the 25-year-old Gregg, who would have been just 14 when the first-ever WPT event took place more than a decade ago.
Liberty Belle: This week's installment of Ones to Watch featured local east coast grinder Amanda Musumeci, and kicked off with her peers unsuccessfully trying to pronounce her last name—it's "Moo-zoo-met-chi." The Philadelphia native was then shown wandering about the city and pointing out some of her favorite areas. "Some of my favorite places in Philly are on South Street. It has a lot of color and it's really fun," Musumeci said. "I love South Philadelphia with the Italian market. They have some really great food down there."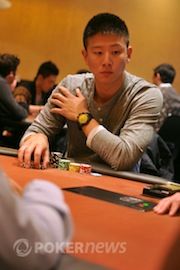 The feature went on to reveal that Musumeci, who has been tearing it up on the circuit the past year, travels from stop to stop in her car alongside her "Circuit" cat, one she had adopted from a Las Vegas animal shelter. "You've gotta be a special personality to just live out of a suitcase and say just bring it on," said an impressed Jason Koon, who is also one of the WPT's Ones to Watch this season.
Genius28 Sent Back to the Virtual Felt: On Hand #129 of the final table, which happened in Level 29 with the blinds at 40,000/80,000/10,000, Stephen Reynolds, who was playing in his first-ever WPT event, looked down at the
and opened for 160,000. Chris "Genius28" Lee then three-bet to 370,000 from the small blind with the
, Reynolds moved all in, and the online high-stakes cash game regular quickly called off. Lee's kicker had him in dire straits, and according to the PokerNews Odds Calculator he had just a 26.77% chance of surviving the hand. That dropped to just 3.54% on the
flop after Reynolds paired his queen and became a commanding 96.46% favorite. The
turn left Lee drawing dead, and after the
was put out on the river, he shook hands with his opponent and exited in third place for $158,450.
"You know, I'm definitely bummed out," a dejected Lee told WPT sideline reporter Matt Savage after the hand. "I'm happy to finish in third, but obviously when you get this close you want to get all the way."
Michael Phelps Chimes In: "There were two players particularly I didn't want to play heads up, and I managed to find one of them," a seemingly unconfident Reynolds said before heads-up play, which he began with a 9.69-million-to-5.18-million chip lead. I guess I'd be a bit intimidated too if my opponent was receiving good-luck tweets from the greatest Olympian in history, which is exactly what Gregg got when his friend, Michael Phelps, tweeted: "Glgl kid."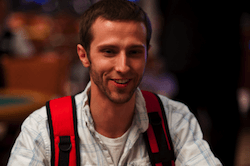 Reynolds Gets Some Back: According to the WPT Blog, heads-up play began on Hand #130 of the final table, and over the course of the first 42 hands Gregg pulled within 600,000 of Reynolds. Then, on Hand #173, Reynolds opened for 250,000 after looking down at the
and then called when Gregg three-bet to 645,000 with the
. The
flop was gin for Reynolds as it gave him the lead with a pair of queens, and he fired out 750,000 after Gregg checked. Gregg called, and both players checked the
turn. The
completed the board on the river. Gregg checked for a third time and looked pained when Reynolds bet 1.315 million. "What do you have?" a confused Gregg asked before making the call. Unfortunately for him it was the wrong call and he dropped to more than a 2-to-1 chip deficit.
Doing Good in the Community: It's always nice to see poker give back to the community, and that's exactly what the WPT Foundation has been doing since its establishment last year. In a recent interview with PokerNews, WPT President Adam Pliska revealed that the Season XI broadcast would highlight these various contributions, and in the Parx Open Poker Classic it involved the nearby Bensalem Emergency Service. Mike Sexton, Vince Van Patten and the Royal Flush Girls visited with local paramedics and firefighters who were bolstered by a contribution from the WPT and Parx Casino.
Gregg All In and At Risk: After holding the chip lead for another 30 hands or so, which wasn't exactly clear on the broadcast, Anthony Gregg limped on Hand #202 at the 75,000/150,000/25,000 level and then snap-called off his stack of 3.1 million holding the
after Stephen Reynolds had moved all in with the
. Reynolds was chatty with the crowd and Gregg preflop, but he was shut up when the flop fell
. He then began shouting for the
, but the instead
turn fell on the turn. Reynolds scratched his head and watched as the
river gave Gregg a double-up. By Hand #208, Gregg had taken over the chip lead.
On Hand #228 (125,000/250,000/25,000), Anthony Gregg limped holding the
and then called when Stephen Reynolds, who held the
, moved all in for 3.395 million. The crowd was uncharacteristically quiet, and Mike Sexton seemed surprised by Gregg's call. Nonetheless, it proved wise when the flop came down
. "Ace bomb," Reynolds begged. The dealer did not oblige and instead put out the
. Reynolds needed to hit a three-outer to stay alive but couldn't do it as the
blanked. The two combatants shook hands and then headed for their respective rails, one for consolation and one for celebration.
"It's definitely digging already and I know it'll burn its way in for the next nine months to a year," Reynolds told Matt Savage after the hand and before making his way to the payout desk to collect $244,877.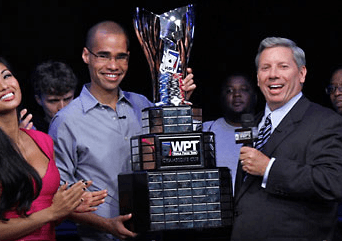 Meanwhile, Gregg joined Sexton, Vince Van Patten and the Royal Flush Girls for the Champions Cup presentation. "It feels pretty awesome," Gregg said. "I've been meaning to win a live tournament for a really long time. It's nice to finally get the monkey off my back." Indeed, and we're sure the $416,127 first-place prize and seat into the $25,000 WPT World Championship made it all the sweeter.
Tune in Next Week: The first part of the Legends of Poker is set to air on Sunday, March 17 on FSN, so be sure to check your local listings. If by chance you miss it, check back next week for the latest recap of all the action here on PokerNews.
*Pictures of Anthony Gregg courtesy of World Poker Tour.
Get all the latest PokerNews updates on your social media outlets. Follow us on Twitter and find us both Facebook and Google+!