Audio Tapes Expose Ultimate Bet Cheating Scandal; Phil Hellmuth Responds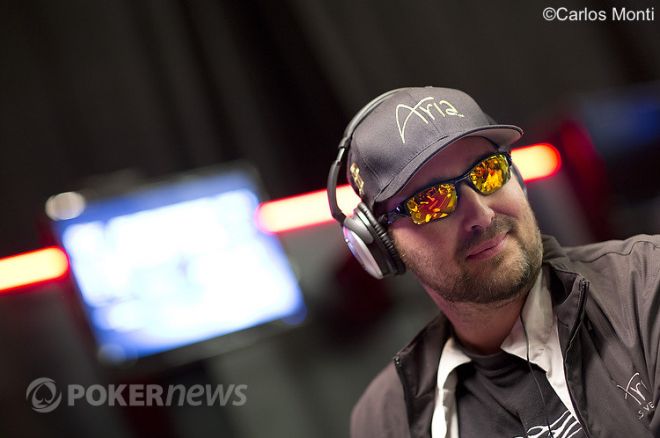 It's been more than five years since the Ultimate Bet/Absolute Poker superuser scandal stunned the online poker world, and details are still emerging. On Friday, incriminating evidence released by a former employee implicated former Ultimate Bet owner Russ Hamilton and others in the theft of more than $50 million from its customers.
Travis Makar, Hamilton's former assistant, disclosed a three-hour audio tape of a 2008 meeting during which Hamilton admits to cheating and taking money from players. Hamilton has been the primary face of the scandal for years, and it appears as if he recorded the meeting to protect himself from being the only person tied to the cheating and cover-up.
Also present at the recorded gathering were Ultimate Bet founder and CEO Greg Pierson, and Ultimate Bet attorneys Daniel Friedberg and Sanford Millar. The men began the meeting by discussing the "God Mode" software designed to view opponents' hole cards during real-money games. Hamilton admitted to stealing between $16 and $18 million from players using the program, saying, "I did take this money, and I'm not trying to make it right."
Hamilton also named some of the players greatly affected by the scandal. Among the high-profile pros who had money stolen were Mike Matusow, Prahlad Friedman, Robert Williamson III, as well as actor and poker enthusiast Ben Affleck. In an interview with the Hardcore Poker Show in 2009, Matusow said Hamilton would call him to play heads-up on Ultimate Bet and proceeded to take more than $1 million from him over several sessions. Matusow recouped some of that money back from company, but the losses were most damaging to his mental and emotional health.
Here are some of the audio highlights (or lowlights) of the meeting leaked by Makar on Friday:
The full version of the audio can be found here.
Phil Hellmuth and Annie Duke, former endorsers and sponsored players for Ultimate Bet for many years, were also mentioned during the recording. While Hamilton and the others discussed keeping Hellmuth in the dark about the "God Mode" program, Hamilton pointed out that Duke was aware of it and even used the software herself on a 15-minute delay.
PokerNews was unable to reach Duke for comment, but she responded to Hamilton's comments in a statement on her Twitter page. Upon hearing about the release of the audio tapes, Hellmuth issued the following statement through his agent, Brian Balsbaugh, to Kevin Mathers:
I've made a living off of reading people at the poker table and in the business world. Trusting my gut has allowed me to be at the top of my profession and develop a lifetime of friends and great experiences.

Unfortunately, I made a horrible read regarding my relationship with the founders of the now defunct online poker site Ultimate Bet.

I trusted their team and believed in their ability to run a first class website and business. Most importantly, I allowed them to convince me that they were honest and forthright. I've never been more wrong about anything in my life.

When I became aware of the cheating scandal, I immediately insisted that everyone be paid back and whoever was responsible be banished from the company. At the time, I was led to believe that if I left UB right away the business would be impacted and then less likely to pay it's obligations to the victims. As such, I made the decision to believe the leaders of UB and stayed on in the hopes that they would make right to anyone cheated.

Listening to the recently released audio tapes of the UB founders has brought this situation back into the forefront of my thoughts. To hear them discussing this situation and actively deciding to keep me in the dark disgusts and infuriates me. They lied to me about their activities and I made a big mistake in trusting them for way too long.

I should have said something about this long ago, but until I heard the voices on the tapes myself I never really knew how wrong and misled I really was. I empathize deeply with the players who were taken advantage of through UB. Whether it is this or Black Friday, too many of my fellow poker players have lost confidence and their financial savings simply by playing the game they love. I hope that in the near future we have a strong, regulated online poker environment in the US so that we can all get back to playing the game we love. In the meantime, I want to pass along my support to everyone affected negatively through UB and my apologies for my initial support of people who didn't deserve anyone's trust in the first place.
Hellmuth used to be close friends with Pierson, who is now the CEO of Iovation, a fraud-prevention company that has worked with many online gaming companies over the years. It was discovered last week that Iovation had a working relationship with newly launched Nevada online poker room Ultimate Poker. However, Ultimate Poker announced over the weekend that it has severed ties with Person and Iovation after it received many alarms from the poker community.
"As of late Thursday night, May 9th, Ultimate Poker discontinued the use of all services from Iovation," read a statement by a site representative at TwoPlusTwo.com. "We understand that there were concerns among some of our customers, we hope this makes our players feel more comfortable."
PokerNews will have more on this story as it develops. For news, updates, and more follow PokerNews on Twitter and Facebook.