Electric Daisy Carnival a Favorite of Many WSOP Poker Players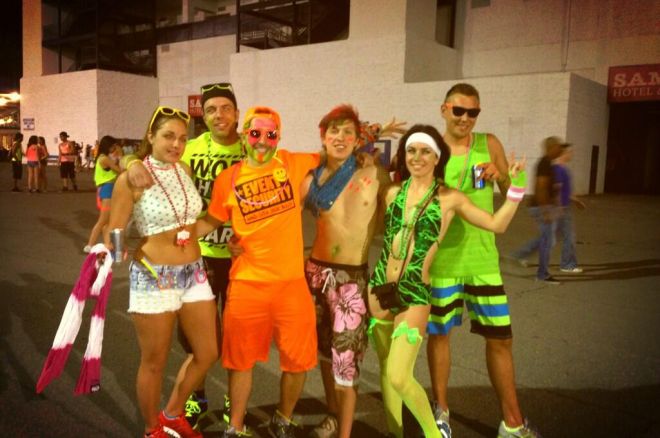 The 17th annual Electric Daisy Carnival officially came to a close early Monday morning. About 350,000 people attended the three-day event which took place at Las Vegas Motor Speedway for the third consecutive year. Among the attendees were poker players Liv Boeree, Xuan Liu, Darryl Fish, Sam Trickett, Sorel Mizzi, Justin Bonomo, Greg Merson, Faraz Jaka, and PokerNews' very own Kristy Arnett.
The festivities featured more than 75 dance music acts across seven stages from dusk till dawn. The lineup included Fedde Le Grand, Benny Benassi, Ferry Corsten, and Las Vegas resident deejays Calvin Harris and Tiësto.
Liv Boeree was a second-time attendee this year. Last year she made it to EDC with a broken ankle but scooted around with a roll chair to keep her ankle in tact without having to use crutches.
This year she was in much better health, rocking a green lime green outfit and hanging with Jonathan Duhamel.
off to EDC! @JonathanDuhamel got a little keen on the face paint. http://t.co/WHsgh7E6cY

— Liv Boeree (@Liv_Boeree)
Night off from EDC tonight, resting up for tomorrow. So much fun last night. http://t.co/9BGbL8ZnUP

— Liv Boeree (@Liv_Boeree)
We chatted with Duhamel about his experience. Here's what he had to say:
"It was my first time going. I went on Friday and it was crazy fun. I painted my face, danced all night and met a lot of good people. It was good to get my mind off poker for at least one night. My friends tried to convince me to go the second night but I didn't want to miss any events. Going for one night was good enough for me. It was a great experience. Seeing Knife Party was probably the best part of the night. It was about 2 a.m. on the main stage and about 150,000 people, so it was so great."
Darryll Fish may have attended EDC but he is not letting that interrupt his plans for poker. He was back on the tables just hours after getting out from Day 3 of the festival.
"It was my first time going and just absolutely amazing," Fish told PokerNews. "It was just so much love, positive energy, and just wow what an experience. Being around thousands of people who felt what you felt was absolutely incredible. I was like 25% to go just Friday and ended up going all three nights. My favorite performer was Hardwell but Dada Life was also great.
Sorel Mizzi was also in attendance. He told PokerNews, "I wasn't really at EDC for the music to be honest. It was about the whole experience of the crowd, the good vibes, and the overall energy. I was planning on going two days but only went for one day. I was I the PLO tournament and made it to Day 2 so I kept my focus on poker and limited my EDC experience. I would have gone had I not ran deep but I'm happy either way. You know, EDC isn't really my scene but it fell at a perfect time during the WSOP where I was feeling pretty tilted. It was a good outlet to release that tension and alleviate the tilt and stress. It couldn't have come at a more perfect time."
Although Mizzi didn't post any pictures, he did catch up with Sarah Grant to talk about the event.
Faraz Jaka didn't actually attend EDC, but he did partake in EDC week by club hopping up and down the strip. "When I think of EDC I don't think of it as just the festival but as a huge event that takes over the entire strip," Jaka said. "It's a massive party all around town. I went to XS, Drai's, Surrender, Marquee, and a few other spots. I got to see Eric Prydz at Surrender who was so great to see."
Here are some more Tweets from the weekend:
Had a awesome night with a load of awesome people.Roll on Sunday for round 2..... http://t.co/6gGQYGdbAO

— Sam Trickett (@Samtrickett1)
You know the weekend was a great success when you return home on Monday at 11am with a giant smile that won't leave your face :D #EDC

— Justin Bonomo (@JustinBonomo)
Did you go? Let us know how it was, and as always, follow PokerNews on Twitter for up-to-the-minute news.