WPT on FSN Seminole Hard Rock Showdown Part I: Bikinis, Fashion Report & Much More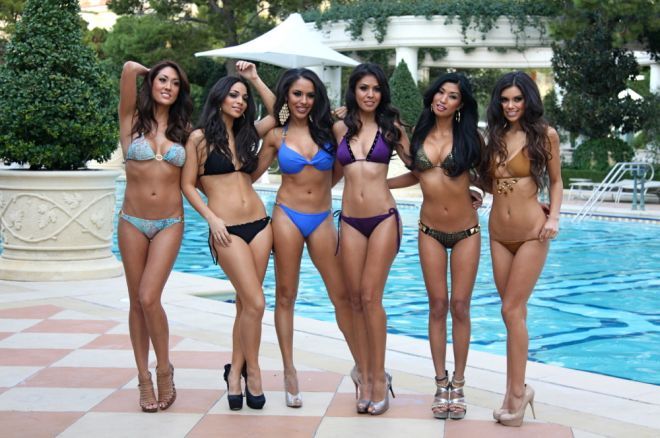 Right now the Seminole Hard Rock Poker Open, which will culminate with a $10,000,000 Guaranteed Main Event, is taking place in Hollywood, Florida, so it seems only fitting that this week's new episode of the World Poker Tour Season XI on Fox Sports Network featured Part I of the Seminole Hard Rock Showdown. The $5,000 buy-in event originally took place from April 11-16 and attracted 542 entries, which created a prize pool of $2,547,000. Now that I've set the stage, let's jump into my recap of Sunday's episode.
Where's Kimberly?: The first person we see in this week's episode is Amanda Leatherman, who was filling in for Kimberly Lansing. The WPT has remained consistent, so that little change actually made a big difference. It just felt like things were getting off on the wrong foot. That said, the WPT has actually recruited a new hostess for their Alpha8 series — PokerNews' very own Lynn Gilmartin. You can read all about that by clicking here.
RFGs in Bikinis: If you've read my recaps in the past, you know I never miss an opportunity to talk about the Royal Flush Girls when they're wearing bikinis. Two minutes into this episode I got the chance as Ivy and Tugba did the whole slow-motion walk into the pool. Then it was on to a first-person camera shot of them going down a water slide. Poker is rarely sexy, but it definitely is when the RFGs are involved.
He Should Have Brought a Swimsuit: In Season X, Tommy Vedes topped a field of 290 in the Seminole Hard Rock Showdown to win the title and the $779,520 first-place prize. That was especially impressive considering he had final tabled the inaugural event the year before, ultimately finishing in sixth place for $166,272. Unfortunately for Vedes, making the final table three years in a row wasn't in the cards, even after firing two bullets.
No 3rd str8 FT @SHRHollywood Tabled my hairy nuts w/1 card 2go for over 70k vs a Brazilian. I got me a 5th street special #5kBrazilianWaxJob

— Tommy Vedes (@HalloumoBatsos)
First time out b4 a day5 here really messing with my (don't even bother packing a bathing suit) plan. #NutsGotWaxedTho #ShinyDaysAhead

— Tommy Vedes (@HalloumoBatsos)
Missed Opportunities: As the field played down to a final table, two players were in contention — Danny "Miami Boss" Suied and Nancy Birnbaum. Unfortunately, their presence was a missed opportunity, not only for them (they failed to make the final table by busting in 19th and 15th place, respectively), but also because both of these players are characters and should have been featured more prominently by the WPT.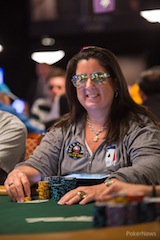 Granted, they didn't make the final table, but I've watched the WPT feature Michael "Squeaky" Winnett in the early stages, so they obviously do throw a bone to people. They should have to Suied and Birnbaum. The former is one of the most enthusiastic entertainers on the circuit (check out The Straddle he did with us this summer) and the latter a three-time ring winner on the World Series of Poker Circuit, which is tied for first among women. They're characters, and that's exactly what this game needs.
Double Bubble: With eight players remaining, a three-way pot developed that saw James Joyner and Mike DeGillo all in with the
and
, respectively. Both were behind the
of Paul Dlugozima and the board ran out
to burst the TV bubble in one fell swoop. Now, I've covered over 100 poker tournaments and I have never witnessed a double elimination on the final table bubble. That's not to say it doesn't happen, because obviously it does, but it is rather rare.
"Being Single is Fun": That's what Jeff Madsen said in an interview with Matt Savage prior to the start of the final table right after the latter asked, "Can you believe this guy is single?" The question came upon the completion of an impromptu rap by Madsen. The WPT set it to a beat, but I don't know, I just didn't think it was very good.
Here's a look at how the final table, which began at the 20,000/40,000/5,000 level:
WPT Season XI Seminole Hard Rock Showdown Final Table
| Seat | Player | Chips |
| --- | --- | --- |
| 1 | Daniel Letts | 1,665,000 (41 BBs) |
| 2 | Paul Dlugozima | 4,470,000 (111 BBs) |
| 3 | Kevin "-1SickDisease-" Eyster | 5,680,000 (142 BBs) |
| 4 | Jeff Madsen | 1,385,000 (34 BBs) |
| 5 | Ben Tarzia | 2,380,000 (59 BBs) |
| 6 | Zo Karim | 685,000 (17 BBs) |
The Final Table Fashion Report: Mike Sexton has always said it's good for the game when players dress up for the TV final table. So how did he and the rest of the Seminole Hard Rock Season XI finalists fare? Here's my take on each player's wardrobe.
Ben Tarzia: With a sort of biker-meets-bouncer look, you'd expect Tarzia to don a leather vest. He's a shoe in as an extra on Sons of Anarchy, but he'd better go to the casting call wearing something other than the gray hoodie (with hood up) that he wore to the final table. You gotta show a little more effort. Grade: D
Zo Karim: I actually recognize this guy from the circuit. He's memorable because he honestly looks like a younger Barry Greenstein. If you saw the broadcast you know exactly what I'm talking about. Anyway, he too was wearing a hoodie, though he went with a brown one. It was age appropriate and looked good. Neither Greenstein nor Karim strike me a suit-wearing guys, so I can't fault the wardrobe choice. Grade: B-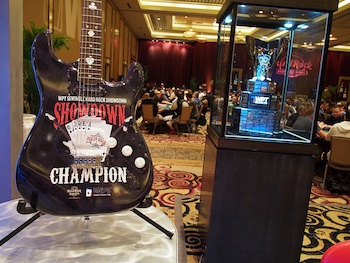 Daniel Letts: The man is from Jamaica, but you wouldn't know it from his zip-up hoodie, white Nike hat and black sunglasses. He could have at least took off the hat and showed off the half a haircut he was sporting. That's right, earlier in the tournament he was shaving his head when the razor cut halfway through. He couldn't finish before play started, ran well and decided not to finish the job until the tournament was over. Great story, terrible outfit. Grade: D
Paul Dlugozima: A black polo. It's not sloppy, but it is blasé and not memorable. Grade: C
Kevin Eyster: A blue long-sleeve shirt with a pair of neon-green-rimmed sunglasses. The color coordination wasn't there, but stuff like that does stick out. For me, Eyster tends to blend in with a crowd, but I feel he did enough to stand out a bit. Grade: B-
Jeff Madsen: He's not the snazziest of dressers, but Madsen's look has remained the same since 2006. He's the poster boy for a poker grinder, and he can be as such thanks to an impressive résumé. Anyone else would get a lower score, but Madsen is past the point of using clothes to become memorable. Grade: B
Roommate Conflict: In the last hand of the broadcast, a short-stacked Zo Karim opened for 110,000 with the
and received a call from his roommate, Kevin Eyster, who held the
in the small blind. The
flop saw Eyster lead out for 150,000 and then snap-call when Karim moved all in for 1.02 million.
"This could be the end of a beautiful friendship," Vince Van Patten said just before the dealer burned and turned the
. Eyster improved to a straight but Karim picked up the better flush draw. Luckily, the
completed that flush and Karim kept his tournament life alive.
"I run a little too good," Karim told his friends on the rail.
Tune in Next Week: Part II of the Seminole Hard Rock Showdown is set to air on Sunday, August 18 on FSN, so be sure to check your local listings. If by chance you miss it, check back next week for the latest recap of all the action here on PokerNews.
Who will be the next player to add his name to this prestigious list of champions?
Past WPT Seminole Hard Rock Champions
| Season | Player | Entrants | Earnings |
| --- | --- | --- | --- |
| 9 | Taylor von Kriegenbergh | 433 | $1,122,340 |
| 10 | Tommy Vedes | 290 | $779,520 |
| 11 | ??? | 542 | $660,395 |
*Pictures courtesy of World Poker Tour.
Get all the latest PokerNews updates on your social media outlets. Follow us on Twitter and find us on both Facebook and Google+!